by
posted on February 20, 2020
Support NRA American Hunter
DONATE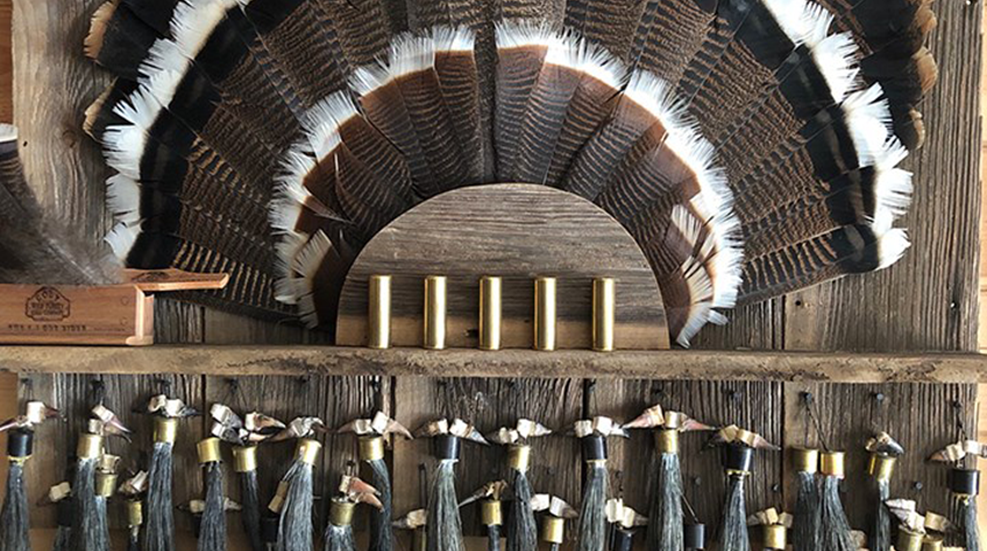 It's my hope that this article will help keep hunters safe as they head to the field this spring to chase a big tom turkey. This article is by no means an admonishment for those who use the turkey "reaping" technique, nor is it meant to condone its use. It simply presents the hunter safety precautions one must take when using this method to hunt a spring gobbler. While the use of a decoy to harvest any game species is nothing new, and the act of "fanning"—or using a fanned turkey tail to conceal your form—is also nothing new, the popularization of the technique called "reaping" by outdoor TV personalities, YouTube videos, and now decoy manufacturers offering decoys for this purpose, makes it appropriate to remind hunters that safety is the No. 1 priority when afield. For anyone not familiar with the term, unlike with general turkey hunting where concealment is the goal, when turkey reaping hunters want a gobbler to notice their decoys as they aggressively close the distance, often prompting the bird to challenge them.
As a director with the NRA Hunters' Leadership Forum, I know firsthand that the NRA was the first organization in the world to spearhead and produce a hunter education curriculum back in 1949, and more recently to release the world's most all-encompassing, interactive, fun and free online hunter education program. I thought it was only fitting that the NRA provide some information regarding this popular method for turkey hunting as a sort of continuing education for all hunters. Safety First!
If you recall your hunter education training, then you should have learned these three things regarding turkey hunting:
1. Never wear red, white, blue or black when turkey hunting.

2. Always cover your decoys completely whenever you are carrying them.

3. Don't stalk a turkey.
Any thorough hunter education course should have reviewed these very important topics. However, reaping breaks all those rules. Just one quick search on YouTube of "turkey reaping" will show you what I'm referring to here. As I mentioned, I'm personally not condoning this method, but I also realize people are going to try it regardless of its inherent safety dangers.
Below are some tips:
1. Use binoculars to scan the woods or field before deciding to move on a bird. Make absolutely certain it is a real bird—not a decoy.
2. Do not try to reap a turkey on public land! This is a disaster waiting to happen. 
3. Do not try to reap a turkey in the woods on any property, whether on public or private land. You never know who else is out there.
4. Do not try to reap a turkey close to a field edge where your presence is not obvious, whether on public or private land. Again, you never know who is out there.
5. Be sure of your target and what is beyond. Shooting from a prone position behind a decoy increases the risk of an accident or of you hitting more than one bird in a flock.
6. Never shoot at a turkey with a rifle, which exponentially increases the risk of an accident. (Note that most states do not allow spring turkey hunting with a rifle for this reason.)
I've had conversations with numerous hunters who tell me they love the reaping method and that they "only hunt private land so they don't have to worry about anyone else being nearby." I wish that were always the case, but not everyone obeys the laws, follows the rules or communicates their whereabouts when they go afield. I've had the good fortune to hunt some pretty remote and private places and, in my experience, I've still managed to run into hunters in the wrong place or people just plain trespassing.  
I don't want to harp, I don't want to lecture. I just want everyone to be safe out there. Please keep in mind that what works in one place does not work everywhere. The last point I want to make is that no elk, deer, duck or turkey is worth an accident. Have fun and be careful. 

The NRA Hunters' Leadership Forum website covers news relevant to hunters on the local, national and international fronts. We track how hunters' dollars are spent and we celebrate our long and rich hunting tradition, exposing those who seek to destroy it. Follow NRAHLF.org on Twitter @HuntersLead.

About the Author:
Peter Churchbourne is an avid outdoorsman, conservationist and steadfast advocate for all hunters. His passion is anything to do with the outdoors, but most important to him is hunting waterfowl with his labs, chasing turkeys, bowhunting and introducing new people to the life outside. Peter has hunted in 42 states, Canada and South America. Before becoming the director of Hunter Services at the NRA, where he was responsible for developing the award-winning online hunter education program, Peter worked at Ducks Unlimited for 17 years in various positions around the United States. Peter is currently a director with the NRA Hunters' Leadership Forum where he is engaged in building new NRA hunting programs and fighting for hunters' rights.