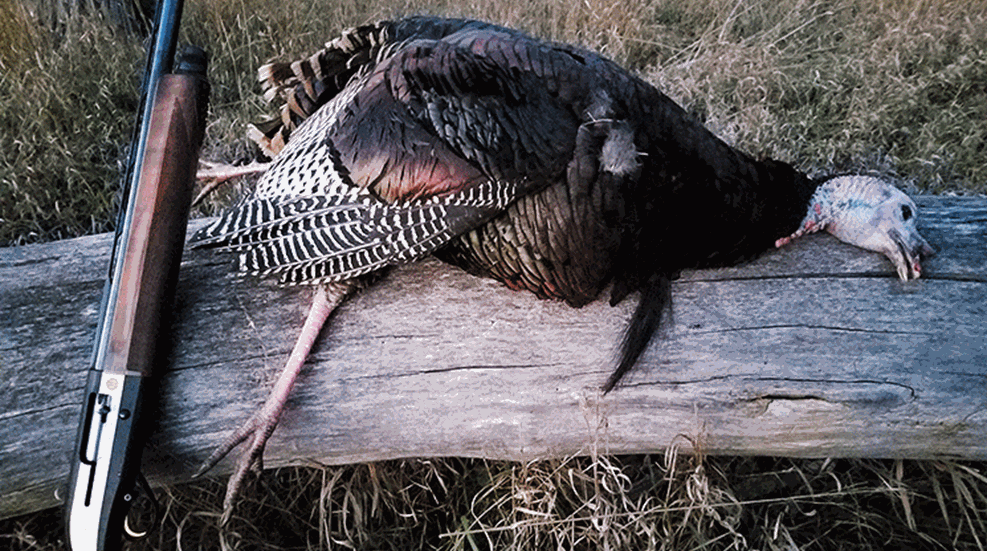 For too long I've been seeking a caller's Rosetta stone that will bend gobblers to my will. Alas, the Fighting Purr, glass and metal pots, notched diaphragms and more have all fallen short. But perhaps I discovered a contender, oddly enough on a November afternoon in the wake of a successful deer hunt. With my buck at the butcher, I went back out toting a shotgun, 3″ No. 5s and a fresh turkey tag.
On the farm I was hunting in south-central Nebraska, there's little question one will see turkeys, which during fall, pack the riverbottom property by the hundreds. The trick is to pick out a spot where they parade by within shooting distance, since at that time of year and with so many birds ganged up, calling always seems futile.
Even so, I took along an aged diaphragm call that had been floating around at the bottom of my shaving kit for years, and despite concern its dried-out reeds would tear, it proved somewhat functional. I couldn't get it to make high-pitched hen yelps, but was able to cluck—sort of. Actually it was more of a croak. If I wasn't lucky enough to have the turkeys come by in range, why not try it?
An hour before sundown the show started, and for 30 minutes big birds filed past, fussing and fighting amongst themselves, chattering busily, including sporadic gobbling from the 40 or so longbeards in tow. Except for a couple early jakes, the entire bunch managed to make a 75-yard loop around my position, as if they knew exactly what I was doing there. I hit the mouth call a few times, croaking in cluck-and-purr or yelp cadences, but none appeared to notice.
After most of the flock had moved through, I could hear a few flying up to roost. A half-dozen toms came back against the grain toward me, and one with a decent beard veered even closer before halting behind a giant cottonwood. If he stepped clear on my side, I estimated a 50-yard shot and decided I would take it. Another followed on the first tom's path, then stopped, partially obscured, a few paces back. For five minutes neither moved, and I hoped they weren't getting ready to fly up, which would leave me with no shot. I hit the call, just a quiet, slow cluck … cluck. The pitch was low and coarse.
The second tom bobbed his head in my direction, then clucked back. I answered, again easy and deep. The turkey responded in kind, then stepped behind the tree. With both toms blocked from view, I heard a couple more raspy notes, and so I gave some back. To which one longbeard practically jumped out from behind the cottonwood, fully clear, and so I fired and soon tagged my second trophy that day.
Did those low, slow, coarse gobbler clucks do the trick? It sure looked that way. And I'm guessing it'll work again if I'm dealing with a few competitive, isolated toms. With hens in the picture, I have my doubts. Mimicking gobbler calls isn't really new, but I think few hunters purposely try doing so on spring hunts.