by
posted on February 2, 2018
Support NRA American Hunter
DONATE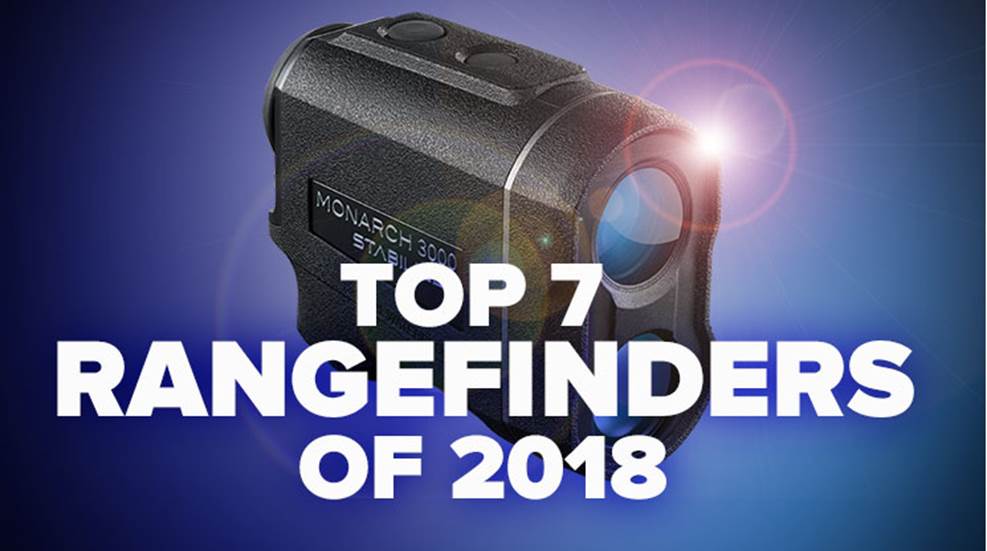 Laser rangefinders are one of the most revolutionary pieces of hunting gear of all time, because they make an otherwise unknown variable—the range to the target—an absolute one with a mere click of a button. As a result, hunters bag more game. In 2018, they continue to evolve. Here are seven of the best, for various uses.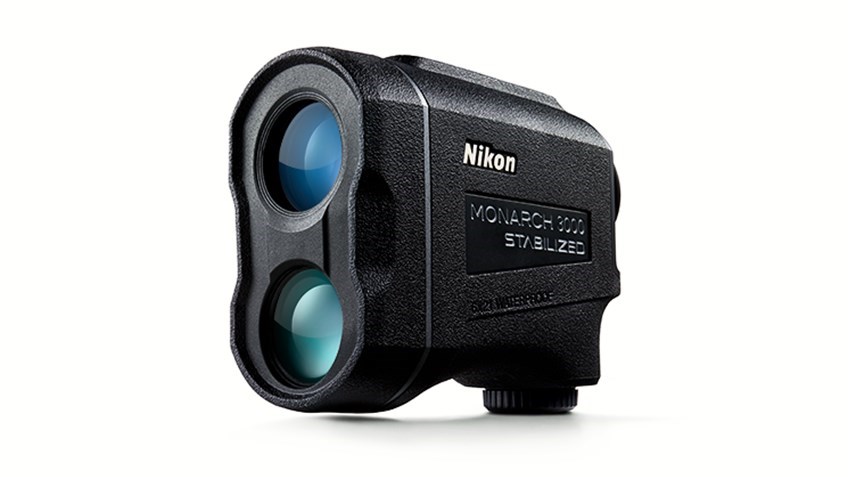 Best All Around: Nikon 3000 Stabilized
Last year, Nikon rocked the rangefinder world when it inserted its renowned image stabilizing technology found in its high-end camera lenses into a rangefinder. Using computer-controlled sensors and micro-gyroscopes, it senses hand movement and counteracts it so that the eye perceives less movement of the reticle. Without getting too geeky, the result made it much easier to hold the reticle on distant targets for an accurate range every time, despite your adrenaline-filled, shaking hands. It's amazing.
For 2018, Nikon added this technology to a new, 3,000 yard rangefinder that really has everything the average hunter needs afield. The 3000 Stabilized features an illuminated, five-level reticle so you can see it in all light conditions, it's waterproof, ranges from 8 to 3,000 yards for the shortest bow shots or the longest conceivable rifle pokes and it only weighs 6 ounces. Best of all—and very surprising considering its stabilization technology and range—it's affordable. That's why it's my pick for the best all-around rangefinder on the planet right now. MSRP: $419; nikonsportoptics.com.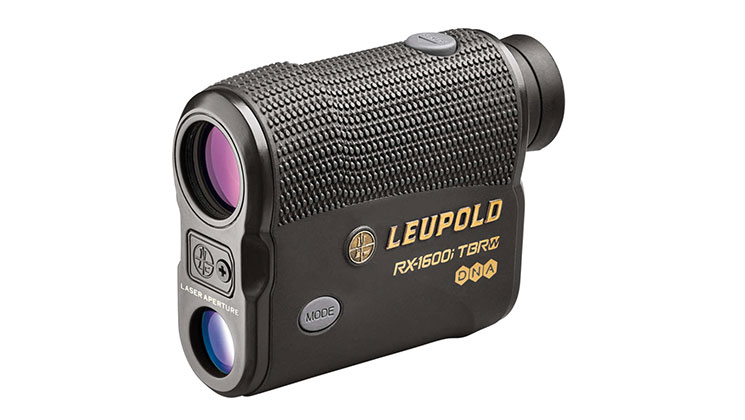 Best Proven Unit: Leupold RX-1600i TBR
I'm including Leupold's new and updated RX-1600i TBR unit based on my great and lengthy experience with the American optical giant's past TBR models. It's tough, fast, accurate, you can see its red LED display in any light, it works out to 1,300 yards, and I like its optional blaze-orange camo finish. Why? Because when using it, the orange is covered, but when you drop it or lose it, it's easier to find. Also, Leopold uses quality lenses and lens coatings in its mid- and upper-end rangefinders, so you can actually use it for a 6x monocular in a pinch.
While I don't anticipate that the Nikon Stabilized unit will have any issues, it's easy to see how internal gyroscopes could be less durable than traditional units with no moving internal parts. And having dropped my Leupold unit from multiple treestands, I can attest to the company's durability. The RX-1600i TBR has an inclinometer for shooting uphill or down, and various modes for quick target acquisition even when partially obscured.
While this unit isn't the most advanced, cheapest or most expensive on this list, what it does have is the Leupold name—that's gold in my book—and a proven track record of working under all conditions, every time. MSRP: $519; leupold.com.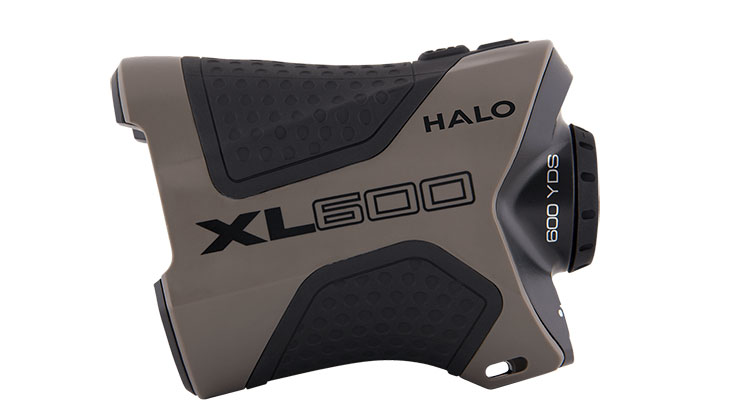 Best Budget Unit: Halo XL 600
If you're like me and don't care about all the fancy gadgets, settings and modes on most rangefinders, and instead want to simply push a button and know the range to the target, then the Halo XL 600 is for you. Often, the only additional feature I do want is for the unit to compensate for extreme angles when I'm bowhunting from a tree or shooting uphill, which the XL 600 does.
This rangefinder also has a scan mode, wish I don't care about, but some people do. What you don't get for the budget price of $120 is an LED reticle (as such it's tougher to see in low-light settings or against a dark background) or an ultra-quick processor. I mean, you might have to wait a half-second for a reading at 600 yards rather than .25 seconds with some of the others. But for the money, I can learn to love it, and when I lose it, I won't openly weep. It's water resistant, and with its 600 yard max range, it should be good for all but the most extreme long-range bowhunters on the internet. MSRP: $120; halooptics.com.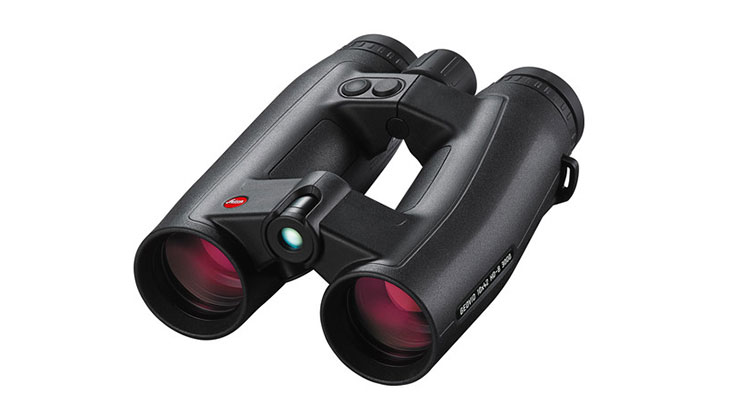 Best Money Can Buy: Leica Geovid HD-B 3000 10x42
If you're the guy who values the hunting experience more than money—or maybe you just have so much cash that it doesn't matter—and you want the best rangefinder that's ever been created for civilians—go with Leica's Geovid binocular/rangefinder. It combines Leica's best-in-the-world optics along with an integral rangefinder and an on-board ballistic computer than can be tailored for your rifle and load. This way, you can forget lugging a separate rangefinder and smartphone ballistics app (or dope chart) to the field.
Just find your target in the binocular—and believe me, you can find it with stunning clarity—hit the button, then use the data in the readout to know where to hold to make the shot. I could write a chapter on the Leica's superior optics and laser rangefinding technology, but I won't. Just know that the Geovid HD-B 3000 is the best. And while it at first seems ridiculously expensive, the price tag gets a little easier to stomach knowing that it takes the place of three tools that you'd otherwise have to buy separately—along with batteries for each—and then carry them. MSRP: $2,200; us.leica-camera.com.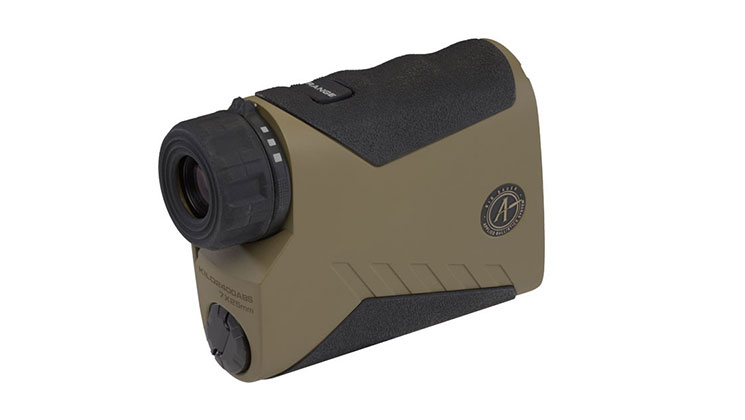 Best for Long-Range Shooters: SIG Sauer Kilo 2400 ABS
SIG Sauer was formerly known only for its firearms, but in just a couple years it's become a major player in the optics market with its newfound Electro Optics division. SIG put everything it has into its Kilo 2400 ABS rangefinder in an attempt to make the best long-range solution for hunters, snipers and target shooters—and I think it accomplished it in one incredibly lightweight, durable unit that comes in a neat, do-it-all kit.
The Kilo 2400 ABS is ultra-fast in its readings and silly accurate out to around—you guessed it—2,400 yards. I like its red LED reticle that you can see in any light. By itself, it's perfectly suited even for bowhunters. What separates the Kilo 2400 ABS from others, however, is its internal instruments including barometer, magnetometer, compass, altimeter, thermometer, external wind meter and Bluetooth system that connects with your phone and feeds all this environmental data, range and angle to Sig's proprietary (and free) ballistic app so you don't have to manually enter anything at the moment of truth; Just range, look at your phone to determine where to hold (based on your scope's specific reticle) and then make the shot. It's incredible. While I assumed that the Bluetooth pairing would be a hassle, it's darn-near automatic. The only downside to this jam-packed unit is, predictably, its cost. But if you're serious about long-range shooting, this is probably the best tool you can own other than a great rifle and actual shooting skill. MSRP: $1799; sigsauer.com.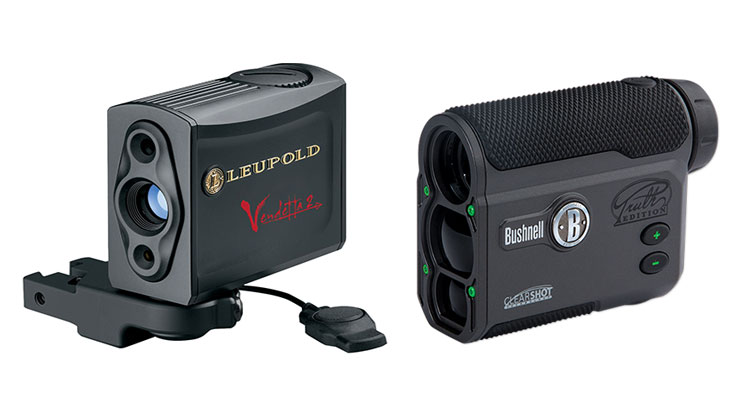 Best For Archers: Bushnell The Truth with ClearShot & Leupold Vendetta 2
I'm including two rangefinders for archery because both have their own distinct, wonderful features. Other than being a solid rangefinder for reflective targets out to 850 yards and deer to 200, what makes Bushnell's The Truth special for archers is its ClearShot technology. Once calibrated to your bow, it will indicate if your arrow will strike any overhanging limbs or obstructions in your shooting lane as it arcs on its way to the target. I've missed several deer over the years because I failed to account for overhanging branches—The Truth combats this. MSRP: $279; bushnell.com.
Leupold's Vendetta 2, on the other hand, is unique in that it is designed to be mounted your crossbow via a Picatinny-style mount. After zeroing it to your pin or scope's zero, push the Vendetta 2's grip-mounted remote button, read the range on its exterior display, then choose the proper pin—all while at full draw. This way, you don't have to lower your bow, raise your rangefinder, lower the rangefinder and draw your bow to shoot. I can't tell you how many bucks are saved each year by folks who try to get a range reading while they should be drawing and shooting. The Vendetta 2 really solves a problem, and for this, it makes my list of best rangefinders. MSRP: $454.99; leupold.com.