by
posted on April 17, 2016
Support NRA American Hunter
DONATE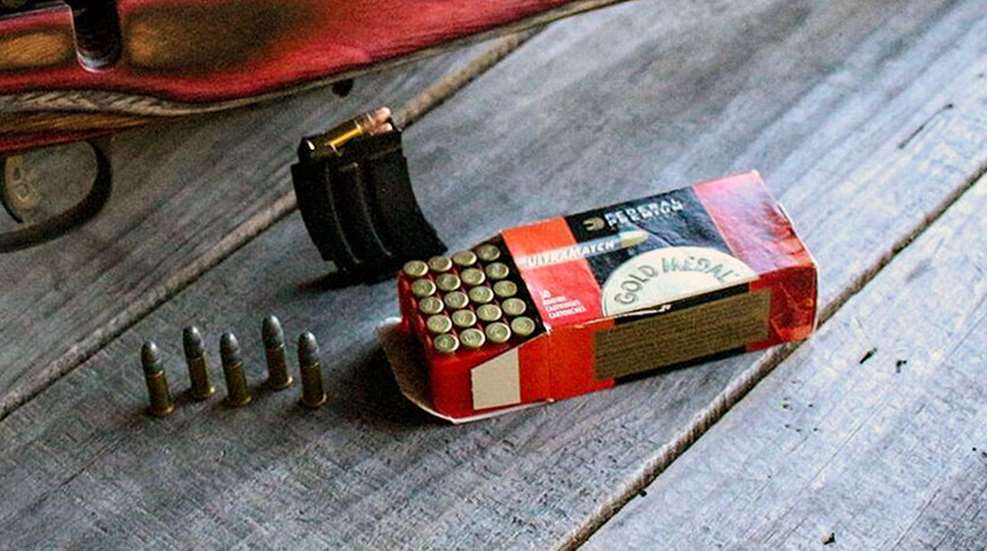 I'd be willing to wager that, for most of us, our hunting and shooting careers began with the .22 Long Rifle. Its mild report and virtually non-existent recoil makes it a fantastic tool for teaching marksmanship to a new shooter. It also makes a very efficient hunting cartridge, capable of dispatching game animals up to the size of large coyotes. While it has become increasingly difficult to obtain in the large quantities, most of us are—or were—used to, the .22 LR remains quite possibly the most economical ammunition available.
Most popular ammunition companies offer some form of .22 LR, and there are quite a few brands and makes to choose from. Like any hunting gear, each of us has our favorite stuff, and .22 ammunition is no exception. Whether you refer to your rifle/pistol as a "twenty-two," as we do here in the States, or a "two-two," as is it known in Africa, I'm sure we all agree that it's a great cartridge. It can be loaded in a 'plain-Jane' configuration, or as a match-grade hyper-velocity affair. Here are my personal top five choices among .22 Long Rifle ammunition, in no particular order.
Federal Gold-Medal Ultra Match
Federal has a great target cartridge here, featuring a 40-grain solid bullet. Offering a muzzle velocity of 1,080 fps, it mates up perfectly with a well-built bolt-action or single shot rifle. That said, I've heard that it doesn't cycle some of the autoloaders that need a little more oomph to make the action move. However, if you do have a favorite bolt gun, Federal's Ultra Match just may be for you. Its subsonic velocity and superb accuracy is easy on the ears and makes it a great teaching tool.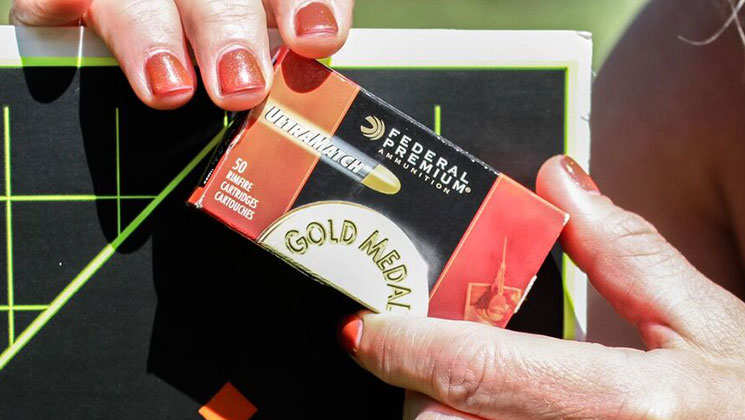 Lapua/SK High Velocity Hollow Point
Lapua has long had a well-earned reputation for producing high grade ammunition and components, and the High Velocity SK ammo is no exception. With a muzzle velocity of 1,265 fps, it will work just fine in any autoloader, and has given some of the best groups of any rimfire ammunition I've tried, often rivaling some of the centerfire varmint guns. The hollowpoint lead bullet will give great expansion for any hunting situations. While it is on the expensive side of the spectrum, it sure is gratifying when you are hunting long-distance wily gray squirrels, especially with a hunting buddy watching you shoot.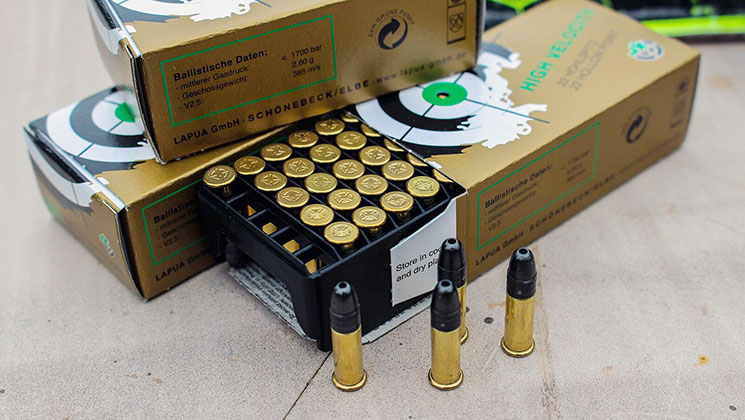 Remington Thunderbolt
Ok, this may be the cheapest of the lot, being a simple round-nosed, waxed 40-grain lead bullet, but I absolutely love it! It is inexpensive, very effective and deadly accurate. As a matter of fact, of all the different brands of ammunition I've used in my Ruger Model 77/22, that gun likes the Remington Thunderbolt ammo best. It shoots like match-grade ammunition, and dispatches squirrels and rabbits, as well as foxes and coyotes, very quickly. It shoots well out of .22 handguns, both autoloaders and revolvers, and while it may burn a bit on the dirty side, the results are worth it. At 1,255 fps (rifle muzzle velocity) it will cycle all of the autoloading rifles, as well as performing very well in the single shots. If I had to pick one .22 rifle/ammo combination, it would be that Ruger 77/22 and Remington Thunderbolt ammo.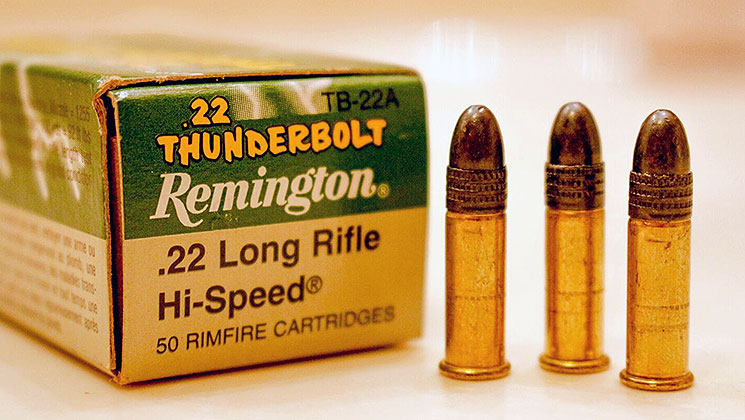 CCI Stinger
Introduced in 1976, the CCI Stinger brought .22 LR ammunition to an entirely new level. Using the bullet from a .22 Long—a 32-grain plated hollowpoint—and a longer case for greater powder capacity while still maintaining the same overall length as the standard .22 LR cartridge, the Stinger obtains a high muzzle velocity (1,640 fps) for a flat trajectory. When zeroed at 75 yards, the Stinger's bullet is only 0.7" high at 50 yards, and 2.3" low at 100-yards; not too shabby for a .22 Long Rifle! This makes for an excellent choice for coyotes, as well as woodchucks and prairie dogs. My dad has used Stingers in his Bicentennial Ruger 10/22 since they were introduced, and that now well-worn rifle still shoots them like a dream. I can't even begin to estimate how many squirrels, rabbits, raccoons and foxes that combination has accounted for.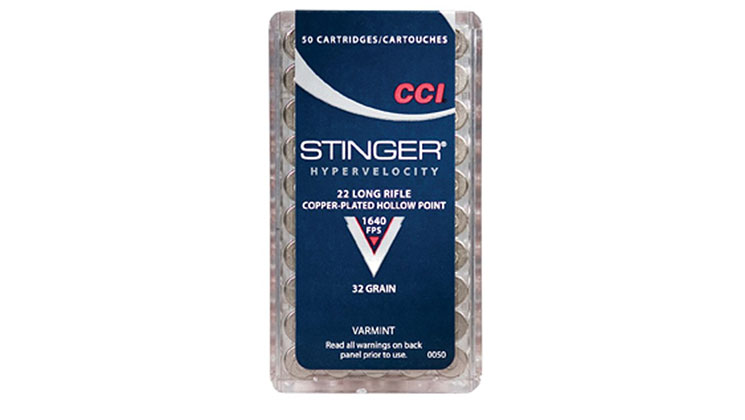 Norma TAC-22
Norma is another company that is noted for a superior product, and its TAC-22 ammunition is on par with the rest of their fantastic ammunition. I know several competition shooters that rely on it, and it was responsible for at least one trophy last year that I'm aware of. At 1,066 fps, it gives good performance while maintaining a subsonic report, and its accuracy is excellent, in both rifles and handguns, though some of the 'stiffer' semi-automatic pistols, like the SIG Mosquito, won't cycle the subsonic stuff. TAC-22 shot very well in several of our .22s, printing groups you could cover with a dime or nickel—depending on the gun—at 50 yards. If you're looking for an accurate, subsonic load, give the TAC-22 a try.