by
posted on January 10, 2013
Support NRA American Hunter
DONATE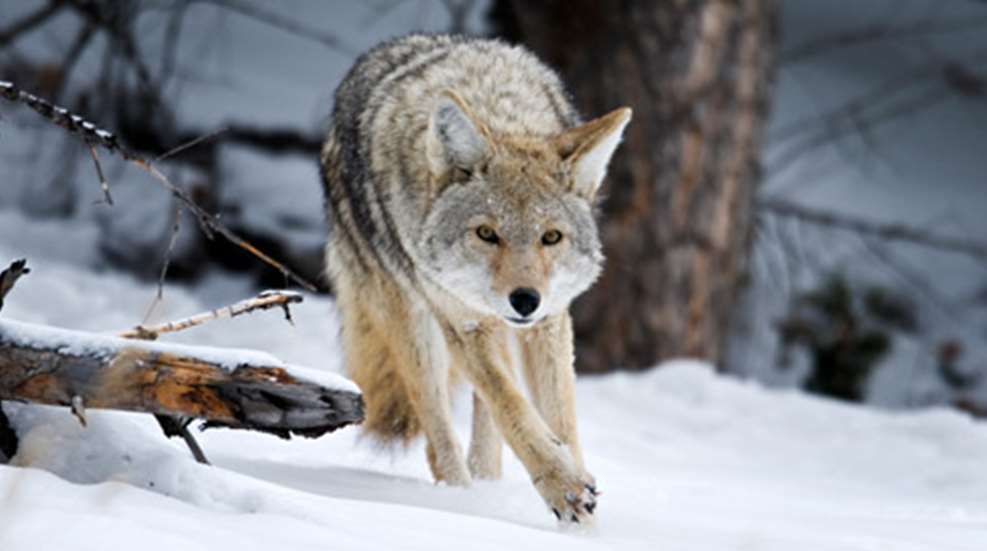 We had been spotting the occasional telltale signs of coyotes on our property for years—dog-sized piles of droppings entwined with fur—but it wasn't until I actually pulled down a trail during turkey season three years ago that I ever actually saw one. In fact, it wasn't one but two, and then last season, our worries were confirmed. As I climbed from a deer stand one warm evening as the sun disappeared beneath the western horizon, two packs began to yip and howl to each other signaling it was time to hunt. And for me, as well as thousands of other hunters across the United States where coyote populations are either long-established or just getting a firm foothold, it's time to hunt as well.
Get in the Game
While whitetail hunting still reigns supreme across the United States, you've been stranded on a desert island if you haven't recognized that predator hunting is among the fastest-growing and hottest types of hunting around. Why? It's simple: opportunity. Opportunity abounds with coyotes moving into virtually every pocket of available habitat, with fox, bobcat and other destructive furry critters long established in much of the same ground. But coyotes are the big draw, and with recent studies indicating that whitetail fawn mortality might be much higher than originally believed as a result of coyote predation—in some situations perhaps as high as 70 percent—combined with their already recognized threat to other game species such as wild turkeys, rabbits and, in suburbia, even pets, hunters have more reasons than ever to do what they can to take a few of these critters out and enjoy a challenging hunt in the process. With year-round open seasons in virtually every state but Massachusetts, predator hunting is great for filling in those gaps of time between other seasons.
Gear Up
The best thing about predator hunting is that it takes very little to get started. In fact, most hunters likely already have everything they need in the way of camo, boots and even guns. Calls may be the only thing you need to add to your arsenal before heading out on a predator hunt.
Knight & Hale's Mike Mattly shared several of the primary calls a hunter will want to start out with. First and foremost is a rabbit squealer (that of a cottontail or jack rabbit—the latter being a little higher-pitched, depending on what lives in the area you're hunting), a mouse squeaker for close-up calling and a coyote howler—which allows the user to deliver high-volume barks and howls that will challenge a coyote's territory as well as incite them to betray their location with answering barks and howls of their own. For the beginner who doesn't have the opportunity to learn from a skilled predator hunter, companies such as Knight & Hale, Hunter's Specialties and Primos all offer great instructional DVDs.
Where legal, which is in most every place where predators are concerned, electronic calls are particularly helpful for both veterans and beginners as they offer perfect calling, great volume and often even allow a hunter to set up a call away from his or her setup spot, reducing the odds of detection by an incoming dog. Cass Creek's Mini Series Predator Call is a super-affordable electronic handheld game call, while the high-performing Johnny Stewart Executioner provides omni-directional sound, produces 100 sounds and can be operated from as far away as 300 yards.
Choose Your Firearm
As for firepower, virtually any shotgun or rifle larger than a rimfire-sized round will do. Hornady's Chief Ballistic Scientist Dave Emary likes the .223 as a good all-around caliber for coyotes, particularly given the ready availability of the ammunition as well as the number of guns chambered in the round. Add the super-popular ARs to traditional firearm offerings and .223 is a can't miss option.
"It's hard to beat the .223," Emary said. Hornady's 58-gr. V-Max Superformance predator load is devastating on coyote-sized game in the 200- to 300-yard range, while .223 bullets in the 68- to 75-grain range perform better at longer distances, but still provide easy feeding in semi-auto ARs.
"I also like the .204. It is an extremely fast and flat caliber that works great when shots are kept at reasonable distances." said Emary.
He noted that a 300-yard shot with the round is probably the maximum for the average shooter, with windy days restricting it to around 200 yards. For hunting situations where longer shots will be the norm, good options are the flat-shooting .22-250 and a deer hunter favorite—the .243 Win., the latter providing added energy at longer ranges. For smaller predators such as foxes and bobcats, the .204 works well as does the lighter and gentler recoiling .17 calibers, such as .17 Hornet.
On the other end of the spectrum, for hunting predators in heavily timbered areas where shots will be close, few firearms beat the scattergun. Loaded with No. 4 buckshot or turkey loads, a hunter can reliably put a coyote down out to 50 yards—more than enough in the timbered hardwood lots of the Northeast or the South's expansive pine plantations.
Let's Go Hunting
Hunter's Specialties pro-staffer Pat Muffler is a predator hunting maniac. He's been hunting the critters since the age of 6 in his native Upper Peninsula of Michigan and since his youth, across much of the United States.
"Whether you're going deer hunting in the fall or turkey hunting in the spring or just working to plant food plots or clear trails during the off-season, always watch for sign," Muffler said. "It doesn't matter if it's June or January, coyotes will always use the same trails."
Identifying scat and tracks along well-used corridors gives a hunter a starting point for calling sets.
While night hunting predators with lights is popular—particularly for foxes and bobcats, which seem to come in better at this time—Muffler still prefers to hunt them in the day, like deer, working them mostly in the early morning and late afternoon. But don't discount other times of the day.
"Anytime around the clock is good for predators, but I like nine to 11 in the morning the best," he said.
Why?
"Number one, they are predators. They go all night and when daybreak comes, they'll bed down and rest. However, as soon as the sun rises good, they get back on their feet.
"They're also opportunists. A coyote will hear that call a mile and a half away, but for him, that's too far, he wants something close by and that he thinks is safe," he said.
Luck out and move the right direction and you might pull him your way. For that reason, never hunt sets more than 15 to 20 minutes before getting up and moving to another calling location.
Muffler recommends going about a half mile and calling again given that coyotes closer than that will have likely been able to hear your calling. He also urges hunters to pay close attention to the wind and always set up where you can see a good distance downwind.
"They will always circle from downwind," Muffler said. Additionally, you'll want to take the same precautions to become scent-free here that you did during deer season. In fact, you might even want to take more, washing all of your clothes and items in scent-free wash and spraying yourself down with a scent eliminating solution.
"Coyotes can smell better than a deer," Muffler said.
As for the best time of year to hunt them, Muffler loves late summer and early fall.
"If you really want to stack 'em up, late September and early October is great," he said. "There are lots of new pups that have been kicked out of their dens and they'll come to anything that cries."
Though cold, harsh winter weather can combine to make food hard to find, while driving the animals' caloric needs, meaning coyotes and other predators will be on the move searching for food and interested in anything that sounds like it.