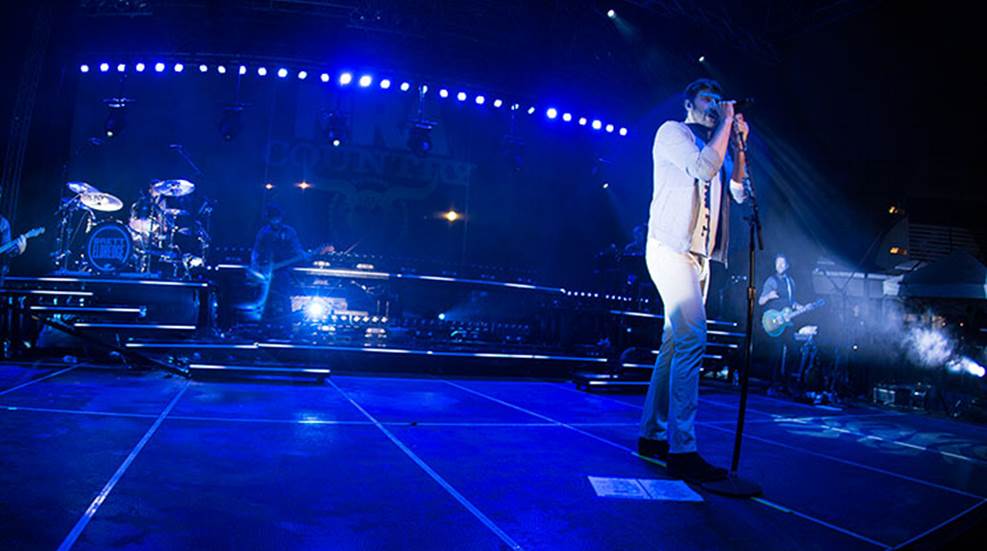 Of course the annual NRA Meetings and Exhibits is packed with good folks, guns and Second Amendment fervor, but you may not realize the growing number of country music acts that take the stage both after hours and during the show itself. Inasmuch, this annual gathering has evolved from a business-like affair to a near-continuous live event where members can expect to not only be enlightened but entertained.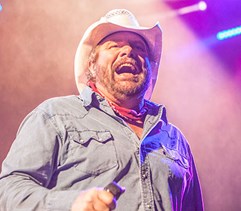 Most of the acts are provided free of charge to NRA Members by NRA Country, the NRA's lifestyle brand that promotes traditional values, American pride, freedom, respect, hunting, fishing, the great outdoors and country music. You see, all of the featured country musicians believe in the same American values of which they sing—values that NRA believes make America strong.
Indeed, Louisville show goers were greeted by music upon stepping inside the venue doors, where the NRA Country Sound Stage presented by Beretta featured a fresh acoustical country act every 90 minutes. Veteran and up-and-coming Nashville artists such as Darryl Worley ("Have You Forgotten?"), Morgan Mills ("Let's Ride"), Abbi Scott ("Got My Own Shotgun"), Keni Thomas ("Flags of our Father") and others welcomed attendees to live tunes as they found their meeting rooms, grabbed lunch or stopped to enjoy the performances. The Sound Stage grooved each day of the show, from Thursday's opening till its close on Sunday afternoon. Before each performance, artists talked about their favorite guns and outdoor memories. As for Abbi Scott's shotgun, we found out it's a Benelli!
On Friday evening, amplifiers were dialed up a few notches when top country crooner Brett Eldridge ("Don't Ya") took the stage for the annual NRA Country Jam. This free event was held outside amid downtown Louisville with the scenic Ohio River providing a backdrop. Special guest Jana Kramer, Crawford County and local act Wildwood warmed up the younger, sing-along crowd that obviously didn't mind a little Kentucky rain.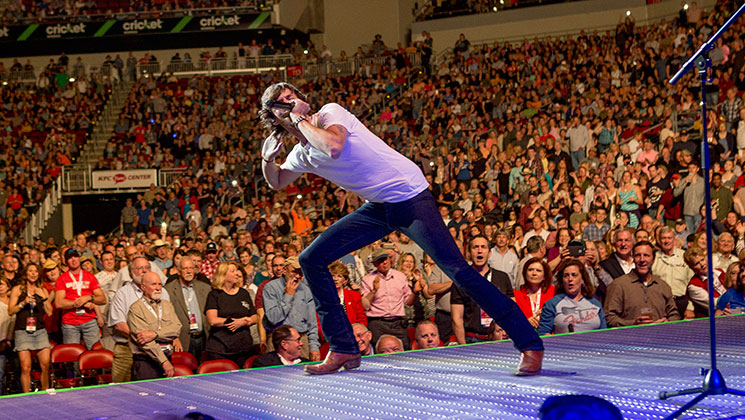 Saturday night featured country music's biggest draw, Toby Keith, live and in concert at Louisville's KFC Yum Center. Keith, who holds 20 No. 1 singles, delighted the packed arena with his patriotic hits such as "Courtesy of the Red White and Blue," "American Soldier," and good times songs like "Red Solo Cup" and "I Ain't as Good as I Once Was" just as he's done consistently for more than 25 years.
The surprise of the night, however, was twofold. Between sets, the Military Warriors Support Foundation presented new homes to each of three wounded warriors. Musically, the surprise came when Nashville newcomer Chris Janson ("Buy Me a Boat") stormed the stage with his unpredictable style of showmanship, complete with wailing harmonica and driving electric guitar. While Keith remains the current king of country music, Janson is likely its future. NRA fans were treated to a taste of both.
Sunday's NRA Sound Stage saw solo performances by Maryland native country-blues/jazz pianist Ian Walters and finally, Head Hunters outdoor TV show host and musician Nate Hosie, who put the exclamation point on entire musical weekend, proving that the NRA is more than just hardware, freedom and politics; it's about a lifestyle and culture that goes hand-in-hand with the Second Amendment—one that includes country music and pure fun. So if you're a country music fan and you missed Louisville, do yourself a favor and pencil Atlanta on your calendar for 2017. You won't regret it.