by
posted on August 20, 2013
Support NRA American Hunter
DONATE
The fall hunting seasons are rapidly approaching, and there's never a bad time to work on your form. With that in mind, Ruger invited Associate Online Editor Shawn Skipper to Paulden, Ariz., to attend Gunsite Academy's Hunter Prep course under the watchful eye of venerable instructor Il Ling New. Once there, it was time to put the budget-friendly Ruger American Rifle through its paces. Get a closer look at Gunsite with this gallery.
Gallery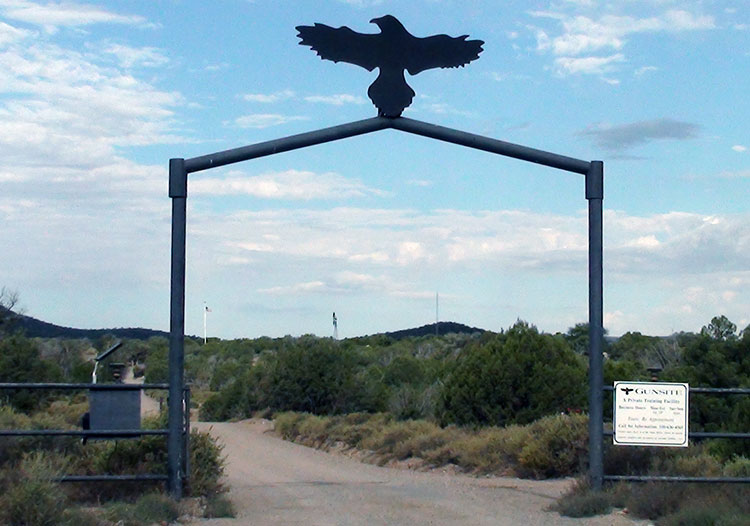 Welcome to Gunsite Academy
Located in Paulden, Ariz., Gunsite Academy offers its training services to elite military personnel, law enforcement officers and private citizens of the United States. Originally founded by Lt. Col. Jeff Cooper in 1976, Gunsite is now staffed by some of the industry's finest trainers, and offers multiple levels of instruction in handguns, carbines, shotguns, bolt-action rifles and precision rifles. We journeyed there for an abbreviated version of the Hunter Prep course.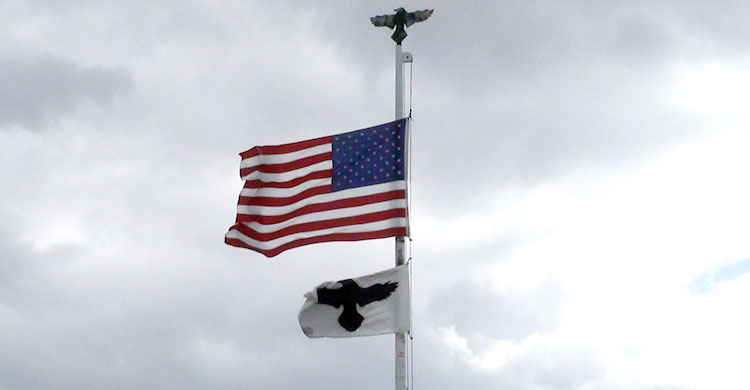 The Raven
A common site throughout the Gunsite grounds is the image of a raven that the Academy utilizes as a logo. The symbol has been tied to Gunsite for years, and is tied directly to its roots. Jeff Cooper's wife, Janelle, was of Scandinavian ancestry. According to Norse mythology, Odin (god of Valhalla) was often accompanied by two ravens—known as Hugin and Munin—that represented knowledge and wisdom. One of their primary purposes was to dispense the word of the Norse Gods to the mortal realm. Lt. Col. Cooper found the connection fitting—his instructors were part of an effort to spread knowledge and wisdom regarding firearms to whomever sought it. As such, the raven has long served as Gunsite's banner. It helps, too, that there are a number of real ravens that call the location home.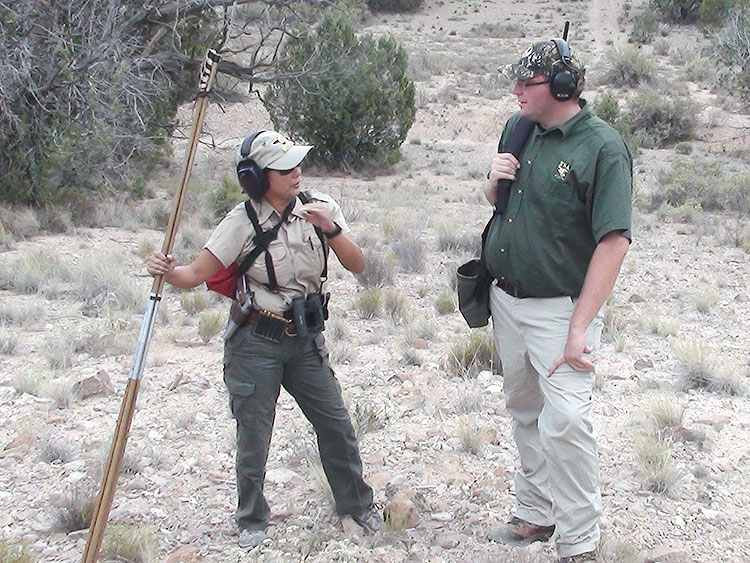 Lessons from the Best
You receive only the finest training while at Gunsite, which is entirely thanks to its all-star cast of instructors. On this particular trip the class worked with veteran rangemaster Il Ling New. Il Ling has years of experience afield under her belt—she grew up hunting, and started serving as a guide for her father's outfitting service as a teenager. She kept close watch on us during our stay, ensuring that we were adhering to the Academy's methods and practices.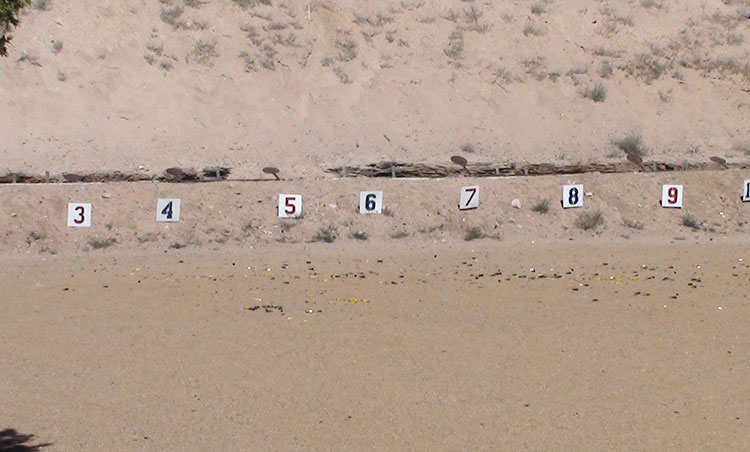 Range Time
As you might imagine, Gunsite has no shortage of ranges. Some are fairly standard and set against the location's desert backdrop, like the one seen here, but that's only the beginning. The Academy also hosts a variety of "simulator" courses that are designed to test a student's skills in a format that's a little bit closer to a real-world scenario.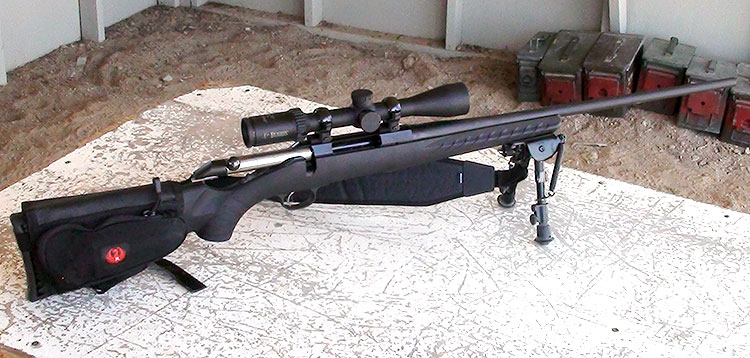 Ruger's American Rifle
For this particular trip, Ruger opted to have us put the American Rifle through its paces. The bolt-action hit the market last year, and offers consumers a high-quality rifle at a price that any shoot can afford. The rifle is durable, lightweight and accurate—it shoots like a rifle with a far higher MSRP. We put the .308 Win. model to use in Arizona, but you can also get the rifle chambered in .243 Win., .270 Win. and .30-'06 Sprg.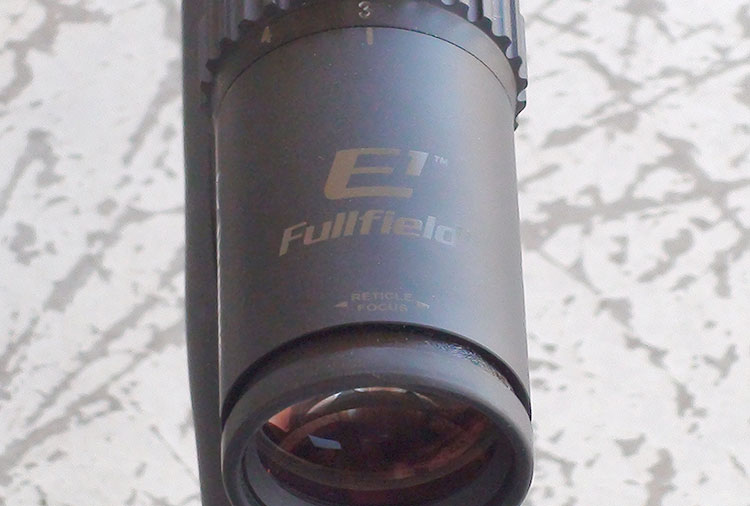 The Optics of Choice
Event Co-Sponsor Burris was kind enough to garnish Ruger's rifles with optics—in this case, the Fullfield E1 riflescope. The E1 line is designed to take the guesswork out of determining both trajectory and wind compensation—its Ballistic Plex E1 reticle offers a simple, uncluttered method for determining hold off for wind and holdover out to 500 yards. The company offers a wide variety of models, ensuring that there's an E1 available for just about any situation you can think of.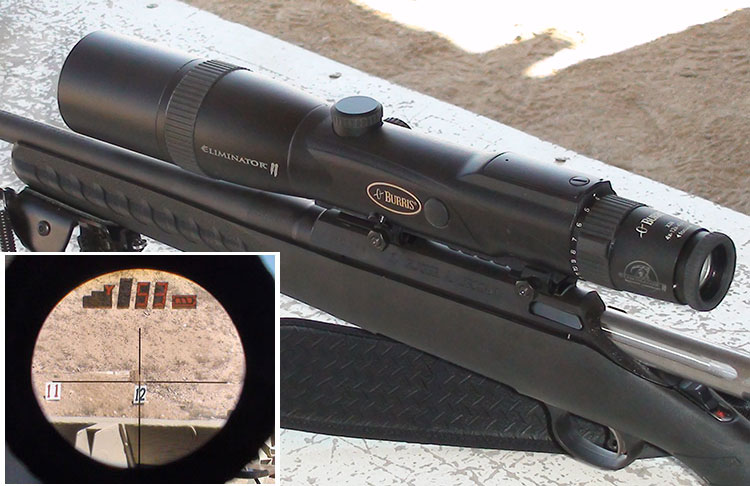 The Eliminator II from Burris
Also on hand for the event was Burris' powerful Eliminator II riflescope, which Ruger's Jerry Carrell put to use during instruction. The Eliminator LaserScope II is an innovative design that combines Burris' well-respected optics with pinpoint laser rangefinding abilities. The scope incorporates precision trajectory compensation with the exact ammunition you've chosen for your hunt, eliminating most of the variables and guesswork that can lead to a miss. The Eliminator II determines the distance to your target, factors in your trajectory and illuminates the ideal holdover. Easy as pie.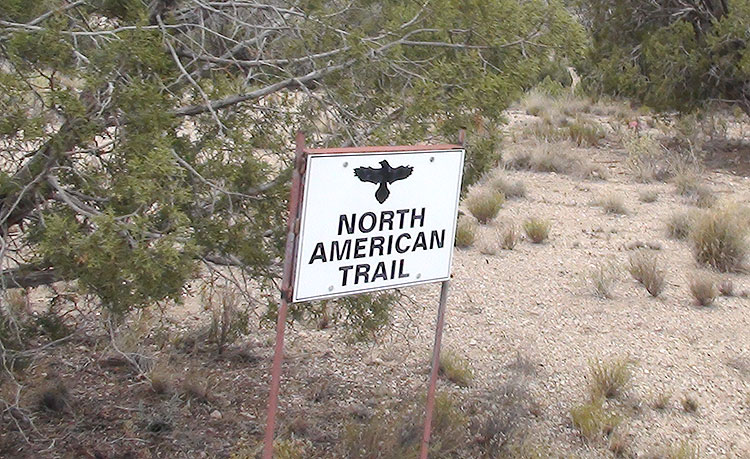 Hunting Simulators
You can't expect to keep your skills sharp on the range alone—and the folks at Gunsiteknow that quite well. That's why the school offers a number of training "simulators" that place students in situations that are closer to what they'll be facing in the real world. The North American Trail and African Trail are among its hunting simulators, and offer hunters a chance to walk the desert, spot "game" (life size, 3-D steel targets that represent the animals of the region in question), get into position and make a shot.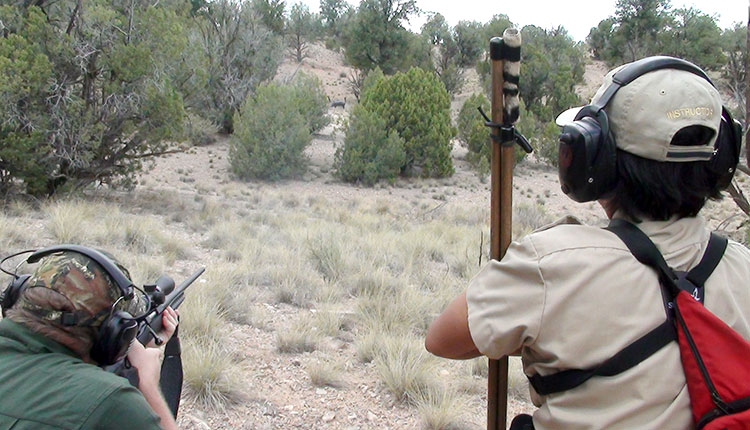 A Hog in the Brush
Each simulator is littered with game targets—many of which are obscured by the environment, creating about a set up that's about as realistic as you'll find short of an actual hunt. Here I bring my rifle to bear on a hog target that I've spotted, while my instructor looks on. Proper hits to the target's "vital" areas will briefly send up a flag, letting you know if you were on target.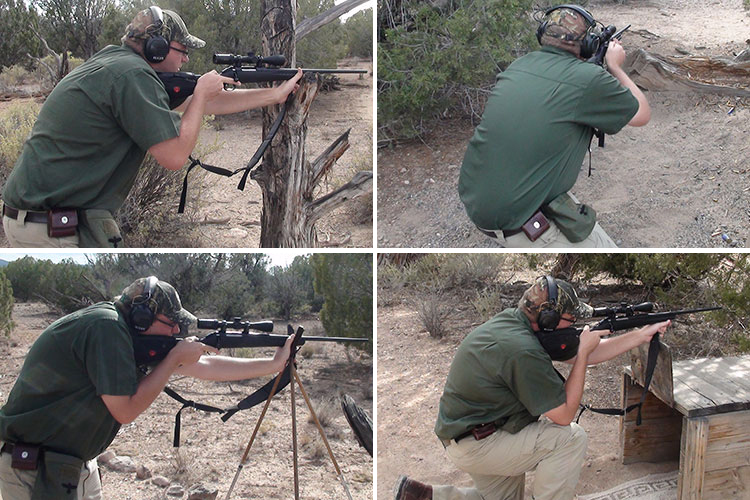 The Scrambler
Another of Gunsite's simulators is the The Scrambler, where shooters engage seven steel targets at 50 to 100 yards. Each target has to be hit twice before moving to the next firing point—and no two firing point are the same. With each location, you're forced to adapt to the terrain around you and find a position that will allow you to take an adequate shot. Running The Scrambler with a bona fide hunting rifle adds a little extra twist—since you're taking at least 14 shots, you have to come prepared to reload as you progress. Here are just a few of the situations I found myself in while on the course.