by
posted on June 14, 2013
Support NRA American Hunter
DONATE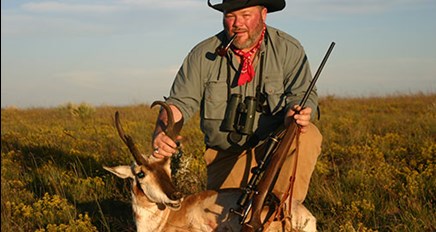 Recently I have seen some forum and Facebook discussions regarding ultra-long shooting of game animals. As a general rule it seems that the less field experience a given pundit has, the more he is in favor of taking pokes at critters nearly a mile away. There are even television programs touting these outlandishly long shots. Those of us with a few decades of experience hanging tags on game animals have one almost universal question: For all the animals that appear to be flattened at 1,100, 1,200 or even 1,500 yards, how many get away wounded only to die a slow and painful death?
Years ago—like most young men—I was intrigued by long-range shooting. I still am, but not at game animals. Regardless of skill and equipment, the longer the range the better the chance for a bad hit—gut, broken leg, nasty laceration in the meat or even blowing off the lower jaw. Some of these unfortunate shots will occur to all of us at some time, provided that we hunt long enough. To the best of my recollection, I have wounded and lost five animals during my hunting career. Each time it has happened it has a terrible effect on me. Often I've gotten physically ill and vomited.
I base much of my distaste for shooting at game at these ranges on the results I have seen shooting paper at those same ranges. All of my shooting at these ranges has been done with sporter-weight rifles—rifles I would use on a hunt. I do not own a dedicated bull gun; never have. There are dedicated long-range shooters who can turn in some impressive groups with these rifles from a sturdy bench rest. I believe that the current 1,000-yard record is ten shots into 4-plus inches—mighty good shooting by any measure. But can that same shooter—or you—perform that well with even the best tuned hunting rifle in the field? I have seen precious few bench rests in the woods and hills I have hunted—from above the Arctic Circle to South Africa.
For those whose lives will be incomplete until they lay low some poor critter at a half mile or more, I offer this: Take your hunting rifle to the range with your hunting ammo and a large, portable target. Assuming you are sighted in as you would be for a hunt, star at about 400 yards and shoot five-shot groups. Keep moving the target further away, shooting five-shot groups at each distance. Somewhere you will find it difficult to keep all your shots within a 10-inch group. Don't cheat and throw out one or two shots because you flinched, coughed or just plain blew it. All that will occur when you are hunting. Now try the same exercise from field positions. If you are still feeling cocky about your long-range shooting, find some wide open area that's safe to shoot in and try this exercise again, only laze the range after you shoot your group. Take those targets home and do some serious self-analysis. Paper doesn't lie—and it provides a permanent record. Steel and other reactive targets provide an ego-building "tink" but tell you nothing as to where the shot really hit.
The image accompanying this diatribe is of a pronghorn I shot in New Mexico in 2005. It was the longest shot I have successfully made on a game animal—525 yards. I was shooting a Kimber in .270 WSM, a caliber I am intimately familiar with. The speedgoat was slowly walking, quartering away from me. I put the crosshair on the tip of his horns, tracked him a moment, and loosed the shot from a sitting position in a tight sling. He dropped at the shot, and when we gutted him out, we found his heart in three pieces. Now I could sit here and tell you what a great shot I am, but the truth is I had more luck than skill in making that shot. Sure, I needed to know how far away he was, but I could not tell you that distance before the shot. To complicate it, the pronghorn was walking. I could no more replicate that shot on demand than I could flap my arms and fly to the moon. I was just plain lucky; in fact, I could—and probably should—be admonished for taking such an irresponsible shot.
I'll take almost any shot at an inanimate target where I can see it and it's safe to shoot. Prairie dogs and other rodent vermin are small enough that a hit with my varmint rifles is a killing shot. But there isn't a buck or bull on earth that's worth taking a low-percentage shot.