by
posted on May 25, 2016
Support NRA American Hunter
DONATE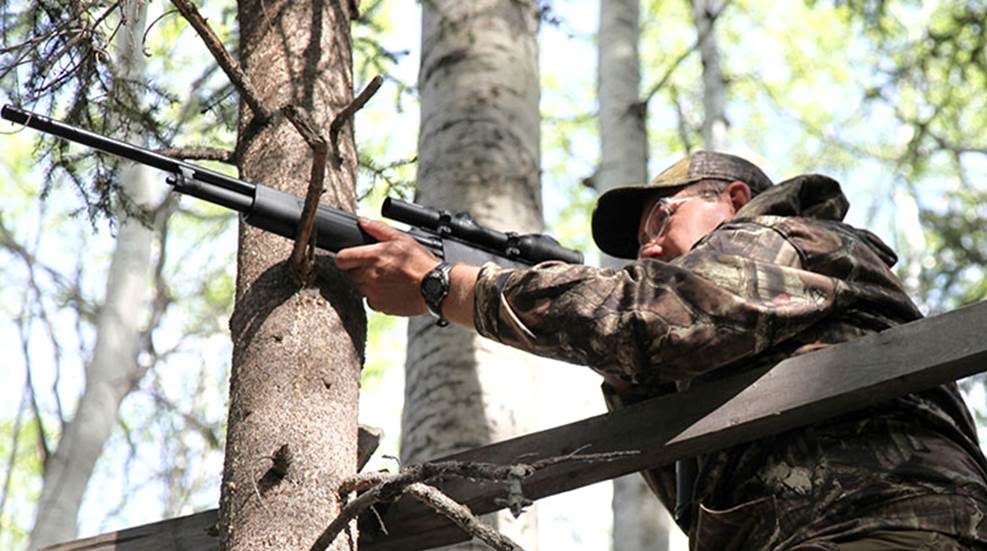 I heard a branch snap in the trees behind me and sat motionless. Seconds later there was an eruption of activity as two bears started to fight. The growls, chuckles and crashing brush made the hair on the back of my neck stand up, but I dare not turn too fast to look. Soon after, it was all over and I could hear the faint retreat of one of the bruins heading for safer ground. The victor made a short appearance before heading off into the wind, leaving me to wonder what all the commotion was about.
I was hunting spring black bear in northern Alberta with a crew I knew well. There was some banter as to how much firepower a hunter needed to kill a black bear. Bears have a way of creating fear, which in turn leads many hunters to bring out the big guns.
Although we had choices, I opted to use the Mossberg Flex 500 shotgun in 20 gauge. I've shot lots of game over the years with slugs and knew with technology changes I'd fallen behind, and was anxious to test the newest gear available. I often hear bear hunters discussing the magnum calibers they use for bruins and I've never thought the extra firepower was required. Putting my theory to the test I was shooting Hornady Lite sabot slugs with reduced recoil. In most bear hunting circles my choices of gun and ammunition would be considered diminutive. To round out the hunting equipment I topped the shotgun with a Swarovski Z6 1-6 X 24 with illuminated reticle. It is a great scope for quickly acquiring a target, in tight quarters. I'm also a big believer in having an illuminated reticle when hunting dark colored game. Black reticles can be hard to find on black fur, especially in low light conditions. Hitting a bear in the right spot is much more important to me than the caliber or gauge of the firearm I choose. Knowing we were hunting the boreal forest I expected a close encounter, making all my choices logical.
Our guides didn't get much sleep with the huge area they covered. Checking baits and dropping off and picking up hunters meant for long days. I utilized time in camp to perfect my shooting and was impressed with my three-shot group at 100 yards that produced the classic cloverleaf. We shot dozens of rounds to see what the combination of equipment could produce in a repeatable fashion, and weren't disappointed. I played with my shotgun, as the Flex 500 has interchangeable stock and fore grip options to customize the shotgun for hunting with slugs, upland gamebirds, waterfowl or even for defense. It can easily function as four guns for the price of one.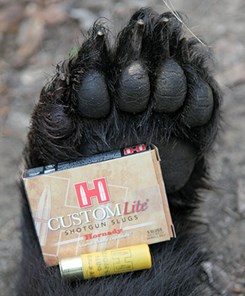 Late afternoon of day two, a short quad ride brought me into a site that hadn't been hunted all year. It was along a shallow creek bed and the dense forest limited visibility to less than 50 yards. My guide no sooner headed back to the truck when I had a fisher come in to investigate. I never pass up an opportunity to take pictures and retrieved my camera and long lens to capture images of the playful creature. I'm not sure if I was oblivious to my surroundings having just got in to my stand, but when the fisher took off on a dead run, right past my tree, I quickly looked around. A big black boar stood just 30 yards away staring off into the forest. I could immediately feel my heart rate increase and had to tell myself to stay calm. I had to quietly put my camera down and get my shotgun without having the bear see me.
I never took my eyes off the big boar and when he was looking away I managed to set my camera back in the case without making a sound. The bear gave me a bit of a break by turning his back to a tree and rubbing intensely against the soothing bark. I picked up my shotgun and maneuvered the barrel around the big poplar in front of me. I was worried all the movement might catch the bear's attention but he seemed consumed with the relief of a good back scratch. I turned on my scope's reticle and focused the bright red dot on the bear. I was in place and just needed to wait the bear out for a broadside shot opportunity.
The big bruin slowly wandered up the trail towards me and when he lifted his front leg to step over a downed spruce tree I settled the red dot in my scope on his armpit. The report of the gun rolled the bear off his feet, but a second later he jumped up and ran right past me. I pumped the gun quickly, chambering a second round but didn't fire as I tracked the bear. I had no doubt the Lite slug had done its job and the bear piled up within a few steps, right where I could see him. My guide was still at the truck and heard the shot, allowing him to make a quick retrieve before leaving the area.
My early success allowed me to tour the area and see more of the local wildlife as spring was providing a new lease on life for the emerging vegetation. Everyone in camp was doing well and most of our crew had shot his or her first bear by the end of second night. It was a fun atmosphere with late nights and way too much food for my activity level.
I spent the next night in a stand where a huge boar had been feeding, but never when a hunter was present. The bear knew when someone was there and resisted the temptation to eat and show himself in any way. I wore my mosquito head net and got into the stand early, prepared to sit motionless until the sun went down. And, that is exactly what I did. This particular bear had been hunted for three years, never providing a single opportunity and I was his newest chapter in a long storybook.
The weather had been outstanding and heading out to hunt on the fourth day we actually had to turn the air conditioning on in the truck. I had my daypack prepared as we headed off with rising temperatures and a mean hatch of new biting insects.
I was back in the stand where I spent my first night and heard the bears fighting in the woods. I had no sooner settled in when I heard movement and thought I might be able to repeat my quick success, as I did two nights earlier. A bear did come in, but it was a smaller boar and I opted to sit back and watch him. Bears are intriguing creatures and extremely entertaining. Watching him play and feed was no different than sitting on the couch at home watching a documentary on black bears. I was almost laughing out loud as I watched him try to eat a beaver carcass hanging off a ridgepole, when he stopped the party and headed for dense cover. The bear had worked as a signal alarm when another bruin showed up.
Walking on existing paths the intruder was silent in its approach. I caught movement at the spruce tree off to my side and could make out the head and neck of a big bear peeking out from under the limbs. When the bear came into the open it walked directly under my tree and took a second to smell where I'd walked. I knew it was aware of my presence.
I still had a couple days to hunt but knew it wasn't likely I'd find a better bear. The long body showed the bear's maturity and I decided to take a shot when the bear presented one. What I didn't expect was to watch the bear for over an hour before it finally turned broadside. After the long wait I settled my scope on the vitals and don't even remember seeing the crosshair, but the red dot immediately drew my eye to the exact spot I wanted my slug to hit.
My little 20-gauge shotgun had done its job for a second time and left me with no doubt it was the little gun that could.