by
posted on February 7, 2023
Support NRA American Hunter
DONATE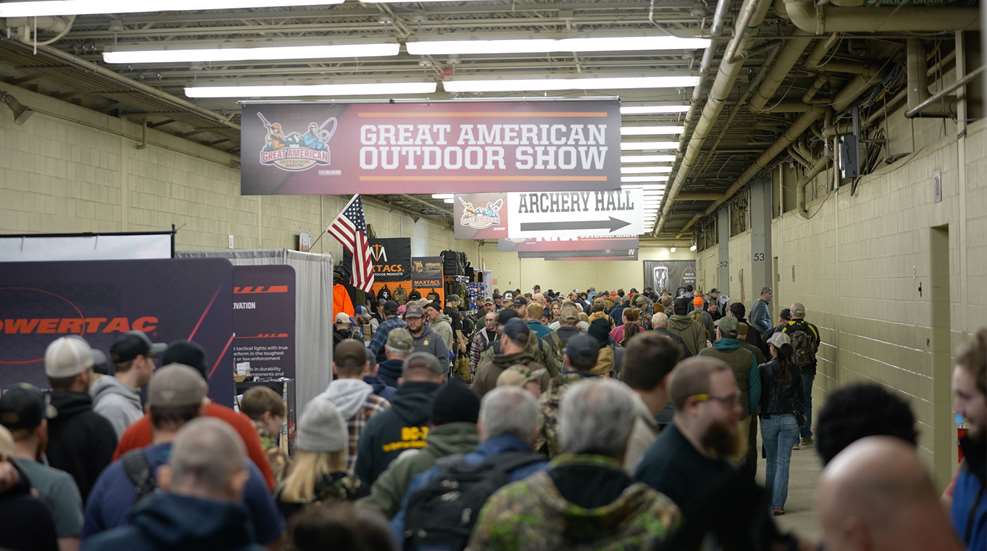 Overwhelmed. This was the first word that came to mind as I trundled down the long hallway connecting the Shooting Sports Exhibit Hall to the rest of the sprawling show. Before grabbing a map, I had foolishly thought the Shooting Sports hall was all there was; I had never been more wrong. There were still eight halls to go, not counting arenas and packed hallways. As I wound my way through the labyrinthine tangle of vendors, outfitters, boats, campers, spreadable bacon and everything in between, the constant appearance of friendly faces both new and old beckoned ever deeper into the event, until eventually I understood exactly what makes this place an outdoorsman's Mecca year after year. The feeling of being overwhelmed changed to one of excitement, and I was hooked.
Bursting from the seams of the mammoth Farm Show Complex in Harrisburg, Penn., the Great American Outdoor Show (GAOS) has been a staple in the outdoor world since its inception as the "Eastern Sports and Outdoor Show" in 1955. Its current iteration has been in place since your National Rifle Association took over in 2014, and has seen even more impressive crowds ever since. According to one security guard, Saturday's attendance alone crested 30,000. If accurate, this year's event could be on its way to a record turnout.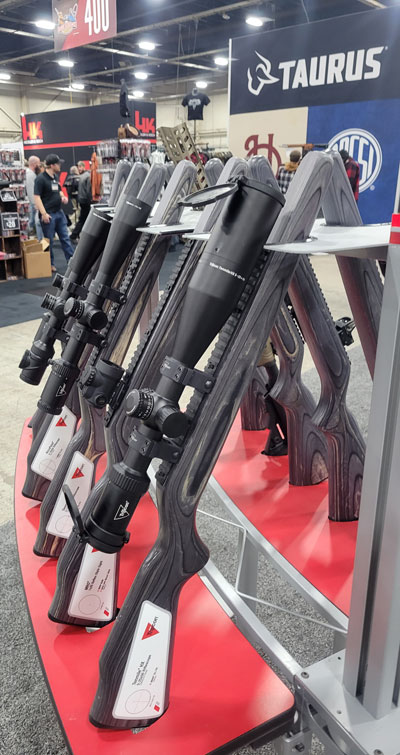 The Show Floor
One of the most staggering things about shows like these is the sheer scope of products and services on display. From industry stalwarts like Mossberg and Trijicon, to automotive powerhouses like Ram Trucks, to even those offering hunt packages and taxidermy services, the GAOS is a true one-stop-shop for any outdoorsman. You can find something to get you to the mountains, a person to guide you, a firearm or bow to take game, a pack to haul it out and a place to stay while you're there, all in one spot. 
Personally, however, my favorite things tend to range toward the smaller end of the scale. The little innovations that can make your hunt just a little bit more pleasurable, or even prove the difference between bagging your quarry or eating tag soup. I came across one such piece of kit over at my friend Brian Benolken's booth (#3623). The designer of the original 4-Play Turkey Call, Brian has developed a new iteration of his signature product based on feedback from turkey hunters far and wide.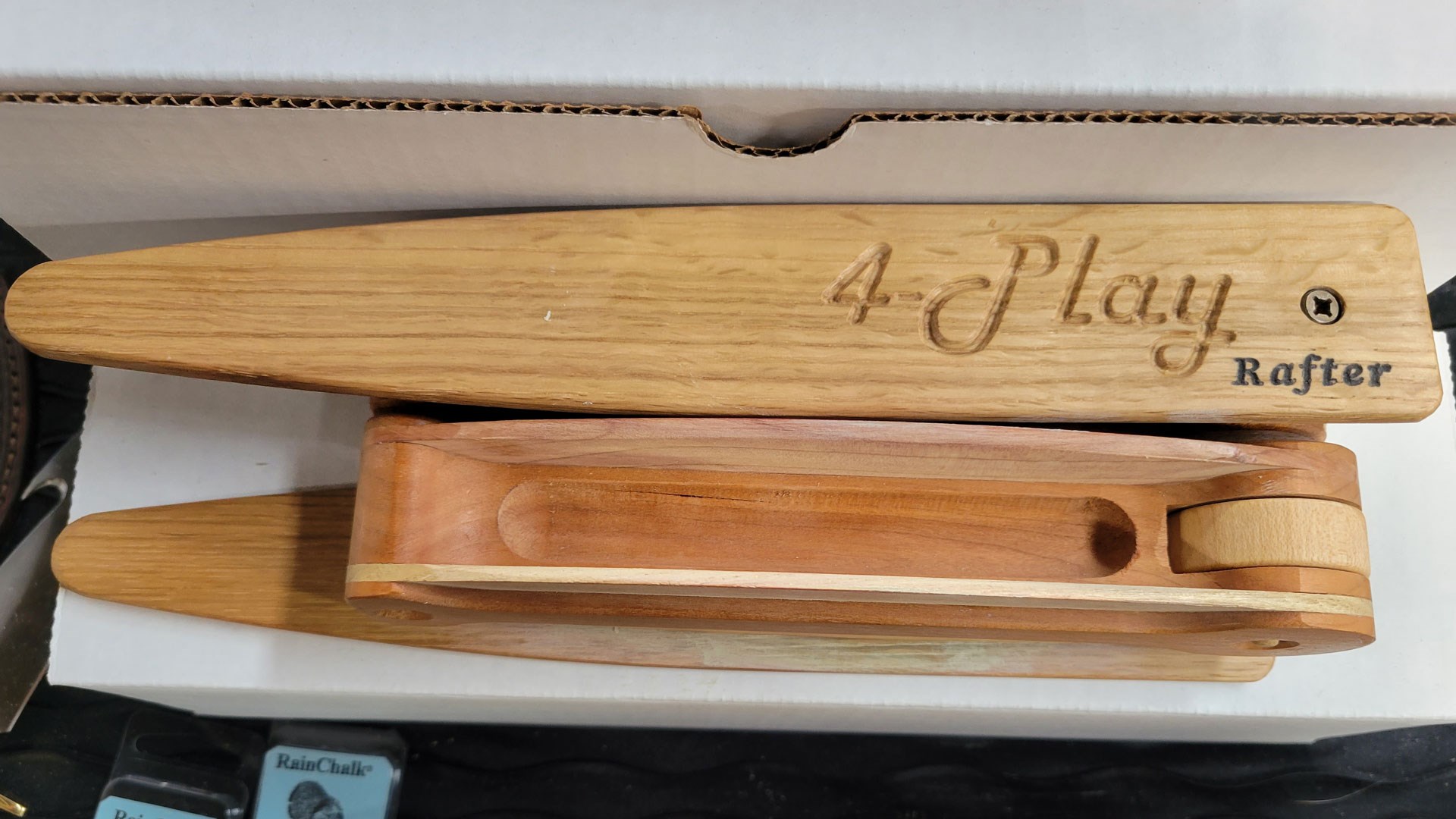 Termed the 4-Play Rafter, the new call boasts an enlarged resonating chamber on one side, making for a deeper sounding rasp. This enables the already-versatile call to sound like a more standard box call on one side and the higher-pitched 4-Play on the other, for an even broader range of sound. While Brian has made a believer out of me with the original 4-Play, I can see how this new deeper tone would come in handy when trying to coax a really wary Tom into view with a variety of different yelps. Even beyond this, he's begun crafting a nifty little box-call holster that keeps your 4-Play secure and quiet when meandering through the woods.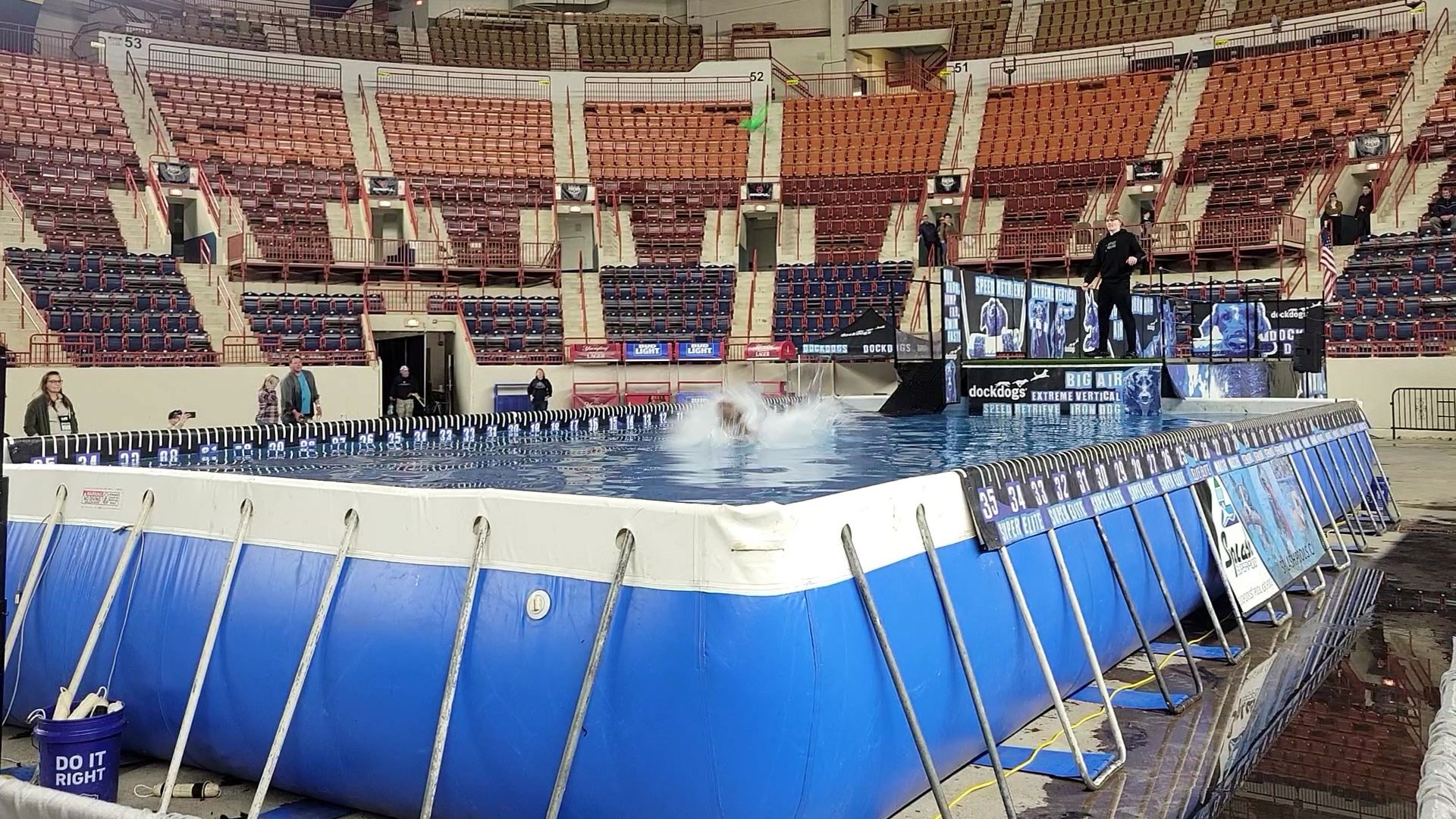 Moving ever further into the event, I stumbled across DockDogs, a canine aquatics competition held in the Large Arena. Complete with a makeshift dock and massive pool, the contest featured traditional retrievers alongside dogs of all stripes, competing to see who could jump the furthest after a thrown retrieval dummy. The contest would be an enjoyable watch anywhere, but stumbling upon it unexpectedly in the middle of a trade show really set the tone, as the crowd of assembled attendees young and old cheered their favorite dogs with vigor.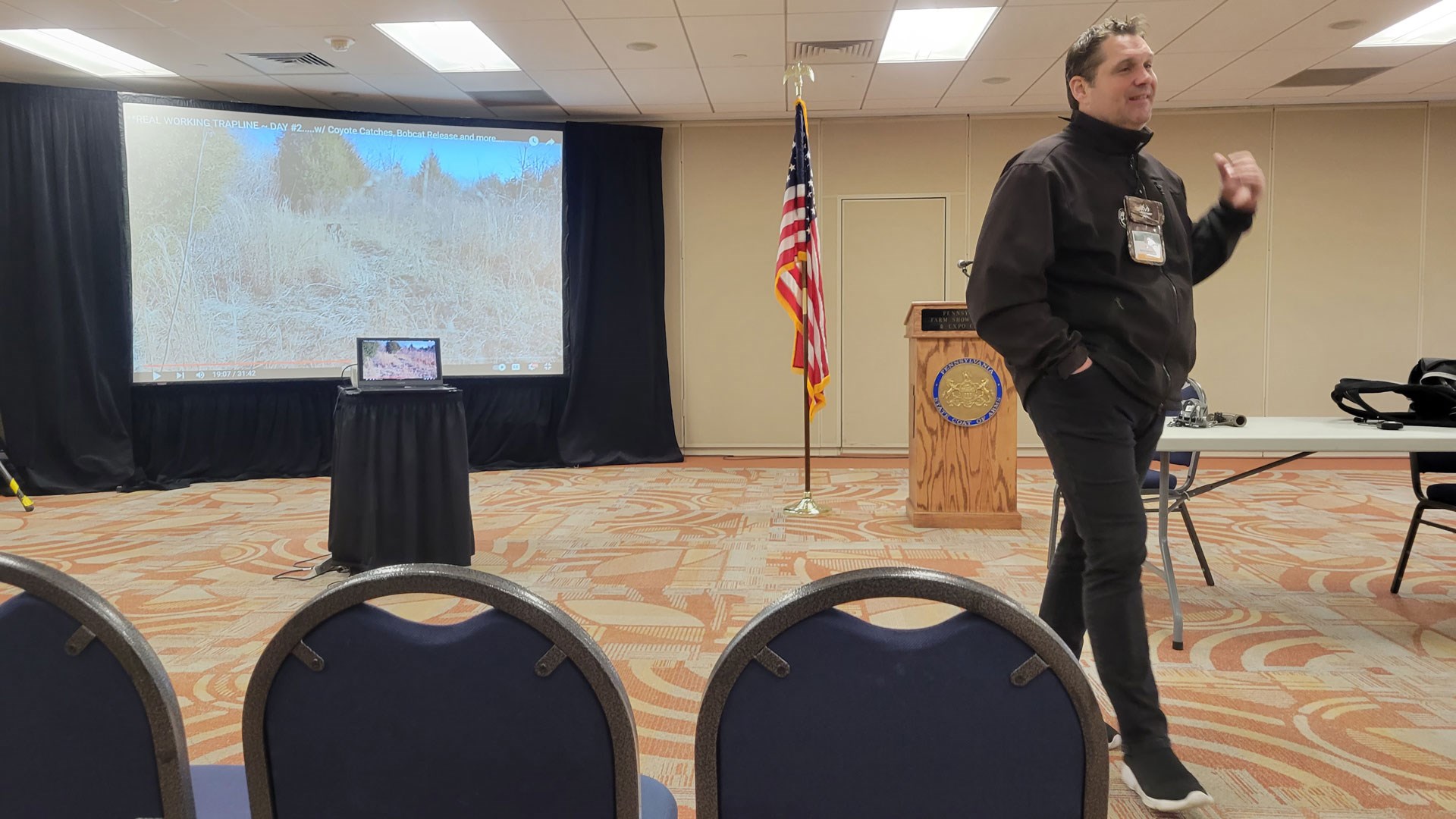 Seminars
In between my trips around the show floor, I made time to check out a few of the fascinating seminars on offer. First up was Alan Probst with Trapping Coyotes and Nest Raiders. A trapper of long experience, Probst founded North American Trapper and is a veritable wealth of knowledge on all aspects of the art. As an aspiring land manager dealing with a coyote problem, not to mention the usual issues with nest raiders, listening to Probst opine on the fundamentals of walk-through sets, proper trap bedding, and the placement of punch holes for lures, scents and baits was beyond enlightening. Moreover, his passion for his profession was abundantly clear as he talked his audience through the necessity of trapping for the health of bird and deer populations, as well as the importance of learning good practices for both dispatching and releasing trapped animals.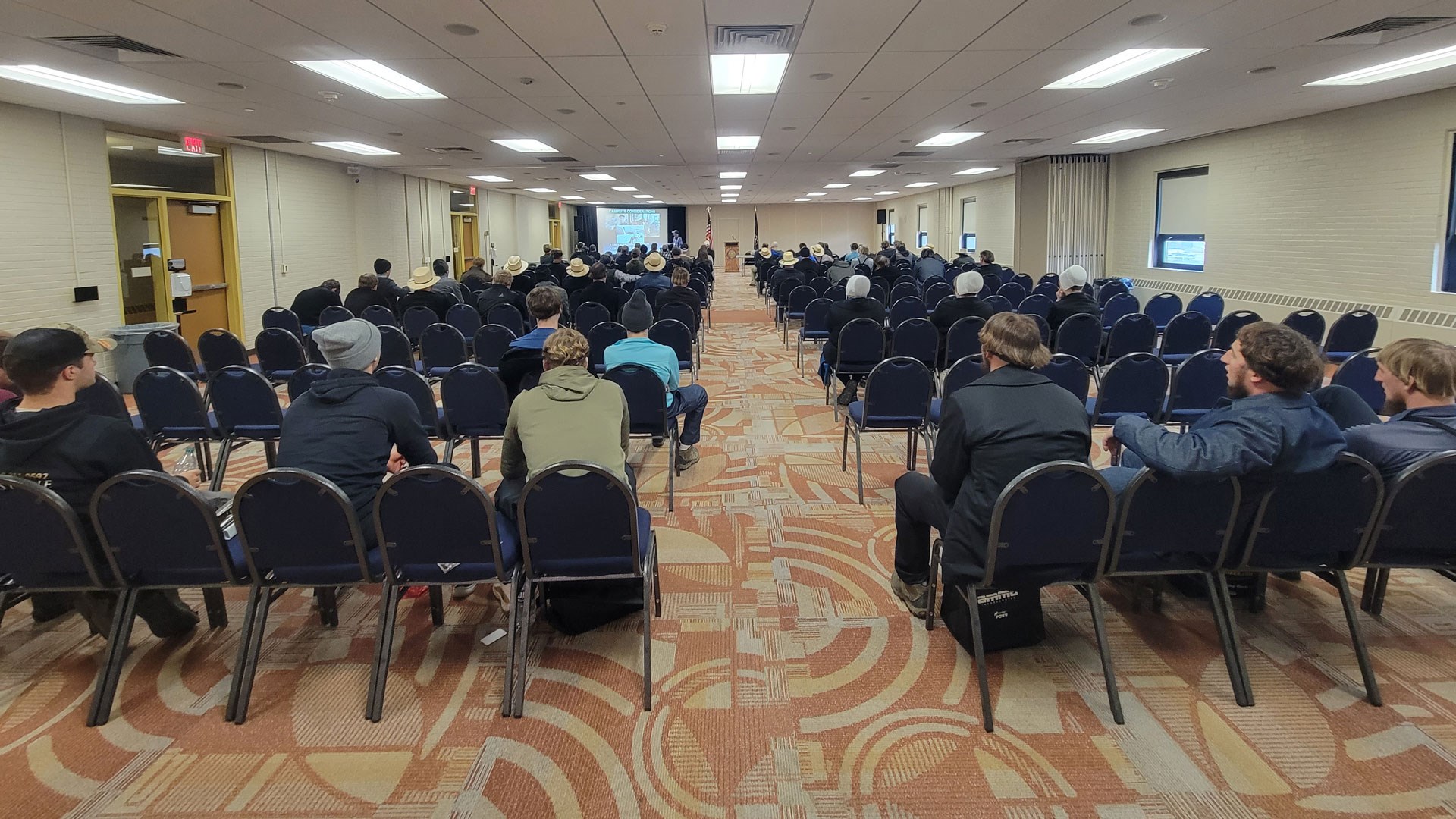 Next up, American Hunter contributor Mark Kayser used his lifetime of experience to lay out tips for folks looking to DIY their own elk hunt. From strategies on drawing tags, to virtual scouting and how to access the more remote and plentiful elk units, Kayser put on a masterclass dedicated to finding success in the field. As I surveyed the crowd, I had to imagine that Mark will have indirectly put a few more elk in freezers this coming season. The only downside to the GAOS is that there is more to do than you could possibly ever fit in a day, so I found myself skipping out of the seminar a little early to catch a butchering demonstration over at the Wildgame Cooking Area.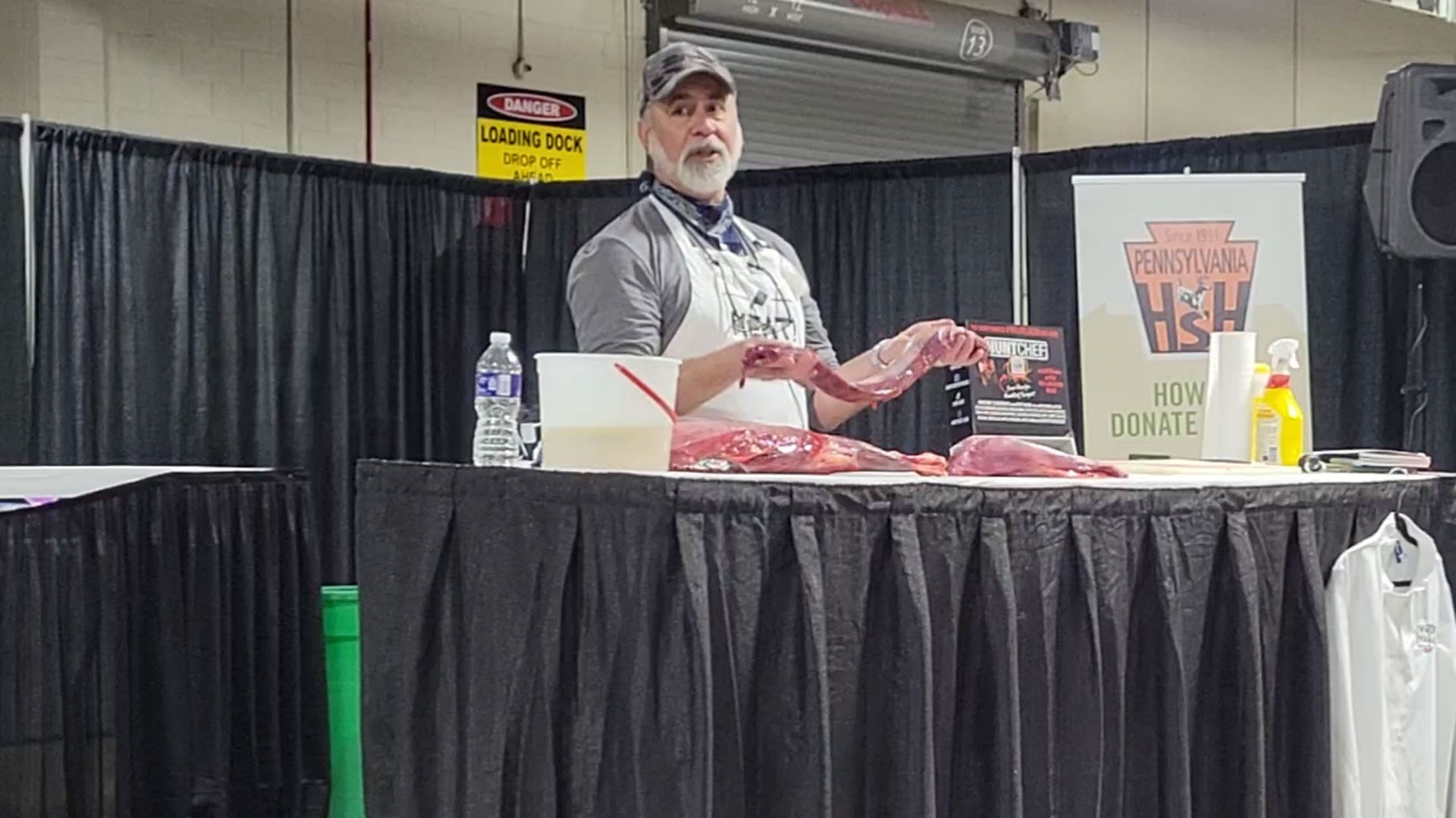 Earlier in the afternoon, I had heard about the exhibition from my friend Greg Ray, over at the Outdoor Solutions booth (#5109). Greg founded Outdoor Solutions in 2003 as an outfitting business, but in 2012 expanded it to include a hunter-focused long-range shooting school, designed to imbue its students with the specific skillsets needed to consistently down game in the field. Never content to simply rest on his laurels, Greg noticed yet another hole in the market, leading him to found From Field to Table in 2019. Just as the long-range program came about thanks to a noted lack of proficiency among hunters shooting at distance, From Field to Table was founded with an eye toward educating hunters on how to properly harvest, dress, butcher and cook their quarry, to maximize both their meat usage and the delicious flavors of wild game. Now, Greg has expanded his offerings yet again.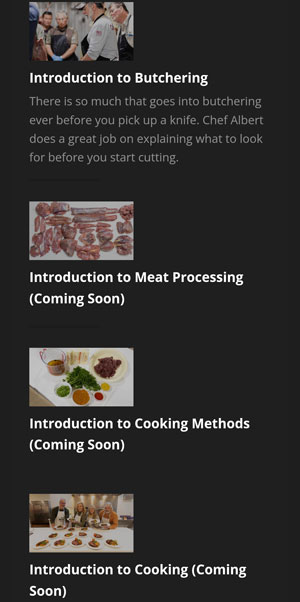 The demonstration was made by From Field to Table's own Chef Albert Wutsch, and while an excellent educational experience in its own right, the demo was designed specifically to promote From Field to Table's latest venture–an online butchering and cooking academy. Still in its trial stages, the program will feature complete video lesson series on butchering, cooking methods, processing and more (even firearm basics!), available to customers as a yearly subscription. Throughout his demonstration, Chef Wutsch offered delicious morsels of the sorts of knowledge soon available at the touch of a keyboard, from the preferred cooking methods of meat based on tenderness, to deboning a hind leg and separating its muscles by hand.
Finally, my head almost spinning with the momentum of the day, I grabbed a shake from the Pennsylvania Dairyman's Association and hit the road. As I pen this today, its almost hard to believe the show is still going, bringing the same levels of energy and intensity to a whole new group of people; it will continue to do so until Sunday, February 12th. In addition to all there is to see and do, there is plenty of good food, and even a free Eddie Eagle Kid's Zone for those families with small children who may need a break throughout the day. For a full list of seminars and demos, click here, and for a list of events still to come, see the links below.
Show hours:
Tuesday, 2/7 - Friday, 2/10: 10 a.m.-7 p.m.
Saturday, 2/11: 9 a.m.-7 p.m.
Sunday, 2/12: 10 a.m.-5 p.m.
Events