by
posted on July 31, 2020
Support NRA American Hunter
DONATE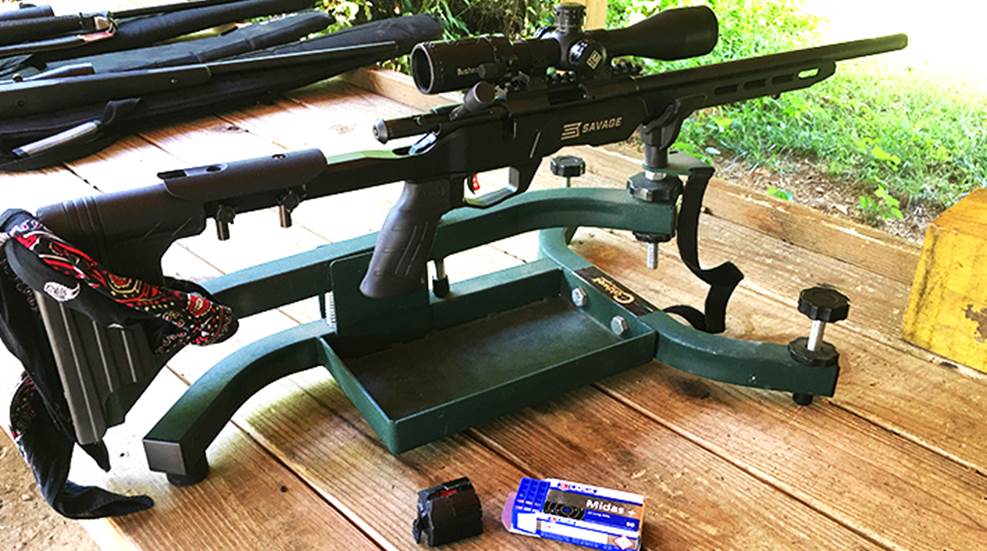 Few tools are as indispensable to the hunter as is an accurate .22 LR rifle. With one, even a nimrod can bag delectable table fare, depopulate the pasture of pests, and hone marksmanship skills quietly and inexpensively. The bolt-action Savage Arms B22 Precision reviewed here, is an exemplar rimfire rifle for the tasks above.

Made in Canada, Savage Arms' B22 Precision more resembles a centerfire rifle than a rimfire. That's due to the barreled action being affixed (via two screws) to a one-piece Modular Driven Technologies (MDT) chassis, CNC-machined from a billet of 6061-T6 aluminum, and finished in black. M-Lok-pattern slots are machined into the sides and bottom of the 1⅝ -inch-wide, flat-base foreend, for nigh endless customization. A sling-swivel stud is found there too. The magazine well is side-relieved for easy access.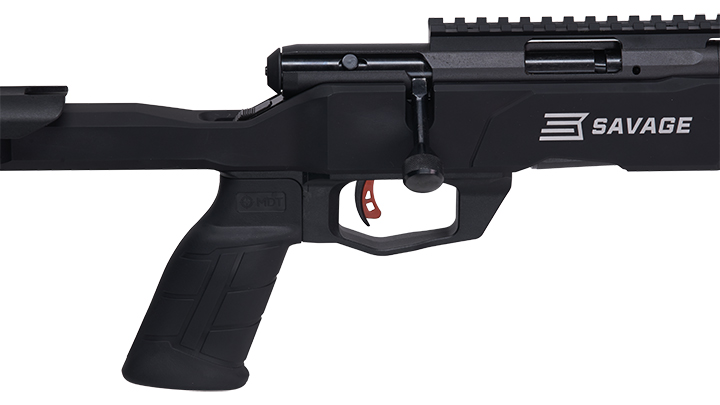 Moving rearward, there's an oversized polymer trigger guard and an exchangeable, AR-15-type pistol grip. The grip is thin near the top, ideally positioning the thumb and trigger finger, and there's a palm-filling swell, too. Personally, I believe there's no need to change it. Rearward of the grip is the adjustable cheek piece to customize comb height. Two finger-tightened screws hold it in place once set. The butt has a recess for the non-firing hand to provide additional support, and it's capped with a soft, ¾-inch-thick recoil pad. For the chambering, however, this is hardly necessary, as recoil is negligible. From the factory, the length of pull (LOP) is 13¾ inches, but can be shorted down to 12¾ inches.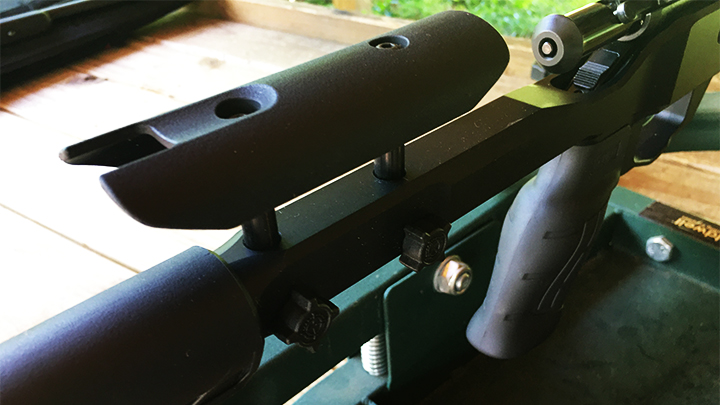 Made from round, carbon-steel bar stock, the B22 Precision's blued receiver has flats machined near the top on both sides—an aesthetically pleasing touch. Topping the receiver is a one-piece Picatinny rail, with a cutout that complements the ejection port. The 18-inch heavy-contour carbon-steel barrel is devoid of sights, and threaded to accept a sound suppressor. A flush-fitting, thread-protecting cap is provided for when a "can" isn't employed.
The blued-steel bolt has dual extractors and a handle ending in an oversize knob. Deep groves enhance purchase. Ejection is via a fixed ejector, while feeding the B22 Precision is a detachable, 10-round-capacity, rotary magazine.

As you'd expect, the rifle's go switch is the timeless AccuTrigger, which is user adjustable. With a creep-free pull weight of 1 pound, 15.7 ounces though, there was no need to tweak the factory setting. Lastly, the two-position safety is found on the tang.
Testing
Even before heading to the range for accuracy testing, I knew the test rifle's capabilities, as well as its likes and dislikes. How? In full disclosure, I had previously used the rifle for several ammunition-specific articles; in fact, I had fired more than 2,000 rounds across all price points and velocities in a range of conditions. That wasn't by coincidence, either; rather, the B22 Precision's top-tier accuracy made it a no-brainer for testing ammunition.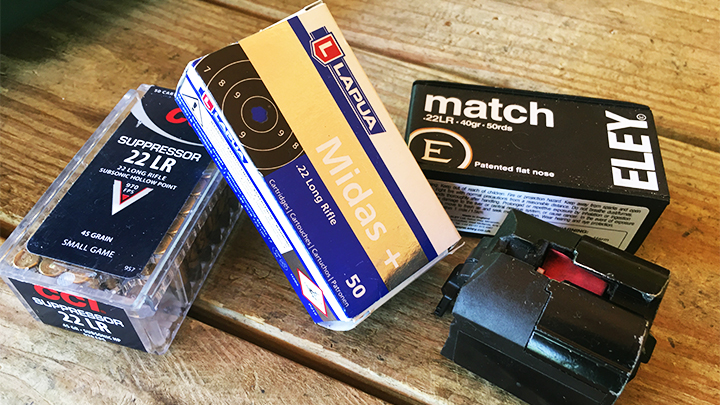 To evaluate accuracy for this review, I opted to top the rifle with a Bushnell AR Optics 4.5X-18X-40mm scope, and install a YHM .22 Mite sound suppressor. For ammunition, I selected two top-class match loads—Lapua Midas+ 40-grain LRN and Eley Match 40-grain LFN—as well as a proper hunting option, CCI's extra-quiet Suppressor .22 LR 45-grain subsonic hollow point. I also had a handful of assorted, remnant ammunition for function testing.
Firing from a Caldwell Lead Sled Solo at 50 yards, the most accurate load proved to be that from Lapua, which averaged 0.41-inch for five consecutive, five-shot groups. The smallest group measured 0.31-inch. Before being enlarged by the subsequent two rounds, though, the first three bullets in that cluster measured 0.025-inch center to center. Yeah, it's accurate. Eley Match also grouped tightly, averaging 0.44-inch for all 25 shots. CCI was just shy of 1 inch.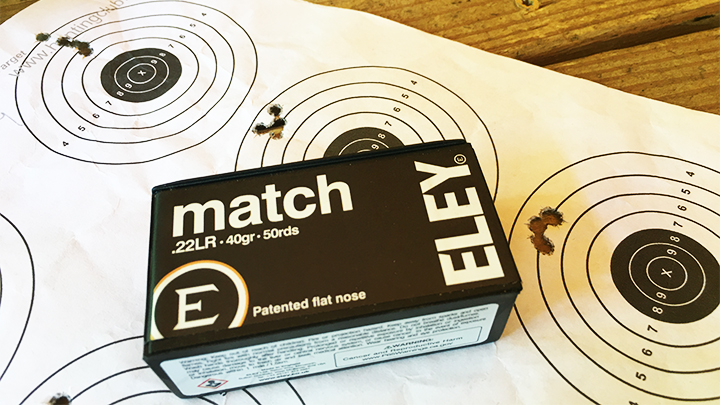 Accuracy testing was followed by chronographing and checking for function. From the rifle's 18-inch barrel (sans suppressor), the Lapua, Eley and CCI loads had mean velocities—as calculated by a Caldwell Ballistic Precision Chronograph—of 1045 fps, 1073 fps and 956 fps, respectively. Of the assorted .22 LR ammunition utilized, only two loads had malfunctions in the B22 Precision: Fiocchi Performance Shooting Dynamics 40-grain LHP and Winchester M-22 Subsonic Black CPRN. These two had proven to be incompatible previously, as well.
With a scope-less weight of 7.38 pounds, the B22 Precision is no lightweight. That's a non-issue for me—I don't mind toting it when hunting small game or varmints, but others might find it a tad too heavy for such pursuits. Nonetheless, it assuredly would be pure poison from the bench on a prairie dog town, or waiting on a field edge for groundhogs to emerge. The test rifle has already accounted for one oversize Virginia woodchuck, cleanly taken at 122 yards.
Savage Arms' long-standing ability to create superbly accurate, reliable, and well-apportioned rifles at affordable prices is on full display with the B22 Precision. With an MSRP of $599, it's a great value.
Accuracy Results: Savage B22 Precision .22 LR

Group Size (Inches)

Load

Weight (grs.)

Velocity (fps)           

Smallest

Largest

Average

CCI Suppressor .22 LR Subsonic HP

45       

956     

0.65    

1.36    

0.95

Eley Match LFN

40

1,073

0.32

0.60

0.44

 

Lapua Midas+ LRN

40

1,045

0.31

0.56

0.41
Outdoors, Caldwell Lead Sled Solo, 50 Yards, Five-Shot Groups

Technical Specifications
• Type: bolt-action rimfire rifle
• Caliber: .22 LR
• Barrel: 18" carbon steel; 1:16" twist; threaded muzzle
• Magazine: detachable, rotary; 10-round capacity
• Trigger: adjustable, single-stage AccuTrigger; 1 lb., 15.7 oz. pull weight
• Sights: none; Picatinny rail included
• Safety: tang-mounted, two-position
• Stock: one-piece MDT chassis CNC machined from 6061-T6 aluminum with AR-15-style pistol grip, adjustable cheekpiece, and M-Lok cutouts and sling swivel stud on fore-end; LOP 12¾"-13¾".
• Metal Finish: stock black, barreled action blued
• Overall Length: 36⅝"
• Weight: 7.38 lbs.
• MSRP: $599; savagearms.com