by
posted on September 1, 2018
Support NRA American Hunter
DONATE
On Aug. 25, 2017, the eighth named storm of the year's Atlantic hurricane season—Hurricane Harvey—made landfall near Rockport, Texas. In the four days that followed, the storm dumped immense amounts of precipitation over eastern Texas, many areas receiving more than 40 inches of rain. The flooding that followed was devastating, with more than 70 people killed in Texas and preliminary damage estimates in excess of $50 billion.
I arrived in Houston two weeks after Harvey departed, the storm having moved farther inland and finally weakening into a line of showers that broke up over Tennessee. As I drove south along state Route 288 toward Matagorda Island, traveling closer to where the storm had made landfall, the scars left by Harvey were unmistakable. Residents of low-lying areas had most of their possessions—couches, tables, dressers and televisions—ingloriously piled at the edge of the road. The flood line was clearly visible, rising in places above children's play sets, cars and to the roofs of homes. Debris was scattered everywhere.
Ducks Unlimited had organized the hunt, but Harvey hit with such force I expected the trip would be canceled. However, our outfitter—legendary Matagorda duck guide, boat captain and owner of Matagorda Sunrise Lodge, Bink Grimes—made it clear that we were still welcome to come down and hunt with him. In fact, the teal hunting in early September had been very good. Even in the wake of the storm, Bink and his crew had managed to eke out limits of blue-wings for their clients every day.
When I arrived at the lodge, Bink's enthusiasm and perpetual good nature made it easy to forget that, just days prior, the worst storm to strike this country in more than a decade had passed directly over our current position. I asked him how much Harvey affected the ducks. "Maybe a little," he said. "It's stormed here for centuries."
That much was true, and the locals were eager to get on with their lives. With characteristic Lone Star resolve the residents around Matagorda cleared trees from roads, shoveled silt from basements and knocked on doors to find the rightful owner of a battered Igloo cooler that had floated into someone else's yard. All was evidence of the ferocity of the storm, but the greatest demonstration of the hurricane's power was the silting-in of the Gulf Intracoastal Waterway.
The Intracoastal Waterway is a body of water—some of it natural bays and rivers, other portions artificial—that runs from Boston, Mass., to Brownsville, Texas. While interstate highways are filled with 18-wheelers busily running goods across the nation's interior, the IWW, as it's known, serves as a quiet migration corridor for billions of dollars in goods. The Gulf Intracoastal Waterway, which spans Florida to Texas, is a key pathway for goods to reach a sizeable portion of the U.S. population.
But as I looked out at the IWW from the lodge, flat cargo ships stood motionless in the September sun. The boats hadn't moved since the storm. Their captains could be seen standing on the bridges of their boats chatting back and forth, or playing cards to pass the time they spent suspended between locks. The result was millions of dollars in lost revenue each day.
The lockkeeper, then, was understandably oblivious to our boat's arrival. He hadn't opened or closed the locks since the storm and, until powerful dredgers cleared the water, his services wouldn't be required with the exception of anglers and duck hunters looking to travel from one area of the canal to another. When he graciously opened the enormous steel gates, we waved, started our boat forward, and promptly ran aground and stalled out. The canal, normally 15 feet deep to accommodate passing barges, had accumulated so much silt after the storm that the water was less than a foot deep in places.
What's all this have to do with teal hunting? More than you might imagine.
■ ■ ■
Long before Harvey made headlines, hurricanes had pounded these same coastal shorelines—there were simply fewer humans here to suffer the effects. There were no refineries centuries ago to illuminate the night and keep petroleum products flowing. There were no suburbs, no overpasses, no seaside bars and grills, and no Intracoastal Waterway to ferry goods from one side of the Gulf to the other.
There were marshes.
This low country near the Gulf, in the days before mass human settlement, was dominated by a chain of wetlands and marshes that both fresh and saltwater species relied upon for survival. These vast areas also served as a kind of sponge, absorbing flood waters and holding excess rain until it could seep into underground aquifers, reducing erosion and protecting surrounding ecosystems from further devastation once storms had passed.
"From an ecological perspective, tropical storms are an important form of natural disturbance in coastal wetland ecosystems," says Dale James, Ducks Unlimited's manager of conservation planning for the organization's Southern region. "They aid in maintaining wetland health and structure by resetting cycles of succession, or natural plant community changes, in the ecosystem. Without periodically setting back succession, marsh can become highly vegetated with little or no value to waterfowl. We manage succession through disking, mowing, burning or herbicide applications. Hurricane-related storm surge, and saltwater intrusion to inland fresh and intermediate salinity wetlands provide the natural disturbances necessary to create more open marsh environments that provide a greater variety of food resources to benefit wintering waterfowl."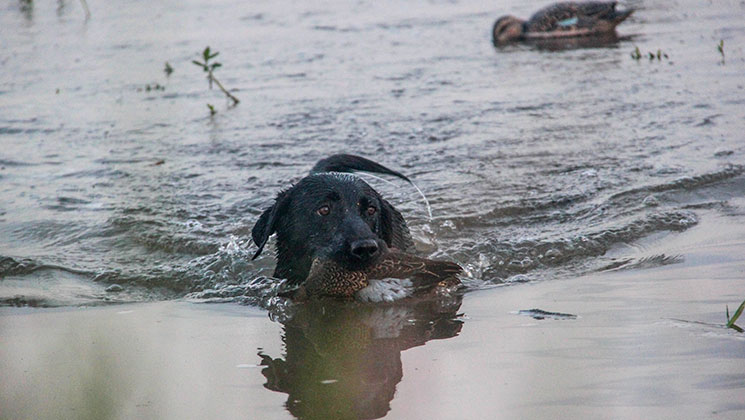 Marshes play a vital role in coastal ecology. It follows, then, that Ducks Unlimited's efforts to increase wetland and marsh habitat benefits not only the birds but also the humans who rely on these areas to act as a buffer against the punishment from storms like Harvey.
Ducks Unlimited's Texas Prairie Wetlands Project has conserved or restored more than 21,000 acres of land in 28 counties along the eastern coast of Texas. The organization has contributed $12.5 million toward the project, and Texas landowners have contributed an additional $13.7 million to fund DU's efforts to restore vital habitat lost to agriculture and ranching over the last century. This collaboration has brought land managers, property owners, hunters and biologists together with a shared mission of improving habitat and returning it to a natural state. In the wake of Harvey, we are now beginning to understand the full scope of these projects. Despite our technological achievements we still find answers to complex problems woven into the fabric of the natural world.
The early indications were that the hurricane's effects, while still quite severe, were mitigated—at least in part—by habitat that had been restored for waterfowl using hunter dollars. When I hunted Matagorda it was too soon to determine the full impact on wildlife and wetland ecosystems since some of the infrastructure needed to reach those areas had been destroyed. One bright spot for migrating waterfowl was that many of the area's rice farms (as many as 75 percent, according to DU estimates) had already harvested their crops, so there was food available in the form of waste grain for birds that would not be able to rely on submerged aquatic vegetation damaged in the storm. Additionally, the same violent waters that swept away the aquatic vegetation also served to clear damaging invasive plant populations such as water hyacinth and giant salvinia.
■ ■ ■
Wading through calf-deep water and guided by the reflection of starlight on the surface of the marsh, Bink led our hunting party through the murky wetland toward a levee. Southeast Texas is still warm in mid-September, and with highs in the 80s every day I knew the water moccasins that undoubtedly made their home in the swamp were active. It caused me to pause twice to examine an odd reflection on the surface of the water—errant shadow or snake? When we finally reached the island I carefully brushed away the loose grass in an area I guessed to be large enough to allow me to see any snake before it came too close. I would have liked to have turned on my flashlight, but the fear of snakebite wasn't as compelling as the irritating mosquitoes that dogged the entire hunting party as we crossed the swamp. Turning on a light invited them to attack, and their constant droning soon made me forget about snakes as I spit and swiped at the harassing swarms. The only thing that halted their attacks was the occasional wind gust that swept across the water from the northwest.
The creeks and wetlands around Matagorda Island have a special place in my heart. The barrier island was the site of my first industry hunt, and I have fond memories of the time I've spent tucked in the tall weeds at the edge of brackish water. What I knew to be true of Matagorda before Harvey's arrival was still true; in September, the marshes are alive with birds. Before shooting light, with the decoys still settling in the water and before I'd even loaded my gun, I could see the first twisting flight of teal rushing across the sky.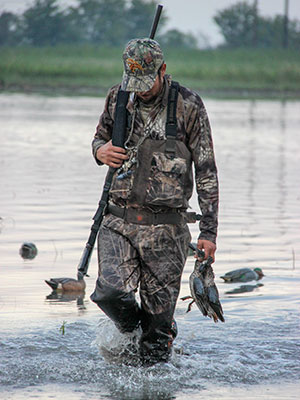 As daylight came and shooting time grew near I reacquainted myself with hunting these birds. Groups of four or six teal would zip across the surface of the water and vanish from sight as they dipped below the skyline. That required me to find their reflection on the surface of the water and find it quickly. The teal might drop out of sight and suddenly bank toward the decoys. If I was still blinking at the horizon and wondering where they'd gone, I was apt to miss my opportunity for a shot when the birds whistled past at close range.
The good news, though, is there were many birds, and one mistake did not mean an empty game bag. Teal aren't forgiving, so it's best to hunt where they can be found in large numbers. I missed my first shot at a low-flying bird, cursing myself for being behind before I even pulled the trigger and watching as Rafe Nielsen from Winchester sent that same bird tumbling from the sky with a well-timed shot. No matter how many times I remind myself that these birds are deceptively fast and require a good gun mount, a strong, steady swing and proper follow-through, I always seem to manage to shoot behind the first few birds of the morning.
As the day wore on and the sun rose over the distant tree line, delicate plovers walked on stilted legs at the water's edge. The mosquitoes had dissipated, thankfully, and I could devote my full attention to the teal. So abundant are the marshlands of southeast Texas that, on a good day, the morning sky is never devoid of birds. As sure as we would be watching a low-flying group at our 12 o'clock position, another hunter in the line would call birds to our right. On many occasions while monitoring a flock birds ahead of us, an unseen group of teal would approach from behind and pass just out of cricket-bat range overhead. The game was simple: keep your head low, your gun close, and be ready to shoot quickly. As with hunting doves, everything happens in a hurry when chasing teal.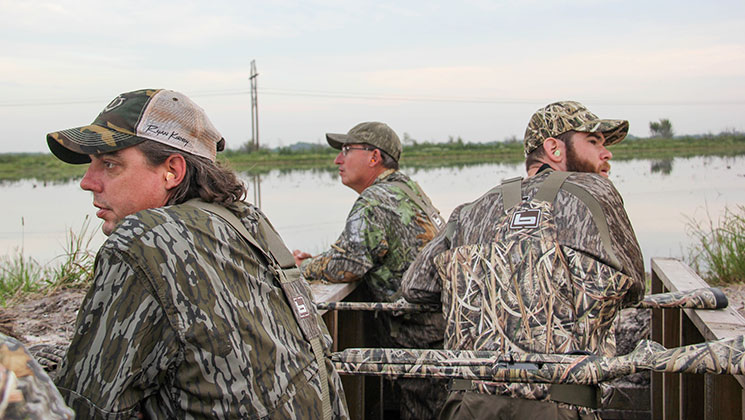 My marksmanship that day wasn't impressive, but the number of birds was astounding. In fact, with my sub-par shooting I still managed to limit, more a testament to Bink's ability as a guide and the region's abundance of birds than my prowess with a shotgun. But the birds were there, and any questions I'd had about how they would fare in the wake of such a devastating disaster were answered by breakfast time.
September on the coast of Texas is teal time, and Texans pride themselves on their rich traditions. A storm wouldn't stop that. Harvey could halt the flow of trade in the Gulf of Mexico for weeks, but the wetlands were still the same as they had been before the storm—the same as they had been for millennia prior to that. The birds we hunted that day were the offspring of teal that had been traveling this migration route since time immemorial. I realized as I sat with my back against the levee in the coming dawn how foolish it had been to underestimate the resilience of nature. The human suffering from the storm was great, but the natural world has a solution to almost every dilemma.