by
posted on August 23, 2010
Support NRA American Hunter
DONATE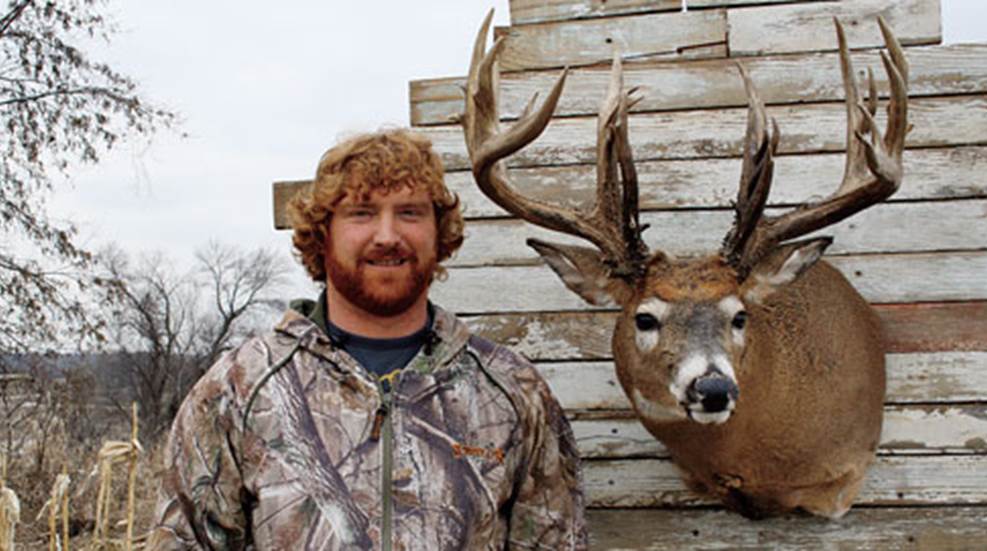 One day last October Scott O'Konek and his wife, Susie, hunted Camp Ripley, a 53,000-acre military training base in Minnesota. The goal of the two-day lottery hunt was simple: Get Susie on a deer. Scott had a good spot picked out for her. But they got there and found other hunters. No sweat, Scott set Susie up in another area he'd mapped out. Then he took his climber and snuck off to hunt about 100 yards away.
Scott, a maintenance company owner who lives to bowhunt, started to see more and more deer activity as the morning passed. (Sometimes it's like that. Don't leave your stand too soon when the deer are moving.) A doe crossed about 120 yards out and the doe's presence and smell caused a giant buck to stand up. "When I saw the buck I knew it was something else, just unbelievable," Scott said.
The buck veered closer, but then vanished into brush. Would Scott see him again? Tense minutes passed and the buck started to panic. Then there it was, quartering away at 44 yards. Scott had a small opening and one chance. He made it count with a perfect shot.
He found the buck and stood with him for 45 minutes, simply awestruck. Susie came over and joined the celebration. "It was so inspiring to see that beautiful animal lying in the woods with a grown man crying over it," she said.
The 32-pointer with the gigantic brow tines was one of the top bucks of 2009, if not the best. The rack scored 227 3/8 net, a new Minnesota archery record.
Lessons Learned
-The biggie: Military bases, state forests and urban parks with lottery hunts and limited permits offer hot public hunting for monster bucks. Check out any such opportunities near your house.
-If other people are hunting one of your best spots, so what. Pressure is a big part of hunting public land, so deal with it. Map and scout at least two or three different areas (the more the better) so you have plenty of stand options each day.
-Scott and Susie went out that day to get her a deer, any deer. They didn't go with the mind-set of having to shoot a huge buck. They hunted free and easy, which is often when you get a crack at a huge deer.