by
posted on January 5, 2021
Support NRA American Hunter
DONATE
With today's release of its new Impulse straight-pull rifle, Savage is providing American hunters a high-performance option that emphasizes high rate of fire. Combining the company's vaunted button-rifled barrels and its game-changing AccuTrigger with a largely overlooked operating system, the Impulse is being introduced in three model variants, each configured to leverage the action's rapid-fire capability in different specialized hunting scenarios.


• Impulse Big Game— Kiui Verde camo stock with green Cerakote metalwork; 22- or 24-inch barrel; .243 Win., 6.5 Creedmoor, .308 Win., .30-06, .300 WSM, .300 Win. Mag.; 2- to 4-round magazine capacity; MSRP $1,449.


• Impulse Predator—Mossy Oak Terra Gila camo stock with matte black metalwork; 20-inch barrel; .22-250, .243 Win., 6.5 Creedmoor, .308 Win.; 10-round magazine capacity; MSRP $1,379.


• Impulse Hog Hunter—OD Green stock with matte black metalwork; 18-, 20- or 24-inch barrel; 6.5 Creedmoor, .308 Win., .30-06, .300 Win. Mag.; 3- or 4-round magazine capacity; MSRP $1,379.
Along with individual styling and specs, all variants come with Savage's award-winning AccuStock and AccuFit features that allow shooters to adjust their rifle for personal preferences. Also standard issue are detachable box magazines and a factory-mounted 20-MOA accessory rail.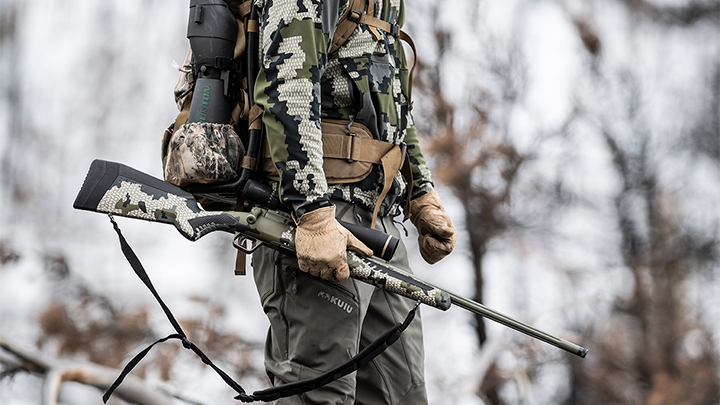 The mechanical key to the Impulse is its propriety Hexlock, which utilizes six hardened steel ball bearings that encircle the case head. In the bolt-forward position, the bearings are pressed outward by a plunger contained within the bolt body, causing them to lock securely into the barrel extension and put the gun into battery. Upon firing, internal pressure causes the bearings to hold even tighter. But when pressure on the bearings is released, shooters can cycle the action with minimal effort. Unlike our familiar bolt-actions, reloading doesn't require turning the bolt up and then down. Instead, a simple, rearward tug on the handle opens the action and clears the spent shell, then it is flicked forward to pick up and chamber a new round. From the first magazine at our initial hands-on range session, the Impulse proved extremely quick and smooth. And though our try-out didn't include extensive accuracy testing, the Impulse Hog Hunter in .308 Win. stacked shots into very tight groups.
Many first-timers find straight-pull operation surprisingly intuitive and moreover, that they tend not to lift their heads from the stock as is often the case with turnbolt rifles. Those efficiencies help make the Impulse lightning fast. It is a real treat to see a practiced straight-pull shooter dialed-in on running targets, but the good news here is that such skill is attainable for just about anyone who really works at it.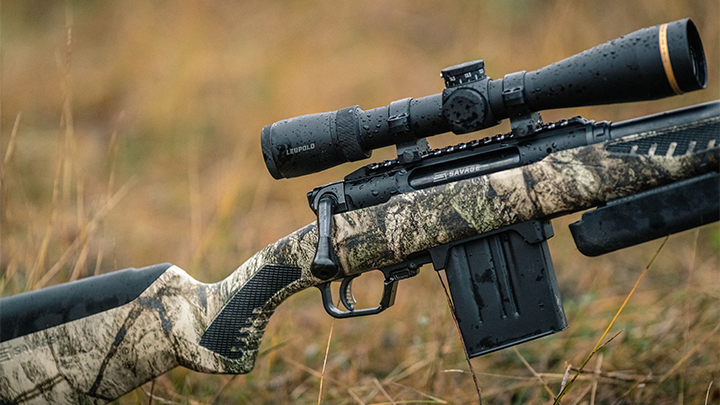 While most Americans lack first-hand familiarity with straight-pull rifles, they've have been around since the late 1800s, and it remains a popular category in Europe, where sportsmen and women are especially keen on them for hunting wild boar and other driven game. However Continental owners, plus those in the U.S. and elsewhere, also favor their straight-pull rifles for deer, stag, moose and other big game, convinced the quick cycling and head-down technique help them keep their quarry in view throughout during the pivotal moments after the shot.
Though our scant, collective exposure to straight-pull rifles has largely involved rimfires and military relics, a cult following of current big-game models from Germany has nonetheless grown in the past decade. However, the pricing on such import models limits their appeal. In the Impulse, Savage has devised its own extremely clever and extremely fast-running system, installed it in rifles loaded with features and functionality sought by today's hunters, and is now bringing the new line to market at less than half the cost of category-leading imports.