Support NRA American Hunter
DONATE
With the bulls bugling and the aspens at their golden height, where else would you rather be than the "Elk Hunting Capital of the World" with an elk tag in your pocket? Digital Managing Editor Justin McDaniel found himself in that enviable position in late September as he headed to the mountains northeast of Craig, Colo., for his first elk hunt.
Gallery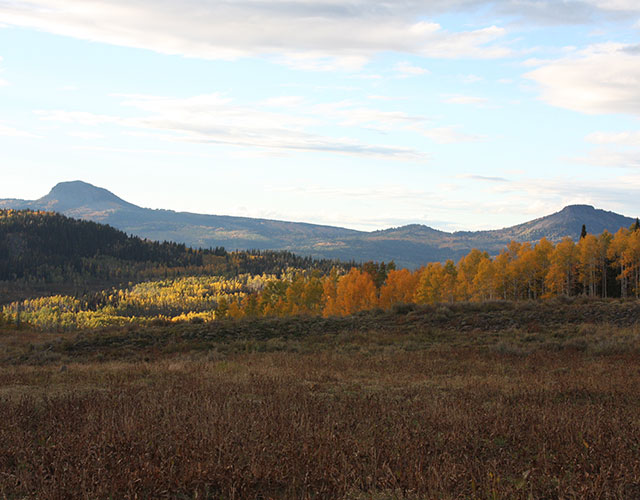 Classic Elk Country
High mountain peaks. Aspens ablaze in orange and gold. Dark timber draws. When you envision elk country in your mind's eye, this is what you see. At least I do. Seldom do your dreams match reality, but as I climbed high into the Colorado Rockies on the last Sunday in September, I couldn't help but think, "This is how elk country is supposed to look."
Riding In
Sure, you can hunt by foot or ATV, but if you want to cover ground while still getting that classic elk hunting experience, then a horse or mule is the only way to go. And that's coming from an elk hunting neophyte who had never ridden a day in his life before arriving in Colorado. My advice: Just relax and let yourself move to the rhythm of the mule's gait. And enjoy the scenery!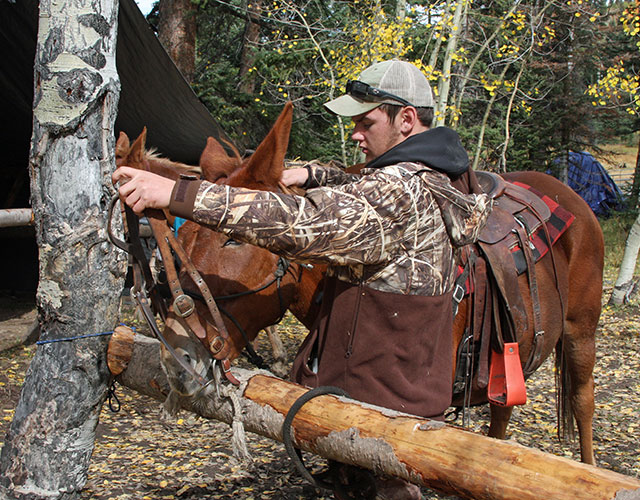 Trudy
My trusty steed was a mild-mannered, sure-footed mule named Trudy, whose only downfall was her propensity to stop and grab a bite to eat as we moved. Here Trudy is cared for by 17-year-old native Tennessean Jacob Peltz, an apprentice guide and camp hand for Elkhorn Outfitters.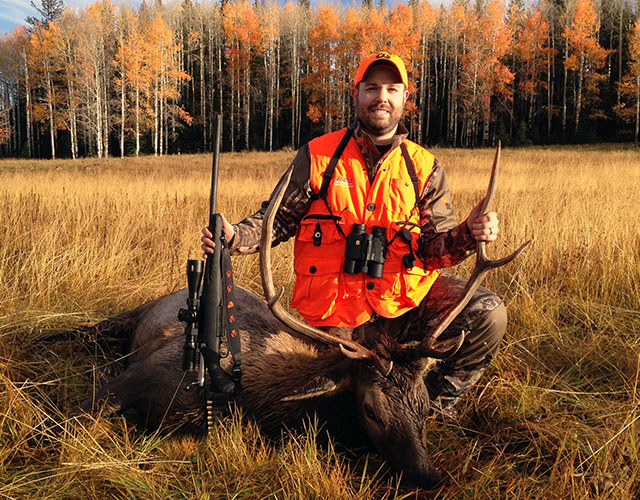 First Bull
Dick Dodds, owner of Elkhorn Outfitters and my guide for the hunt, let out a bugle at first light and was promptly answered by a bull on the opposing ridge. We dismounted and set up along the edge of a meadow, where this young 4x4 stood about 250 yards out—the first elk I'd ever laid eyes on in the wild. Dick's calling quickly reeled him in with two spikes in tow. Using a Ruger American Rifle in .300 Win. Mag. and prototype ammunition from Hornady that will be formally announced in late 2015, I double-lunged the bull at 35 yards for my first elk.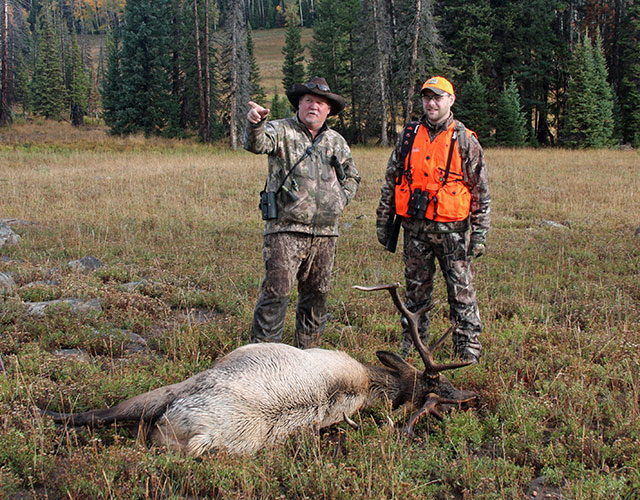 Doubling Down
After my elk fell, the rest of the herd continued to feed atop the ridge, not the least bit fazed by the report of the shot. We ranged the herd bull at 400 yards with our Bushnell Fusion 1 Mile ARC laser rangefinding binoculars as he marched, bugling, between his cows and a stand of Engelmann spruce. Sensing the bull would come no closer, Dick grabbed my hunting partner, Bill Dunn from the National Shooting Sports Foundation, and snuck across the meadow. With the bull in hot pursuit, a string of cows filtered toward the timber where Dick and Bill waited, and Bill dropped the ivory-tipped 5x5 in his tracks.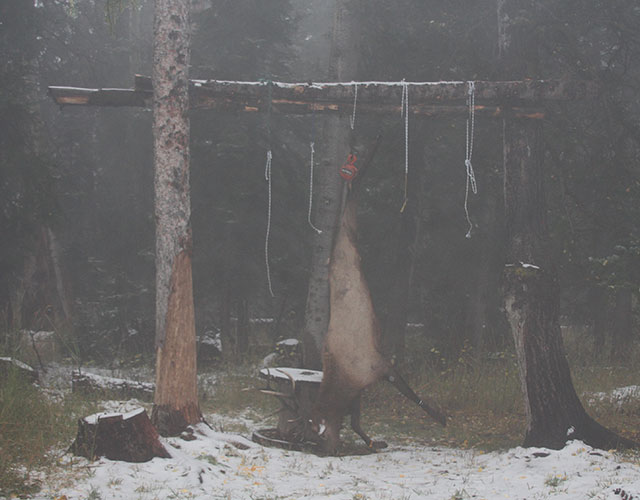 First Snow
After a day of chamber of commerce weather that saw five out of the six hunters in our party tag bulls, including this handsome 5x5 killed by Hornady's Neal Emery, we awoke the next morning to rain, fog and the first snow of the year.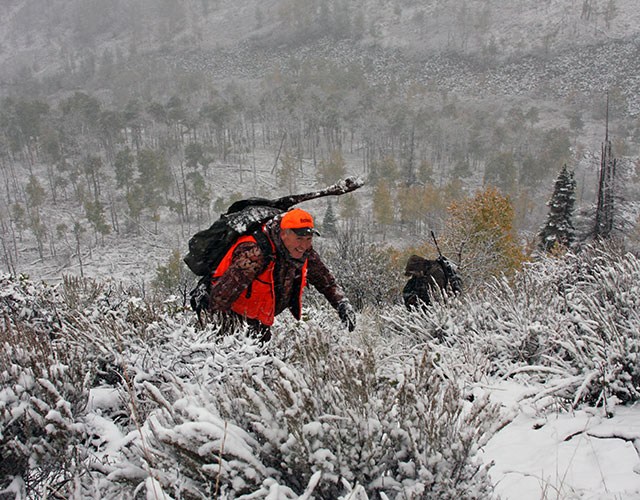 The Cliffs
Fogged out the day before, fellow writer Wayne Van Zwoll arrived at one of Elkhorn's favored honey holes at dawn and had a bull on the ground just as the first flakes filled the sky. By the time the 6x6 was quartered and packed out from the bottom of "The Cliffs," several inches of wet snow had fallen.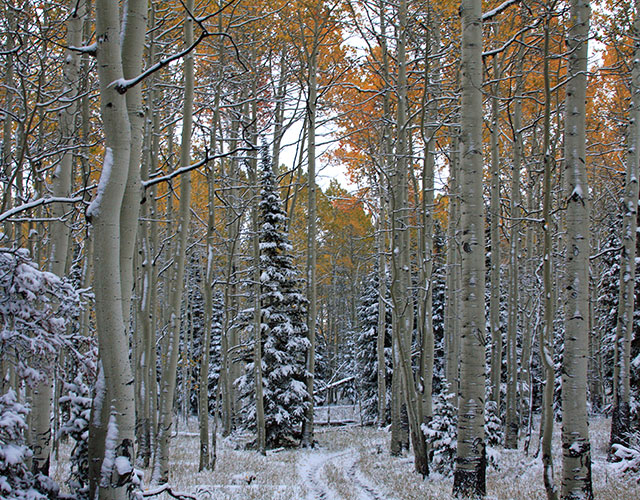 Winter Wonderland
Snow hung heavy on the pines and aspens, and although the mountain was blanketed in white, there was no snow at all in the Yampa Valley, some 3,000 feet below.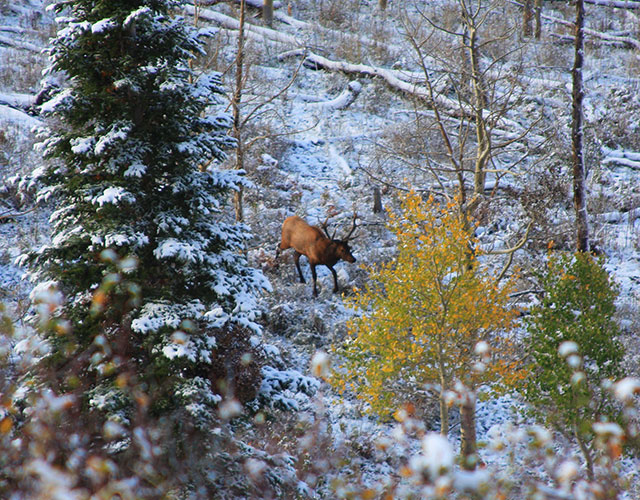 Bugles Boom
With our group tagged out, we returned to "The Cliffs" for one last fill of elk country. The ridges were littered with elk and bugles boomed from the draws. Our guides joined in the symphony, calling in a respectable 5x5 in the process. Our tags were issued through Colorado's Ranching for Wildlife program, affording us the unique opportunity to rifle hunt during the heat of the rut.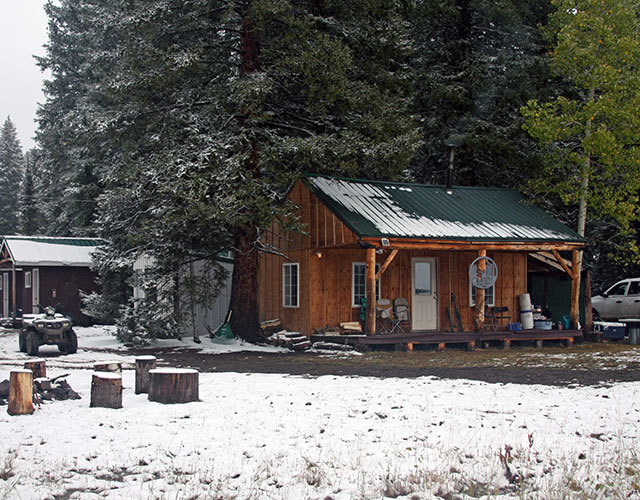 Elk Camp
As our host, Kevin Howard of Howard Communications, put it, "This is how elk camp ought to look." Situated at 9,500 feet in the shadow of Pilot Knob, our camp consisted of three basic plywood cabins and a central mess hall where we ate and gathered. This camp serves as an early-season outpost, as the snow gets so deep in the late season it's been known to bury the buildings to their eaves.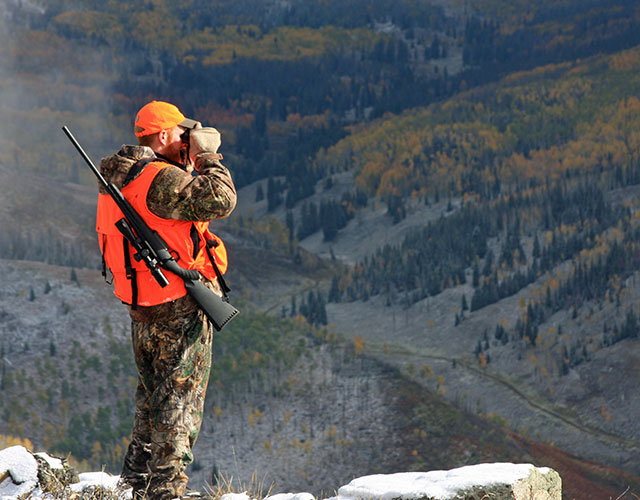 Ruger American Magnums
When Ruger's popular American Rifle hit the market in 2012, it gave shooters a high-quality hunting rifle at an affordable price. Since that time Ruger has added more calibers and Compact, Predator and Ranch models, not to mention all-weather and left-handed variants, to its American line. Now, Ruger is set to offer its bargain bolt-action in magnum calibers for the first time, counting 7mm Rem. Mag., .300 Win. Mag., .338 Win. Mag. and .375 Ruger among its planned offerings. The first magnums, such as the .300 Win. Mag.-chambered American Rifle shown here topped with Bushnell's new 3X-12X-44mm Elite Long Range Hunting Scope, could begin rolling off the line as early as the end of this year.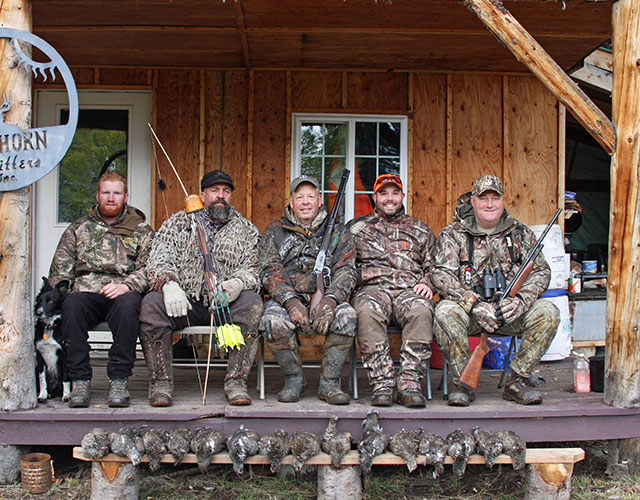 Blue Grouse Bonanza
On our last afternoon in camp, we set out in search of the not-so-elusive blue grouse, managing to reach our limit in time to enjoy grilled grouse for dinner. From left to right, guides Sam Manson and Billy DeMarco, Kevin Howard, the author and Ruger Director of Operations Tim Lowney show off the day's take.