by
posted on May 29, 2018
Support NRA American Hunter
DONATE
Regardless of the machine, there will always be those seeking the best available. This is, of course, why we have Bentley and Rolls Royce automobiles. When it comes to firearms, it's no different. You can go with an affordable option and still kill squirrels and elk, or you can spend some serious money and have the best available. Your pocketbook is really your only limitation. If that's the way you want to play when it comes to a .22 rifle, look no further than Vudoo Gun Works out of Saint George, Utah.

It's the mission of Vudoo Gun Works to offer the best, and they hang their hat on their experienced, passionate and motivated employees. In comparison to other gun companies, Vudoo is small and family owned. If you think about, that's how all the greatgun companies started out.
Vudoo specializes in what might be the most accurate .22 rifles money can buy, and they're all based on the V-22 Rimfire Repeater Action. The V-22 action can be purchased in left- or right-hand configurations, and as a barreled action only, for $1,770. I know what you're thinking; where would you find a rifle stock to fit a proprietary action? Well, that's the beauty of the V-22. This engineering masterpiece conceived by Mike Bush has a Remington 700 footprint, so it'll fit in any stock or chassis designed for the Remington 700. It has also been configured to work with full-size, short-action, bottom metal, and the Vudoo V-2210 magazine, which has an AICS form factor. This means the action will work with Remington 700 bottoms designed to take AICS centerfire magazines.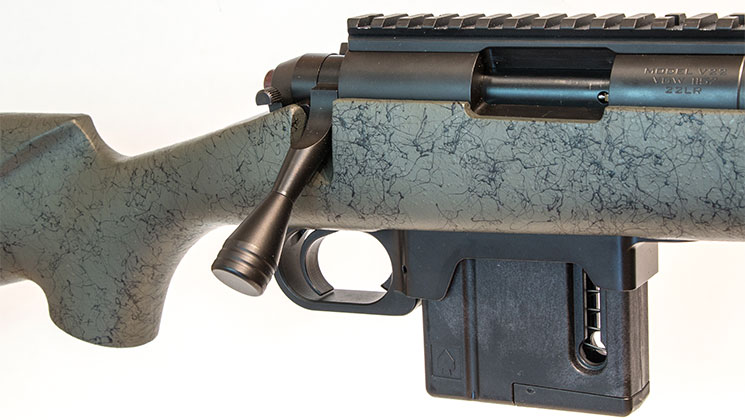 I'd been hearing great things about the Vudoo rimfires and requested one for review. They sent me the Raven, which is styled similarly to a common bolt-action sporter. This is a rifle that you wouldn't mind carrying to the timber in search of fox squirrels, or taking to the field for prairie dogs or gophers. It's only 37 inches long, weighs 7.81 pounds and comes standard with a Timney trigger, 10-round magazine, Grayboe Outlander stock, threaded muzzle and an oversized bolt handle. Yes, that all sounds amazing, just about as amazing as the MSRP of $2,395.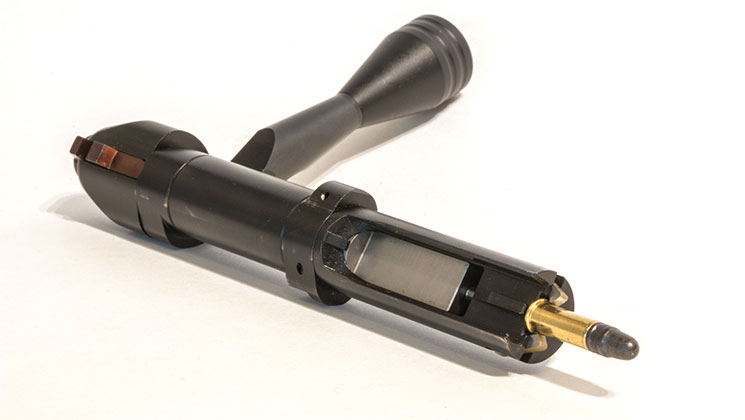 I know some will immediately balk at the idea of paying that kind of cash for a .22, but, look at it this way; if you're a real rifle shooter, in a lifetime, you'll shoot 10 times as many rounds of .22 LR ammo as you will centerfire ammo. And, real rifle shooters won't think twice about spending that kind of money on a precision centerfire. The question to answer was whether or not the Vudoo Raven really gives you what you pay for. There was only one way to find out.
I mounted a 4-16X42 Nightforce ATACR riflescope—a rifle purportedly this good should be matched with an exceptional riflescope—to the Raven. Then, I got behind it on the bench, and with three different loads proceeded to fire five, five-shot groups with each. I allowed for no Mulligans, and when I measured groups, I did not throw any shots out. The average size of all 15 groups was an amazingly small 0.392-inch! The smallest group fired measured a mesmerizingly miniscule 0.087-inch. In case you have trouble visualizing, that's five-shots in one itty-bitty hole that is less than a hairs width larger than the diameter of the bullet! The rifle shot so well, I'm embarrassed to report the largest group measured 0.899-inch, which clearly speaks to my ability and not the rifle's.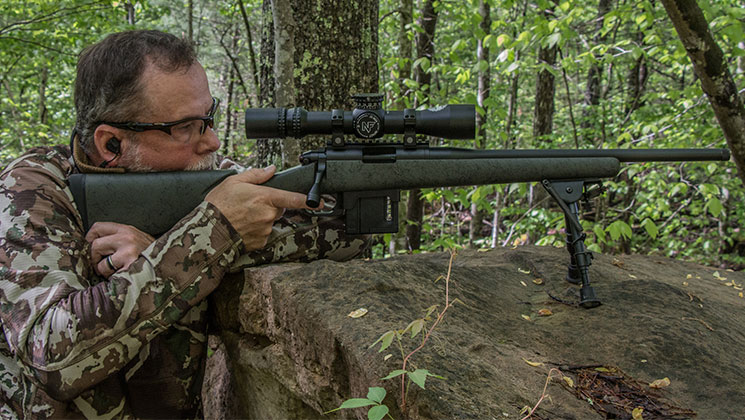 Given it was a Timney, the trigger—as I'm sure you would expect—was phenomenal. So was the V-2210 magazine; I experienced no feeding issues. Due to the dual and opposing extractors on the bolt, there were no extraction issues either. The rifle fed, functioned and fired as you would expect a $2,400 rifle to feed, function and fire—with absolute perfection.
Is the Raven, or maybe one of the even more expensive Vudoo Gun Works' .22s, for you? Well, how would you like to win money off all your buddies every weekend on the range? How would you like to repetitively shoot fox squirrels in the head, out to 50 yards and beyond? (I fired several 100-yard groups that measured less than a half-inch.) If you can shoot, you should be able to do all that and even more impressive things with the Vudoo Raven.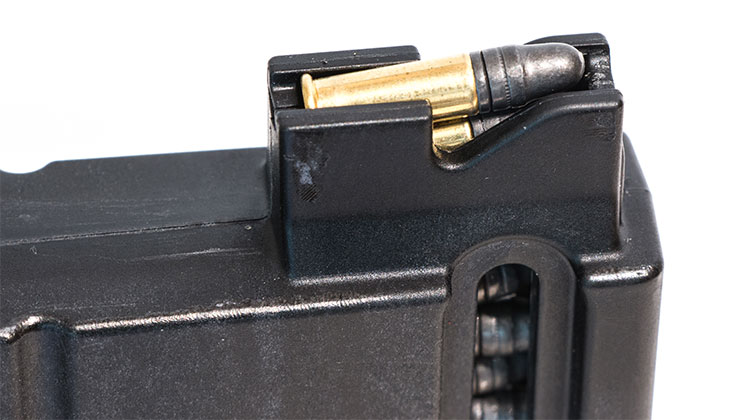 If you're not a real rifleman, if you're not serious about hitting, save your money, buy lots of .22 ammo and practice a lot more, before even thinking about a Raven. Having the best rimfire rifle in the world and not being able to shoot it—at least shoot near its capability—is like owning a Rolls, and not being able to drive it. Yeah, I know, you should probably hire a chauffeur for the Rolls, but nobody want's someone else driving their rifle—even if it costs like someone should be.
Accuracy Results


Technical Specifications
• Length: 37"
• Weight: 7.81 lbs.
• Barrel: 416R Stainless Steel (16"; 18" (tested); 20")
• Stock: Synthetic Grayboe Outlander
• Trigger: Timney
• Capacity: 10 (Proprietary—AI Format)
• MSRP: $2,395; vudoogunworks.com