by
posted on July 3, 2017
Support NRA American Hunter
DONATE
What is the purpose of a handgun? In most cases, a handgun is a firearm to be carried when a long gun is impractical—or as a back-up to that rifle or shotgun. There are many times, even in the outdoors, where a long gun is an albatross. A gun that is within arm's reach while setting up camp, feeding animals, scouting, field dressing or doing any type of physical labor is often a good idea—run-ins with a bear, mountain lion or wolf aren't occasions where you'd want to find yourself unarmed. Let me say from the outset that, if I knew I was going to have to deal with a charging animal, I'd bring a rifle to the party. But the reality is that we never know when back luck will strike and we are more likely to actually have a handgun readily available, since it can be carried virtually everywhere. For more than a century, the revolver has filled that role, since most pistols are chambered in cartridges that, correctly or not, were deemed too weak for such a task. The 10mm changed that equation, making duty-sized semi-auto handguns viable choices for backcountry carry. The Camp Guard 10mm from Kimber is one such handgun, designed from top to bottom for this specific role.
Like many shooters, I love the 1911. The fundamental characteristics of its design make it easy to shoot well, which is exactly what you'd want if you had to use a handgun in an emergency. As great as .45 ACP is, it is not ideally suited for providing deep penetration and wouldn't be my first choice to stop an animal. While still imperfect for the task, the 10mm gets us a little closer to where we want to be. The 10mm Auto cartridge works at greater pressures than the .45 and hits a sweet spot between velocity, bullet weight, frontal area and recoil. Heavy 10mm loads from companies such as DoubleTap and Buffalo Bore penetrate deeply and reliably without being difficult to shoot. No handgun round, no matter how powerful, is ideal for stopping a large mammal. But the 10mm is certainly capable of doing so with the right ammunition and appropriate shot placement.
The Camp Guard is constructed almost entirely from stainless steel, which isn't bad news for a gun designed to be exposed to the elements. The slide wears a black KimPro II finish, which gives the gun a two-tone look and makes it a bit less flashy. The full-size 1911 frame is checkered 30 lines-per-inch on the frontstrap, which provides plenty of grip without being overly abrasive to skin and clothing. In order to make the pistol a bit less obtrusive to carry, the frame butt and mainspring housing are tastefully rounded-off. This is a feature that you'll appreciate when you carry the gun and will unlikely notice when you shoot it. The Camp Guard was designed in-collaboration with the Rocky Mountain Elk Foundation and the laser-cut Rosewood grips wear the RMEF logo in-relief.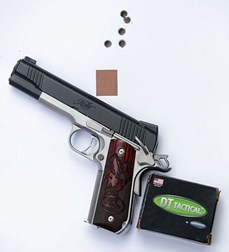 Like most Kimber 1911s, the Camp Guard is loaded with upgraded features that make the gun both attractive and easy to shoot. The hammer and trigger are skeletonized, the ejection is lowered and flared, cocking serrations are found on the front and back of the slide, and the beavertail grip safety allows for a high grip on the gun which helps manage recoil and tame muzzle rise. The extended safety ensures that the shooter doesn't have to alter his or her grip to access it and both the slide stop and magazine release are checkered. The sharp edges on the gun have been de-horned and the slide stop pin sits flush with the side of the frame which is a nice touch on a factory gun. Steel single-stack magazines hold nine rounds.  
Unlike traditional 1911s, the Camp Guard comes fitted with a ramped barrel which both supports the 10mm chamber and provides an unbroken feeding surface for cartridge feeding. This, along with the full-length guide rod, is the only major functional departure from the Browning design. The snag-free Novak-style sights are drift-adjustable for windage in their dovetails and combine tritium inserts with white outlines for a three-dot setup that works day or night. The top of the frame has been milled flat between the sights, which is one of the little details that adds to the overall look of the pistol.      
We tested the Camp Guard 10mm with three different loads to ensure that it functioned with a variety of ammunition: DoubleTap's 155-grain Barnes TAC-XP, Remington-UMC 180-grain FMJ, and DoubleTap's 200-grain Hardcast Solid. Other than one instance on the very first mag where the gun failed to feed, the Camp Guard functioned with 100 percent reliability. In my experience, brand-new 1911s can be a bit tight and early malfunctions are common. The trigger broke cleanly at 4¼ pounds and the reset was very short, making the gun easy to shoot well. We did not perform formal accuracy testing, but 25-yard targets indicated that the gun was plenty accurate with most 5-shot groups falling a bit under 2 inches. It bears mentioning that the recoil was no more noticeable than that of a 1911 chambered in .45 shooting 230-grain FMJs. In the interest of full disclosure, I've been shooting a decent amount of 10mm (and very little .45) over the past few years, which could explain this. Either way, the 10mm is a very controllable cartridge out of a full-size steel 1911 pistol.
The Kimber Camp Carry is a handy and powerful handgun designed to be carried in the great outdoors. This handgun exhibits excellent fit and finish and more than a few custom touches. The 10mm Auto isn't a magic wand, but it is a cartridge that punches above its weight in terms of terminal performance in a relatively small package. This handgun is accurate, shootable, and comfortable to carry. The Camp Guard is, at its core, the 1911-lover's backcountry sidearm.