by
posted on July 19, 2017
Support NRA American Hunter
DONATE
I have issues with pheasants. Bad issues, mostly. I've only shot at a handful of them—none successful—but I invariably either over- or under-lead them. I've had friends remark "You smoked the flushing grouse, how in heck did you miss a pheasant?" Suffice it to say; when Chris Hodgdon called to invite me to come to Kansas to the Flint Oak Lodge—one of the most prestigious pheasant preserves around—the lump in my throat grew considerably as I politely accepted.
Now what do I do? Poke an eye out to make an excuse for missing? Buy a shirt with the words 'my real gun is a rifle' on it? "Phil, Mark Keefe from American Rifleman and Scott Rupp will be joining us, as well as Ron Reiber from Hodgdon; he's loaded all the shotshells for the trip. By the way, he has won several shotgun championships," Hodgdon went on to say.
Fantastic. I could embarrass myself in front of some world-class folks, instead of just putting up with the disappointed glare of a dog. I packed up my old automatic, the "Lemon-Hundred," and off to Kansas I went. Our trip began with a tour of the Hodgdon facilities in Shawnee, where an impressive collection of taxidermy was interspersed with relics and memorabilia of Hodgdon's early days. While Chris and I were discussing his many new releases he informed me that the shotshells I would soon be embarrassing myself with were loaded with the new IMR Red powder. You see, Hodgdon acquired both IMR Powder and Winchester Powder in recent years, and has continued developing new powders under both brands. IMR Red is new for 2017, designed to give optimal performance in lighter trap and field loads, at the same load densities as the other red powder; you know, the one with the dots. The same bushings can be used for both powders on your shotshell loader.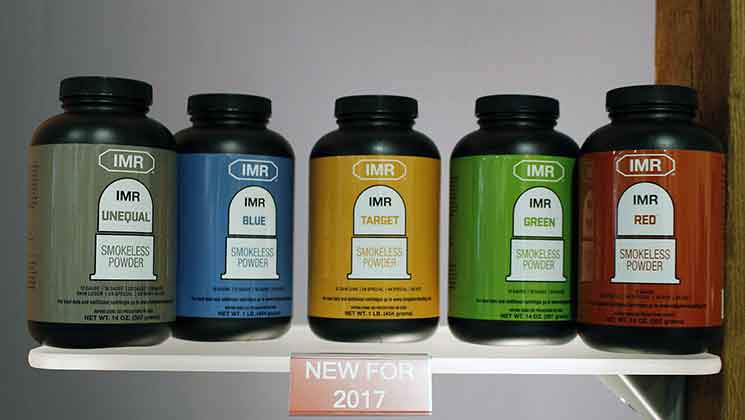 After some of Kansas City's best BBQ and a ride across the Kansas countryside, we arrived at Flint Oak to find one of the finest facilities I've ever had the privilege of haunting. If there was a six-star rating, I'd attach it to Flint Oak. We dined on pheasant and quail, and had a nightcap or two in Flint Oak's new bar, properly bedecked with mounted birds and local deer, and I mentally prepared for the morning. We began our day at the sporting clays course, where I would face many different shots at birds coming from hellish angles. To make matters even more interesting, Ron Reiber would be shooting the course with his Perazzi .410 stack-barrel. Ron crushed the course, giving a clinic on how to handle a scattergun. For the record, I didn't shoot all that bad; at least some of the birds broke before they hit the ground.
In all sincerity, the trap loads Ron had prepared with the IMR Red had a very sweet feel to them, and by the end of the course I had redeemed myself, shooting very well at the landing duck station, with the 1100 reaching out to 35 and 40 yards. I know this shotgun well, and I could tell immediately that this volume of shooting didn't leave my gun nearly as dirty as it had been on other sporting clays courses. Chris explained: "We've used a formula that burns much cleaner, and is much more environmentally-friendly." If that equates to less cleaning on my part, I'm all about it Mr. Hodgdon!
During lunch, I felt the nervous twitches coming on, knowing I had to actually kill birds with a shotgun. I was paired with Ron Reiber—still well-armed with a .410—and our guide had a great pair of pointers. Ron on the right, I on the left, the dogs pointed a bird in the milo. Here we go; the bird flushed my way, and the 1100 and IMR Red smashed a chukar. Whew. So far, so good. The next four points were all pheasants, and all roosters. All four broke right, and all four fell to Ron's Perazzi; this guy is an animal with a shotgun. The fifth, however, cackled loudly as he made his ascent over the rock-solid dogs, made his way to the port side of things, and thankfully flew into my pattern. The pheasant curse had been broken, and the new powder and I went five-for-five on pheasants that afternoon. I even added a few bobwhite quail to the bag, completely redeeming my lousy shooting in the morning.
The next morning was our tower shoot, with pheasants flying all over the place. Once again, IMR Red proved its worth, with Keefe and Rupp shooting very well, and Yours Truly even adding to the tally, despite a mechanical failure. Yup, as it's done thrice in the past, the 1100 spit its extractor, leaving me with a bulky single-shot gun. No matter, I had a great time, and gave this new powder a solid workout.
All in all, the IMR Red makes an excellent choice for moderate 12-gauge loads, but that's not all it's good for. The Cowboy Action crowd should give this powder an audition, as it is well-suited to pistol loads using the classic cast-lead bullets. The Hodgdon Powder Company—long-famous for its deep roots as well as its innovative measures in powder development—has continued to deliver the goods for the reloading community. IMR Red is just one of a series of five new powders introduced in 2017; included in this lineup are IMR Green, IMR Blue (perfect for magnum shotgun loads), IMR Target and IMR Unequal. If you're looking for a new fuel for your shotgun and/or pistol loads, give the IMR powders a whirl; I think you'll like the results.