by
posted on December 8, 2017
Support NRA American Hunter
DONATE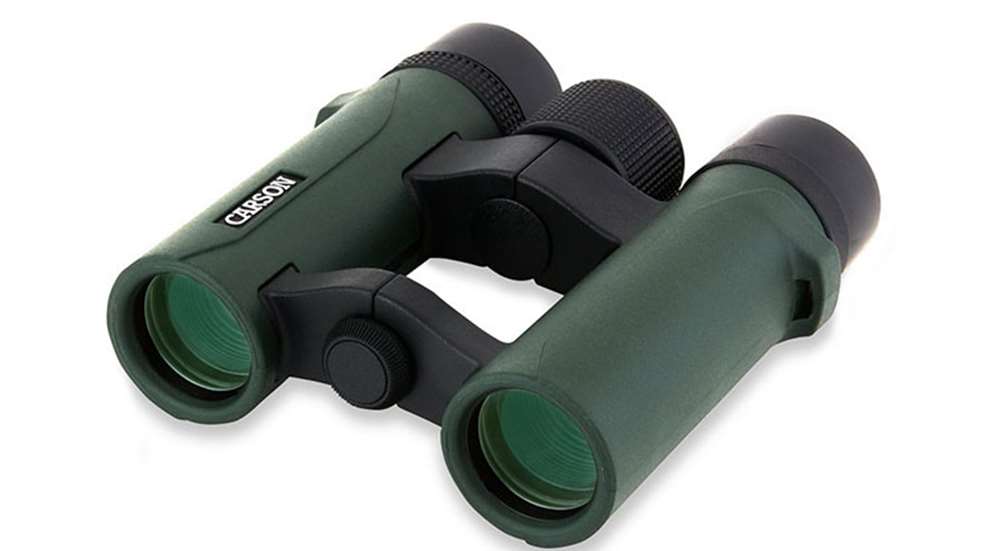 I've never been a big fan of pocket-sized binoculars, because all those I'd tried previously were the type that companies give out as inexpensive promotion items. You think you can keep them in your front shirt pocket and quickly whip them to get a better see the dimples on the pigskin—or perhaps a deer across a canyon—but it turns out you can't see jack because they're so dark and out of focus. These type of pocket binos are they're given away for free—and often thrown away soon after—because they simply aren't efficient. So, I thought all affordable compact binoculars were this way. Then I got my paws on the RD-826 from Carson Optical.
Frankly, I didn't know much about Carson Optical, and so I was skeptical mostly due to prior experience. Plus, writers like me always say that you get what you pay for, so Carson's less-than-$100 RD-826s unit couldn't be very good, could they? Turns out, they're worth every penny, which was a welcome surprise.
With a little research, I found that Carson Optical was started in 1990 by former Wall Street banker Richard Cameron after he grew disenchanted with the banking industry. He began importing binoculars and selling them to dealers from his Long Island home. Twenty seven years later, he's learned a thing or two about the American binocular market—and what consumers want—and he saw a void in the quality compact binocular market.
Certainly, the 826—meaning 8 magnification and 26mm objective—is not the do-all glass that you want to take to Wyoming on a mule deer hunt. Mathematically, the unit can't have the light gathering capabilities of larger optics due to its smaller exit pupil, and you wouldn't want to glass all day with them over vast expanses, because at 10 ounces, they are so light that they're susceptible to handshake. But I've found that for most uses—especially bowhunting, where you need to scan the woods for movement and judge deer—the RD-826s are all I need, and in fact, all I want.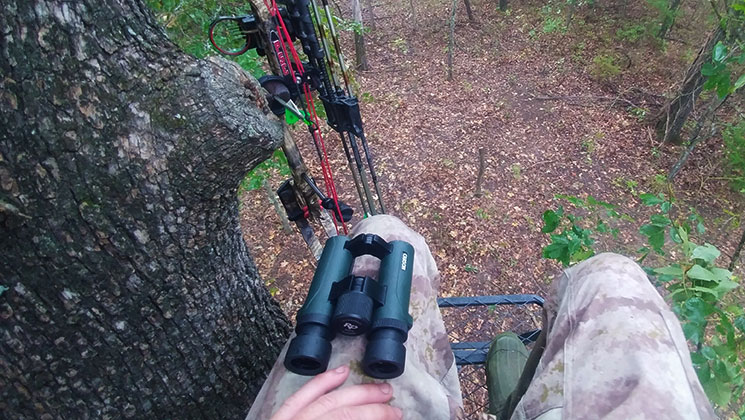 They are literally half the weight of most full-sized 42mm binoculars. I keep them in my shirt pocket where they won't get in the way until I need them. When I put them to my eyes, I can actually see things clearly, thanks to quality construction consisting of BAK4 prisms and multi-coated lenses. (It surprised me to learn it they are not fully multi-coated, as I would have guessed.) A modern, open bridge design shaves weight and makes them very comfortable to grasp. Although the RD's are made in China, they're fully waterproof. I dunked, dropped and froze my test unit and it survived without injury. They are a far cry from the cheap Chinese "Cracker Jack" mini binos of old.
While the barrels might be small, the RD-826's have all the features of full-sized binoculars, including lens covers, extending eyecups for use with glasses and an oversized fast-focus wheel that's easy to find and quick to adjust. A diopter adjustment on the right ocular lens assures that both barrels will be precisely focused to your eyes.
In comparing Carson's RD-826 to other full sized, top-end units, the lack of difference in optical quality really shocked me. In fact, I'm finding myself grabbing them and putting them in my pocket when I'm just going out back to hunt for a few hours. For small game, ball games and bowhunting, they're perfect. They're so compact and lightweight that you'll have them and forget about them until you need them—and that's the whole point. With an MSRP of $105, I think Carson's RD-826 will surprise you, too.
Technical Specifications
Type: roof-prism binocular
Magnification: 8X
Objective Lens Diameter: 26mm
Focusing Range: 13.1'-infinity
Eye Relief: 16mm
Exit Pupil: 3.25mm
Field of View @ 1,000 Yds: 356'
Coatings: fully multi-coated
Construction: polycarbonate chassis, rubber armor; BaK-4 prisms; nitrogen-filled; waterproof
Dimensions: 4.5″ x 1.7″ x 4.6″ 10.1 ozs.
Accessories: carrying case, neoprene neck strap, lens covers, rain protection cap
MSRP: $105