by
posted on December 7, 2011
Support NRA American Hunter
DONATE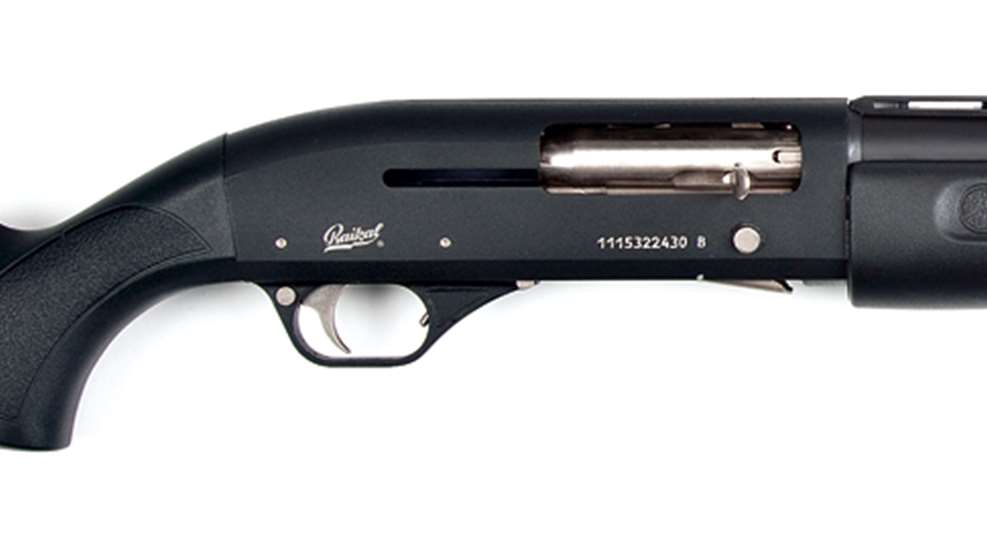 Every once in a while, a preconceived notion turns out to be right on the money. For instance, if you asked me to describe a Russian semi-automatic shotgun I would guess: low-tech, roughly finished, inexpensive and extremely reliable. Turns out that description fits the Baikal MP 153 perfectly. The 3 1/2-inch, 12-gauge gas gun is what you would expect from a shotgun produced in the massive firearm manufacturing Izmech plant (virtually a city in itself) in the Urals city of Izhevsk, home to AK-47 designer Mikhail Kalashnikov. The MP 153 is solid, simple and almost unbelievably low-priced. And, it's available in the United States again.
After its original introduction in the United States in 2002, the MP 153 won a cult following among budget-minded waterfowlers who came to love its low maintenance and high functionality. In 2006, Remington began its "Spartan Gunworks" partnership with Izmech and re-designated the MP 153 as the SPR 453. After Remington discontinued the Spartan line in 2008, the gun was no longer available here. Now it's back with original importer, European American Armory, and that's good news for hunters without much money to spend—and that's a lot of people these days.
An inspection of my test gun as I put it together confirmed my ideas of what a Russian semi-auto shotgun would be. There were visible tool marks on some of the internal parts, while some exposed metal surfaces like the bolt and carrier looked as if they could stand more polishing. The gun was camo-dipped, except, unaccountably, for the magazine cap, which was blued. In place of the metered valves of more sophisticated designs, the MP 153's gas system handles 23/4-inch to 31/2-inch ammunition by means of a valve spring that must be hand tightened or loosened to function with a range of loads.
And yet, after putting the gun together and hefting it, I was surprised by its comparatively light weight. I expected a fence post and instead shouldered a gun weighing 7.3 pounds with a 26-inch barrel. The balance was somewhat weight-forward although in a good, swing-through-the-target way, not in a bad, pig-on-a-shovel way. With fairly standard stock dimensions (14 1/4-inch length of pull, 11/2-inch drop at comb, 2 1/2-inch drop at heel) and no cast, the gun didn't feel "foreign" to an American hunter. The trigger was squishy at 5.5 pounds.
I had no trouble hitting skeet targets with the MP 153 from a low-gun start. At the range I shot a variety of ammunition and found that the gun cycled fine with loads down to 3 dram, 11/8-ounce, as well as 31/4 dram, 1-ounce Estates. The only complaint at all about the gun's cycling is that it makes a metallic "boing" sound that reverberates after each shot. Curious about the gas system's recoil reduction, I emptied the magazine of 3 1/2-inch, high-velocity steel loads a couple of times. While the recoil of three shots in quick succession was hefty, I have definitely shot 3 1/2–inch semi-autos that kicked much harder than this one. After some range time I was able to take it out for some shots at mourning doves during Iowa's inaugural dove season. The gun cycled the Winchester Xpert 1300 fps, 1-ounce steel loads perfectly.
Adjusting the gas system for various loads is simple—loosening the spring with the included spanner wrench adds give to the gas piston, allowing heavy loads to vent excess gases. Tightening the spring directs more of the gases backward to work the action bar and seal. The manual recommends a 100-round break-in period with 11/4-ounce or heavier loads with the ring left in the factory setting before you start tweaking the gun for light or heavy loads. Given that most people will use this as a gun for heavy loads, adjusting the gas system isn't that much of a chore. Many owners will set it for heavy loads and forget it, or perhaps change the valve once a year so they can get in some preseason clay practice and dove hunting before adjusting the tension for magnum goose loads.
The MP 153 has some handy features. The recoil spring is mounted on the magazine tube, where it is easy to inspect and maintain, unlike springs in many guns that are hidden away in a tube in the stock. The bolt has a carrier stop like those found on Beretta and Benelli shotguns, which has to be pressed to lock the bolt in the open position. It's a useful feature as it works as a de facto magazine cutoff since you can empty the chamber or switch loads without chambering another shell simply by pulling back the bolt handle, then either loading a shell or letting it close on an empty chamber. The gun also has a cocking indicator inside the trigger guard, which is of debatable utility but kind of fun.
The gun is basic in appearance. It has a synthetic stock with textured grip panels and it comes in black or tan. The barrel has a narrow vent rib with a small metal front bead, and it comes with extended choke tubes. It has a hard rubber buttpad and a crossbolt safety behind the trigger.
In all, the MP 153 delivers exactly what it promises: no-nonsense performance at a list price of just more than $400 in black, which is incredible for a proven semi-auto. One of the most frequent reader questions I get is, "What's a good shotgun for about $500?" So I am glad to see the MP 153 available in the USA again so I can put it back on the "bang for the buck" list.
Specs:
Type: gas-operated semi-auto shotgun
Gauge/Chamber: 12-gauge; 2 3/4", 3", 3 1/2"
Barrel: 26" (tested) 24", 28"
Magazine Capacity: 5 2 3/4" or 3" shells, 4 3 1/2" shells
Sights: metal front bead
Safety: crossbolt
Stock: camo synthetic or black synthetic; LOP 14 1/4"; drop at comb 1 1/2"; drop at heel 2 1/2"
Overall Length: 46.375" w/extended tube
Weight: 7.3 lbs.
Metal Finish: camo or blued
MSRP: $527 camo; $417 black