by
posted on January 7, 2014
Support NRA American Hunter
DONATE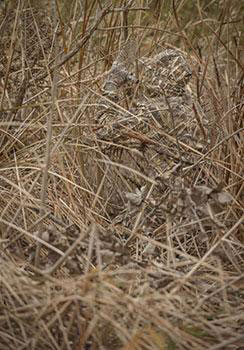 Realtree has announced Max-5, the latest addition to its large and heralded selection of camouflage patterns.
Built with waterfowlers in mind, Max-5 is filled with cattails, reeds, cane and grasses to blend into flood marshes. Corn, wheat, oats and sunflowers, meanwhile, help hide you in open fields. It has branches, twigs and leaves that work in flooded timber. The camouflage's open areas mimic mud, water, bark and shadows—creating a design that truly is meant to work in any conditions, and any setting.
"New Realtree Max-5 is the perfect multi-use camo for marshes, mud flats, agricultural fields, flooded timber, grasslands, prairie and other open habitat," said Realtree Designer and President Bill Jordan. "Never before has a pattern offered so many natural elements and such a wide array of natural tones, shadows and colors."
All of the Max-5 pattern elements are strategically placed to create super-realistic tone, contrast and shadow. Viewed up close, Max-5 offers a high level of detail. At a distance, the pattern makes strides toward eliminating the human outline completely.
For more information, go to Realtree.com.