by
posted on November 13, 2014
Support NRA American Hunter
DONATE
Much as some traditionalists might rue it, it's an undeniable truth that handheld technology has become an increasingly important part of many a hunter's toolbox. Maybe you're tracking your location with a GPS. Maybe you're taking advantage of a handy app on your cell phone or tablet—or, hey, just killing time sending text messages to your buddies from the blind. Or, more importantly, maybe you like to take extra steps to ensure that very same device will have the charge required to let you call for help, should you ever require it.
With such devices comes a need for power. Portable power at that, if you intend to be afield or in the backcountry for an extended period—it's no secret that, often, the most fertile hunting grounds are in areas where your phone's desperate attempts to find a signal will wreak havoc on its battery. The world isn't devoid of solutions to such problems by any means—but one new entry into the market could serve as an ideal fit for hunters nationwide: the Mojo BattStation Optimus from iBattz.
The BattStation Optimus utilizes a 20400mAh high-capacity battery (the same Panasonic cell that powers electric cars) and is designed to provide eight full smartphone charges. It features a 2.1A and 1A USB port, which allows for the simultaneous charging of two devices. All in all, it read as a handy little device—which is why I decided to put one to the test and see just how useful it could be to a well-traveled hunter.
First, let's talk size. As recently as a few years ago, companies were still trying to make phones and other handheld devices as compact as possible. Nowadays, we're going the other way—the bigger, the better. Hunters only have a finite amount of space on hand when packing a bag, so they're not going to want to add anything too cumbersome to mix. Fortunately, the BattStation Optimus doesn't present much of a problem in that department. Measuring 5.5" x 2.8" x .86", it's not too much larger than many modern handhelds. Here's a look at it in comparison to an iPhone 5C.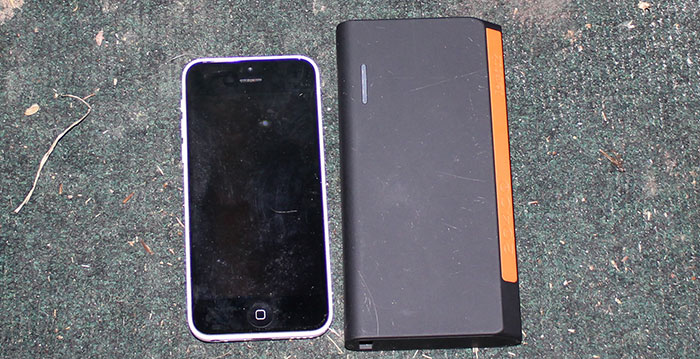 So no, you don't have to worry about the unit taking up too much space in your pack. And, better yet, if you don't envision yourself needed to recharge it during your time afield, then you don't have to bring anything else alongside it. No solar mats, no battery packs, no fancy cords. So long as you have your BattStation Optimus, your phone and your phone's cord, you're good to go. Weight wise, meanwhile, it checks in at just under a pound. So while it may feel cumbersome in a vest pocket, or be a little too hefty for the ultralight crowd, it's not a burden there, either.
It's a durable little thing, too, which was an important aspect of iBattz's design.
"Our portable battery packs are designed for the user who not only requires battery power on the go, but also a charger that can withstand above average wear and tear," Stewart Zimmerman, Vice President of Sales and Operations for iBattz, said.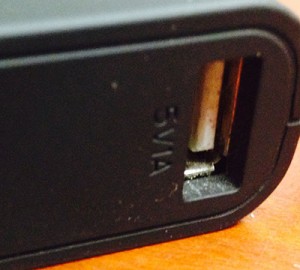 And it'll survive wear and tear, indeed. The test model I was provided with has seen the inside layout blinds in South Dakota, box blinds in Oklahoma and glorified holes in the ground throughout the Mid-Atlantic—and it didn't blink. The compact shell can take a beating (the proof of that is in the photos above) and you don't ever feel like you've got to baby it when packing or unpacking. Just charge it, toss it in your bag and get on with the trip. The only request I might have is some sort of cover or flap over the charging ports, in the case that your pack happens to get a little wet. I wouldn't expect the unit to be entirely waterproof, but a way to cover the two exposed ports would be a welcome addition. That said, sealing it in a Ziploc bag suffices.
Lastly, we get to functionality. There's really no other way to say it: this thing works. I was routinely able to get seven or eight charges out of it for my iPhone 5C before having to plug the unit itself back in—and, so long as you're not trying to download half the Internet, eight full charges on a mobile phone will get you a long way. You don't have to go hands off while your device charges, either—I was able to start a 35 minute phone call home from Oklahoma with 13 percent of my battery left, and had more than a 60 percent charge by the time I hung up. Can't argue with that.
Oh, and operation is simple, too: Plug your phone's cord into the appropriate port, push the battery icon on the BattStation Optimus, wait for the blue light and you're good to go. It'd be difficult to mess up. I've got to call this one a winner.
Technical Specifications:
Input: 5V DC, 1.5A
Output1: 5V DC, 1.0A
Output2: 5V DC, 2.1A
Battery Charging Time: 15 hrs
Length x Width x Depth: 5.5" x 2.8" x .86"
Weight: .8 lbs.
MSRP: 129.95