by
posted on October 24, 2013
Support NRA American Hunter
DONATE
Canada represents something of a paradise for waterfowl hunters, which made it an ideal location to put some of the year's hottest new gear—like Mossy Oak's Shadow Grass Blade camo, Browning's 3½-inch A5and the latest offerings from Federal Premium—to the test. Associate Online Editor Shawn Skipper recently returned from a waterfowl/predator hunt in Alberta. Get an inside look at the hunt with this gallery.
Gallery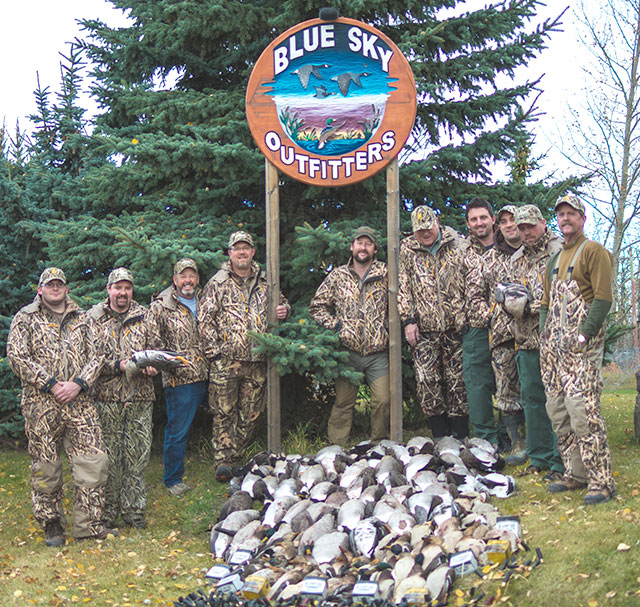 Kevin Howard
Blue Sky Outfitting
Blue Sky Outfitters—based out of McLennan, Alberta—served as our host for this particular trip. Operated by Kevin and Patti McNeil, Blue Sky specializes in waterfowl and predator hunts. That's not to say they don't do more—moose and bison trips are also available. Here you see our combined crew with one day's worth of "hard work." From left to right: Shawn Skipper, Paul Wait, Kevin Howard, Brad Fenson, David Draper, John Taylor, Skip Knowles, Mario Friendy, JJ Reich and Scott Grange.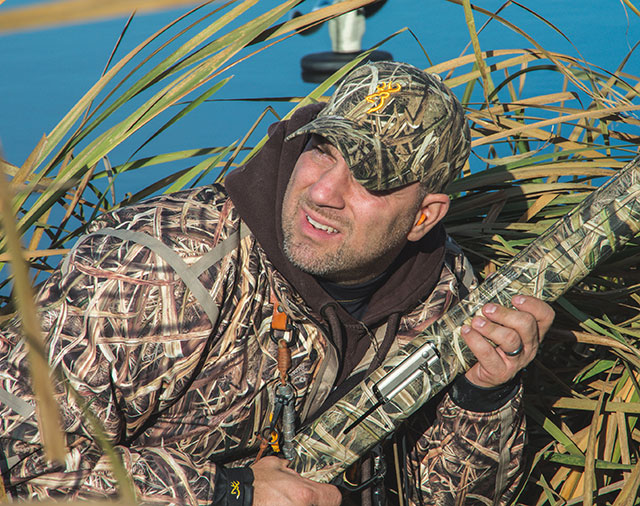 Kevin Howard
Shadow Grass Blades by Mossy Oak
Part of our trip's purpose was to don Mossy Oak's latest camo pattern—Shadow Grass Blades—in the field. Shadow Grass Blades features a precise arrangement of individual blades of grass, whether windblown, broken or bent, onto a background of thatch consisting of lesser or dead grass, in an effort to create a pure grass pattern. In this case, it was Browning's Dirty Bird line that featured the new pattern. Pictured here is Mario Friendy of Zink Calls.
The Browning A5 3½-Inch
It was only a little more than a year ago that Browning resurrected its Auto-5 humpback design, and one of the company's big moves for 2013 was expanding the A5 line to include guns available in 3½-inch. The shotgun runs off of the same recoil-driven system as last year's reborn A5, though it features some different internal springs. Mine ran nearly flawlessly in the field with both 3- and 3½-inch loads.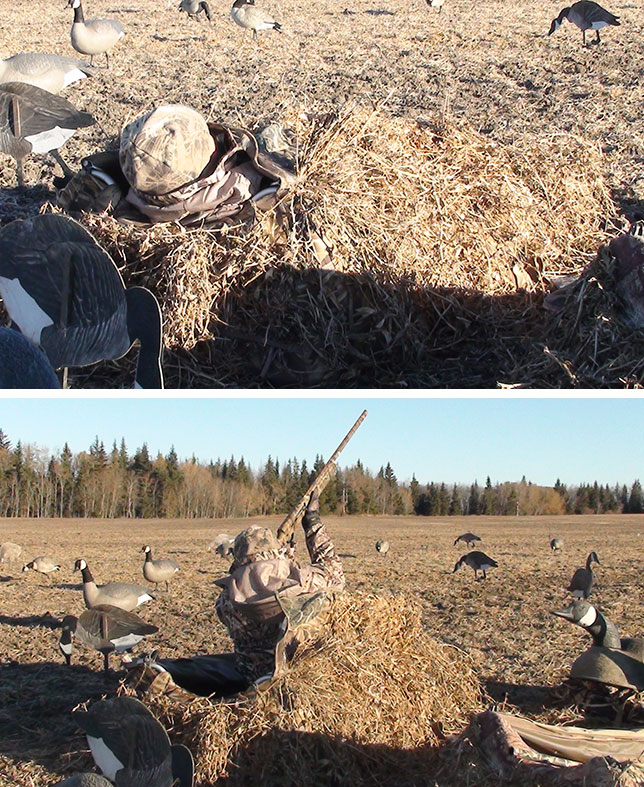 Lay 'Em Out
Layout blinds were the cover of choice in the fields surrounding McLennan. We spent most of our time in wheat fields, which provided ample camouflage, but did occasionally try our luck in a nearby pea field. The bright, clear sky wasn't particularly helpful during our stay, but we persevered. Pictured here is southpaw JJ Reich.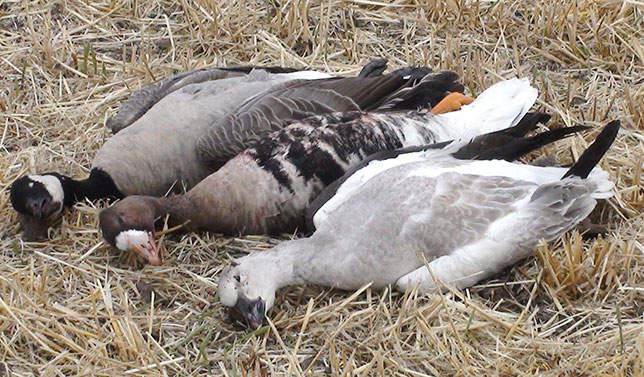 Variety Pack
Part of Canada's allure is the sheer opportunity it presents to hunters. Thousands upon thousands of birds take flight each morning, and in great variety. These three—a Canada, a Specklebelly and a snow goose—were harvested a short time apart on the third day of our hunt. The snow itself came with with three Canadas, an unwise choice.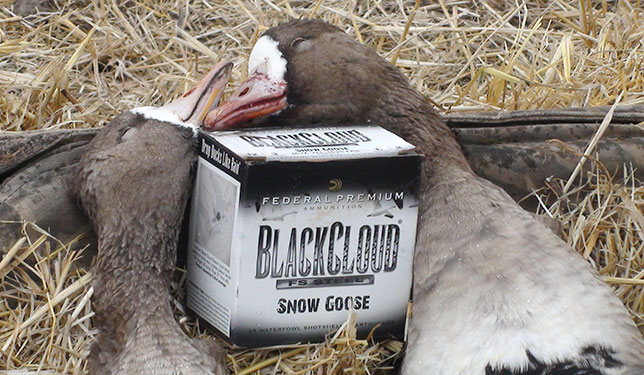 Black Cloud
Nestled here between two of the Specklebelly geese it helped taked down is a box of Federal Premium's Black Cloud FS Steel Snow Goose load. Created for higher speeds to take down all types in geese—be it fall or spring—the load performed admirably all week. Just ask the geese.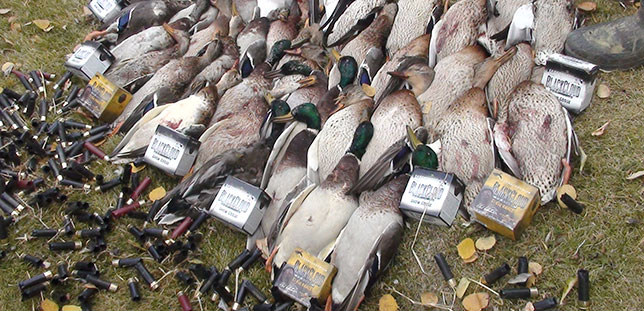 And Ducks, Too
Geese weren't the only waterfowl on our radar. Alberta's rife with ducks, and nearly a hundred of them fell to our Black Cloud ammunition over the course of three and a half days. Some were taken in the same wheat fields as their goose friends, others from the shore of a nearby lake.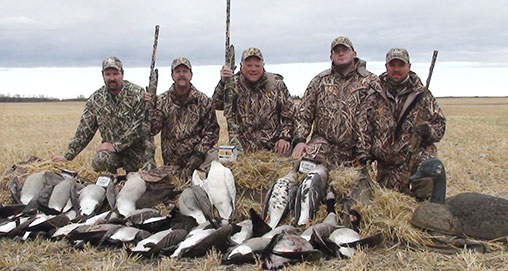 Pushing the Limit
A breezy, overcast day led to our best team harvest. The group I'd been hunting within limited out on "dark" geese (and nailed a lonely snow goose, too) and decided it was time for the obligatory hero shot. From left to right: Paul Wait, Scott Grange, John Taylor, Shawn Skipper and JJ Reich.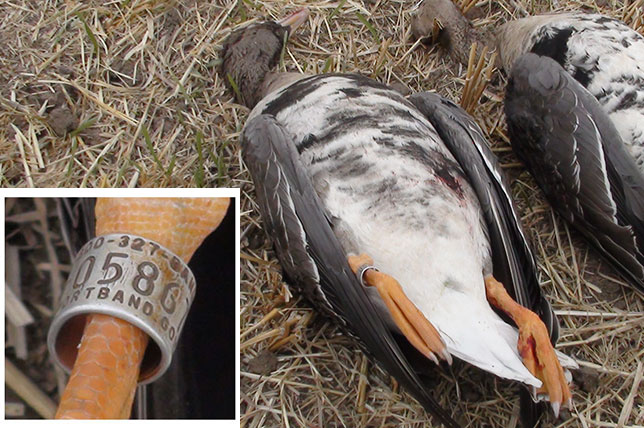 A Banded Speck
Harvesting a banded bird remains a rare occasion, even for the most dedicated of waterfowlers—but a banded Specklebelly? Rare, indeed. Paul Wait, of Delta Waterfowl, was fortunate enough to tag one on the third day of the hunt. The Speck came in as part of a pair—JJ Reich brought down the bird's companion.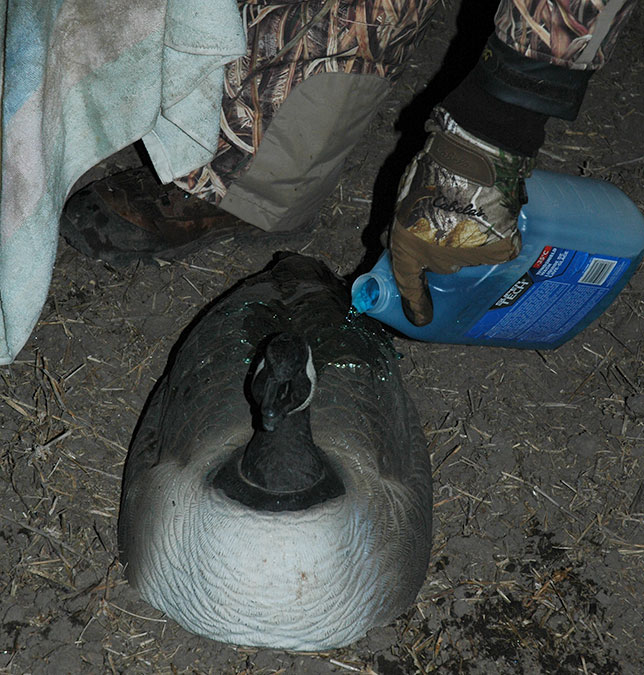 Frosty Mornings
Sub-freezing temperatures and clear skies made decoy frosting a major issue on two occasions during the trip. We fought back against the elements using a trick I learned from my father, a lifetime waterfowler—windshield wiper fluid. One good coat, and the frost wasn't an issue. A fair bit of work, of course, but well worth the effort.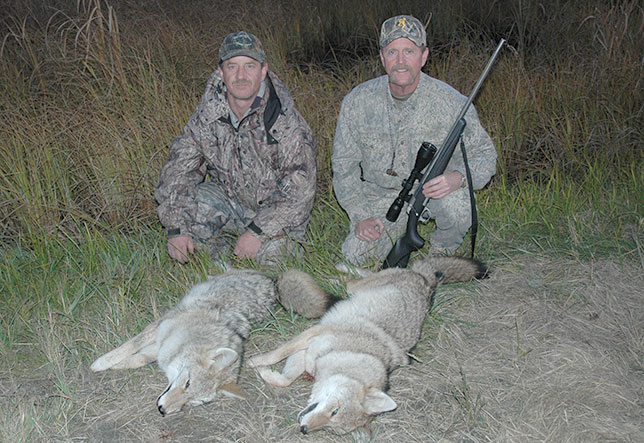 JJ Reich
A Pair of Dogs
Coyotes were often seen snooping around the edges of McLennan's sprawling wheat fields, and in the evenings we tried to thin out their population a bit. Here you see Blue Sky Outfitting's Kevin McNeil (left) with Browning's Scott Grange. Scott was the only member of our group to tag a dog on the trip—two, in fact. A couple of us missed our shots and taught a few more coyotes to be wary of electronic calls. Wolves were in the area, as well—their tracks and howls were prevalent, and one member of the group missed a long shot at one on the second night of the trip.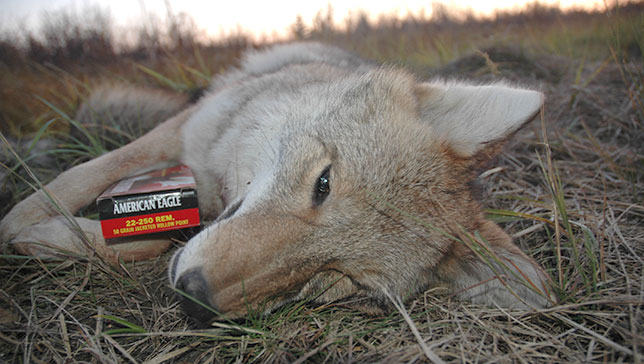 JJ Reich
Coyote Down
Here's a closer look at one of moon dogs (coyotes) that Browning's Scott Grange brought down. When it came to predator hunting, Federal Premiumdecided to supply us with hollow point 50 grain loads of American Eagle's .22-250 Rem.