by
posted on June 26, 2021
Support NRA American Hunter
DONATE
The National Rifle Association (NRA) has long been an advocate for hunting and conservation, and ensuring the next generation of hunters possesses the knowledge and skills required to be competent and ethical hunters has always been a part of that mission. That's why the NRA took pride in developing the first national hunter education curriculum back in 1952. But your NRA didn't stop there. In 1985, we launched a program called the North American Hunter Education Championship, now known as the NRA Youth Hunter Education Challenge (YHEC).
Designed for youth aged 18 years and younger who have completed a hunter safety education course at the state level, the program was designed to advance youths' specific hunting skills such as orienteering, wildlife identification, and rifle, shotgun and archery marksmanship—beyond what was taught in basic hunter safety—via friendly competition held at local ranges across the country. Thousands of volunteer hunter education instructors and parents continue to conduct this program at state and local levels each year, graduating safer, more responsible and more skillful American hunters.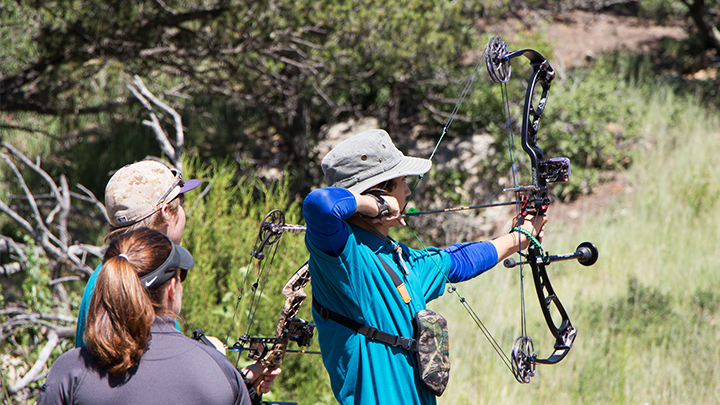 "One goal of the championship," said Tom Lankenau, head of NRA's Youth Hunting Skills Program, to American Huntereditors in 1985, "is to bridge the gap between basic and advanced hunting. Local hunter education courses are invaluable, but vary in depth. Some do not even have facilities to allow live firing. A hunter education championship, particularly a North American championship, provides opportunities and incentives for youngsters to develop their hunting skills. Even if they do not win a title," he continued, "the time they spend practicing for a contest just makes them better prepared for opening day."
Culminating the initial launch of the program, the NRA held the first three-day inaugural Championship in July 1985 at the Remington Farms Wildlife Management Demonstration Area, a 3,000-acre tract of fertile land located on Maryland's Eastern Shore that was owned by Remington Arms Company. Approximately 70 youths from 10 states and Alberta, Canada, gathered to participate in the championship. Having already won their respective state or local hunter education competitions held earlier that year, the youths were pitted against the brightest young hunters from across the nation in five scored disciplines: riflery, shotgunning, archery, outdoor skills and a written hunter responsibility test.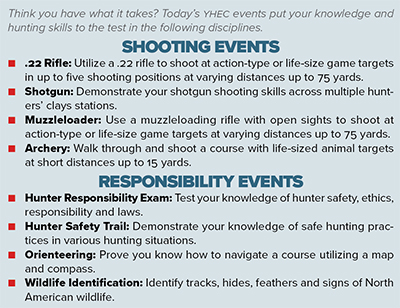 Much as they are today, those initial shooting events were designed to approximate actual hunting events as closely as possible. The shotgun event, for example, was a "Hunters' Clays" setup developed by Remington Farms. Shotgunners fired 60 shots from three different stations—two in dense woods and one over water—and competitors were not allowed to shoulder their guns until after the target became visible. In the rifle event, participants used .22 rimfires to fire shots at life-size woodchuck targets at ranges varying from 15 to 75 yards. The targets were exposed for 10 seconds, whereupon they were flipped via a remote-control device donated by the Maryland State Police. The archery portion utilized life-size deer targets in a wooded area where youngsters shot standing and from a treestand at distances varying from 10 to 35 yards.
In the outdoor skills test, participants were required to practice their orienteering, locating designated stations using a map and compass then fielding questions on map symbols or wildlife identification or solving other orienteering problems upon arrival at each station. Finally, the 60-question hunter responsibility test covered firearm knowledge, wildlife management and identification, and hunter ethics.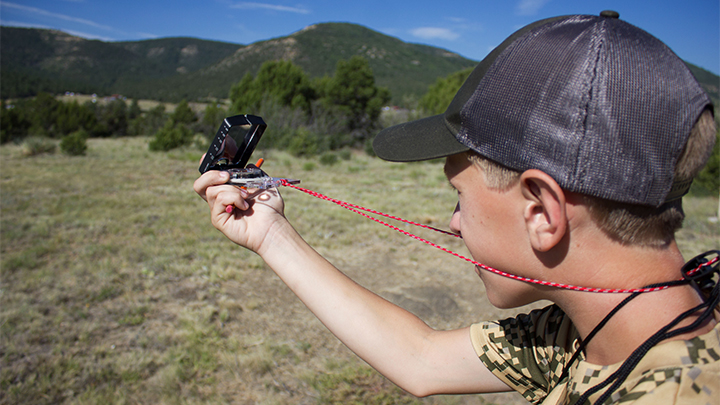 Since its inception, more than 1.3 million youngsters having participated in YHEC local, state and national events, and 79 percent of those participants have gone on to purchase a hunting license in their home states. Today's YHEC program curriculum has expanded to include a total of eight disciplines to master, but its mission and goals remain much the same as they did 36 years ago, ensuring America's hunting heritage is passed down through generations by providing hands-on hunting and outdoor skills training to the hunters of tomorrow.
---
 How to Get Involved
In search of an outdoor activity for your kids to participate in this summer? How about signing them up to join the more than 2,000 youths who have already participated in YHEC events this year?


For children aged 18 and younger who have completed a hunter education course at the state level, the program provides a fun environment for youths to improve their hunting, marksman and safety skills through simulated hunting situations, live-fire drills, educational and responsibility events. YHEC programs exist across the U.S. at the both the state and local level. It's easy to get involved, and costs to participate are minimal.


Don't see a
YHEC program in your area
? Consider
hosting an event
in your community. Any club, group, organization or individual that has access to a location that can safely host shooting events, has the resources to recruit volunteers and participants, and possesses a passion for promoting youth involvement in the hunting and shooting sports can host an event. There is no cost to do so, and the NRA provides program materials such as promotional posters, targets, manuals, scorebooks, participation certifications and more. For more information or to find a YHEC event in your area, visit
yhec.nra.org
.