Poke around the nooks and corners of America and you find good things that often fall below the radar. Such is the case in Elko, Nev., where a group of hunters has combined for 10 years their passion with a keen desire to help those who are physically challenged and unable to pursue and enjoy the outdoors. Every fall, Nevada Outdoorsmen in Wheelchairs (NOW) hosts three to four wheelchair-bound outdoor enthusiasts to pronghorn antelope and mule deer hunts. Recently they began hosting pheasant, turkey, and waterfowl hunts, too.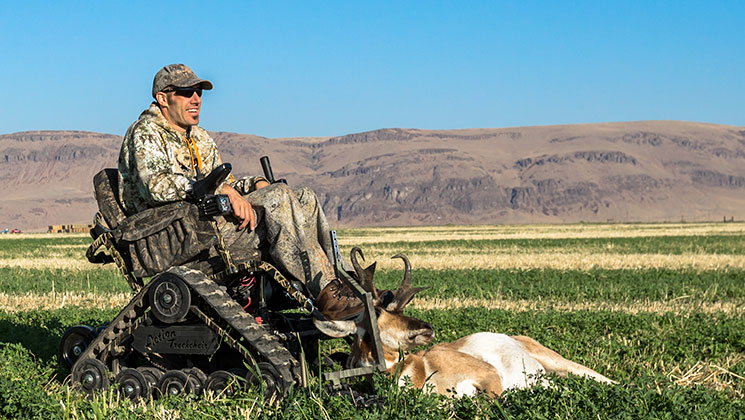 NOW hosts applicants from across America; a random drawing is held to determine who will be selected for the program. NOW covers all expenses for a week for each disabled hunter. Hunt costs typically run several thousand dollars. This includes airfare to Elko from as far away as the East Coast, ground transportation, lodging, food and entertainment (for a week) that is brought in at the end of the each day's hunt. The only pre-qualifications include the requirement that a firearm safety course be completed, and applicants must be wheelchair-bound. Often antelope tags are donated to the organization through a partnership with Elko Land & Livestock, and Nevada sportsmen who feel there is great equity in helping disabled individuals enjoy this experience. However, the organization spends huge amounts of fund-raised money to purchase landowner tags. Outdoorsmen in Wheelchairs candidates who are selected may bring along their caregivers—and the expenses for the caregiver also are covered.
The historic TS Ranch, where the week-long hunt is held, was founded in 1870; it's use was dontated to NOW. A chef is brought in to prepare all meals. The expenses associated with the taxidermy of the animals taken (be it antelope or deer) also are covered so a hunter may take home a trophy. Professional meat cutting, wrapping and freezing are of course donated, too. The frozen meat is packaged and shipped home, also free of charge.
As you can imagine, fundraising is an integral part of the efforts made by NOW organizers. It takes a lot of money to pull off this annual event, and individuals and organizations with big hearts are the key to making it work.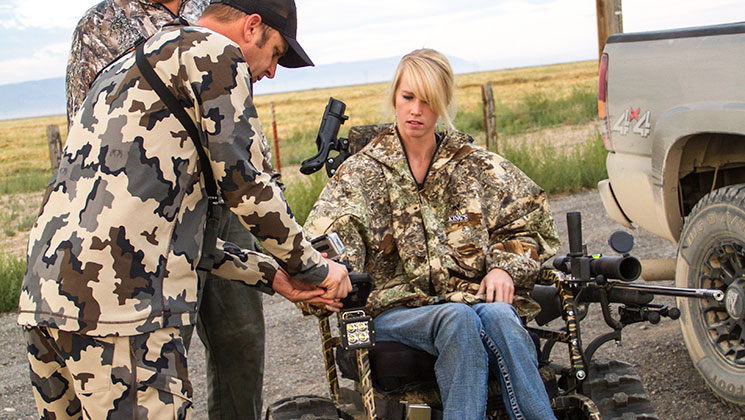 A good example is a local Elko woman who sought out the group when she heard about all the good work it does. She is an outdoorswoman and a gifted quilter who twice has donated handcrafted quilts featuring a Nevada animal theme that have been raffled off at the Sheep Show in Reno, Nev., and the Outdoor Expo in Elko. Her quilts have each raised $1,000 for the program.
Other folks who contribute include a local man who has a personal firearm museum and collection that totals 4,000-plus items. He opens the doors to his private museum and hosts these disabled hunters to guided tours. He also has a .50-caliber firearm he brings out to the ranch so each guest hunter can enjoy the experience of firing it. He brings along a huge container of rounds to be fired—and at a cost of about $20 per round, that's no small donation! Another individual who has designed a line of camo clothing provides each guest hunter with a complete outfit.
This effort began 10 years ago when Chad Bliss took out a wheelchair-bound hunter, gave this individual his antelope tag and, from the back of his pickup truck, helped this individual hunt an antelope. (In Nevada, a disabled hunter may shoot from a vehicle.) Today, NOW has several key positions that are filled by locals who coordinate taxidermy and the upland bird hunts. All of these events are filmed for "Blue Collar Adventures."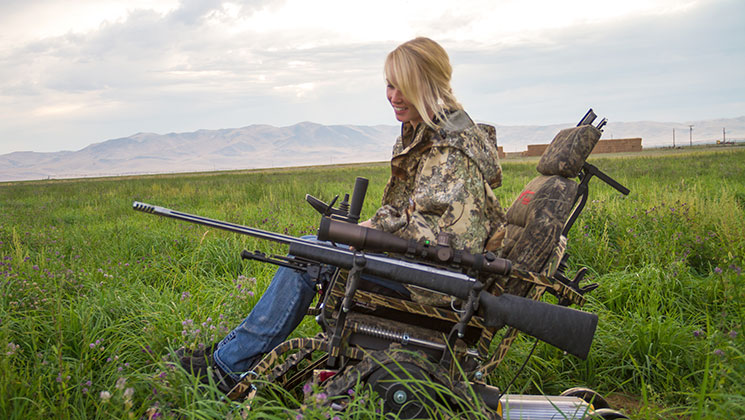 The organization continues to find new opportunities that can be added its repertoire. Recently, the representatives met with Nevada Fish and Game to explain the unique circumstances encountered by Americans in wheelchairs. Obviously, wheelchair-bound hunters face limits—bowhunting in particular oten becomes difficult, especially with traditional bows and recurves. To hunt large game like elk, a crossbow is often required. However, until NOW approached the powers-that-be in Carson City, Nev., elk hunting during the early September archery season (when wheelchair hunters could manage the weather) was limited to traditional archery tackle. With this regulation now changed, outdoorsmen with a permanent disability may hunt big game with crossbows during the warm days of early fall.
Through this program, Nevada Outdoorsmen in Wheelchairs has gained some insights on the needs of wheelchair-challenged outdoorsmen they hope will assist other programs in states across the country: 1) challenged outdoorsmen want to hunt big game with a bow; 2) crossbows can eliminate some of the limitations of traditional archery; and 3) due to health concerns, these enthusiasts need to hunt big game when temperatures are high (early seasons).
When asked why they do all this, these folks simply shrug their shoulders and say, "We don't need a reason."
That's a good job by anyone's standards.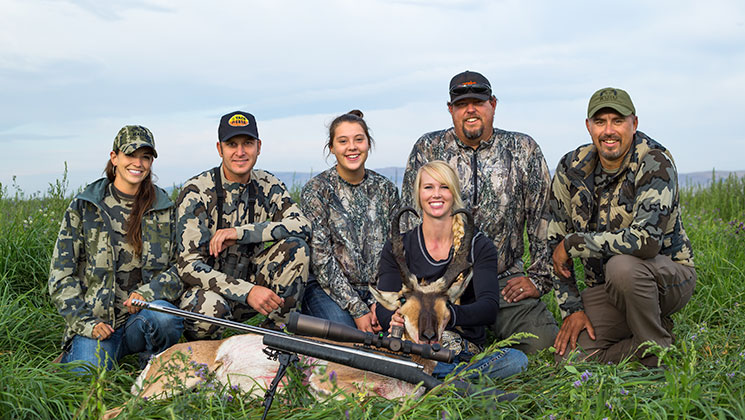 Nevada Outdoorsmen in Wheelchairs
Nevada Outdoorsmen in Wheelchairs includes: President Matt Murray; Vice President Chad Bliss; and coordinators (taxidermy and upland bird hunts) Larry Johnson, Nigel Harrison, Tim Breapus and Mike Aiazzi. Other individuals who contribute their time and resources to the organization include: professional meat cutters Mark, Ginger and Mike Torrance, and Russ Hammond; quilter and wildlife artist Fawn Zumwalt; chef Joe Doucette; professional videographers ("Blue Collar Adventures" ) Crystal Gibson and Jay Presti; private gun collector and museum curator Jeff Williams; and Wonrate Gear hunting apparel maker Joel Williams. Visit nevadaoutdoorsmeninwheelchairs.org to learn more about the organization.