by
posted on February 19, 2015
Support NRA American Hunter
DONATE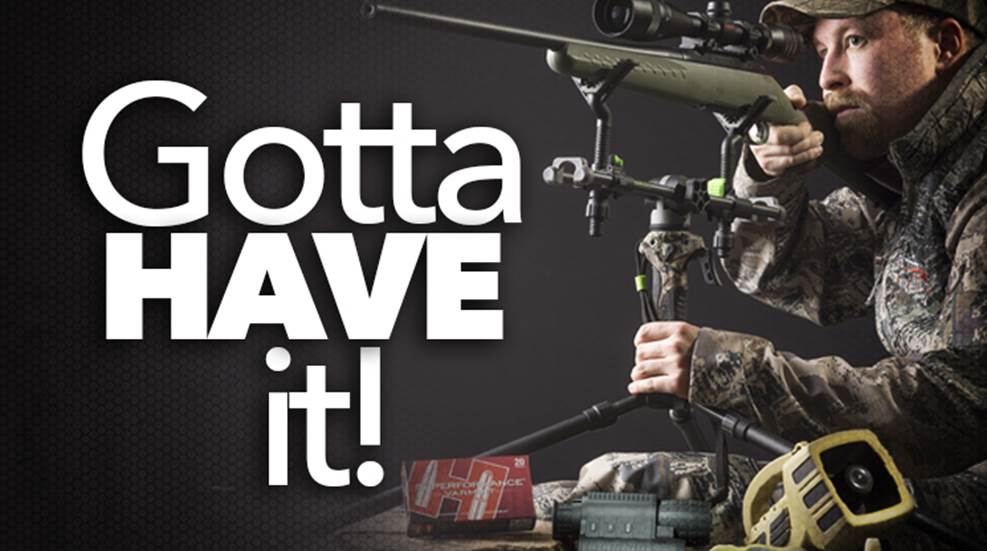 Ruger American Predator Rifle 

Unfortunately for coyotes, Ruger's newest addition to its American lineup of rifles, the Predator, was built to do one thing. Fortunately for you, it does more. Features include a heavier free-floated barrel, aluminum scope rail, five-shot rotary magazine, threaded muzzle, moss-green composite stock and Ruger's adjustable Marksman trigger. Available from .204 Ruger to .308 Win. $489.
Primos  Jim Shockey Tri Pod & 2-Point Gun Rest 
One of the best predator setups we have ever tested, the Jim Shockey Tall Tri Pod and Two-Point Gun Rest fromPrimos, makers of the original Trigger Sticks, not only deploys faster than any coyote, but provides a sturdy hands-free rest if your hands are needed elsewhere. Tripod legs extend from 24 to 62 inches and the gun rest is adjustable.MSRP: $195, tripod; $47, rest.
Sitka Kelvin Lite 
The newly redesigned Kelvin Lite series from Sitka Gear is a versatile, lightweight and packable option in camo concealment, perfect for culling the pack from coast to coast. Packed with 80 grams of Primaloft High Loft Silver insulation, the Kelvin Lite Pant, with full-length side zippers, and Vest will keep you warmer than any fur coat because they're both made of strong ripstop polyester. Available in Sitka's Optifade Concealment Open County pattern. MSRP: $229, pant; $169, vest.
Knight & Hale Rogue Warrior Predator Call 
The open reed Rogue Warrior Predator Call from Knight & Hale is a small piece of gear that can have a big impact on your predator hunting success. Easy to operate in even novice hands, this little call mimics sounds from a squealing rabbit to a full-moon howl. MSRP: $10.
Hornady Superformance Varmint 
With increased range, flatter trajectory and up to 200 fps more speed than traditional loads, Superformance Varmint from Hornadydelivers unbelievable accuracy with devastating results. Topped with Hornady's rapidly fragmenting V-Max polymer-tipped bullet in .222 Rem., .223 Rem., .22-250 Rem. and .243 Win. The new 75-grain V-Max in .243 Win. is a dog catcher at over 3500 fps. MSRP :$37.
Stealth Cam Digital Night Vision Monocular 
With its 9X digital zoom and 400-foot range nighttime capabilities, the compact Digital Night Vision Monocular from Stealth Cam takes the cover of night out of the equation, at least for the dogs. An advanced lowlight CMOS sensor provides images in high resolution at four different frame rates, and the 3x20 objective lens focuses in for crisp images. IR filter allows day-time use. MSRP: $199.
Primos Dog Catcher Electronic Predator Call 
Pre-programmed with 12 different sounds from baby fawn to coyote pups to woodpecker, the Dog Catcher electronic predator call from Primos Hunting can be a predator's best friend, as long as you're the predator. Featuring a 150-yard remote, the ability to play two sounds simultaneously and a price tag that'll allow you to pick up two, this little caller will bring 'em in, so you can put 'em down. MSRP: $107.