by
posted on July 14, 2017
Support NRA American Hunter
DONATE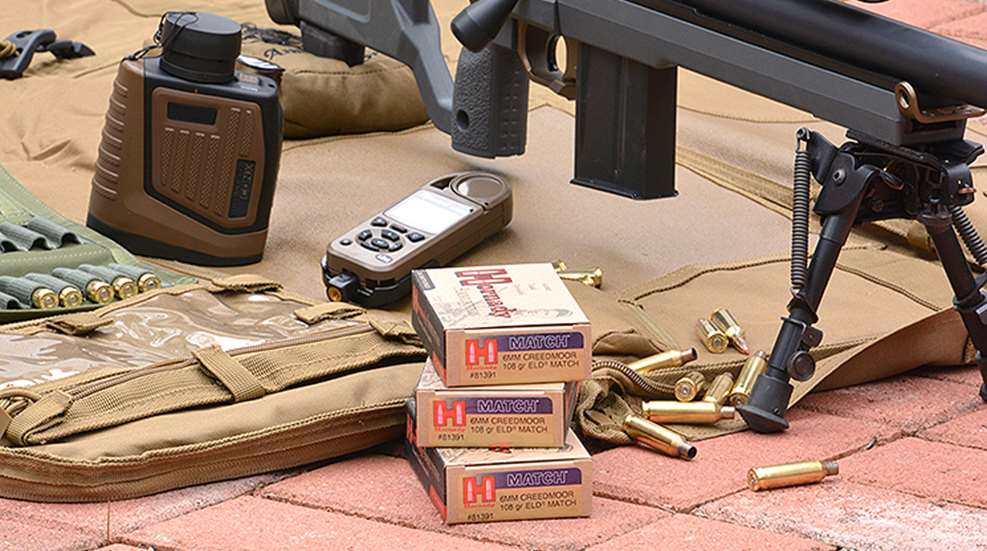 Editor's note: Field Editor Bryce Towsley had the opportunity to put much of this gear to use while authoring "How to Be a Better Long-Range Shooter," which can be read here.
Optics
Other than your rifle, ammo and scope, a laser rangefinder is the No. 1 tool you need for long-range hunting. The last few years I have been using the Swarovski EL Range, which combines two tools into one with a rangefinder built into a high-quality binocular. Long-range competitions often prohibit rangefinders to make it more difficult and force shooters to range with their scope reticles, but there is no reason for a hunter to do so. Use a laser rangefinder; it's faster and far more accurate.
A spotting scope and a buddy who knows how to use it are essential on the range. A spotter alongside the shooter can dope wind and observe bullet flight, spot bullet impact and immediately provide info for a correction.
Custom dials are popular additions on riflescopes these days. They are engraved to provide quick adjustments to elevation according to your load.
Wind Meter
While doping the drop of a bullet at long range is science and math, doping the wind is art. The software you use will have wind holds, but it's only as good as the data fed into it. To know the wind speed and direction you need a wind meter. Kestrel has been the industry leader with wind meters for years. Bushnell was an early innovator with rangefinders for hunters, and now it has teamed up with Kestrel to package the Bushnell Elite 1 Mile Rangefinder and the Kestrel Sportsman Weather Meter. The instruments mate wirelessly to each other and your phone to display holdover information in the rangefinder or on your phone. Windage information, including hold-off for your load, is displayed in the Kestrel.
Trigger
Any rifle is only as good as its trigger. Factory triggers in hunting rifles have come a long way in recent years, but almost any rifle can benefit from an aftermarket trigger. Timney Triggers has a replacement to fit just about any hunting rifle, and most are easy to install. You can order any pull weight you want, within reason. My standard pull weight for a hunting rifle has been 3 pounds. If the rifle is going to be used for long-range shooting, 2 pounds is not a bad idea. If you go much lighter than 2 pounds, the trigger becomes difficult to control with cold fingers. Two pounds allows precision shooting while maintaining a good feel of the trigger to ensure you have control of the rifle.
Scope Level
You must maintain a level rifle when shooting at long range. If you cant the rifle off level, it will throw the shot. A scope level you can see from the shooting position behind the action/scope helps maintain a consistent hold with your rifle. Darrel Holland is one of the gurus of long-range hunting; Holland's Shooter Supply has an excellent scope-mounted level.
Shooting Aids
You must rest your rifle on something for long-range shots. Many hunters prefer to use a fold-up bipod for the front rest. Harris makes some of the most practical for hunters.
A small sandbag can be packed by hunters for use fore and aft. Place one beneath the fore-end to rest the front of the rifle, or place beneath the stock to stabilize the rear. The Monkey Bag from Champion is small and convenient. championtarget.com
Most American rifle stock designs incorporate a straight comb, but drop may vary. A cheek/comb pad that laces onto the buttstock ensures a custom fit so your eye lines up directly behind the riflescope eye box. The Ammo Cheek Pad from Blackhawk laces up tightly, holds five rounds and includes a zippered pocket to hold a dope card.
Ammo
The interest in long-range hunting has spurred many ammunition makers to develop rifle ammo specific to the task. It features bullets with high ballistic coefficients that are designed to expand reliably at longer ranges.
Hornady's Precision Hunter line with its ELD-X bullet has shown me outstanding accuracy at long range.
Barnes just announced its VOR-TX LR rifle ammo line using LRX bullets optimized to the cartridge. In early 2017, I had a long discussion with the engineers developing this ammo and was very impressed with their approach. It will be offered in multiple cartridges, including all the Remington Ultra Mag cartridges.
Winchester Expedition Big Game Long Range ammo features heavy-for-caliber Nosler Accubond LR bullets for increased ballistic coefficients and reliable terminal performance at extended ranges.
Chronograph
Knowing the true velocity of your load in your rifle will help establish an accurate starting point in any ballistic calculator. The Oehler 35P chronograph is portable, runs off a 9-volt battery and includes a printer that automatically records the velocity of each round as you fire so you can't lose data.
Dope Card
Turn your data from the range into a custom drop chart/dope card you carry with you in the field.