by
posted on February 20, 2014
Support NRA American Hunter
DONATE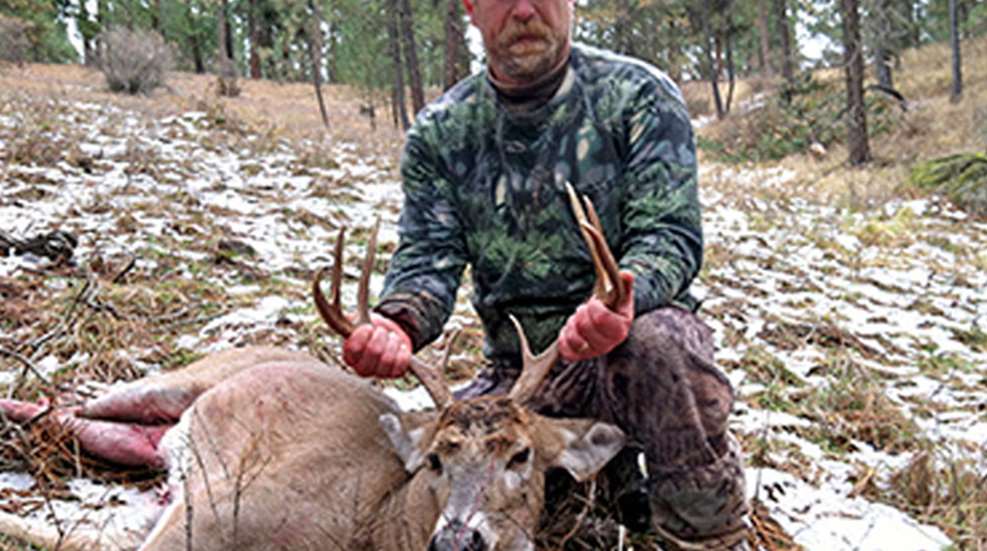 By Tom Moore, Eatonville, Wash.
I've hunted deer and elk now for 39 years, always with family. I can count on two hands the bucks I've tagged, and I have never killed an elk. Let's be honest: I'm just not very good. Our dad taught us well, I watch the hunting channels, I know tactics, play the wind and read sign, yet rarely score. Here's the deal—I'm a bit crippled. I wear orthotic braces because I can't feel anything from the thighs down and my feet just won't go where I tell them. I move too slow, make too much noise and fall down a lot. I've missed twice because falls put my Leupold so far off-center I couldn't hit paper at 200 yards. My Remington 700 has so many dings and scratches it looks like it's been tumble-dried. And yet, I absolutely love hunting. There are three reasons for this, our family hunts together, I have no bosses in the woods, and every five years this blind squirrel finds a nut. So, I'm writing this not to the folks you see on television, not to the trophy hunters, but to all the not-so-average hunters who still get into the woods for the simple joy of it.
Like most hunters and NRA members, I can't tell you about any hunts without talking about family. Dad took me and my brother Bob through hunter safety and took us hunting in Michigan when we were barely bigger than our rifles. Last season my boys Jackson and Woodrow went with me, Uncle Bob, Uncle Christopher and cousin Sam to Montana for our first guided elk hunt. Of the six of us, five tagged out. You can guess who didn't, but I couldn't have been happier. I had opportunities, but after everyone scored nice bulls I couldn't justify taking home a spike or risking a bad shot. Right up through the last light of the season, Chuck was busting hump to get me a shot, and back at the ranch everyone was "praying-up" a bull, rooting for me like I was in the Super Bowl. For a lousy hunter, I have the world's greatest fans.
Which brings me to this season and whitetail hunting near Spokane, Wash. Christopher works hard every year to find places to hunt and never fails to put us on whitetails. That's his gift to me, I think, because he wants so badly for me to tag out. He introduced me to a neighbor who gave us permission to hunt his farm, which is timbered in parts with several draws running down to a deep ravine. On the last day of the season, Christopher had to go back to work so I hunted the timber alone. It was still good, I was in the woods, no bosses, deciding how fast to push and where and when to sit. Sure enough, though, I got bumped from the first two spots by hunters working the timber below me. I moved as the wind allowed, working over the ridge, keeping the other hunters at my back. Sitting in the only real spot left, I glassed down the timbered draw, spotting four does. After watching for 45 minutes I was about to call it a day, but decided to recheck the thickets between the does and me. Then came the classic double-take: Was that a leaf, a bird or an ear 110 yards downhill? It took another minute to locate the shadow in the brush. Another twitch, definitely a deer, but not sure it's a buck. I slowly put down the bino and brought up the scope. Then it happened. He stood up and stepped uphill towards me. In my head the klaxon went off, "Buck, buck, buck!" A nice 4x4, tall rack but slim, so the safety came off. He was straight on to me, nose up checking the wind. Another sniff told me he was getting antsy, so I slipped the 165-grain bullet in front of the left shoulder. It was over in one shot, heart and lung gone. I thanked the good Lord, called Bob, texted the boys and sent pictures to Christopher, who bolted from work to help drag this blind squirrel's buck out to the truck where my sister Kris was whooping and hollering. So, the message to my fellow blind squirrels: It'll happen, keep going, take your family with you and double-check the thickets.