by
posted on July 24, 2014
Support NRA American Hunter
DONATE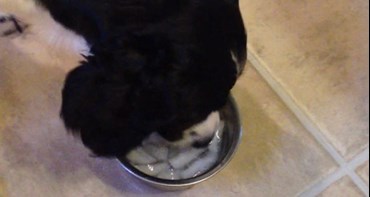 The Myth
Drinking ice water will kill your bird dog (or any dog).
The Background
You may have seen the email chain that went viral recently, warning dog owners that ice water—or even very cold water—is deadly to dogs when ingested. The long-winded email states that ice water administered to a dog on a hot day can cause the dog's stomach to bloat and can kill your furry friend.
My BullShooter detection apparatus went into high alert. After all, I've given my bird dogs ice water on many occasions in the Texas heat, yet they've never croaked. In fact, they seemed to relish a cool swig of aqua on a hot day, just like I do. Nonetheless, I consulted an expert.
The Expert Deferral
Ashley Tharp is a veterinarian at Four Paws Animal Hospital in Johns Creek, near Atlanta, Ga.
"It sounds like the email is suggesting that cold water can cause Gastric Dilatation-Volvulus (GDV) in dogs, or twisting of the stomach. But I've never seen a dog suffer GDV after consuming ice water, nor have I seen any evidence supporting that theory," Tharp said. "So, no, this warning isn't true."
The Test
This one was easy enough to test. All we needed was a dog (check); some ice water (check), and a hot day (check.) Because I didn't want to risk my new squirrel dog puppy, I convinced AmericanHunter.org's "Dogs, Shotguns and Other Vices" blogger and bird dog trainer Kyle Wintersteen to administer the test on his beloved springer spaniels.
He reported that they did not die, and in fact seemed quite happy afterward.
"If this myth were true, then every teething puppy I owned would be dead," Wintersteen said.
You can watch the test in the video embedded below:
The Answer
The theory that ice water will kill your dog is hot air. So drink away, little doggie, and pay no mind to crazy Internet talk.