by
posted on February 18, 2015
Support NRA American Hunter
DONATE
The pile of empties notwithstanding, my mouth felt like a bucket of drywall scraps and now I was down to a half bottle of water. My eyes smarted from the sweat, and mirage made the view all wavy even without optics. My rifle barrel was scorching hot, though I had yet to fire a shot.

PH Anton Smit and I were backed up to a lone scraggly tree, but on the wrong side to get any shade. Just like my clothes, Anton's size XXXL OD green shirt was soaked through. Just then he whistled and waved, but not because the buffalo was coming. Instead, like good managers in other businesses, he had decided to call a meeting.

Lorenzo climbed down from his perch overlooking the papyrus thicket where the bull had holed up. A few minutes later William emerged from around the far side of the 10-foot-tall cover. Though I couldn't follow their Swahili, Anton and the fellows obviously were debating how to push the bull out of the patch. William pantomimed throwing sticks, which is what he had been doing, and Lorenzo chipped in his opinion.

Did I know that my Mozambique Cape buffalo safari would morph into a drive hunt? No. Did I think it was a good idea to mess with an old loner bull that had earned a bad-ass rep from the locals? To goad him into charging out of a blind thicket so that I could shoot him from where we set up about 20 yards from the edge? Not really. Pushing rabbits, pheasants and deer can be great fun, sure. Cape buffalo? Three-quarters of a ton of "death in the long grass?" Somehow I'd missed this chapter of Hunting For Dummies.

William Candala, our lead tracker, spoke up, pressing his case. Anton turned to translate.  "Okay, John" he smiled. "William says we can kill him soon.

"Uhh, thanks, William. After two hours posted up in the swamp's 100-degree swelter, I was getting jumpy, light-headed, eager to end our four-man siege. Not that I could really envision a positive outcome, but … here we are, so bring it on.

- - -

Elsewhere my safari partners, Bruce Pettet and Rob Morrison from Leupold & Stevens, were also hunting black-skinned bulls with oversized horns. However, Rob had already killed his buffalo, and Bruce was slated for a trek into the swampy grasslands where the big herds roamed in a day or so. Instead, right then they were hunting sable, one of Africa's plus-sized antelope, whose dramatic, arching horns and harlequin markings put him on the short list of the continent's most coveted trophies. Kudu normally rate as the premier plains-game prize, but once hunters learn just how limited opportunities for sable are, some re-think the pecking order.

On the way into camp I discovered that Bruce and Rob shared that sentiment with me, and in a sense, our trip to Mozambique's Coutada 10 became a quest for black bulls. As Bruce remarked, "The Roosevelt sable (subspecies) tops my list of African game. For this hunt, they're every bit as important as the Cape buffalo. Especially this year, since in the space of a month, I'm hunting both Roosevelt sable here and Roosevelt elk back home in Oregon. I'm a big admirer of Teddy Roosevelt, and so I see this rare chance to hunt both animals named for him as a tribute to a great president and conservationist.

"The "black-bull" theme hadn't been apparent when Dan Goodenow, VP of Jim Shockey's Hunting Adventures (JSHA), initially contacted Bruce, Rob and me about joining him for a firsthand go with a new alliance the Shockey organization had forged with Marromeu Safaris in coastal Mozambique. Dan wanted us to see their deep-in-the-bush, classic tent-camp offering, a credible echo of century-old safari tradition geared to modern visitors. The unfenced and largely uninhabited half million-acre coutada (hunting area) was brimming with buffalo, Dan said, along with abundant cats, crocs, antelope and other game that thrived in the mixed miombo forest/coastal plain habitat.

It turned out that sable and buffalo could be combined on a short-term (seven-day) booking, which may make this Africa's most affordable place to pursue free-ranging specimens of both black-bull species. For me, this combo chance to hunt the most important antelope missing from my modest collection, along with dangerous game—the element that makes African hunting the ultimate drama/spectacle—formed a perfect storm. Luckily Bruce and Rob felt the same, and so we made arrangements to go the first week in November, the final hunt of the season. Dan warned us the weather would likely be extremely hot, but so long as the summer rains held off, lower late season grass meant better hunting conditions.

- - -

I love hunting camps of all persuasions, but few rival what I've witnessed in various African locales. Among the best, Marromeu's Rola Camp epitomized what appeals to this hunter's sense of comfort and style. The entrance, topped by a carved welcome sign, opened onto a fire pit encircled by a low wall and comfy chairs. Massive trees grew at exotic angles around the shady enclave. Past the fire pit stood an open-sided dining pavilion framed by rough-hewn timbers and dressed in traditional grass roofing. Flanking the common areas was a series of cottages, furnished like nice hotel rooms, each equipped with a self-contained washroom. A camp generator powered lights, ceiling fans, refrigeration and recharging electronics, while 'round-the-clock fires ensured an on-demand stream of hot water. When evenings finally cooled enough for good sleeping, sounds of wild Africa punctuated our dreams.

For many miles surrounding camp, the flat, sandy ground supported a mosaic of forest and grassy clearings where we soon spotted numbers of hartebeest, reedbuck, warthogs, duikers and sables.

There were far more of the big, dark-coated antelope than I had seen in three trips to Tanzania, where one must book an extended package to get sable on license. I was reminded that cows and younger males were actually varying shades of red and brown and only the old bulls were truly black, heavy as 600 pounds on the hoof, swaybacked and sporting thick jet manes beneath rock-solid ridged horns that can sweep back 40 inches or more from bases as thick as beer mugs. Through the Leupold McKinley bino supplied by my partners, every last one appeared to be a shooter to me. Not so, Anton advised. One must look for "secondary growth," which occurs late in a bull's life when ridges extending a few inches up from the brow line fill in with new horn material. It was difficult to see even from 100 yards, but with so many learning opportunities, I started to catch on.

In fact we were looking for one special animal, a real giant Anton had been seeing, and devoted much of the day to driving and slow-walking edges, glassing hundreds of sable in the process. Unfortunately the old fellow remained hidden and so I failed to draw blood.

Bruce Pettet, on the other hand, got busy collecting trophies right away. Bruce is in his first year as Leupold's CEO, coming from previous executive posts in the sporting-goods industry where he built multiple successful companies. He is a hunter since boyhood, a native Coloradan, and certainly has the lanky frame and go-forever, self-assured energy stereotypical in Western hunters. I liked that he was unabashedly type-A, and found the backstory of his new job quite compelling. Bruce told me that after selling his stake in an extreme-sportsware firm he'd planned to take time off and wasn't really looking when he heard about Leupold's search for a new chief. Because, like so many of us, he was a diehard Leupold optics owner and had always held their products in the highest regard, he decided to make inquiries. The rest just fell into place, and now he leads a company whose best asset is its "craftsmen."

In tandem with PH Quinton Diedericks, he brought back a long-faced, twisted-horned Lichtenstein hartebeest, and had scored, too, on a fine reedbuck, a mid-sized antelope with dagger-like headgear and bodies suggestive of whitetail deer.

My turn came the next morning when Anton and I glassed sable after sable, and eventually found a pitch-dark senior with excellent horns and secondary growth.

The lone bull was roaming the transition zone my PH called the "swampline," an area largely devoid of cover save for odd scattered palms, stunted trees and brushy anthills. To get the wind right, William knifed a roundabout track through knee-high grass, during which we lost sight of our boy a couple times. If the bull changed directions, we'd be sunk.

The skittish bull had sprinted away once, but thanks to William's intuitive tracking, we eventually caught up, and were able to run a gauntlet of anthills to close to 130 yards. My shot from a Nosler Custom rifle in the new .26 Nosler chambering hit high on the shoulder and dropped the sable in its tracks. Every bit as magnificent as I had dreamed, the horns swept back beautifully and were thicker at the bases than those of any other antelope I've seen firsthand.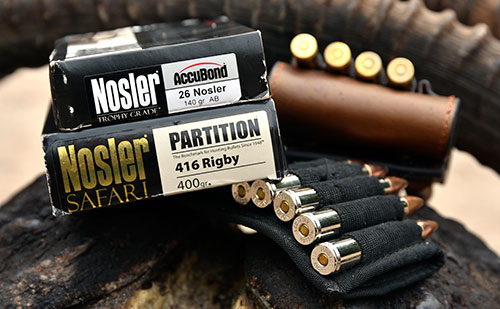 The adrenaline from that could have kept me going for days, but safari life runs its own pace. When the bush offers up your next quarry, you hunt, shoot, kill. And so 40 minutes after loading my long-awaited trophy sable into the truck, we were back on point, my rifle on the sticks, anxiously awaiting the harem to separate from a record-class waterbuck bull. Finally the formation drifted right, then split up, and I fired. Again, a single .26 Nosler loaded with the firm's 140-grain AccuBond did the job. Two big antelope known for toughness, down before lunch.
For our plains game rifles, both Bruce and I had mounted Leupold VX-6 scopes. This top-of-the-line optic offers 6X magnification range. Mine was a 2X-12X-42mm, while Bruce relied on the more powerful 3X-18X-44mm. Likely they are the brightest, sharpest Leupolds ever, and equally important, they are as durable as their predecessors.
Our exploits aside, Rob was the camp pace car. Riding shotgun with PH JW Hofmyer, the man who now serves as Leupold's marketing VP was first up to hunt the vast coastal plain for buffalo. The swamp line lay about two hours from camp, and after a long Land Cruiser ride, they still faced a trek over soggy trails to reach areas frequented by the herds. Getting there isn't a problem, since Marromeau employs a small fleet of amphibious Argos to go mucky extra miles. JW, Rob and Dan, who was filming the action for Shockey TV, switched to one of the tub-like six-wheelers at a distant spike camp and then bumped along in the cramped quarters under the searing morning sun.
Locating buffalo didn't take long, but in broken cover, the group was forced to embark on a hands-and-knees manuever. The herd's incessant movement complicated that effort. As Rob said later, "JW set up the sticks, and we were very close, but the herd was moving around and the bulls were in the interior, so there was no open shot. The third time on the sticks, the herd had separated and the bull was broadside, I decide this is it, and shot right then." That round from Rob's .375 H&H buckled the beast, and it went a few yards before a second a 300-grain Nosler Partition downed it for good.
When a hundred buffalo are on the march, shot opportunities can indeed be fleeting and tricky. Making it that much trickier, this not only was Rob's first dangerous game hunt and first time in Africa, it was just the second time he'd ever hunted big game of any kind. After a couple of tough chances, he'd taken his shot and fired it perfectly. Rob may look like a regular Joe, but surely the man's heart pumped ice water when it counted! Later, he laughed and shrugged off what rates as a real milestone to most of us, preferring to crack wise about the rigors of their Argo ride and the crawl to sneak up on his first Cape buffalo. 
Bruce also killed his first-ever buffalo, but he didn't settle for that.
Like his colleague, the tall Leupold CEO had to make a lengthy Argo excursion deep into the delta, and along with PH, the trackers and cameraman Dan, he too endured some long-range crawling to get into position. Though the herd was quite near, a lead cow was blocking the trophy bull. On came the buffalo, maybe too darn close, inside 10 yards, potentially dangerous should they all spook at the shot and stampede the hunters.
As Bruce fingered the trigger the lead cow caught wind of trouble, and the buffalo turned and bolted. The hunters redoubled their pursuit, but with considerable effort, they inched back inside 200 yards, but that's where the cover completely played out. With just short grass between hunters and the herd, Quinton and Bruce had to make a decision about making what amounts to a long shot on a Cape buffalo. Bruce decided to do it, and firing a Nosler Partition from his Montana Rifles .375 H&H, he pounded the dark brute and pounded him again. The bull ran a short way, and then with it clearly immobilized, Quinton asked if his hunter was ready to shoot the second buffalo on his license right then rather than another time.
There was a clear lane to another big fellow, and so Bruce pounded it in kind. Soon he had a pair of wide-horned trophies dead on the ground only yards apart, the only time I've known a single hunter to claim such a momentous double, though surely it has happened before.
Talk about decisiveness and straight shooting! Such was truly the case in Coutada 10 that day, and in fact every day of the safari. Between them, Bruce and Rob accounted for better than a dozen trophies. Along with buffalo, they collected sable, waterbuck, reedbuck, hartebeest, and last, a tiny-10 blue duiker that came to Quinton's expert calling.
■■■
Anton winked and apart from perspiring madly, he looked relaxed, even cheerful. "Better load all solids," advised the big man. "We'll be close, probably head on." I was drenched with sweat too and conscious of all the drinking water sloshing through my innards. And then just minutes after we saw Lorenzo climb back up into the sentry tree there was a shout.
"He's coming," Anton said.
I could see no movement. We waited. Still nothing.
"There!"
Not a twitch out front. But glancing to the right where the land formed a slight rise, I spied a rumbling block of granite separating from papyrus. The grass between us was nearly as tall, but not half as thick, and was interspersed with clumps of low shrub. I could track the buffalo's form, but not well enough to get a clear shot.
After 20 yards the bull veered hard right, which allowed Anton and me to circle around our "shade" tree and relocate it, now heading into a long exposed stretch of ankle-high grass. I shot and saw the bull lurch hard, but not go down. Boom! Again it was rocked almost to falling but regained balance. Boom! A miss! And with that I needed to reload. Upon doing so, I saw the animal was laboring but upright, perhaps 100 yards out, now going straight away. I held up on the rump, shot again and the reputed troublemaker staggered and slumped in a ring of dwarf palms.
While Anton yelled for the guys to bring the Argo, I hustled to where I could get a clear view in case the buff rose again. That looked unlikely, but since its great head was still up, I shot once more into the vitals. Later we'd find three of the solids from my .416 Rigby had grouped on the bull's right shoulder, while the other hit broke its right leg just below the hip. We had witnessed an incredible display of will from a creature famously tenacious. 
The bull was ancient, I was told, clearly a battered old warrior judging by his broken horn and broomed-off tips. It wasn't much of a trophy in the customary sense, but Anton told me he thought this was the finest buffalo in the coutada, and I had to agree no one else would have a bull or a story like mine. Months of anticipation, numerous practice rounds through the big Nosler bolt gun, plus a couple hours sweating it out in the midday sun finally crystallized into 90 seconds of pure hunting action. As Anton believed, the drive strategy worked, if not exactly as envisioned.
I've been home for over a month, and the jolt of adrenaline has yet to wear off.