by
posted on March 19, 2021
Support NRA American Hunter
DONATE
All the interesting people I know are readers.
Reading opens the doors to the universe and unlocks the options in life. Yet, some never understand. I can remember a man I worked with who bragged often and proudly that he had read only one book. At 35 years old he was already on the downslope of life. He just never understood the possibilities and gave up. The printed word, even in this foolish age of videos, contains the mysteries of the world waiting to be discovered by those willing to read.
The world of hunting contains some great literature, and if you are a reader and a hunter, odds are your life has been influenced by some of it. I'll bet there are books and short stories that make you cry, laugh or just sit quiet for a while. Reading them can impact your life, change your views and open the world of hunting beyond your own experiences.
Most of us, if we are lucky, discover them early in life. I can remember sitting in my grandfather's chair one winter afternoon and reading the last lines of Corey Ford's short story "The Road to Tinkhamtown." I was too young to fully understand it. After all, who can comprehend death and regret when they have not yet hit puberty? But, I knew instinctively that I had just read something great.
I read it again about a decade later and ever since have done so about once a decade, and each time the story means something different to me. As I work though life and lose those I love, both people and dogs, I develop a bit more understanding of the story. I stopped writing this to read it one more time, this time when I am much closer to traveling my own road, and I am back and writing through a mist of tears.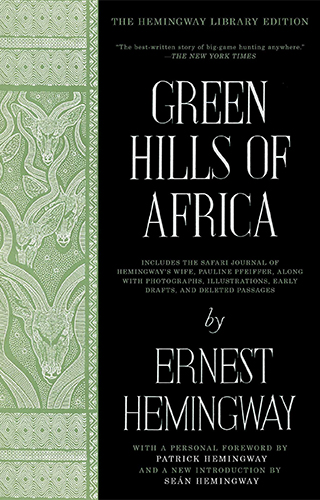 I was probably about the same age when I first read Col. Townsend Whelen's short story "Red-Letter Days in British Columbia." I laughed at the long list of equipment, food and gear for his extended wilderness adventure as it listed 150 pounds of flour, 50 pounds of bacon, 50 pounds of sugar and on and on like that for half a page … but only one change of underwear. That story, though, instilled a thirst in me to see the wild places of the world that even now with over half a century of trying has not been quenched.
Later, in my early 20s, I found Hemingway and Green Hills of Africa. That book led me to Robert Ruark's Horn of the Hunter. I lusted for Africa. I read everything I could put my hands on and the early African literature from writing greats like Bell, Baker, Selous and so many others just deepened the longing for adventure. Roosevelt's African Game Trails is one of those books I read over and over. Say what you want about Peter Capstick, no matter if he lived the adventures or "borrowed" them, he had a way of telling the story that inspired a generation to seek out hunting in Africa. Death in the Long Grass kept me awake for years longing to hunt Africa. I wanted to hunt Cape buffalo so badly I was sick at times thinking I never would. When I finally did, a little spot in me grew empty. I would never again want something that much.
Ruark's The Old Man and the Boy taught me a little about the South and a lot about my own relationship with my grandfather, one that had a lot to do with where I am now. Other Southern writers, Havilah Babcock, Archibald Rutledge, Nash Buckingham and a few others, showed me there is so much more in the North American hunting world than I could see from my little town in New England. Faulkner's short story "Race at Morning" taught me about a lost time and a lost style of hunting. But, it also helped me to understand the complicated hunter's social structure in the South by teaching me a bit of its history.
I started into this business about the time Jack O'Connor left. I regret not meeting him, but I got to know a lot of folks who did. While my hero's image was somewhat tarnished by the tales of what the man was like, I have always admired his writing. My generation grew to love O'Connor, not so much for his technical gun writing, which by today's standards is rather basic, but for his adventure stories. He was a master at taking you along on his hunting trips. He just slipped along easily while the reader hardly noticed the genius in his writing. I chose a line from one of my favorites, "Santiago and the Lady Hunter," for a piece I wrote welcoming my daughter to the world some 30-odd years ago. In it I said that I hoped Erin would grow up to love hunting, but if she did not I would understand because, as the old Mexican said at the end of the story, " ... it makes me sad to know that anyone so lovely has death in her heart."
Russell Annabel brought me to the North and Gene Hill took me grouse hunting. I hunted turkeys with Tom Kelly and I accompanied Gordon McQuarrie in the duck blinds. It was exciting when I followed Jim Corbett hunting tigers. I elk hunted with Elmer Keith, who while not a literary writer probably knew more about guns and hunting than the rest put together and had a unique way with words.
When I started this piece I put up the question on social media. One book that came up time and again as a major "influencer" was Where the Red Fern Grows. I am ashamed that I had not read it. It's often called a children's book and I am too old now to ever read it as a child, but I did just read it. It describes a brutal style of hunting that would no doubt cause the book to be "canceled" in today's limited society. But I understand and relate to the bond with the protagonist's dogs and his unbridled passion for hunting. My regret is not reading this great book much sooner.
These types of hunting stories are not published much anymore in periodicals. I keep hearing it's somehow the fault of the writers, how there are just not any good writers working today. That's foolishness, of course. The writers are still there, but the market has changed. Most of these writers I have mentioned would have trouble being published in a magazine today. But their work is still out there to be discovered, just like the work of some unappreciated modern writers. Once they are dead, we can read articles like this one saying how great they were and how they were the last of the breed.
The point is, there is a lot of great writing out there. Go find it. After all, you call yourself a hunter, right? Well, hunt up some of these books. When you are done, give them to young hunters to read and let them discover the world is much larger and so much better than they believe right now.