by
posted on November 7, 2020
Support NRA American Hunter
DONATE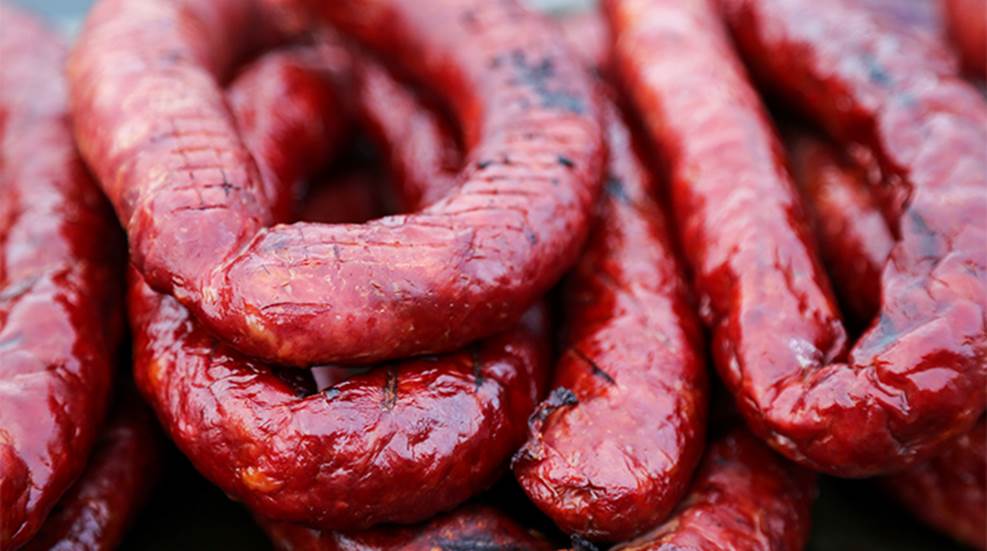 Sausage making dates back to the 15th century and was a result of more efficient butchering practices. Less palatable cuts of meat were salted, ground and stuffed into scraped and rinsed intestines, which were then smoked and air-dried. It was one of the first forms of meat preservation.
Venison is ideal for sausage making as it is lean and holds the flavor of spices. Sausage making should be fun, and once you tackle the first batch, it becomes easier every time. Here are the essentials for getting started.
Ground Meat
Grind it yourself, or have a local processor grind your venison and pack it into 1- to 5-pound burger bags. You'll also need to purchase some ground pork. Pork helps bind the mixture and provides moisture. The front shoulder of a hog, known as a Boston Butt, is ideal for inclusion in venison sausage, having the perfect blend of meat and fat.
Salt
Salt is an essential ingredient for sausage making. It adds flavor, kills bacteria and can act as a preservative with nitrites and nitrates to prevent botulism and slow meat spoilage. Regular table salt will work, but Kosher salt is a better grind with perfect sized crystals for drawing out moisture from meat. Curing salts are used when smoking or drying sausage.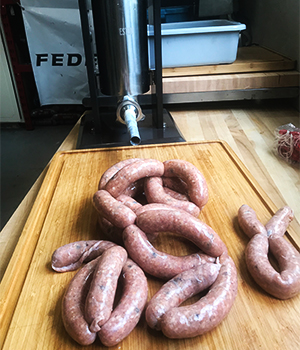 Flavor
The flavor in sausage comes from a variety of spices, herbs, fruits and vegetables. Garlic is common and is a staple ingredient in kielbasa. Black pepper and sage are the base for most breakfast sausages. The spice cabinet is where creativity starts. Smoked paprika, cumin, fennel, nutmeg and thyme are but a few options to create a sausage to tantalize individual taste buds.
Equipment
You do not need grinders, mixers and stuffers to get started with making sausage. Fresh sausage is easy to make and can be formed into patties or rolled in waxed butcher paper. Once you perfect some sausage recipes, an investment can be made into equipment for grinding and stuffing.
Casing
To case sausage, a press or grinder with a feed attachment will be required. Use natural or synthetic casings to form links. Hog and sheep natural casings are best for bratwurst, smokies, smaller breakfast or dinner sausages, or snack sticks. Collagen casings are also available and are easy to use. Natural casings are heavily salted to preserve them. The salt needs to be washed off thoroughly before use, and the casing should then soak in cold water to ensure tenderness. Summer sausage and salami are made with a larger fibrous casing that can be purchased at butcher supply shops and some sporting goods locations.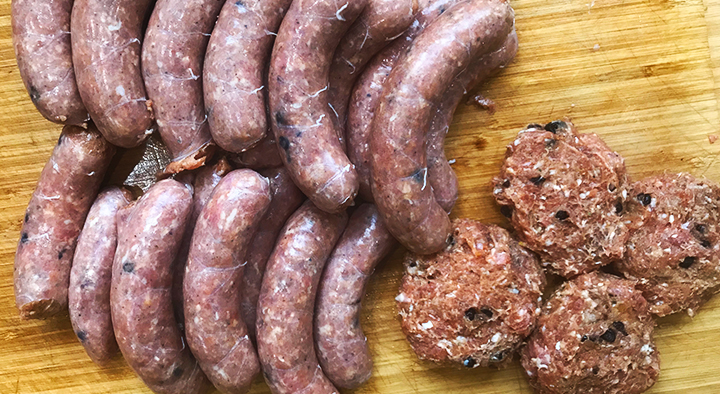 Let it Get Happy
When working up a batch of meat for sausage, add all the ingredients and mix well. Store in a refrigerator overnight, so the spices and flavors blend evenly. A cooler and ice will work.
---
Traditional Fresh Breakfast Sausage
Ingredients
• 4 lbs. ground venison
• 2 lbs. ground pork shoulder
• 3 Tbsp salt
• 1 Tbsp ground black pepper
• 1 Tbsp dried sage
• 2 tsp nutmeg
• 2 tsp thyme
• ½ cup cold water
Directions
1. Grind meat, or have it ground. Keep in mind: Higher-quality meat results in better sausages.
2. Place ground meat in a meat mixer, or container large enough to mix by hand. A plastic tote or cooler works well.
3. Sprinkle dry ingredients evenly over the meat and add the cold water. Mix thoroughly until the pork, venison and spices are combined well and are uniform in appearance. It often takes 4 or 5 minutes if you are doing it by hand, so be patient. Keep it cold.
4. Put the sausage meat into burger bags. When thawing, cut the sausage meat into half-inch patties. Alternatively, wrap your mixture in plastic wrap and then with butcher paper, so it is airtight to freeze, then form into handmade patties at the time of use.
*Tip: Most of the fresh fry sausages turn out the best with a fine to medium grind. With a coarse grind, the chunks are often too big and may cause your sausages to crumble when you cut them.
Buyers of westonbrands.com meat-processing equipment are eligible for a 25 percent discount; enter promo code BFENSON20 at checkout.