by
posted on April 19, 2023
Support NRA American Hunter
DONATE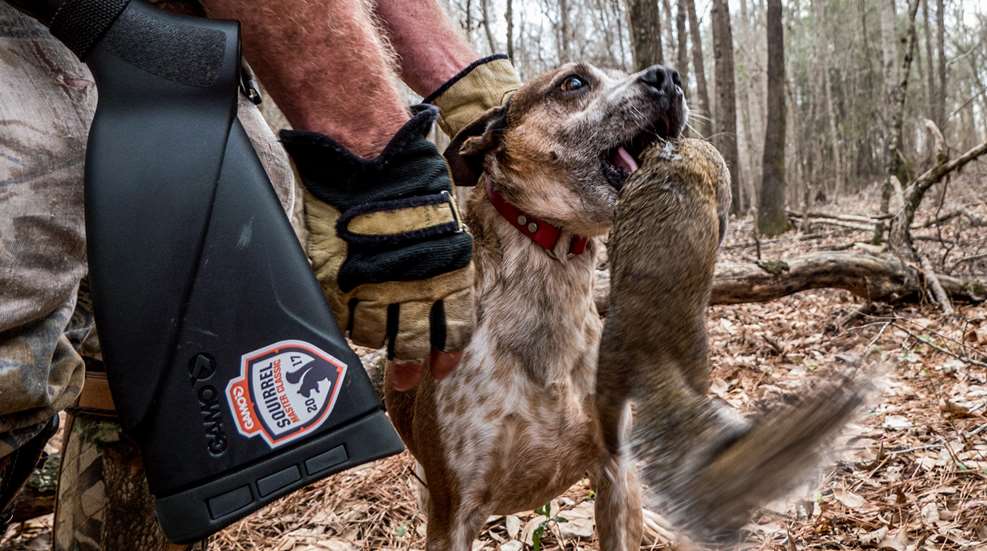 We've all been there before: you meticulously pick out your gear, carefully coordinate your travel plans with your buddies, just to have everything fall apart over a lousy weather report. As good as the spring and summer woods are for bushy tails, when Mother Nature decides it is prime time for wet weather, it pays to have a plan to adapt and push on. Aside from getting a little soggy, my friends and I have concluded that these wet ventures were some of the most successful hunts we've ever been on. Squirrel hunting in the rain, as it turns out, holds quite a few advantages.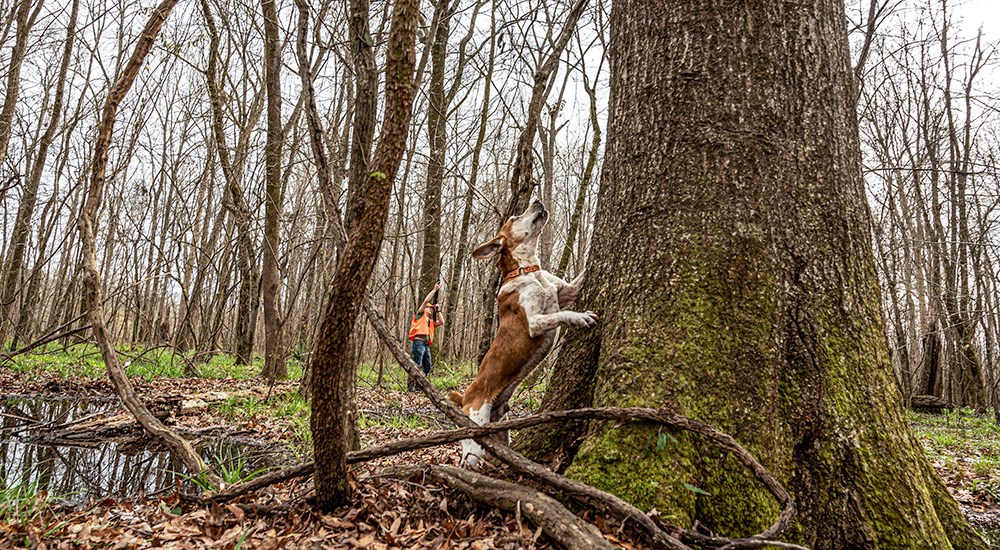 Mother Nature doesn't care what day it is, and as such we must learn to adapt. Before each wet-weather hunt, I change up a few clothing items and find this to make all the difference. When the forecast calls for light rain or spotted showers, I don't find it prudent to wear a raincoat. In these circumstances, I feel I have two choices: get wet from the outside in, or don a skin of rubber and get drenched from the inside out. Besides, most raincoats worth their weight are noisy and ruin the best part of walking the woods in rainy conditions: stealth. I do, however, dig out my Dryshod NOSHO Ultra Hunt boots. Although they are intended for much colder weather, rolling down the calf pipe makes them cozy enough to wear through late summer pursuits, and the rubber construction keeps my feet dry the whole time. Dry feet stave off blisters and will save you from regretting a day of chasing tree rats through the woods. To that end, I also recruit the help of my ALPS Super Elite 4.0 Turkey Vest. Why should turkey hunters be the only ones comfortable? The attached seat cushion comes in handy when plopping down, wet ground or not, at the random ambush points that I look for when pursuing squirrels. It also has gobs of zipper pockets that help keep the rain off sensitive gear.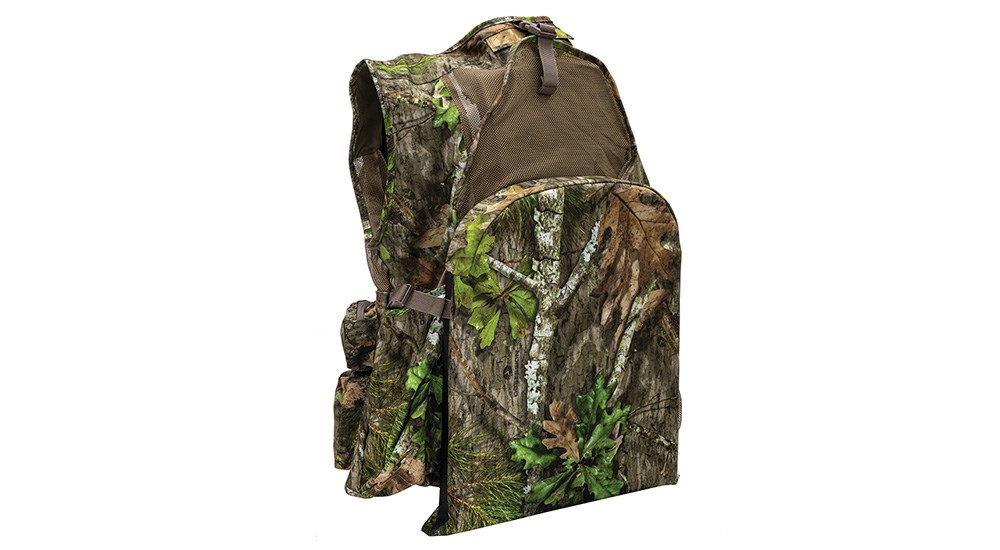 The subject of gun selection is always up for a fair bit of debate. And while just about everything works in the rain, there's still the issue of post-hunt maintenance and keeping things functional while afield. Scopes become a pain to deal with in wet conditions. You'll find yourself constantly wiping lenses dry or, at the very least, raising your rifle just to find out that you forgot to flip open the scope caps. For those reasons, I opt for iron sights when things can get damp. Double-barrel shotguns, like the new Rock Island Side-by-Side shotgun I used recently, are a great option as you don't need to knock precipitation off a brass bead, and there aren't many parts that are going to need polishing once you return. Another great option that takes moisture-prone gunpowder out of the equation is an air rifle, and the Gamo Swarm series is reliable, affordable, and it's available with iron sights.  

As for fieldcraft, wet conditions tip movement in the hunter's favor. While the damp ground is far quieter to walk on, keeping noise down at your level, things are actually rather loud atop the canopy on account of the droplets beating against the leaves. This is deafening to the tree rats that walk along it, covering up any mistakes that your boots might make by snapping twigs or dislodging loose gravel. In short, our human signature is severely diminished in the rain, and a squirrel's ability to detect the little that they can hear is also seriously hampered. This lets you walk a little more briskly, cover more ground in less time and increases the odds of seeing more flicking tails to chase.
Squirrels will also be more visible to our eyes in the rain. Rain-soaked leaves do not stay rain soaked when tiny feet strike them. Every tiny squirrel step sends a visible and audible shower to the ground, broadcasting their location through the treetops. Nearly every squirrel I have shot on wet and rain-soaked days has been at the hands of this foley. If you haven't experienced it before, there is nothing more spectacular than watching the canopy as squirrels jumps from branch to branch. There's also nothing wrong with sprinting off in their direction as your prey has nowhere to hide. Just keep your head down if you don't want to get soaked.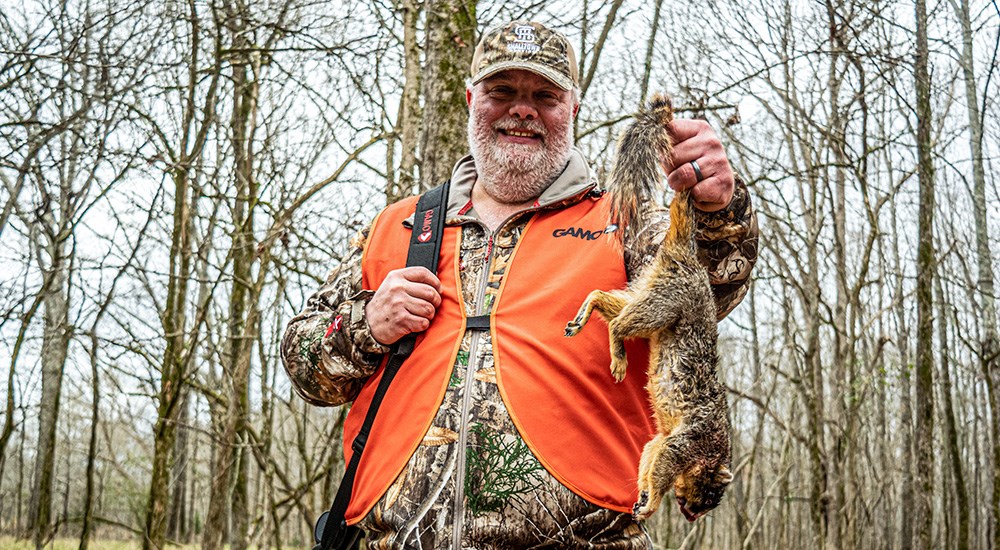 Small-game hunting is typically a high-endurance event. Therefore, those showers quickly become a godsend as they might be the only thing keeping you cool in the warmer weather that is typical of these hunts. Additionally, in my experience, a rainstorm is the most effective way of keeping mosquitoes at bay. While they will come out in force immediately after a downpour, they seem to remain grounded when it is actively raining. Lastly, if the treetops are thick enough, you can likely find a few dry spots in the forest where you can camp out. This allows you to stay out of the worst of any passing storm and be in the game to still pop a few rodents in the distance.
Now, this isn't to say that all rainy conditions are created equal. Just like most wildlife, if the precipitation is coupled with heavy winds, squirrels just won't be moving. The same holds true for a torrential downpour. So if that's what's in store, you're better off rolling back over and sleeping in. Also, be aware of the safety concerns that accompany wet weather, like slipping. Rocks and downed timber accumulate algae and, as such, become increasingly slick when wet. Lastly, be sure that you can call it quits the moment lightning cracks across the sky, as the worst place you can be in a lightning storm is among tall trees holding a rod of iron. However, if you can navigate around these hazards, you'll be surprised at just how comfortable and successful a hunt you can have despite the lack of sunshine.