by
posted on March 3, 2021
Support NRA American Hunter
DONATE
Are you tired of scouring gun shops, gun shows and websites for guns and ammo that can't be had? All the messages online ("not available at this time," "backordered," "no longer available") are enough to drive firearm owners to look for other ways to satisfy their cravings.
Many hunters are turning to suppressors as the next step in the gun-owning process.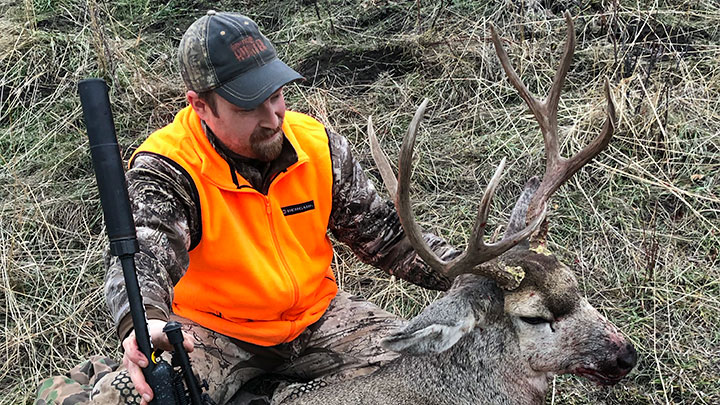 Yep, that thing the uninitiated likes to call a "silencer"—actually called a suppressor—may be purchased with some paperwork and patience. A suppressor takes gun ownership to the next level, physically and audibly, because it makes gun use a whole lot quieter and a whole lot of fun, which makes gun owners and hunters better shooters and better neighbors. Suppressors are legal in 42 states; 40 states allow them for hunting. And believe it or not, the route to purchase one is simpler than perceived, especially behind a guiding hand.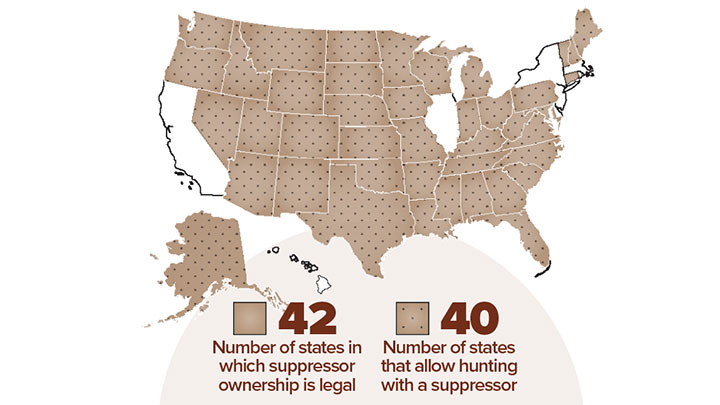 Brandon Maddox, an NRA member and American Hunter reader, is a pharmacist with an MBA who got into varmint hunting when he moved to South Dakota. He learned the reduced report and reduced recoil attached to suppressor use improved his experience. But the route to acquire a suppressor was fraught with misinformation and delays—and after that Maddox wasn't happy with the product then available to him.
So he built Silencer Central (SC) to make industry-leading suppressors and to simplify the suppressor-buying process.
How simple? Visit silencercentral.com, choose your suppressor, purchase it and a federal tax stamp; pay in full now or set up a four-payment plan; let SC do all the regulatory paperwork for you; complete the paperwork the company sends you and return it; and once the FBI completes your background check, in about eight months, the suppressor is shipped to your door.
Silencer Central's Banish 30 is perhaps its most popular suppressor. It sells for $979. That's a lot of lettuce, sure, but it can be broken down into four interest-free payments. You pay $244.75 when you place the order, then three more monthly payments, then wait the final four months for paperwork to clear.
Under regulations established by the National Firearms Act, suppressor ownership may be set up with a trust, corporation or individual.
Silencer Central sets up a trust free for every customer. Family or friends named in the trust may use the suppressor in your absence. Members of a trust may be added or removed anytime. A trust may be used again and again to buy other suppressors. Alternately, registering the suppressor with a corporation may be attractive when a gun owner already owns a corporation, or a customer may choose to own a suppressor as an individual. But these options have pitfalls, which is why 95.5 percent of SC buyers use a trust it sets up free.
The suppressor market is still relatively new; only about 150,000 units are sold annually. Translation: There is a lot more supply than demand in this segment of the gun market. You may actually shop for a product you are interested in and buy it and get it. Yes, you must wait for your paperwork to wend its way through the federal process, but Silencer Central is there to help customers every step of the way.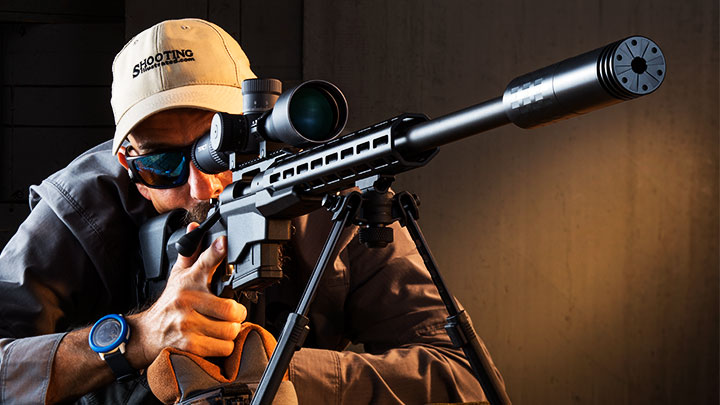 3 Ways to Register a Suppressor
A law-abiding citizen may purchase a suppressor online if he/she lives in one of 42 states where Silencer Central (SC) does business.
The company's eZ-Pay program allows a prospective buyer to pay for the federal tax stamp ($206) plus 25 percent of the purchase price of a suppressor, then 25 percent per month for three more months, interest-free, while the Federal Bureau of Investigation finishes its background check and while paperwork wends its way through the system at the Bureau of Alcohol, Tobacco, Firearms and Explosives as the agency issues your National Firearms Act stamp. Buyers must pay for the federal tax stamp in full at the time of initial purchase (SC holds no sway here); after that, every buyer can expect an eight- or nine-month wait period for paperwork to be completed.
Under regulations established by the National Firearms Act (NFA), suppressor ownership may be set up with a trust, corporation or individual.
Trusts established under the National Firearms Act impart many advantages. Each person named in a trust may possess and therefore use a suppressor in the absence of the person who actually purchased it in the first place. A trust may be changed at any time without notifying federal authorities, so family and friends may be added or removed as needed. Once formed, a trust may be used again and again to buy other suppressors or items controlled under the NFA. A trust makes legacy planning easy; a suppressor owner may simply name the person he/she wishes to inherit the suppressor to the trust.
A purchaser of a suppressor may instead choose to register the device in the name of a corporation because he/she already has a corporation. As with a trust, officers named in a corporation may use the suppressor. If a buyer uses a suppressor within her business, registering the device as part of the business may make sense. But if a corporation does not remain in good standing, the entity to which the suppressor is registered no longer exists; the suppressor must then be transferred to a trust, another corporation or an individual. This option makes most sense if a buyer has a specific business need, or already has a corporation and does not want to set up a trust.
A buyer may choose to register the suppressor alone, as an individual. This process spares the need to set up a trust or corporation. However, only the individual named as the owner of the suppressor may use the device; anyone else may use it only in the presence of the owner. If you plan to buy only one NFA device ever and never envision allowing anyone else to use it in your absence, this option may make sense.
But neither of the latter two options make sense when Silencer Central sets up a 20-page NFA trust good in 42 states free to every buyer of its devices (a $249 value), which is perhaps the main reason company owner Brandon Maddox says 99.5 percent of all buyers of his products choose to set up a trust. For more information, call 888-781-8778 or visit silencercentral.com.