by
posted on May 14, 2021
Support NRA American Hunter
DONATE
Standing miles upon miles from the nearest road, I stared in awe at Taj Shoemaker's rifle as he shot to check its zero prior to heading afield with a brown bear client. It was so magnificently ugly that it was beautiful and, of course, it was dead nuts on target. Taj is a registered Alaskan guide, owner of Kodiak Island-based Island Air flight service, and son of brown bear legend Phil Shoemaker. In the photo above, you see his rifle, dwarfed by the jaws of a Boone and Crockett brown bear skull.
A few days later (after some awesome bush flying, bear stalking and bear-hide packing), I had a chance to quiz Taj about why. WHY do that stuff to your rifle? To a gun aficionado it seemed like criminal abuse. After hearing Taj out though, I was ready to grab some tape, inner tube and J-B Weld. Here's how (and why) to make your own brown-bear-guiding, cold-weather-thwarting, river-wading, keep-you-alive-in-one-of-the-harshest-environments-on-earth, beautifully ugly rifle.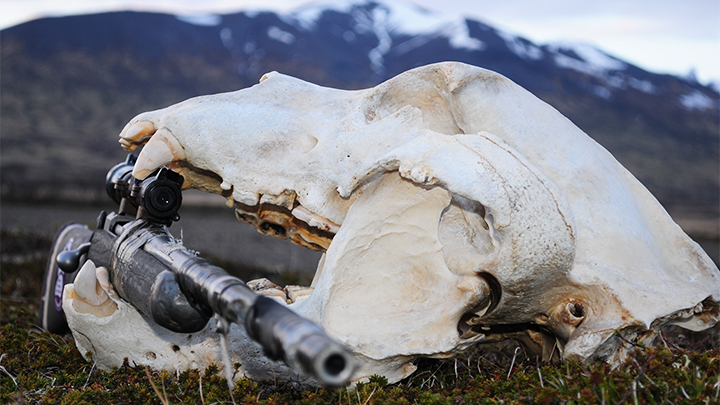 List of Necessary Parts and Equipment:
• Stainless Ruger Model 77 Hawkeye rifle in .375 caliber
• Leupold or similar fixed 2X riflescope
• Flip-Up Scope caps
• Short Weaver-type rail
• Chunk of inner tube rubber
• Tube of J-B Weld putty
• Roll of electrical tape
• Some camo duct tape
• Assorted spray paints
• One of your wife's flip-flops (preferably purple colored)
• Wood hand plane or farrier's rasp
• Hack saw
• "Bear Aware" sticker
Ruger M77 Hawkeye Rifle
Ruger firearms are known for rugged reliability, and a controlled-round-feed action like the M77 is a must when hunting dangerous game, especially if you might have to protect a hunting client or buddy from a 1,600-pound mess of charging teeth and claws. Bears can cover an inordinate amount of territory with astonishing rapidity when they're upset, and a cartridge miss-feed could mean the end of, well, everything, for you and your companions. Get a synthetic-stocked, stainless steel Hawkeye in .375 Ruger or .375 H&H. This will be the foundation for your very own "Old Ugly."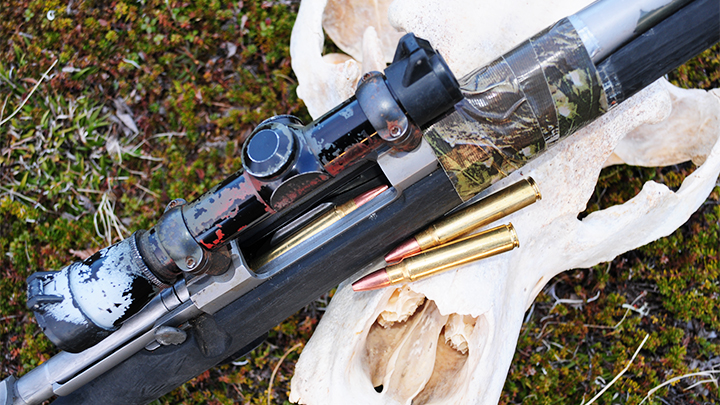 Fixed 2X Scope
Sure, you could use a variable-power scope, but if your goal is to eliminate every possible weak link, however remote, a fixed-power scope has a tiny edge in reliability. I don't remember what power Taj's scope was, but a magnification of 2X will work well. Mask the lenses with tape, then camouflage the scope with whatever muted earth-color spray paints you have on hand. Then mount it in sturdy steel rings, and add a set of good see-through scope covers. It rains more than it shines in brown bear country, and the caps will keep most of the moisture off your lenses, while still allowing you to shoot through them should you get surprised at close quarters with no time to flip the covers up. (I know, I know, Taj's rear scope cover isn't see-through. In my opinion it should be, though.)

Shape the Stock
Taj wanted to reduce unnecessary weight and slenderize the stock—so he grabbed a tool (I don't remember what he said he used, but a hand plane would work nicely) and whittled the fore-stock down to suit his taste. It's not pretty, but I must confess, it felt good in the hand. Use a plane and/or farrier's rasp to shape your rifle to your hearts content. Just remember to keep it ugly.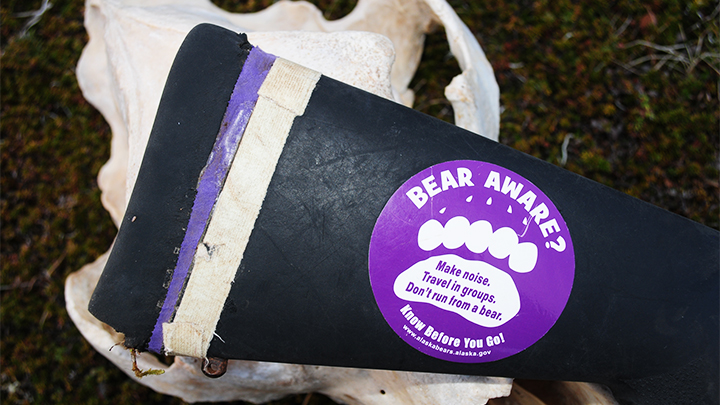 Re-Align the Recoil Pad
This was my favorite modification of all. Here's how you do it: First, shoulder your rifle repeatedly, and in several different field positions. A couple small adjustments to length-of-pull and buttpad alignment should make the rifle smoother and easier to shoulder. Figure out what those adjustments are and then remove the recoil pad. Next, commandeer one of your wife's flip-flops (it's best if she doesn't know about this until it's too late). Grind the sole to the appropriate angle and thickness and then sandwich it between buttstock and recoil pad so it makes the necessary adjustments. Trim away the excess flip-flop. Nice work.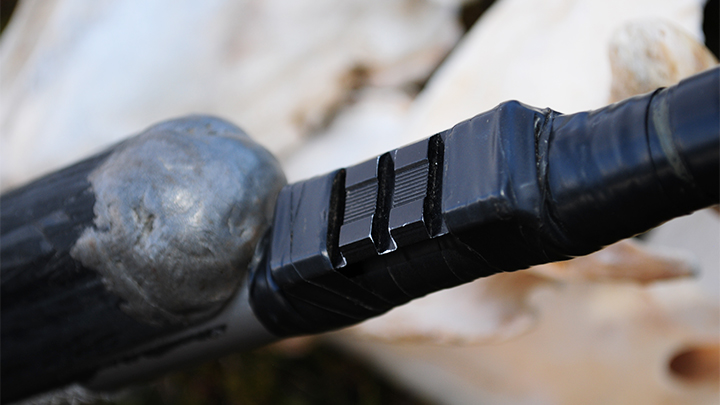 Attach a Rail
Coming face-to-face with a brown bear while hiking back to camp in the dark seems to be one of the Shoemaker crew's least favorite experiences. To make the experience slightly more comfortable, add a rail to your fore-stock so you can mount a bright flashlight to point bear-ward. Just hacksaw the end off your fore-stock and re-build it with J-B Weld putty. Incorporate a Weaver-type rail. You can mount the rail directly under the barrel, or at a bit of an angle to port or starboard—your preference. Just make sure it's set to point your light directly toward the rifle's 20-yard point of impact. Awesome. Now you can point light and rifle together at bears that go bump in the night.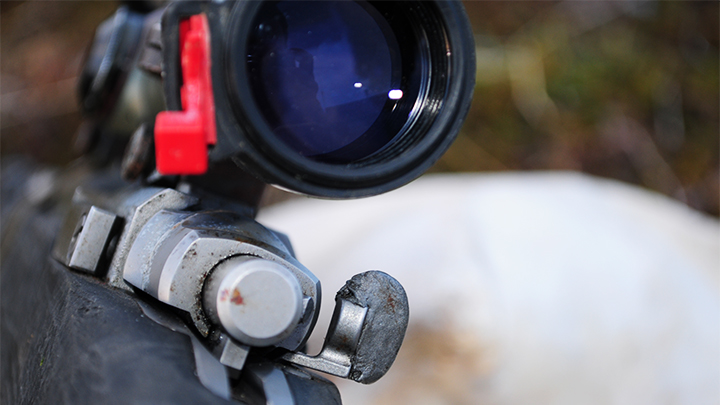 Upsize the Safety
I don't know about you, but when parting bear-infested brush with the end of my nose I want a torpedo in the tube. Better keep the safety on, though. Taj added a thumb-sized J-B Weld paddle to the wing of his safety release, making it much easier to locate and disengage in moments of extreme duress. You can do the same. Just rough up the surface of your safety wing with a coarse file or sandpaper, keeping the surface grease-and-oil-free so the putty will stick. Now shape a nice paddle onto the wing with J-B Weld putty. Operate the safety through all its positions to make sure your addition doesn't contact anything it shouldn't.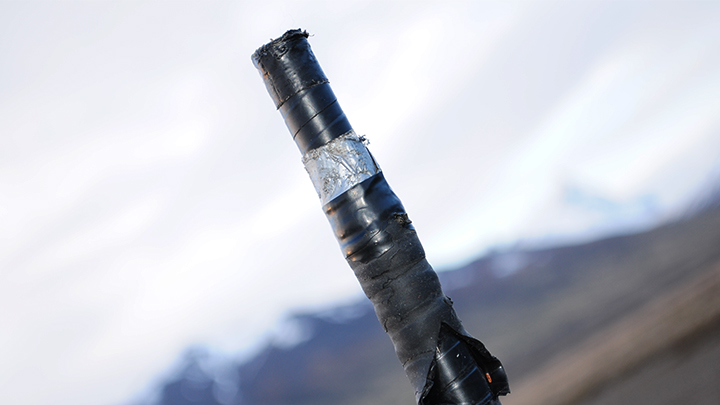 Make It a Trekking Pole
Lots of hazards exist in brown bear territory such as steep, slippery slopes, alder-choked creek bottoms and rushing river currents. I was appalled the first time I watched Phil use his rifle to stabilize himself while crossing a creek. My friend Jordan Voigt was equally flabbergasted to see Taj use his rifle the same way when crossing a river; the action, scope and all completely underwater. But when you consider the alternative of getting leg-swept by the current and taking an unwanted and potentially fatal trip downstream, giving your rifle a bath suddenly seems like an okay idea. Getting modern enough to carry trekking poles is boring, so here's what to do: Tape a good, non-slip piece of used inner tube just shy of your rifle's muzzle. It'll give you a good grip when the time comes to climb a steep mountain or cross a rushing river. Just remember to shake the water out of the rifle's action afterward.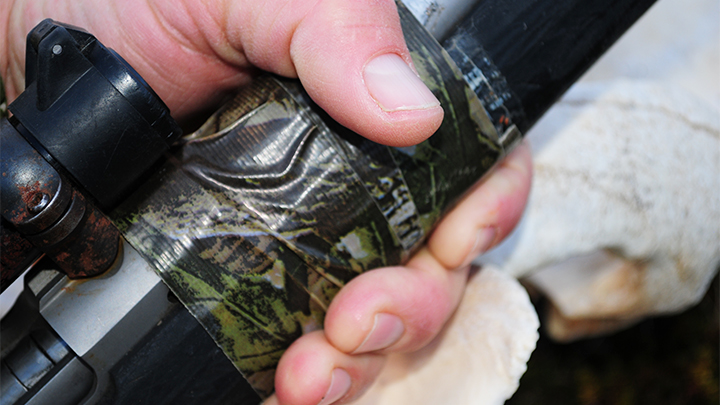 Wrap Up the Balance-Point
Now that you've got the big mods completed, it's time to put the finishing touches on. It's gets chilly in brown bear country, and carrying your rifle around can make your hands dangerously cold. Circumvent that by wrapping your rifle's forearm and barrel with duct tape right at the balance point where your hand spends most of its time. Any muted color of tape will work, but as you can see, camo is coolest.
Mask the Muzzle
Any mountain hunter can tell you it's important to fasten tape or a small balloon over your muzzle to keep water out of the bore. That's even more true on the Alaskan Peninsula. Just use regular electrical tape across the muzzle, with a wrap around the barrel to help keep it in place. When you shoot, the tape will get blown off and you'll need to replace it. Don't worry; having it there won't hurt accuracy.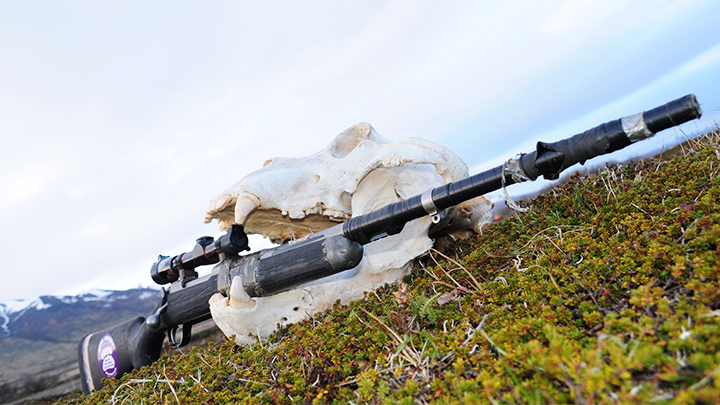 Shut Off the Shine
Your final task to turn your rifle into the perfect brown bear gun is to remove any reflective or shiny areas. You don't want to catch a bear's attention by packing a bright, reflective rifle around. Just use electrical tape or camo duct tape for this. Personalize your rifle with a "Bear Aware" sticker to satisfy your sense of humor, and, of course, remember to keep it ugly.
Want to read more from Aram von Benedikt? Check out the following articles:
• Top 7 Long-Range Hunting Loads
• Hardcore Hunting: 5 Tips for Keeping Your Rifle Functioning
• Public Land Hunting Etiquette
• Journal This Year: How to Record Recent Adventures and Plan Upcoming Ones
• Backcountry Survival: 3 Tools You Should Always Carry
• .30-06 Springfield: Is it Still the Best All-Around Big-Game Hunting Cartridge?
• 10 Great Christmas Gifts for Hunters
• How to Field Judge a Mule Deer in 30 Seconds
• How to Call Elk: Strategy, Sequence and Setup
• How to Set Up a Ground Blind for Bowhunting
• Backcountry Mule Deer Hunting: Tools and Tactics
• Tips and Tactics for Hunting the West
• How to Prep for Elk Hunting: Physical Fitness, Mental Toughness, Shooting Skills and Shot Placement
• Hunting African Plains Game: How and Where to Place Your Shot
• Dream Hunt: How to Make an African Safari Come True
• Top 5 Backcountry Hunting Rifles
• Hunting Cartridges: Rising Starts of the New Millennium
• Tips and Tactics for DIY Hunting and Fishing in Hawaii
• Peccary Quest: Where and How to Hunt Javelina
• Tips and Tactics for Hunting Western Cottontails
• How to Convince Your Wife to Let You Buy as Many Guns as You Want
• Backcountry Survival Tips: How to Deal with Disaster
• DIY Backcountry Hunting Tactics and Gear
• How to Be an Ethical Long-Range Hunter
• Tips and Tactics for Hunting Coues Deer
• Essential Stalking and Still-Hunting Skills
• A Beginner's Guide to Traditional Bowhunting
• 6.5 Creedmoor Proven: How Does It Actually Perform on Big Game?
• How Hunting Rifles & Gear Have Evolved Over the Last 50 Years
• How to Sharpen a Knife
• How to Set Up Your Rifle and Scope for Long-Range Dialing
• 7 Common Predator Hunting Mistakes to Avoid
• 6 Tips for Hunting Public-Land Mule Deer
• 10 Tips for Bowhunting Elk
• Tips and Tactics for Bowhunting Mule Deer
• How Do You Build the Ultimate Western Big-Game Rifle?
• 10 Ways to Prep for Your Next Western Big-Game Hunt
• Tips and Tactics for Hunting Canyon-Country Gobblers
• 12 Tips for Shed Hunting the West