by
posted on August 15, 2023
Support NRA American Hunter
DONATE
As regular as the rising sun, whenever my buddy downs a deer and I am nearby to assist, his first words are, "Do you have a knife with you?" He knows I do, as I spend the first month or more of every fall hunting solo in the backcountry of the West living out of a backpack. My hunting style relies on being prepared (family and friends call it anal-retentive) whereas his lifestyle involves a more carefree character. Regardless, on our last elk hunt together, he surprised me by carrying a nearly complete kill kit in his pack.
What is a kill kit? This assortment of gear comes into play soon after you tag your big-game target. It includes an array of equipment to prepare your animal carefully and efficiently from the field to your freezer. Depending on your hunting situation, your kill kit may even include a final means of you transporting meat from the field to camp. For some, field-dressing your animal completes the chore. Carcass transportation ends with the animal hitchhiking a ride in the back of a truck or UTV. For hunters well away from roads, your kill kit requires a few more items to whittle a wapiti or whitetail into packable portions. 
Safety First
You will use a knife, and it should be sharp, of course, so prepare for the unexpected. Pack a suitable first-aid kit, appropriate to your situation, in your backpack or readily accessible vehicle.
Kits should be able to handle common cuts that occur during field-dressing, but also handle any other injuries that arise, plus antiseptic wipes to help ward off infections. Inventory it to ensure it contains bandages of all sizes, liquid bandage, gauze, butterfly closures, medical tape and pain reliever. For a severe laceration, consider including a packet of QuikClot hemostatic dressing. For those of you who are foreseeing the worst, you may want to consider a tourniquet to slow major blood loss. A first-aid manual provides a quick refresher course when adrenaline surges during medical attention. A headlamp, backup flashlight and reserve batteries ensure illumination when the natural light goes out.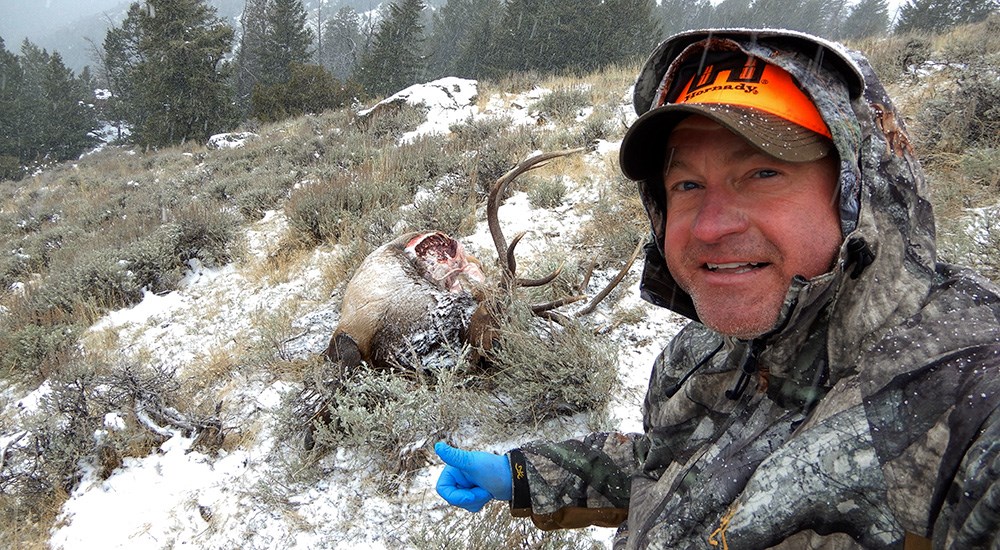 Next, forget about being macho and wear medical-style gloves. Latex examination gloves or the more durable nitrile style of rubber gloves form a barrier between you and anything nasty lurking in fluids of a freshly killed game animal. Have several pairs stashed in case one rips. Arm-length veterinary gloves also add protection for your clothes and while reaching way in while field-dressing.
You should also swap gloves between field-dressing, head removal and meat handling. Chronic wasting disease transmission is spread through the tissues and fluids of the brain, spinal cord, eyes, spleen, tonsils and lymph nodes of harvested animals. This is reason enough to be especially careful when working in these areas. Please note, to date there is no record of the disease being transmitted to humans, but why make history?
For those of you with a messy lifestyle, you may wish to consider donning safety glasses and a face mask in case of splatter. I also know a few folks who may wish to cover their exam gloves with a cut-proof glove to avoid knife injuries. Protect yourself as your skill level requires. 
Prep Partners
Next, partner up with a suitable cutting instrument. Three main models of knives saturate the market today and include the standard fixed-blade knife, a folding-blade knife and a replaceable-blade knife.
Each has its own selling points, but for overall ruggedness and functionality, a quality fixed-blade knife wins. When constructed from a portion of steel with ample thickness for rigidity, a fixed-blade knife not only handles every chore from gutting to meat removal, but also joint separation, allowing you to forgo the weight of a folding saw in your pack.
An even better plan is to bring along two knives, especially in the backcountry. A fixed-blade knife gives you the Stanley hammer for hardy jobs, and a folding knife or replaceable-blade knife backs up that knife in case of failure, plus deploys easily for daily jobs. This also allows you to swap knives in case you do not have proper disinfecting chemicals when moving between CWD areas and meat.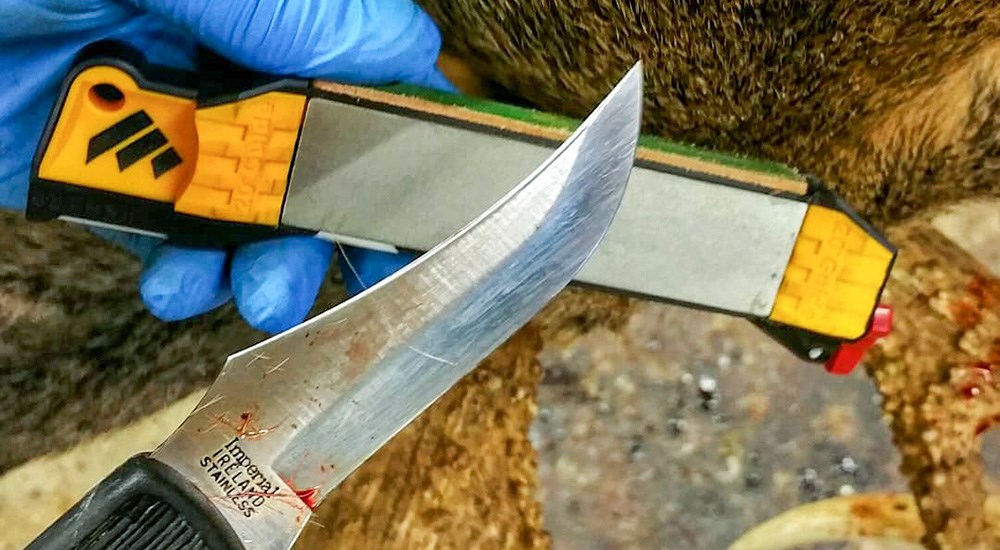 That does not mean you should ignore a replaceable-blade knife. This knife excels at delicate jobs such as caping an animal for taxidermy in the field, plus most other jobs. Stow all knives in an appropriate carrying case or sheath. And, when you set a knife down, place it out of the way and with the blade positioned in a safe direction in case you stumble near the carcass.
Look for knives with blade lengths from 3.5 to 4 inches that include a drop point with a slight curve to the edge for the cleanest slice. Carry along extra blades for replaceable models, and for standard blade field-sharpening, consider options such as the Work Sharp Guided Field Sharpener or their Guided Pocket Sharpener for a lightweight alternative.
A final partner I always invite to the kill site is a length of paracord. On nearly every elk where I solo debone, I end up lashing legs to trees to provide easier access to tight spots. One season I even lashed an elk to nearby brush after it first attempted to bobsled off the mountain during field-dressing.  Paracord also partners with you to hang game bags in trees for additional cooling or protection from predators.
Packaging and Packing
With mealtime in mind, pack along the required bags to cleanly remove meat from a kill site if the logistics require. I typically carry along at least one Ziploc, two large black garbage bags and four cheesecloth-style game bags. Cheesecloth offers a lighter option than canvas, but a synthetic, antimicrobial game bag could also suffice.
The Ziploc holds the tasty heart and possibly the liver, although a larger Ziploc may be in order. I use garbage bags first as a tablecloth to lay out all my kill kit gear in an orderly fashion and as a place to lay my knife between cutting chores. After that I line my backpack with a garbage bag to save on blood cleanup.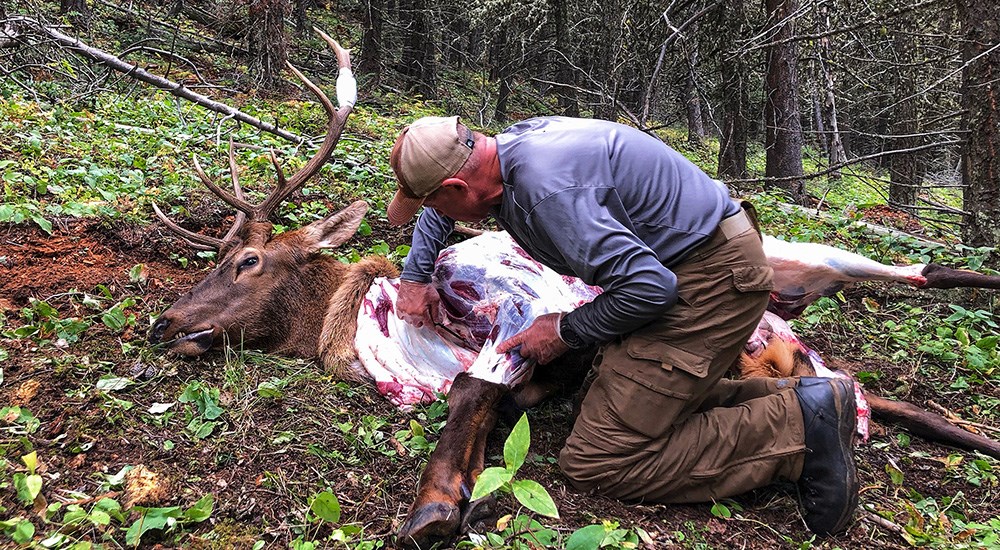 Of course, game bags protect meat from forest duff, insects and even spillage in the back of your truck. A clean tarp in your truck also provides an ideal liner to separate your deer or game quarters from spilt chainsaw oil.
You may not need a backpack for transporting meat, but a good all-around option is a frame pack with options to customize pack add-ons. I have been using the ALPS OutdoorZ Elite frame pack for all hunting. You can utilize the frame alone for packing meat or add packs to the frame to fit your needs in cubic inch sizes of 1,800 and 3,800.
Instead of asking your hunting partner to lend you a knife, start now in the assembly of your kill kit. You will be ready and the preparation boosts confidence in your upcoming hunts.