Support NRA American Hunter
DONATE
Workshops, tool sheds, she sheds, man caves and your standard metal storage buildings enthrall our nation's DIY spirit. When you have fortune to possess a place to labor in the work you love or just to escape, you may also consider taking that space another step further. If you hunt, that space could become an improvised or official wild-game butcher shop.
Any space, including a garage, shop, shed or even a lean-to, could double as a meat processing center during hunting season. Enclosed spaces work best to offer climate control. In the Southern heat a window air conditioner provides a cool breeze, plus the power to keep meat cooler during processing procedures. In the North Country, a cozy wood stove keeps fingers limber to ensure precise slicing and not personal digit removal.
Although not a prerequisite, running water makes meat cleansing, tool cleanup and shop mopping an easier chore. Shops with cement floors and drains reign as the tops in functionality, but over the years I have cut up deer in a variety of spontaneous settings. One camp I guided at used a pioneer-era log-built garage with a dirt floor to cut up game. Five-gallon water jugs with spigots provide the running water after filling the jugs from a nearby well. In pristine shops, I always have a tarp handy to lay out under a deer to capture spilt blood. Afterwards, I roll up the tarp and take it elsewhere for a rinse, leaving the floor spotless.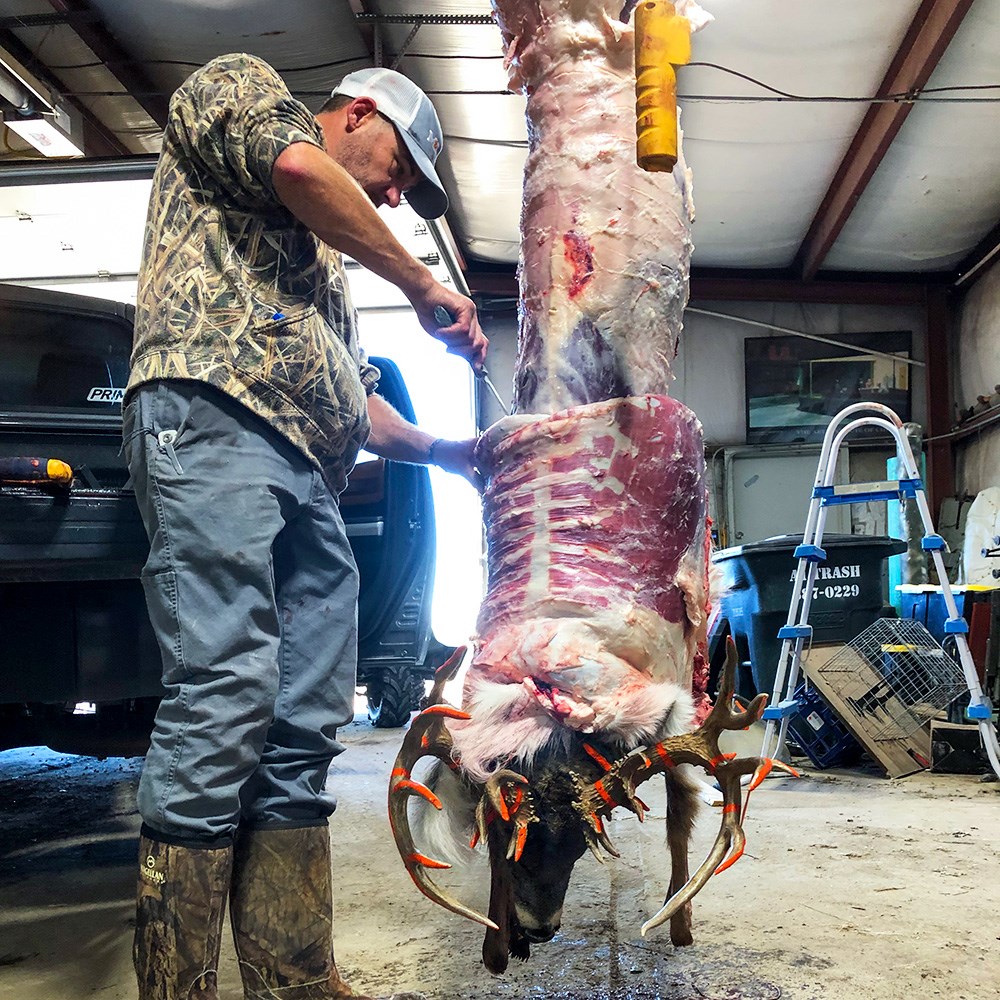 For added well-being, outfit your area with extra lighting, additional electrical outlets, tables, counter space and a dedicated toolbox to hold butcher-shop utensils. And since many own a chest freezer, this area provides an ideal location to plug it in. You can go from the carcass to the wash rack to wrapping with a final stop at the freezer.
Hoist Away Matey
Most butcher operations kick off with the animal hanging. This gives you easy access to all angles of the animal by merely walking around it. I have quartered numerous deer on the cold ground and floor of garages. It is no fun, so add a hoist. A manual or electric hoist, chain, cable or rope provides the means to effortlessly lift up an animal and hang it for speedy butchering. A gambrel spreads the legs and helps suspend the animal in a fashion that benefits your knife work ahead.
You may want to use your hoist for more than just butchering so check hoist load ratings depending on whether you plan to use it to remove the engine from your muscle car. And always check the load rating of the structure you plan to utilize as hoist support. Some rafters do not have the strength to bear the weight of a deer, much less a 327 Chevy engine.
My barn butcher area boasts a hand drawn chain hoist that works fine while quartering and deboning deer. But I always appreciate my buddy's shop in Kansas with an electric hoist, cement floor with a drain and radiant heat. Turn on some tunes and the time flies by while whittling a deer into bite-sized chunks.
Knives Out
After you accomplish preparations for hanging game, outfit your butcher-shop toolbox. Knives top the list, and your hunting knives could suffice. Outdoor Edge sells kits with boning knives, fillet knives, saws and game shears. A good 5- to 6-inch boning knife manages the bulk of your butchering chores. Some models offer replaceable blades to quickly put a new edge on when a previous edge dulls. For standard boning knives, consider adding a knife sharpener to your toolkit.
Depending on your budget, a hand sharpener easily accomplishes this honing goal, but you may also want to look at adding a kitchen sharpening model or even an industrial style sharpener that handles everything from knives to axes. My Work Sharp Guided Field Sharpener accompanies me everywhere, but in my impromptu barn butcher shop I utilize a powered sharpening tool.
Most tasks succumb to solid knife work, but a butcher's saw comes in handy on occasion for a stubborn joint or quick head detach. Bone saws come in a variety of sizes, but one from 16 to 25 inches handles most jobs easily. On the road I still slap together my Wyoming takedown saw, but in my barn, I keep a standard, 22-inch butcher saw at the ready.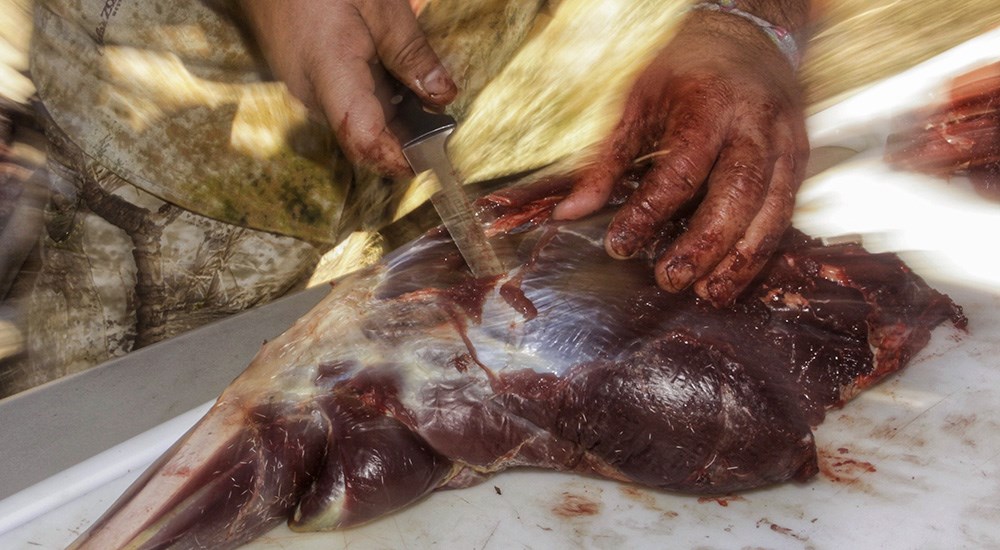 Extras for the Meat Win
The above items matched with a roll of freezer paper and tape gives you all you need to make meat for meals. Nevertheless, you may want to take your butcher skills to the next level. In a cleaner environment than my barn, you could go gonzo and compete with the Kroger's grocery in your ZIP code.
The first product to consider is a vacuum sealer. This handy device sucks the air out of your packaging to inhibit the growth of bacteria, mold and other nastiness. Your delicacies preserve longer and taste better when thawed. A quality sealer sets you back approximately $150.
Next, consider a grinder. These handy devices grind chunks of quality meat cubes, odds and ends, plus fat, into burger. Package the burger as is or add mixes to spice it up for patty sausage. Speaking of sausage, some models offer options to switch from grinding to stuffing to transform plain venison into frankfurter fantasies. A meat scale could help you package for the number of dinner guests you plan on feeding at each meal. Lastly, true meat pros also add a heavy-duty slicer to the countertop for perfect steaks.
To speed along the process of making meat treats, a food dehydrator makes sense for assembly-line jerky. And inside or outside your meat shop, a pre-heated smoker can begin the job of turning a rump roast into dinner after closing hours.
OSHA and CDC Rules
Safety should be a priority, and while doing knife work you may wish to consider donning cut-resistant gloves. Also make sure your entire electrical system safely handles all the gizmos you plug into it. When OSHA kicks in the door, I will deny knowing you.
As a final note, chronic wasting disease (CWD), continues to be a concern to deer populations and you. Despite no documented cases of the disease being transferred to humans, take a few precautions. Wear latex gloves when handling all meat and change out gloves after you handle the head and vertebrae. The disease spreads through the tissues and fluids in these regions including the brain, spinal cord, eyes, spleen, tonsils and lymph nodes of possible carriers. Also wash knives or better yet, change them out after working on these areas and before moving onto meat chores. It goes without saying, but keep all meat to be eaten away from the head and spinal column.
Meat preparation can be a grind (pun intended), but having the right tools and a partnership of compadres to help makes the time fly as you stock up on nature's best in your new meat shop.