by
posted on October 26, 2020
Support NRA American Hunter
DONATE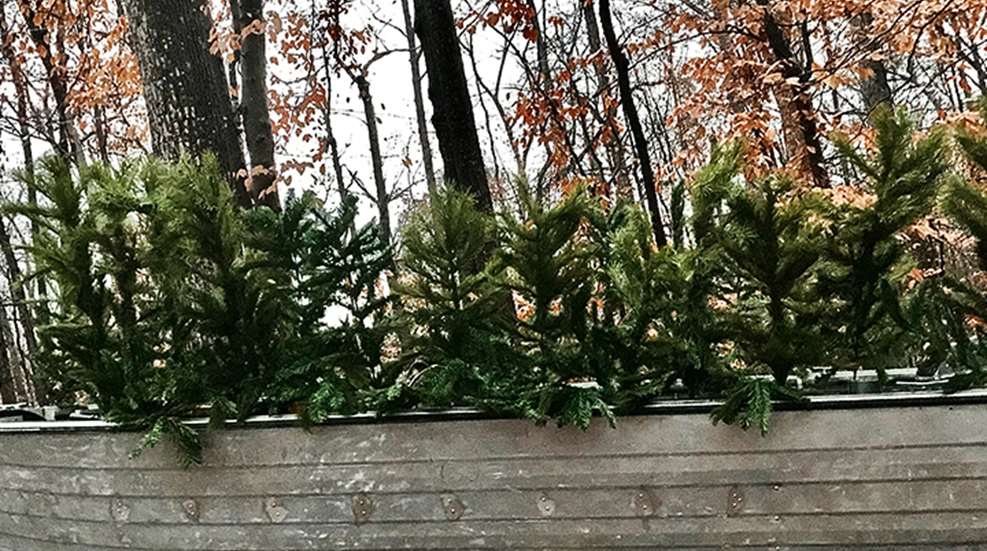 All I want for Christmas is a new boat blind, but Santa won't need to shove this hide down the chimney. An abundance of folks looking to replace their tired and worn artificial Christmas trees can make you a cheerful hunter.
Take advantage of the season's offerings, and you can build a homemade boat blind that provides amazing concealment that will last for years of gunning at a fraction of the cost of factory-built blinds.
In my neck of the waters, diver ducks are our bread and butter; bluebills, buffleheads and canvasbacks make up the majority of migrating targets. And to hunt them effectively on the large, often choppy waters they prefer, we use larger V-hull boats, multiple long-lines of blue bill and canvasback decoys, and a boat-blind system that's easy to deploy, provides 360-degree shootability and tricks late-season ducks into swinging over the blocks.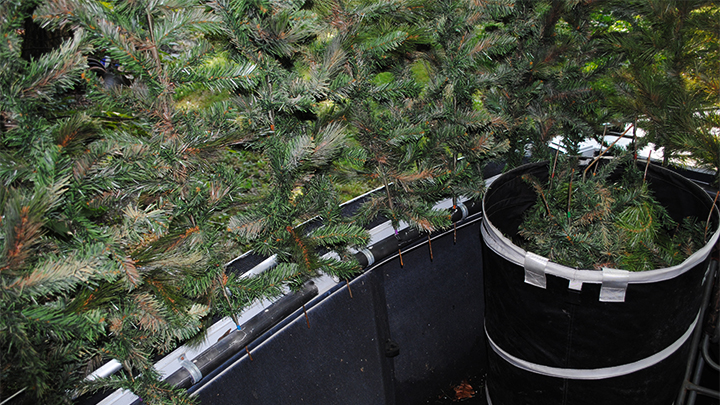 Many big-water hunters use natural vegetation to decorate their boats. They stuff branches into the boat's modified gunwale, or gunnel, the top rail around the perimeter of the deck of a boat, until a wall of green separates hunters from ducks. Artificial Christmas trees are the perfect alternative. They have the look, won't dry out and drop needles, are lighter than the real thing, and best of all, are available in abundance for little to no cost this time of year. With a little ingenuity, a few rattle cans and some relatively inexpensive extras from the local hardware store, you can build a blind that will hide your boat and the hunters within it—and it will last multiple seasons of open-water hunting.
Here's how you do it.
First, you need the trees. Depending on the size of your boat, anywhere from four to six trees should do. Shelling out the dough for new trees defeats the purpose. Luckily for you, the Christmas season creates prime picking opportunities. You can acquire more than enough well-loved artificial Christmas trees by scouring your local online marketplaces, asking your friends and neighbors who may be "upgrading" this year, or, if you're willing to wait, hitting the stores for amazing deals once the big day has passed. Within a few days of searching, I was able to find used trees online for $5-$10 apiece, along with a few that friends and family offered free.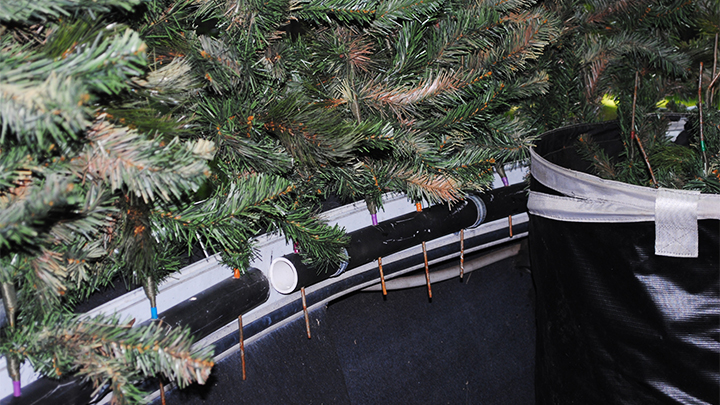 Next, you'll need to take apart the trees, removing branches from the base, turning them into usable bows. Depending on the size of the trees you're working with, you may need to lock together two short bows to create longer branches. Every boat is different, but you're after bow lengths that are tall enough to conceal sitting hunters when attached to your gunnel; roughly 3 feet or so worked for my rig. I used bailing wire to mate two or more shorter bows. Use a pair of pliers to straighten the metal ends of each branch.
The next step is determining how you will mount the bows to your boat, and there's more than one way to pluck this goose. The method I devised utilizes PVC pipe mounted via C-clamps to the inner top-edge of the gunnels of my boat. The PVC is flexible, cheap and easy to paint. The mounted pipes are unobtrusive and don't hinder recreational boat use in the offseason. Once painted and mounted, I simply used a small drill bit to create vertical holes in the PVC pipe every 6 inches or so where I can stick the metal ends of my branches.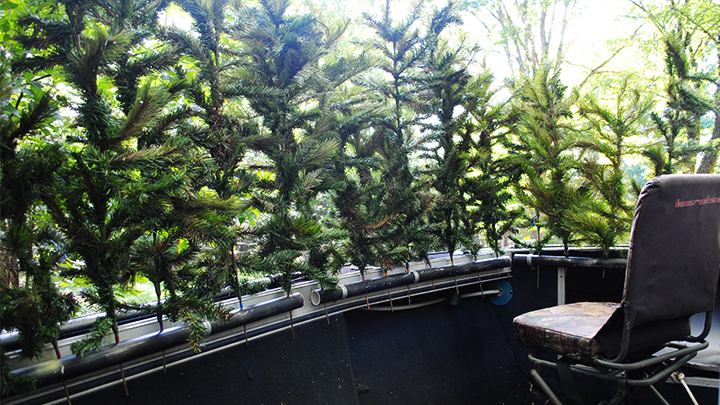 Finally, dress your rig with the new branches and hit it with a few rattle cans—browns and greens—to break up the monotonous color and take off the shine that makes some of these artificial trees glisten. Add more holes and more branches to fill any gaps.
You're ready to hunt.
As for storing this blind when not in use, I found that two collapsible "lawn and garden" bags were perfectly sized to hold all branches. They take up no more space than a bag of decoys, and collapse for storage inside the boat during hunts when the blind is set.