Support NRA American Hunter
DONATE
I didn't want to go to Hawaii. My bride, Meryl, and I agreed we'd elope because splurging on a second wedding didn't appeal to us. Taking vows in a botanical garden of native desert flora, in Las Vegas, suited us, as we see the world through two lenses: one held by a landscape designer, the other by a hunter. Naturally, flora and fauna always figure in our travel. But we'd barely made those plans when Meryl said, "I want to go to Hawaii."
Thus our honeymoon plans were set when, the day after our wedding, we bumped into friends while attending Safari Club International's Hunters' Convention. One fellow was launching a hunting operation for axis deer on the island of Lanai. Since we were headed that way in a matter of weeks, he invited us to join him. But I begged off: "Maybe next time," I replied.
When I returned home I received a call from a mutual friend: "I heard you bumped into Jon Dubin," he said. "I've hunted with Jon. Ya gotta go! It's like hunting in paradise," he said. I hung up, and wheels began to turn. I knew about hunting in Hawaii: pigs, turkeys, pheasants and whatnot. It was the "whatnot" that interested me. Any critter and any place is unique to me if I've never hunted it before. Axis deer on Lanai qualified.
"You know," I mused to Meryl, "we could add a couple of days to the end of our trip." Thus our great escape from winter on the East Coast ended with a hunt in paradise. After whirlwind tours of three islands in six days it felt insane to head to a fourth. We always plan ambitious vacations, but this time our schedule got the best of us.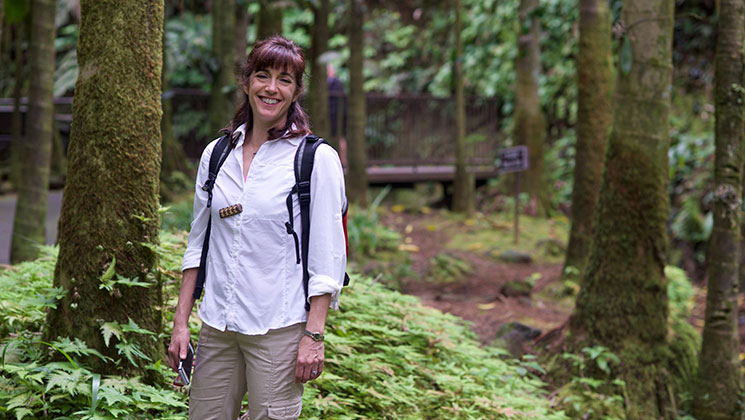 On the Big Island of Hawaii, we got our flora fix. We spent a day each at Hawaii Volcanoes National Park and the Hawaii Tropical Botanical Garden. During our only night on Oahu we stayed in a suite high above Waikiki Beach. We had dinner with family, and squeezed in some night life. We spent the next day at Pearl Harbor. At the World War II Valor in the Pacific National Monument, historians may tour the U.S.S. Arizona Memorial, which symbolizes our country's entry into the war; the U.S.S. Missouri, where the peace treaty with Japan was signed, symbolizing the end of the war; and much more. (A day wasn't nearly enough time.)
Three nights and two days on Kauai were filled with adventure. We bicycled down the rim of Waimea Canyon, the "Grand Canyon of the Pacific," 10 miles long and 3,000 feet deep, formed by the passage of water through lava over thousands of years. We kayaked up the Wailua River then hiked to a waterfall. We got a caffeine fix at the Kauai Coffee plantation. And we ate delicious local fare at Pizzetta and Roy's Eating House. So yeah, we were happy when we landed on Lanai, but we were bushed, too, and a little grumpy.
But a stay at Four Seasons Lanai can take the wrinkle out of anyone. The newly renovated destination is considered by many to be the No. 1 Four Seasons resort in the world. There, exclusive lodging and dining sits at your fingertips above a private beach replete with "private sanctuaries" on Manele Bay. The resort is base camp for numerous adventures.
The bay is a world-class snorkeling destination that attracts SCUBA divers, too. Horses carry riders into the hills surrounding Koele, the bygone center of ranching operations on Lanai. Four-by-four tours take sightseers through pine forests up the Munro Trail to Mt. Lanaihale. Add day hikes, ATV rides, helicopter rides, sailing and the Jack Nicklaus-designed Manale Golf Course. Add less adventurous options like learning from elders how to dance, strum a ukulele or string a lei. Work out in the fitness center. Zone out in the spa.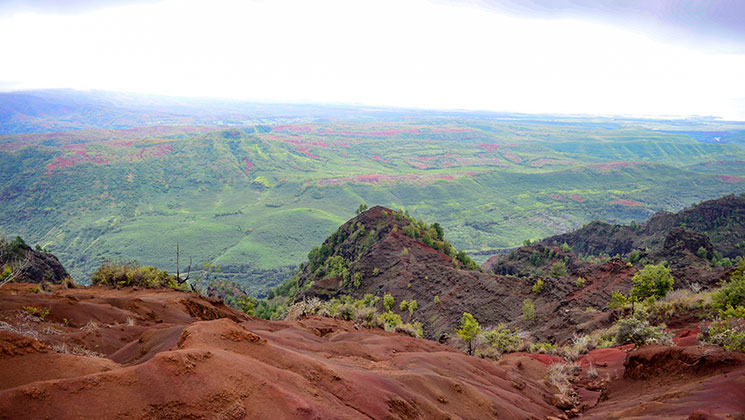 Better yet, shoot a couple of rounds of sporting clays. I've seen some excellent courses, and I can say this one is world-class. Every skill level is tested at stations lying in the shade of the pines. Rent a Beretta shotgun and spend two days there. As it was, I settled for one session.
We landed on a Friday morning, and by afternoon I'd traded shorts and flip-flops for trousers and hiking boots. Hunting is conducted mornings and evenings. Options include posting up on a bench on a hillside or sitting in a ground blind to cover acres upon acres of landscape with glass then shooting or moving to contact, or spotting-and-stalking. I always favor the latter when I can find it.
My guide was Jason Medeiros, a native of Lanai and an excellent ambassador. He attended Chaminade University, and became an HVAC technician. Nowadays, he's a heavy-equipment operator for Maui County, and when he's not doing that he's hunting—either for himself or clients. Judging by the axis racks on his garage wall, I'd say he hunts often. Rifle, bow, muzzleloader—doesn't matter to him. He's good. I'd hunt with him again anytime.
We motored to a vantage point above the floor of the Palawai Crater, the result of the volcanic eruption that formed the island. Through binoculars we spied deer below us at 500-1,000 yards. It was early; not many deer were moving. At Jason's suggestion, I dropped off the height and still-hunted down through the brush, and met him about a mile away. When the effort produced nothing, we moved to the other side of the crater and put boots on the ground again.
In the evening light, deer were becoming animated. First one buck, then another tickled our fancy as we tiptoed up and down low hills bordering a macadamia grove. Jason set up the sticks, and in them I placed his rifle, which I'd borrowed: a Remington Model 700 VTR chambered in .308 Win., loaded with Hornady American Whitetail. One shot did the trick on a long-beamed, hard-horned 3-point, and one more species entered my lexicon: axis deer.
The only land mammal native to Hawaii is a bat. Everything else has been imported. Species introduced to the islands and now hunted include pigs, carried by ancient mariners from other South Pacific islands, mouflon sheep, turkeys, pheasants and axis deer.
The axis deer (Axis axis) is called the chital on the Indian subcontinent, where it is native to India, Sri Lanka and Nepal. In size and characteristics it is similar to our whitetail. Its reddish-brown coat is covered by white spots on each flank, a black dorsal stripe, and white hair on its neck and belly. Males stand 29-39 inches tall and weigh 145-250 pounds. Females stand 26-33 inches tall and weigh 90-150 pounds.
Bucks display darker facial markings. They grow and shed antlers on their own clock. In one herd hunters may see a newly shed buck, another in velvet and another in hard horn. Antlers grow 22-27 inches long; a trophy may be 36 inches long. A typical rack is a 3-point, though a 4-point is not uncommon.
Deer activity peaks as the sun sets. Then grazing resumes and lasts till about midnight. Axis deer move in single file on specific tracks. They are grazers, and prefer young shoots of grass, new weeds and forbs. But they will browse on herbs, shrubs and fruits. They visit water about twice daily.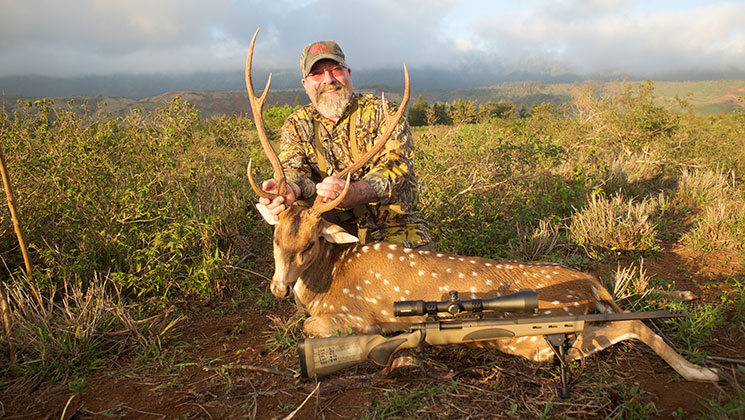 When alarmed they stand motionless and listen carefully, facing the danger if they can find it. A deer on the run flags its tail, and hides in dense growth. The deer may breed year-round. Herds of a hundred are not uncommon but smaller groups are more likely. They are vocal animals. Dominant bucks bellow at interlopers with high-pitched growls during the rut. Females and juveniles bark when alarmed.
In Asia, predators of the axis include wolves, tigers, lions, leopards, pythons, wild dogs and crocodiles—none of which exist on Lanai. Axis deer were introduced to Hawaii in 1867, as a gift from Hong Kong to King Kamehameha V. They were released on Molokai first then Lanai in 1904, and Maui in 1959. But according to many earth scientists, the species is incompatible with Hawaii's native forests, which evolved in the absence of large fauna and thus have no natural defenses against browsing ungulates. On Lanai, according to reports, the deer eat everything including Hawaii's native ebony tree, the lama, and its native olive tree.
I must admit I didn't view things so dourly, perhaps because I was in my element—that is, in the field. Rather, armed with the history of axis deer in Hawaii, I appreciated the introduced species in a new light. If Americans in the Lower 48 can now view pheasants as native gamebirds, perhaps axis deer here are not "exotic" game but now merely "game." The species has inhabited Hawaii for 150 years, after all.
Lanai (pronounced "la-nai-ee") is 18 miles long and 13 wide, and accessed only by flights from Oahu and Maui, and a ferry from the latter. Hundreds of miles of dirt roads here lead through rainforests and towering Cook pines, and across rolling hills and plains. Ancient petroglyphs dot the landscape. You won't find hordes of selfie-taking tourists, but you will discover charm in the eclectic, mom-and-pop culture of Lanai City, the island's only town and home to most of its 3,000 residents. The island is also home to as many as 15,000 free-range axis deer and, according to Medeiros, maybe 10,000 turkeys. Once upon a time, it was the home of the largest pineapple plantation in the world.
The next morning, as we stood on the floor of the Palawai Crater, Medeiros waved his arm broadly: "This was all pineapples, Scott. Lanai is called the Pineapple Island." The plant with its succulent fruit is native to South America, I learned. The Spanish introduced it to Hawaii in the 1500s. Large-scale cultivation of it here began in the early 20th century. But amid severe corporate farming practices and high labor costs, cultivation moved elsewhere in 1986. Today, Costa Rica leads production.
I was snapped out of the reverie when Jason pointed to a herd making its way toward us. A buck lingered in its midst—a 3-point in velvet. We moved to set up a shot then moved again and again to find a suitable vantage. The herd crossed perpendicularly less than a hundred yards before us, walking single file. One deer, two, three more, finally, the buck stepped out … and I muffed the shot—I realized the fact as I reloaded. We moved deliberately to the spot where the buck had stood then picked up a blood trail. The critter was sick but doing its best to move. We moved, it parried, we shifted, it tried to rise … and I finished it.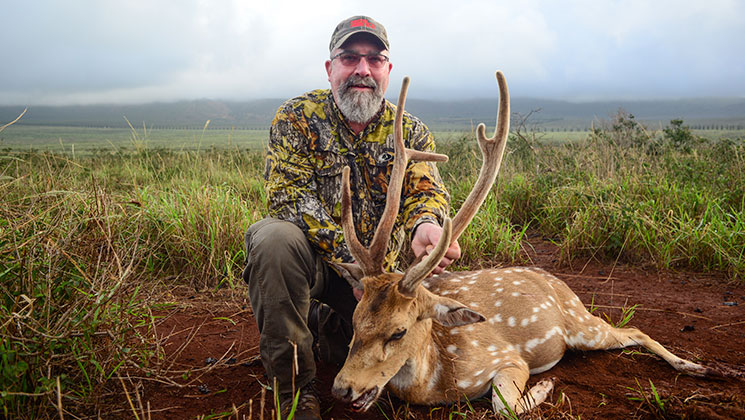 It wasn't my best moment. As we posed the buck for pictures then cleaned him, I admitted as much. Then Medeiros changed the subject. "Have you heard of Colton Heward?" he asked. "Heck, yeah," I replied. "I'm friends with him on Facebook. Last night I posted your hard-horned buck to my page, and Colton replied, 'That's nothing. Look what he shot with me last fall.'" There on a Hawaiian's phone, sent by a man he'd never met 3,500 miles away, was a picture of me with a mule deer I'd taken in Utah the previous fall ("Lightning Strikes," September 2017). I smiled: "It's a small world."
I thought about that on our last night of escape as we feasted on grilled axis steaks and toasted new friends, and I counted my blessings. Heck, it was a fitting evening for a proposal. But I'd already done that. In exchange I got the girl, a golden opportunity to experience a hunt unlike anywhere else and new friends. I'm making the most of all three. Cheers.
Hunt Lanai
Pineapple Brothers Lanai is an elusive hunting opportunity on a Hawaiian island just five hours via air from the West Coast. Presently, the outfit guides for free-range axis deer and mouflon sheep on 60,000 acres of unfenced private ground during one- to three-day excursions. Axis hunting runs year-round, though the rut peaks May-June.
Hunters use blinds or spot-and-stalk. Eight clients may be accommodated 2x1, four as 1x1. Clients may borrow one of several Tikka T3x Compact rifles in .308 Win., with Swarovski Z5 scopes. Cost is $3,000 per day, which includes one trophy buck and two culls/does per day, guide fees, field-prep of game and ground transportation. A hunt contract includes special lodging rates at Four Seasons Lanai, which may run $1,000 per night but vary based on season. Clients also may stay at Hotel Lanai. A Hawaii nonresident hunting license costs $105. In addition to hunting, clients enjoy sporting clays and a 1,000-yard rifle range. A 2,400-yard range is in the works, as are hunts for upland birds and turkeys.
Contact John Burrell's High Adventure Company at 800-847-0834, or learn more at highadventurecompany.com/hawaii-hunting/