Support NRA American Hunter
DONATE
I was half-hoping for a welcoming party; coconut braziers, grass skirts and leis placed around our necks as we exited the plane—a 1950s trifold brochure come alive. … That was a big real-estate conglomerate's dream here, too, once. Not today, though. Today the tarmac of the small Hoolehua Airport was void of celebration.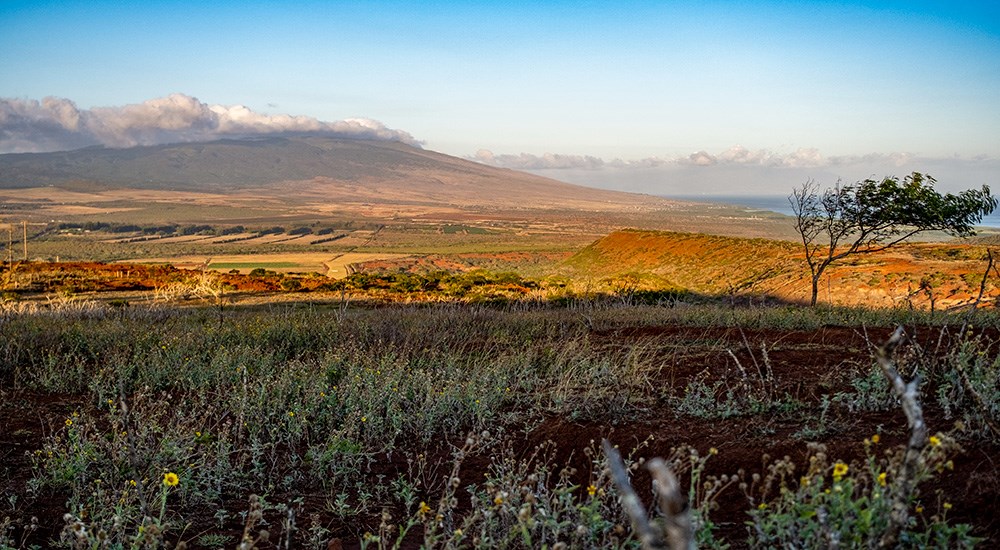 I sensed suspicious eyes hidden behind the sunglasses and smiles of the locals as we collected our bags, gun cases and gear. I suspect we were obvious tourists, but curious ones, no doubt, a cacophony of camo shorts and brightly colored flowered shirts. After a quick reconnaissance for a few tropical drinks to celebrate the occasion resulted in nothing but a small snack bar, it became obvious that catering to tourists isn't the prime directive on the island of Molokai. Folks were plenty polite, don't get me wrong, but the fanfare of Honolulu was a distant memory. Molokai is old Hawaii, complete with a storied history of pineapple plantations, leper colonies and failed attempts at commercialization.  And as we drove in our rental car past a handmade sign not far from the airport that read "Visit. Spend. Go Home," it was becoming clear that the people who live here prefer it stays that way.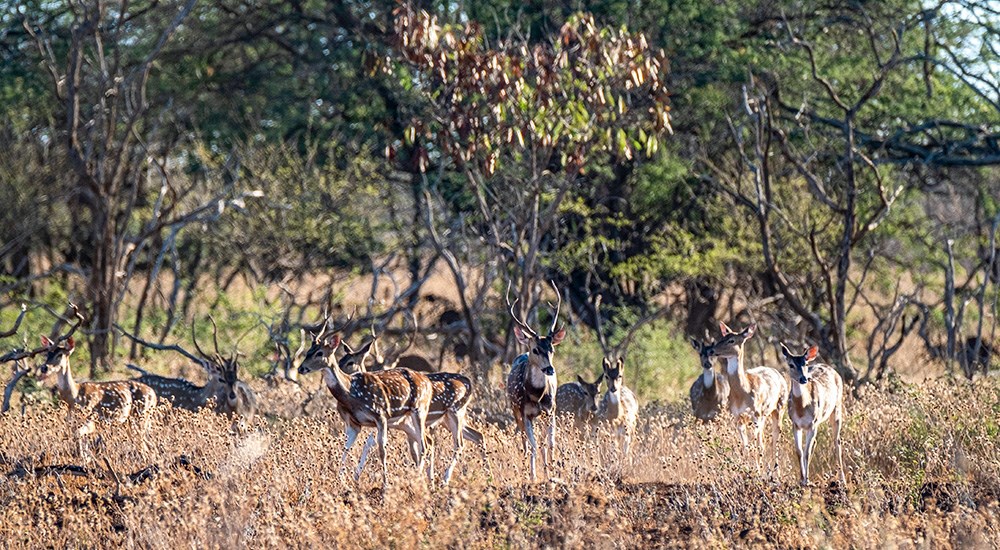 That was fine with us, for it wasn't the white-sand beaches, seaside cliffs or resort amenities that brought us here, though Molokai boasts the longest white-sand beach in Hawaii and the highest seaside cliffs in the world, among other natural wonders. We were here to hunt, plain and simple, and Molokai has an abundant axis deer population.
■ ■ ■
Native to India, a total of eight axis deer arrived on Molokai in 1867 as a gift from Hong Kong to the Hawaiian King Kamehameha. The story goes that the deer were protected for some time, allowing the population to grow until, in need of a solution to the deer that were now damaging crops and farmland, the king was eventually offered a taste of axis deer meat. One bite of the delicious mild meat and the hunting ban was lifted, or so the story goes. Even with moderate hunting, with no natural predators and a climate that invites year-round breeding, the axis deer population on Molokai has grown exponentially. While cattle ranching and large-scale pineapple cultivation have in the past provided both the need and the means for proper management of deer on the island, those industries, at current, are an increasingly distant piece of Molokai's colorful past.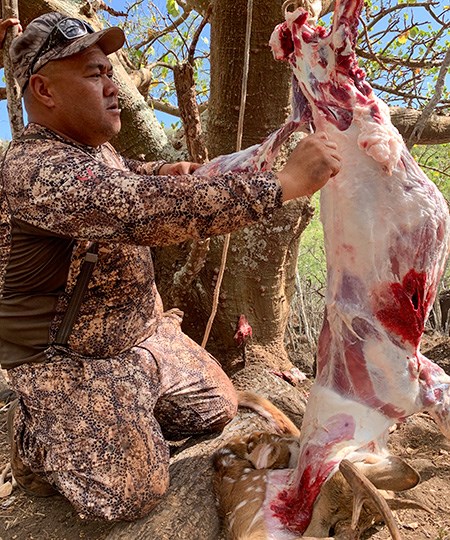 By the mid-1980s, citing high operating expenses, the last of the pineapple plantations on Molokai, owned by Dole and Del Monte, had closed their doors. More recently, in 2008, after years of tense legal battles with a coordinated group of Molokai residents not keen on the commercial development they had planned, and losing, the large-scale land developer and 53,000-acre cattle-ranching operation known as Molokai Ranch closed shop and sold its last head of beef, taking the movie theatre, countless jobs and any future plans for the island's commercial development along with it. In their wake, they left a small community of increasingly dilapidated condominiums and mini-mansions in various stages of completion, some occupied, some not, complete with a golf course on the island's west end. What was once planned as the first piece of a puzzle that would become the next Honolulu was now an island ghost town—the perfect place for our group to call home for the week. 
With the large ranching and farming operations gone, axis deer have taken over as the top grazer on Molokai, and their population has ballooned to an estimated 40,000-60,000 animals. On an island roughly twice the size of Philadelphia, that equates to anywhere from 150-230 deer per square mile. To say there's a huntable population of axis deer is taking it lightly, too lightly. Axis deer need to be hunted on Molokai, so we were keen to oblige when our outfitter from Go Hawaii Outfitters, Desmund Manaba, began to describe the lay of the land. We'd see deer, he assured us, more deer than the island can handle.
With an eye on management as much as enjoyment, we set off in search of multiple does and one stag each, with empty coolers waiting to be filled with tender, mild meat.
■ ■ ■
"This country looks a lot like Namibia," I said to Desmund's son Koa as we drove down the dirt ranch road. Gazing out across the arid landscape, I could see plants were short and sparse, and a fine red dirt covered the rocky ground. Fresh water must be limited, I thought, and any deer living here, certainly such large herds of axis deer as had been described to me, would have to be Africa-tough and drought resistant.
"Well," he replied, "there actually used to be a lot of African game running around before the Molokai Ranch shut down. They had a safari park with all kinds of giraffe, zebra, eland and other critters. That's why we still have blackbuck to hunt. They had to remove all their animals from the island and were able to get everything but a few blackbuck. They breed just like everything else."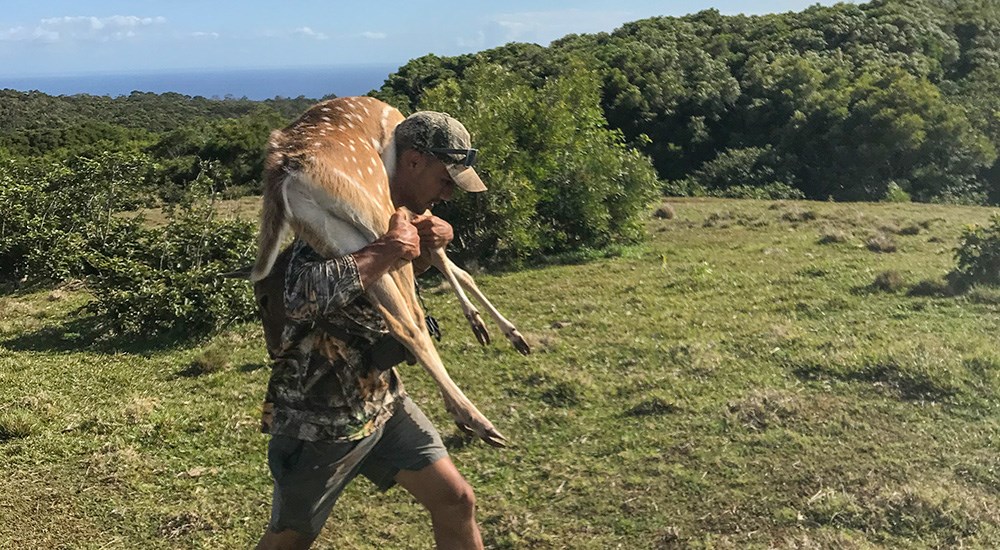 Riding "safari-style" on the raised rear bench in the bed of a pickup truck only added to the feeling. Had a pair of giraffes sauntered by in their classic slow-motion gate, it wouldn't have felt out of place. But still, I didn't see any deer.
On foot and keeping close to my young guide, Chase, we climbed a rocky escarpment in a tight little valley to sit and glass the opposite side some 500 yards distant. Combing over the steep, rock-covered hillside spotted with patches of thick vegetation, I inspected the shadows thinking a lone bedded buck might show itself through my binocular, to no avail. This wasn't stateside hunting, but what else was I to do? They'd be coming through, I was assured, and it wasn't longer than a half-hour before the first of the small spotted deer crested the ridge to our right. In a herd of no less than 20 animals, there were only two to three bucks, and young ones at that, small forkies with no height to speak of. The herd stuck to a well-worn path and followed nearly single file through the tangled, red-dirt maze of thick vegetation, showing themselves as flashes through small openings, and lingering only long enough to catch a gaze as they nibbled on the foliage of the surrounding flora. As quickly as they appeared, they were gone again, never stopping their march, disappearing over a hidden rise, the sound of clipping hooves on rocks fading just as fast. Any shot, if one was offered, would have to be quick.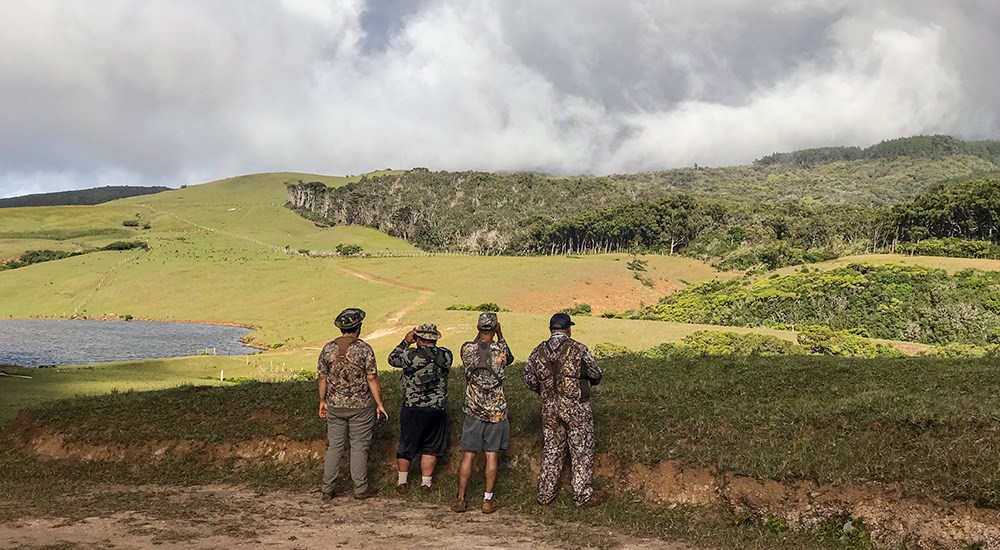 We climbed higher for a better vantage, hoping to catch the next wagon train via much more visibility, and it wasn't long before another herd of axis deer appeared on the ridge and began to work its way in our direction. Rather than walk the same path as the previous group, this herd, roughly twice the number of the first, stuck to a top-line route, out of my comfortable shooting range but well within our view. Led again by does, the group eventually crossed an open patch of red and rock, revealing three mature bucks about midway deep. Tall-tined with forks both high and low, the big males seemed at ease amidst their harem, walking with intent but pausing for seconds at a time to scratch, feed and take stock of the group. When the wind changed and I could feel the warm air across my sweat-soaked back, it didn't take the lead doe long to pick up our scent and in turn her pace to draw her family out of the small canyon.
Adjusting our position for the new wind, we crept even higher on the rear side, and with new country visible to our left and right, decided it a good place to wait out the remaining hours of light. As the sun continued its slow march toward the horizon, more and more deer began to appear. First a few low, then a larger group up high. They flooded in and through the canyon from all directions, and in short order there were too many pockets of deer to count. Looking at a new group over my shoulder, high to the left, a large buck caught my eye from within the shadows. If it wasn't for the beams of sunlight catching their antlers through the dense, tree-covered ridgeline, what was upon closer inspection three bucks might have been able to slip away unnoticed. A confirmation from Chase meant we were in business. With a quick adjustment for position, I was able to get prone on my pack as Chase called out a range of only 208 yards. In short order I found a spotted shoulder within my scope, and my first axis deer was on the ground.
Hunting the opposite side of the island, a mere 25-odd miles from the Africa-like western side, I discovered the habitat to be a more quintessential Hawaii. Higher in elevation and covered in lush, tropical jungle that is mixed with greener grasslands than I've likely ever seen, the eastern side of the island was also much colder, especially at 6 a.m. While we were sweating the days before in T-shirts and shorts, we were now bundled up like Montana mule-deer hunters, parka hoods pulled tight, battling gray skies and an early morning of wind and stinging rain, wondering where the "tropical" had vanished to on our island excursion. Thankfully, we prepared for such weather, and the morning storm, though anticipated this time of year, was short lived.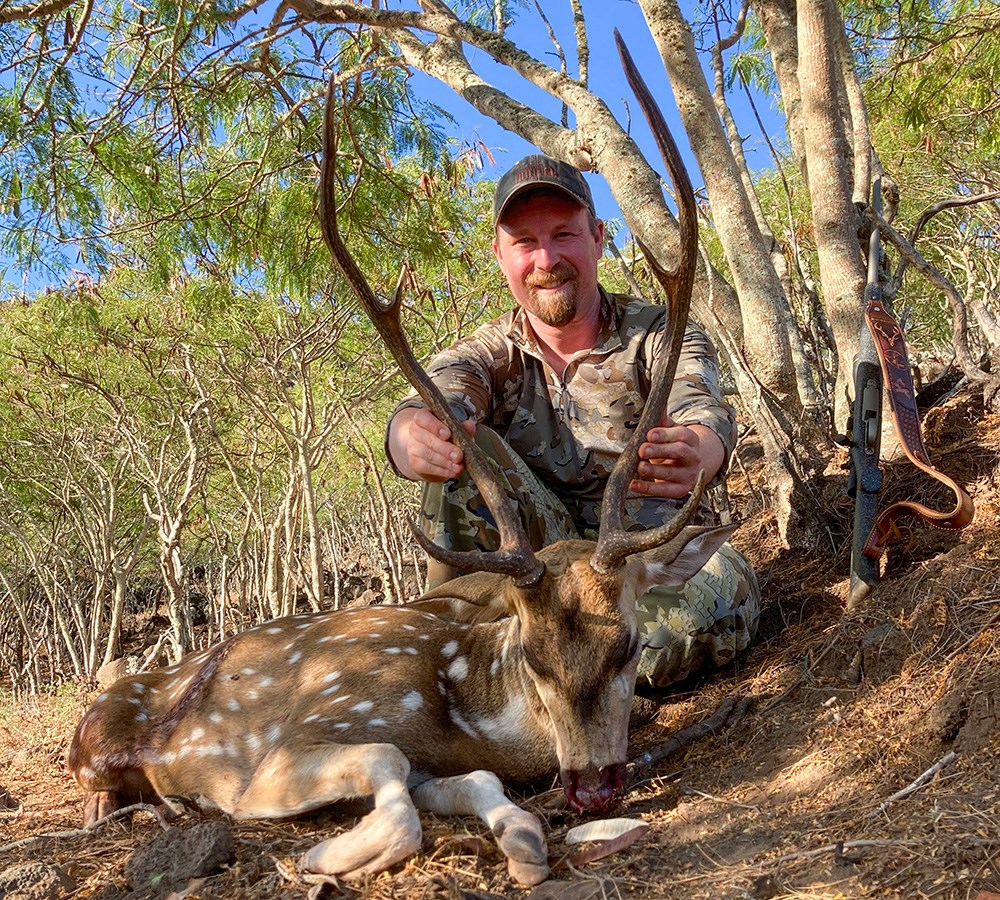 A rack is nice, but axis deer meat is the real trophy on Molokai. Guides are prepared to freeze and ship meat stateside. 
The view of the storm breaking was nothing short of breathtaking: the darkness opened to a crystal blue sky as the river of clouds flowed off the island; the penetrating sunbeams illuminated the lush forest canopy and grass; a blanket of shimmering emerald green ran to the high cliff's edge and the turquoise blue ocean beyond.
Visibility wasn't an issue in this open country, as long as the animals were out in the open, but shots could be longer, and with such thick vegetation surrounding it all, a more likely place for deer to appear was anyone's guess. As it happened on the west side, deer eventually appeared just about everywhere, but with my wind out of favor I never had an animal within range of our hillside bluff. I did, however, get a high-vantage view of two fellow hunters successfully putting the stalk and shot on deer of their own. I could not have asked for a more picturesque seat from which to watch the show.
■ ■ ■
Our coolers brimming in the walk-in, we knew the only luau we'd be attending on Molokai would be of our own making. With sausages sizzling on the Camp Chef grill and cold Hawaiian beer being pulled from the cooler, we spent our last afternoon beachside, as typical tourists. We didn't need resort amenities; the sun, sand, blue water and fellowship were draw enough. So we enjoyed the serenity and tranquility of "old Hawaii," the same way, as it turned out, as the locals do, with little fanfare and a bit of food, toes dug deep into the soft, white sand, and the sound of the cool Pacific surf crashing in the background.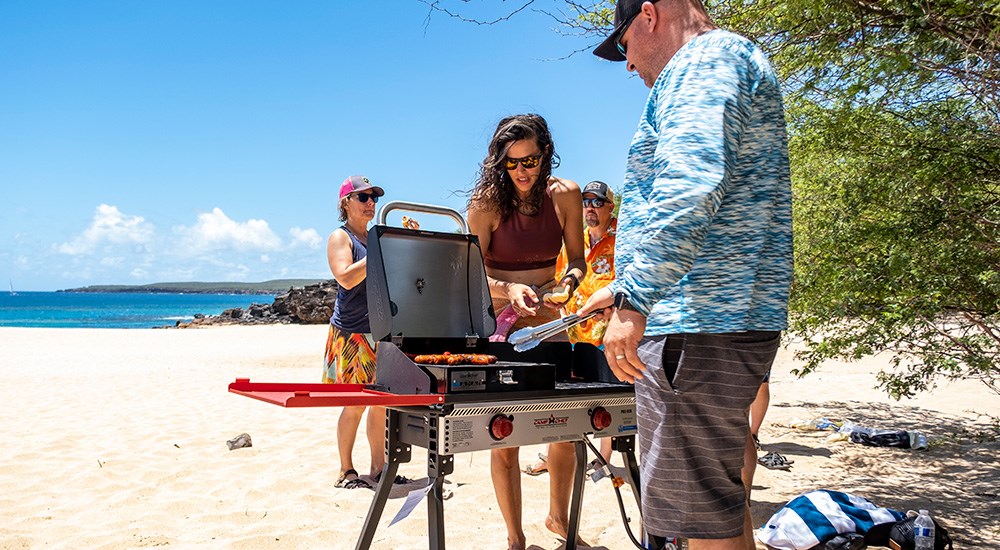 I think someone needs to rewrite that sign near the airport to read: "Visit. Hunt. Go Home Happy."
---
To book your own axis deer hunt on Molokai with Go Hawaii Outfitters, visit huntingoutfittershawaii.com.
---
A Hawaii Hunting Rig
As if hunting in Hawaii wasn't already a big enough treat, I was lucky enough to be one of the first hunters in the world to test out Nosler's brand-new Model 21 rifle on this trip. Noticeably slimmer than the classic Nosler M48 rifles most are familiar with, the rifle is built around the new Model 21 action boasting a blueprinted, machined receiver, a fluted, nitride-coated bolt with a one-piece body and a dependable AR-15-style extractor. And let me tell you, this thing runs smoothly. My test rifle, chambered in 6.5 PRC, wore a McMillan Hunter's Edge carbon-fiber stock with aluminum pillar bedding, a threaded, 24-inch Shilen match-grade barrel and a user-adjustable TriggerTech Field trigger. The 7-pound rig was born for precision accuracy and huntability from the start ($2,795), and stoked with Nosler's Trophy Grade 142-grain AccuBond Long Range ammo, it became an axis deer dropping machine.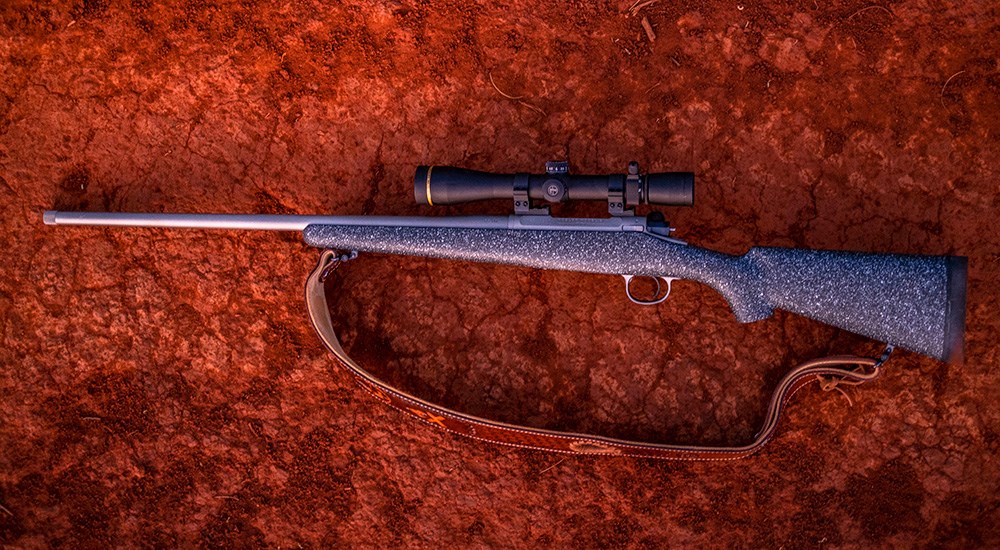 Topping this accurate rig was another piece of precision equipment, a made-in-America, Leupold VX-3HD 4.5-14x40mm scope with a CDS-ZL turret doped to the 142-grain Nosler load. On this hunt, as it has on many others, the VX-3HD proved yet again why it has become my go-to optic for my big-game hunting rifles. Built compact, lightweight and tough with a practical, all-around 3:1 zoom ratio, the entire VX-3HD line boasts outstanding clarity, light transmission and glare reduction, all the waterproofing, fogproofing and water- and debris-shedding top-end lens coatings you'd expect from Leupold and, of course, the ingenious CDS-ZL turret. If you're not familiar, the CDS-ZL turret takes the "hold-over" out of the equation by providing precise and repeatable MOA adjustments with a return-to-zero locking feature. And if you're smart—and Leupold hopes you are—you'll take advantage of the custom CDL-ZL turret that they offer free with every scope purchase. Simply send in your rifle and ammo specs and Leupold will build you a CDS-ZL turret, etched with yardage marks instead of MOA, matched precisely to your rifle and ammo ballistics. No more holdover and hope, no more MOA calculations; with the custom CDS-ZL turret, you simply range your target, dial to the correct yardage, hold dead-on and prepare to fill the cooler. It's simple and, with practice, it's fast.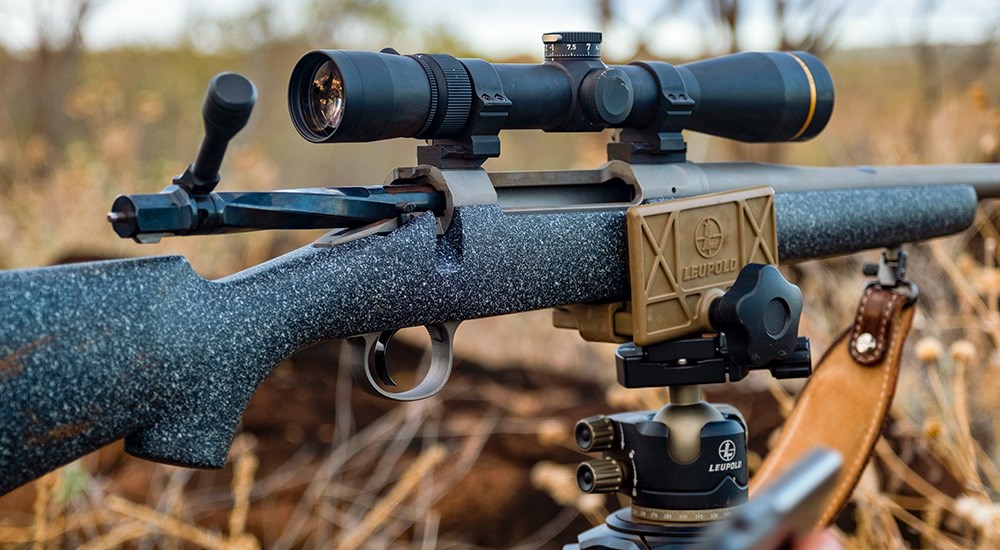 While we weren't glassing New Mexico miles, a solid binocular is still a must on a Molokai hunt. The Leupold BX-4 Pro Guide HD 10x42 ($599.99), proved just the right combination of zoom and size, allowing me plenty of light and clarity at 500 yards to distinguish a buck's characteristics in the shadows, and yet forget it was strapped to my chest when it wasn't in use. Certainly, part of that equation should be credited to the Leupold Pro Guide binocular harness ($119.99).
There were two more pieces of Leupold equipment used on this hunt, and as they aren't directly "optic" related, you may, like I once was, be unaware of their existence and benefit. When hunting does from a thatched ground blind one evening, I found solid shooting support while maintaining the ability to pan and tilt with a Leupold Pro Guide Tripod ($599.99) topped with the company's Tripod Shooting Saddle ($149.99). If the situation allows, it's an incredibly fast and stable system from which to take accurate shots on game.