by
posted on February 5, 2018
Support NRA American Hunter
DONATE
I've always said shopping for a gun is like shopping for a pair of shoes. There is no "one size fits all." So I paid close attention in 2015 when Brenda Weatherby, ever-gracious corporate director of people and culture, and Mike Schweibert, vice president of marketing, shared their company's plans to design a rifle specifically for women.
After consulting with a network of seasoned female hunters, Weatherby turned heads at the 2016 SHOT Show as it unveiled its first women's rifle: the Vanguard Camilla. It caters to the women's market with graceful lines and the fit of a glove at an impressive $849 price point. Last fall, Weatherby took the next step and released the Mark V Camilla Deluxe.

"With the popularity of the Camilla in the Vanguard action, Weatherby could not resist offering it in the Mark V," said Brenda Weatherby. "The stock's ergonomics are specifically designed for a lady, the craftsmanship of the Camilla Deluxe is over-the-top beautiful, and offering it in larger calibers gives hunters more options. It is truly a firearm to use in the field and a masterpiece to pass down as well."
I can attest to the new rifle's form and function as Brenda and I worked with corporate engineers at the company's Paso Robles, Calif., headquarters last August to build the first two rifles in the Mark V Camilla Deluxe line. We went with .240 Wby. Mag. as this 1968 addition to the company's line marked the fastest factory load in its class at that time, propelling a 100-grain bullet nearly 400 fps faster than the popular .243 Win. for more striking energy. Of course, field-testing included a hunt to help address the state's overpopulation of wild pigs. True to its Mark V predecessors, this rifle delivers Weatherby's top technological advancements famous for putting holes through dimes and knocking down large animals fast. But what about its women-specific attributes?
First up is the stock. If you've been around long enough, then you know that in years past, some gun manufacturers created a women's rifle merely by trimming the buttstock and calling it good. While Weatherby's Mark V Camilla Deluxe has a shorter 13-inch length of pull to make for a more compact, easier-handling rifle, women have proportionally longer necks than men. To aid comfort and cheek weld, the new Mark V also sports a higher comb—critical since a rifle that does not fit properly cannot be mounted or fired accurately. Once that buck steps into view, seconds count as we align our eyes with the scope's crosshair and acquire the target.
In addition, the rifle's buttstock has a reduced distance from heel to toe, with the toe angling away from the body to accommodate a woman's physique. While the slim fore-end trims weight and aids balance—much appreciated considering a heavy rifle is tough to keep steady—this also promotes gun fit. The design of the stock's wrist area ensures a short reach to the trigger for uniform trigger pressure and a consistent trigger pull, aiding accuracy. Furthermore, the LXX trigger is user-adjustable for even more control. (After building one of these Mark V beauties firsthand, I have utmost appreciation for any firearm factory employee who conquers trigger assembly as I worked to determine which ultra-tiny screw went where.) While I'm 5 feet 11 inches tall and can use some long guns right out of the factory box, the joy of this rifle comes down to the fact it is extremely comfortable to shoot.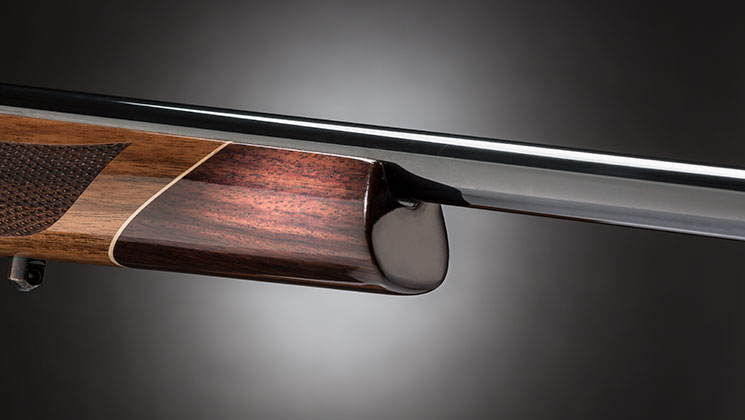 For more refinements, the latest version of the Weatherby flagship features the sophisticated fleur-de-lis checkering pattern that adorns the Vanguard Camilla. Its AA fancy-grade claro walnut stock looks elegant, and what's not to admire about the exotic ayous wood fore-end and grip caps?
Currently available only in a right-hand version, the rifle sports a slender pistol grip with a trigger-finger groove and right-side palmswell. While I'm a leftie, I grew up in a right-handed family where there was no such thing as a left-hand option, so in this case right is … right. Initial chamberings are .240 Wby. Mag., .270 Win., 6.5 Creedmoor, .308 Win. and .30-06 Sprg. Regardless of the caliber, I'm betting the first thing women will note is how great it feels to fire a high-performance rifle that fits. And then there are the sheer cosmetics that make it a beautiful sight with an MSRP of $2,700.
This masterpiece debuts as the number of female hunters continues to spike. In 2011, a U.S. Fish and Wildlife Service survey revealed women comprised 11 percent of hunters. By 2013, the National Sporting Goods Association reported the number had risen to 19 percent, or 3.34 million. Fortunately, Weatherby is offering us the right tool for the job.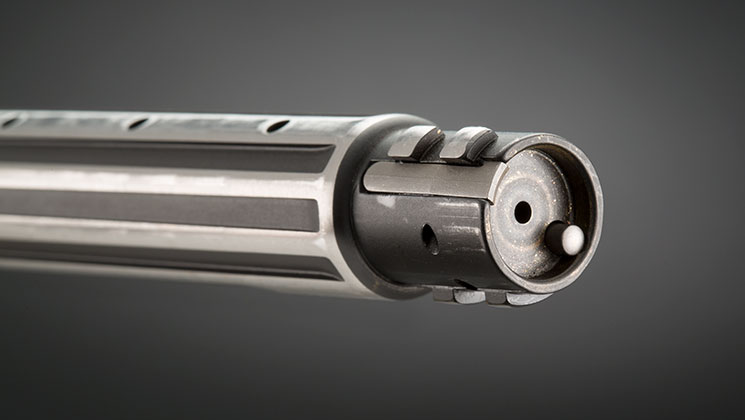 After visiting the factory where I met employees whose families have worked for the all-American company for generations, it is no wonder Weatherby is on the mark. In 1945, Roy Weatherby's passion was to "make tomorrow's firearms today"—attractive, high-velocity rifles. By 1955, Roy knew he could build a better, safer action. He sought a bolt design featuring three vent holes to relieve gases in case of a blown primer and an enclosed bolt sleeve to prevent blow-back into the shooter's face. When he unveiled the action in 1957, it was prototype No. 5—hence the name Mark V.
Three generations later, the family prides itself on the fact it has inspired the dreams of hunters and shooters ever since. And the fact its new women's rifle is named for company founder Roy Weatherby's wife, Camilla, is certainly fitting.
Note to Brenda's husband, Adam: Congratulations on that nice sheep you just dropped. You'll need to keep hunting hard to keep up with Brenda now that she has a flagship rifle of her own.
Technical Specifications
• Type: bolt-action centerfire rifle
• Caliber: .240 Wby. Mag. (tested), 6.5 Creedmoor, .308 Win., .270 Win., .30-06 Sprg.
• Barrel: 24″; No. 1 contour; button-rifled, hand-lapped chrome-moly steel; 4 grooves; 1:10″ RH twist
• Trigger: single-stage, user-adjustable LXX; 3-lb. pull weight
• Magazine: internal box w/hinged floorplate; 5-rnd. capacity
• Sights: none; receiver drilled and tapped for scope bases
• Safety: two-position toggle
• Stock: Monte Carlo; AA-grade claro walnut w/ayous wood caps; LOP 13″
• Metal Finish: high-gloss blued
• Overall Length: 43.5″
• Weight: 6.5 lbs.
• MSRP: $2,700; weatherby.com.