by
posted on July 22, 2019
Support NRA American Hunter
DONATE
Over the last two decades, in-line muzzleloaders have become increasingly sophisticated and user-friendly, and Thompson/Center has been one of the leaders in modern muzzleloader innovation. The company's newest .50-caliber smokepole, the Impact!SB, is easy to operate, accurate and, with a starting MSRP of just $263, it's also an excellent bargain.

The Impact!SB utilizes a break-action design that incorporates an ambidextrous sliding hood. The hood surrounds the top of the breech and, when retracted, allows the barrel to pivot downward, providing easy access to the breech plug for loading, unloading and cleaning.
Another key feature of the Impact!SB rifle is T/C's Speed Breech system. The breech plug is equipped with triple lead threads that require only five turns to fully insert and are designed to prevent seizing. By simply removing the breech plug, it's easy to clean the rifle's bore, removing corrosive black powder residue, which improves accuracy. The Impact!SB is designed to function with 209 primers and a breech-plug wrench is included, though it likely won't be required if you stick to a routine cleaning regimen.
There are five different Impact!SB models currently available, all of which are equipped with 26-inch, 1:28-inch-twist barrels and synthetic stocks. Blued rifles are available with either a black or Mossy Oak Bottomland stock, and models equipped with T/C's Silver Weather Shield finish come with your choice of Mossy Oak Bottomland, Mossy Oak Break-Up Country or Realtree Edge camo stocks. All Impact!SB stocks come with a 1-inch removable stock spacer allowing you to adjust length of pull from 13 to 14 inches, and there's a dense black recoil pad to help absorb kick. The raised comb naturally aligns the shooter's eye with the included Williams fiber optic sights or a scope. The rear sight is screw-adjustable for windage and elevation and features two orange fiber optic dots, while the front sight comes with a single green dot.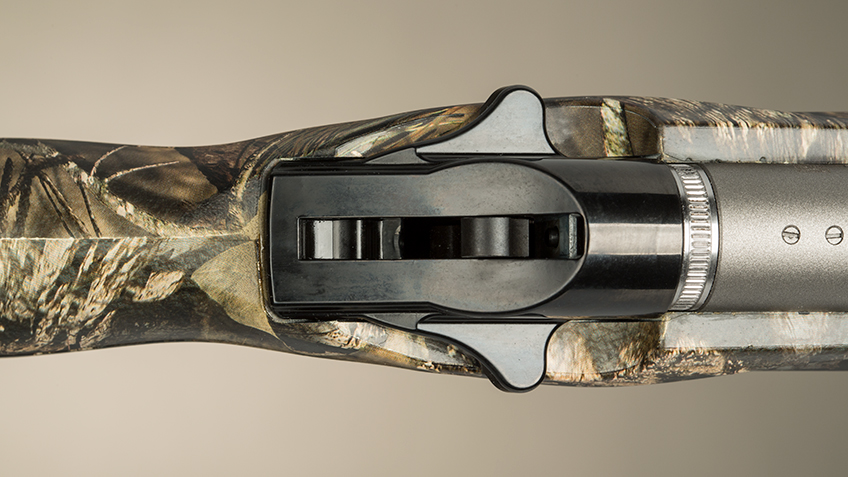 Muzzleloaders are rarely described as "well-balanced," but the Impact!SB is an exception. The break-action design allows the 26-inch barrel to rest farther back in the stock, eliminating the nose-heavy feel evident on some muzzleloaders. Overall length is also shorter than some competing models—just 40 inches—which makes the Impact!SB very maneuverable in a treestand or in a ground blind. This gun is also relatively light for a muzzleloader, weighing just 6.95 pounds without a scope.
The test rifle came equipped with a Silver Weather Shield finish and a Mossy Oak Break-Up Country stock at an MSRP of just $324. The Impact!SB's hammer features a minimized spur that's small enough not to interfere with your optic yet large enough to securely operate, even when wearing gloves. I mounted a 3X-12X-42mm scope on the rifle and reaching the hammer wasn't an issue. With minimal practice it's possible to cock the hammer silently—an important consideration when hunting in dense cover where deer can suddenly appear at close range without warning. I did have to mount the scope about a half-inch farther back than I would have liked so the objective bell didn't contact the rear sight, but even with the scope moved rearward there was still plenty of eye relief; a set of high rings could mitigate the problem entirely.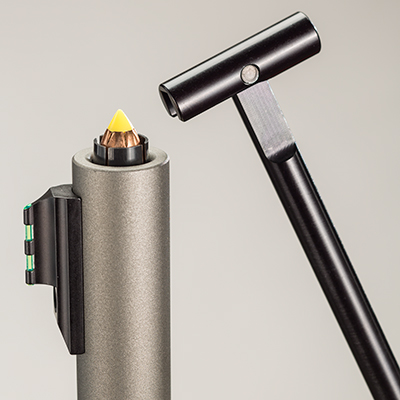 All Impact!SB rifles incorporate a Power Rod ramrod with integrated pivoting T-handles and T/C's Quick Load Accurizor (QLA) false muzzle that makes loading and aligning bullets fast, easy and precise. With the scope in place, the test rifle weighed 8 pounds, 5 ounces, light enough to carry while still-hunting in steep country. There are a number of small, useful touches on this rifle that make it particularly appealing including a finger groove on the forearm and a rounded pistol grip that naturally aligns the wrist for cocking and firing the rifle. The front sling stud is set at an angle in a recessed portion of the forearm, keeping it out of the way.
For the test I fired three different .50-caliber sabot bullets: T/C's 250-grain Shockwave, Remington's 250-grain AccuTip and Traditions' 300-grain Smackdown. The Shockwave, when paired with 100 grains of Blackhorn 209 loose powder, proved to be the most accurate load in the test with average group sizes just less than 2 inches at 100 yards and a muzzle velocity of 1890 fps. I cleaned the bore between each shot, and I found that the Speed Breech is a welcome addition that lives up to T/C's claims of easy removal. The Impact!SB's trigger is quite good for a muzzleloader, breaking at 4.3 pounds on average, and recoil is manageable even with powerful, 150-grain loads. After accuracy testing I went three shots between cleaning, and while the third shot requires more effort, it's still easy to load thanks, in part, to the QLA muzzle.
The Impact!SB benefits from a long list of shooter-friendly features. The break-action design and Speed Breech make cleaning fast and easy, and the stock design, trigger and low-profile hammer are all nice touches. Plus, this rifle offers good accuracy at an affordable price.

Technical Specifications
• Type: break-action, in-line muzzleloader
• Caliber: .50
• Barrel: 26″; 1:28″ RH twist; T/C Accurizor counterbored
• Trigger: 4.3 lbs. pull weight
• Sights: Williams fiber optics
• Safety: none
• Stock: synthetic; Mossy Oak Bottomland, Mossy Oak Break-Up Country, Realtree Edge, black; LOP 13″–14″
• Metal Finish: Silver Weather Shield or blued
• Overall Length: 40″
• Weight: 6.95 lbs.
• Accessories: 1″ stock spacer, breech-plug wrench
• MSRP: $263–$324; tcarms.com