by
posted on April 13, 2018
Support NRA American Hunter
DONATE
I know what you're thinking: Why the marriage between the 10mm Auto cartridge and, to put it delicately, the not-so-svelte Ruger Super Redhawk? I will admit up front that I was bitten by the Super Redhawk bug more than 15 years ago, particularly in the .454 Casull and .480 Ruger iterations, but I approached this latest version with a healthy dose of skepticism sprinkled with a pinch of intrigue. I really do like Super Redhawks, but there's no denying the questionable coupling of the 10mm and Ruger's biggest six-shooter. On paper this is indeed a strange marriage.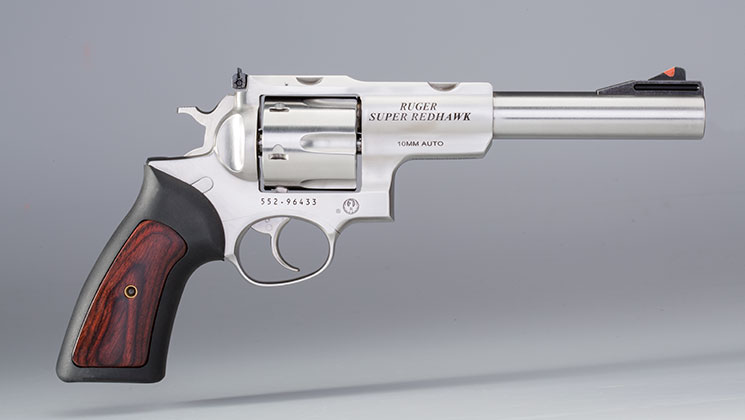 Let's back up a minute. The Super Redhawk gets a bit of a bum rap for being bulky. While it appears to be larger than its progenitor, the Redhawk, it shares the same proportions with the exception of the frame extension, where the barrel mates to the frame. The Super Redhawk's frame was extended to create a better mounting point for an optic, so hunters wouldn't have to mount an optic to the barrel. It also received the superior grip frame of the Ruger GP100 and its double-spring action.
Granted, the Super Redhawk is no delicate flower; it's simply a well-built, proportionately strong revolver made to handle big cartridges with big power. In this role it exceeds in spades. So I had to question the motive behind taking a Ruger double-action that's built along the lines of an armored personnel carrier and chambering it in the relatively diminutive 10mm. That was until I shot it, when my skepticism melted into the cracks of the floor of reason, no trace to be seen again.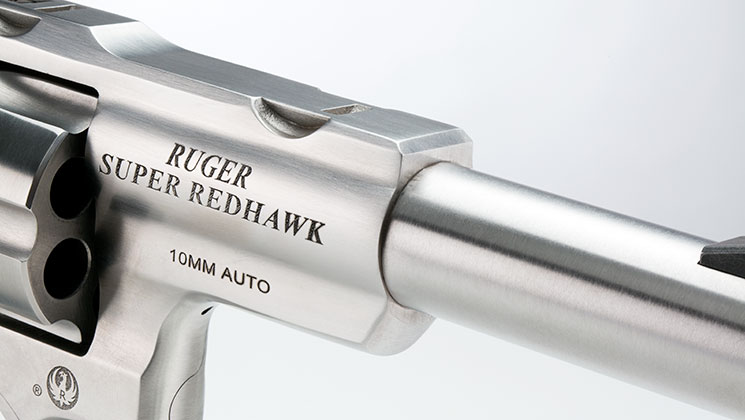 The Super Redhawk is big without a doubt; the 10mm, in comparison to some of the other rounds this revolver is chambered for, not so much. And that is why this marriage actually makes sense. Even with the hottest factory ammunition, shooting this thing is like receiving a maiden's caress. As a handgun hunter who leans toward the larger end of the caliber spectrum, I still believe the most important factor in successful handgun hunting is shot placement. Next up is the bullet. If your bullet can handle the rigors of penetrating to the vitals of your chosen game, and if it is matched to your cartridge's ballistic potential, placing it correctly will get the job done. In this respect, the 10mm is up to the task of cleanly taking fairly large game animals, and in some cases very large game.
The 10mm Super Redhawk tips the scales at a fairly portly 56 ounces unloaded. It has a 6.5-inch barrel, which gives it an overall length of 12 inches. Like the .44 Mag. version of the Super Redhawk, this one is equipped with attractive rubber grips with wooden inserts. While I prefer the hand-filling Hogue Tamer grips that the .454 and .480 iterations wear, in this application the rubber-and-wood design is more than adequate and rather comfortable. The six-shot revolver comes standard with three full-moon clips enabling faster loading and case ejection, which is neither here nor there in a hunting revolver.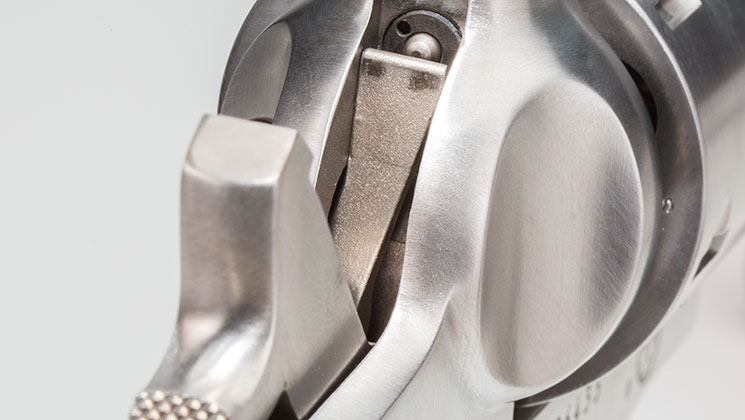 While the Super Redhawk can be fired in double-action mode, in hunting situations the big revolver will likely be shot single-action, unless you find yourself in an animal-attack scenario. In typical Ruger fashion, the trigger was a bit on the heavy side, but in all honesty this one was pretty good out of the box, exhibiting minimal creep. Personally, if contemplating a long-term relationship with this latest Super Redhawk, I would have the trigger professionally tuned.
Like all Super Redhawk revolvers, the frame features cutouts or scallops for easy optic mounting, and the gun comes from the factory with a quality set of 1-inch rings. In order to extract the maximum accuracy potential from the 10mm Super Redhawk, I equipped it with a 2X Leupold scope. However, the big Ruger comes from the factory with a good adjustable rear sight and a replaceable, red-ramp-insert front sight.
The ease with which an optic can be added or removed without affecting the iron sights is a definite plus. If your scope gives up the ghost in the field, it can be removed in a snap and your irons are ready to go. It's a great system that I fear is overlooked or dismissed by many who can't get over the controversial looks of the Super Redhawk.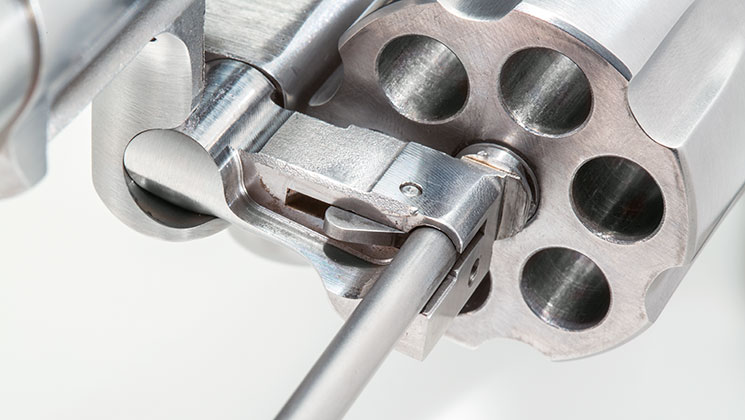 I tested a number of factory loads from Federal Premium, DoubleTap (including Colt-branded ammo), Buffalo Bore and Grizzly Cartridge, most of which would be considered raucous in your Glock 20. Mild recoil goes a long way to building a shooter's confidence, and none of the loads I tested were abusive.
Accuracy was good, but I won't call it great. However, there are inherent problems in trying to achieve high levels of accuracy from a revolver chambered for a rimless cartridge that headspaces on the case mouth. Because of the variations in cartridge case length and chamber dimensions, loaded cartridges tend to rest in their respective chambers in different positions from chamber to chamber. While this is a nonissue in a firearm with one chamber, it's a factor at play in all revolvers. That said, accuracy was more than adequate for hunting with a number of factory loads. While five-shot groups are typically required in magazine gun tests, tight five-shot groups are unrealistic with a revolver of this kind.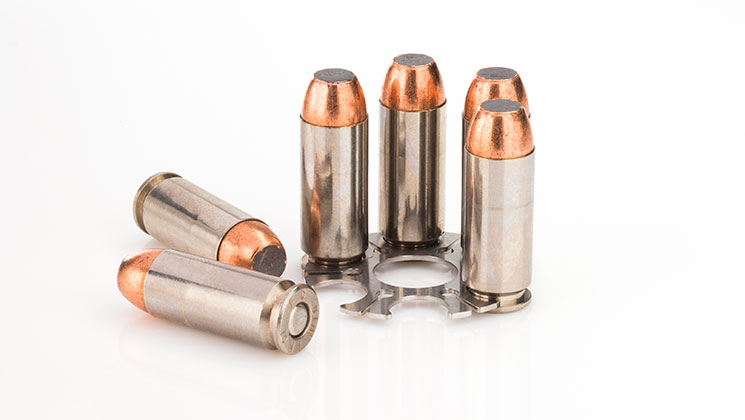 The 10mm Super Redhawk is a great starter revolver for the neophyte or even the old hand that simply wants a potent cartridge in a package that doesn't deliver abuse to the shooter. People either love 'em or hate 'em, but there is a purity of function that all Super Redhawk revolvers deliver. And that's the case here: In 10mm this is a capable hunting tool that would proudly play a prominent role in anyone's handgun hunting arsenal.
Technical Specifications
• Type: double-action revolver
• Caliber: 10mm Auto (tested), .44 Mag., .454 Casull, .480 Ruger
• Capacity: 6 rnds.
• Barrel: 6.5″; cold-hammer-forged, stainless steel; 6 grooves, 1:16″ RH twist
• Trigger Pull Weight: 4 lbs. single-action, 11 lbs. double-action
• Sights: adjustable rear notch, ramped front blade w/red insert; integral mounts for scope rings
• Grips: rubber w/hardwood inserts
• Metal Finish: satin stainless
• Overall Length: 12″
• Weight: 54 ozs.
• Accessories: 1″ scope rings, 3 moon clips
• MSRP: $1,159; ruger.com