by
posted on September 13, 2014
Support NRA American Hunter
DONATE
Viking Rack Jack
The Rack Jack from Viking Solutions is like having a power lifter in the bed of your truck, only you won't need to buy him lunch after the heavy lifting. Capable of hoisting up to 300 pounds with a few cranks of the winch, this hitch-mounted game hoist rotates 360 degrees to unload kills directly into your truck bed. Assembly is easy and the system breaks down into three pieces for storage. Steel cable and machined pulleys won't jam or bind. A durable powder-coated finish prevents rust and looks great.
MSRP: $160.
Trail Gear 2 Floor Liners
Cabela's teamed up with WeatherTech, the floorliner specialists,  to create the ultimate floor protection for your hunting rig. Trail Gear 2 Floor Liners are laser-measured for a precise, custom fit for your vehicle's year, make and model. Made of a high-density material, these liners will withstand serious wear and abuse. Raised-edge lips and channels mean your spilt coffee will pool on your liners rather than soak into your floor. A textured finish prevents even your wet, muddy boots from slipping. Cleaning is easier than hosing down the dog.
MSRP: $59.99 - $199.99.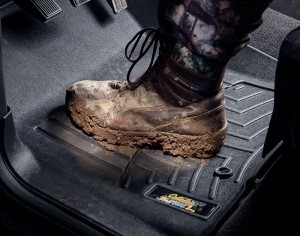 Marathon Seat Covers
Made from rhino-tough Cordura nylon, Camo Superhides Seat Covers are built in the U.S.A to match the year, make and model of your vehicle. A polyurethane backer and DWR top finish create a stain-resistant and waterproof barrier, which means your soaked waders won't destroy that supple leather you just had to have. They are easily installed and machine washable. More than 30 different color patterns and the latest camo options are available, including Kryptek Typhoon. So don't think twice when the boys—or dogs—pile in, mud and crud included. Multiple options available.
MSRP: $150-$500.
Liberator Quick Draw Gun Case
Able to house a collapsible stock, M4-style AR-15 in an easy-to--access location—strapped to the back of a seat—the Liberator Quick Draw AR-15 Gun Case may be the best storage system out there for a vehicle-kept AR-15. Built in the U.S.A. by Crooked Horn, this tactical rifle case is designed to be discreet as well as functional. A single pull opens both zippers, allowing easy removal of your carbine, making a quick shot at that coyote a real possibility. The removable front pouch holds two, 30-round AR magazines. Available in black or coyote tan.
MSRP: $199.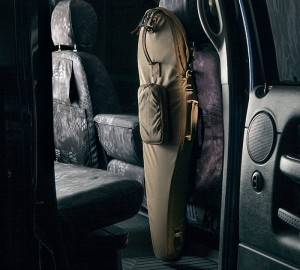 Redfield Spotting Scope
East or West, glassing with a spotting scope is an advantage all hunters can appreciate. When done from the comfort of your mobile hunting office, spotting becomes an even handier tool. At a price less than a new truck payment, the Rampage 20X-60X spotting scope from Redfield can live in the cab without keeping you up at night. Nitrogen-filled with fully multi-coated lenses and a BAK4 prism, the Rampage's premium features deliver a crisp, clear sight picture with no fogging. Includes soft carry case, scope protector and tripod.
MSRP: $290.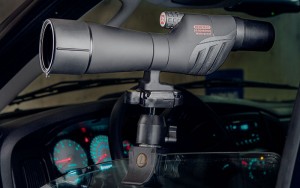 Leupold Window Mount
Other than a tripod, the Window Mount from Leupold may be the best accessory your spotting scope ever had. A sturdy mounting plate locks tight to your window and the fully rotating head allows you to find and track animals on the move. Use the quick release to take your glassing from vehicle to field. Built truck-tough with solid construction and durable hardware. Soft case included.
MSRP: $138.
Sportsman Series Medical Kits
Adventure Medical Kits pack tools to assist with most any hunting injury. Complete with bandages, medication, quick-clot wound treatment and much more, these kits are developed with party numbers and trip duration in mind. Most include a removable "field trauma kit" designed for trips away from camp and all include an essential comprehensive guide to treating most any medical emergency in the field. So take with you the peace of mind of knowing that you can provide aid wherever your truck may take you. Multiple sizes are available.
MSRP: $25-$125.