by
posted on February 20, 2015
Support NRA American Hunter
DONATE
Whenever someone tells me a hunt is going to be easy, I know I'm in for it. Our plan was pretty simple: take advantage of a Utah cow elk depredation permit to test out Echols Rifles' prototype Shrike synthetic stock and the Meopta MeoStar R2 1X-6X-24mm riflescope. "No death marches," they promised, "but dress really warm—we may be sitting a while." I awoke in Miami Beach on Tuesday morning at 6 feet above sea level with highs in the 80s. Twenty-four hours later, I was covered in sweat despite single-digit temperatures as I struggled to keep up with the locals hiking straight uphill at 7,500 feet.
It looked like the hunt was over when I put a 400-grain Swift A-Frame from a .404 wildcat through a cow's lungs at 325 yards, but I guess elk don't read gun magazines. A rodeo ensued. Several Hail Mary shots and about a mile of mostly uphill tracking later, the knives finally came out.
Had the cow given up on that first hillside, we wouldn't have learned much about the capabilities of the MeoStar R2, but as it turned out our journey taught us a great deal. I had a chance to use the Meopta on long shots in open valleys at 6X, thread the needle through thick, snow-covered timber at 1X, and try it under nearly every conceivable circumstance in between. The scope got cold, wet, knocked around and dirty. Traditional thinking would relegate a 1X-6X riflescope to chasing Cape buffalo in the tall grass or North American game in thick brush, but my experience with the MeoStar R2 taught me it is a perfectly viable optic for all-around big-game use.
Meopta optics are made in the Czech Republic, which, for the non-geographers out there, sits between the fine-optics hubs of Germany and Austria. Given the industrial talents of the region, it's no wonder that Meopta optics have gained a fast reputation for being incredibly bright and clear. The company claims its MeoLux lens coatings allow for 99.8 percent light transmission per lens, which results in a net transmission of 95 percent to the user's eye. I found the MeoStar R2 to be an excellent performer in low light, which was a clear advantage when we first spotted the elk herd in the early morning. The scope's brightness, alongside the illuminated reticle, allows hunters to effectively use every minute of legal shooting hours.
Brightness aside, the Achilles' heel of most European scopes is their short eye relief. However, the eye relief of the R2 I tested is identical to that of the domestic Leupold VX-6 1X-6X-24mm, which puts it in the "better than average" category.
The test scope was equipped with Meopta's 4C reticle, one of two options available on this model. The 4C is a German No. 4-style reticle with a small dot in the center. Eight levels of illumination light the dot red, lending the RD designation. Similar to most U.S.-made scopes, the MeoStar R2 has a reticle located in the second focal plane, so the reticle's size does not change as the optic's magnification is increased. First-focal-plane reticles are great for bullet-drop compensation, but I prefer second-plane designs like this one when a dot is the central aiming point. The dot appears big and highly visible at low power when you need it for fast shots up close, but smaller and more precise at higher magnification for longer shots. The dot subtends 1.72 MOA at 6X, which means it covered about 5.5 inches of the elk's shoulder when I took my first shot at 325 yards.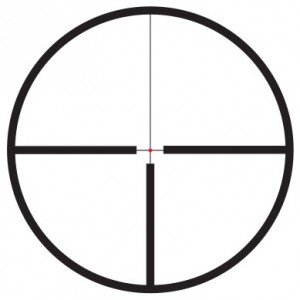 A fellow writer once said, "northern Utah is where scopes go to die," referring to gunmaker D'Arcy Echols' ability to turn $1,500 optics into kaleidoscopes of broken glass during the rigorous testing of his custom rifles. Echols' .404 bolt gun, my test platform for the scope, weighed in at just under 10 pounds loaded and had plenty of recoil. After I punished the scope sufficiently on the range and afield, I brought it back East and mounted it on an accurate .308. To ensure I hadn't rattled the insides into confetti in Utah, I performed more range testing to see if the scope's erector system tracked accurately, and the R2 passed the test. The positive .5 MOA clicks corresponded to my downrange adjustments, and I shot some phenomenal groups despite the relatively low 6X magnification. Broken scopes don't account for groups of .25-.50 inch at 100 yards.
The Czech Republic may not have the market cachet that's been established by brands from Germany and Austria, but that doesn't mean the quality isn't there. The Meopta MeoStar R2 RD was bright, clear, rugged and precise. I threw a lot at this scope in a short period of time, and it kept getting the job done. This year will see the introduction of the MeoStar R2 in the versatile 1.7X-10X-42mm and 2X-12X-50mm configurations, in addition to the current 2.5X-15X-56mm offering. For buyers in the market for a premium riflescope, this line has the spectrum covered with quality optics.
Technical Specifications:
Type: variable-power riflescope 
Magnification: 1X-6X (tested), 1.7X-10X, 2X-12X, 2.5X-15X 
Objective Lens Diameter: 24mm (tested), 42mm, 50mm, 56mm 
Eye Relief: 3.9" (1X), 3.8" (6X) 
Exit Pupil: 11mm (1X), 4mm (6X) 
Field of View @ 100 Yds: 111' (1X), 19' (6X) 
Reticle: second-focal-plane, etched, illuminated 4C 
Adjustments: .5 MOA 
Coatings: fully multi-coated; MeoLux, MeoDrop, MeoShield 
Dimensions: tube diameter 30mm; length 11.7"; weight 17.4 ozs. 
Construction: one-piece, hard-anodized aluminum tube, nitrogen-filled, waterproof; Schott glass lenses; side illumination rheostat 
Accessories: lens caps 
MSRP: $1,595