by
posted on May 19, 2017
Support NRA American Hunter
DONATE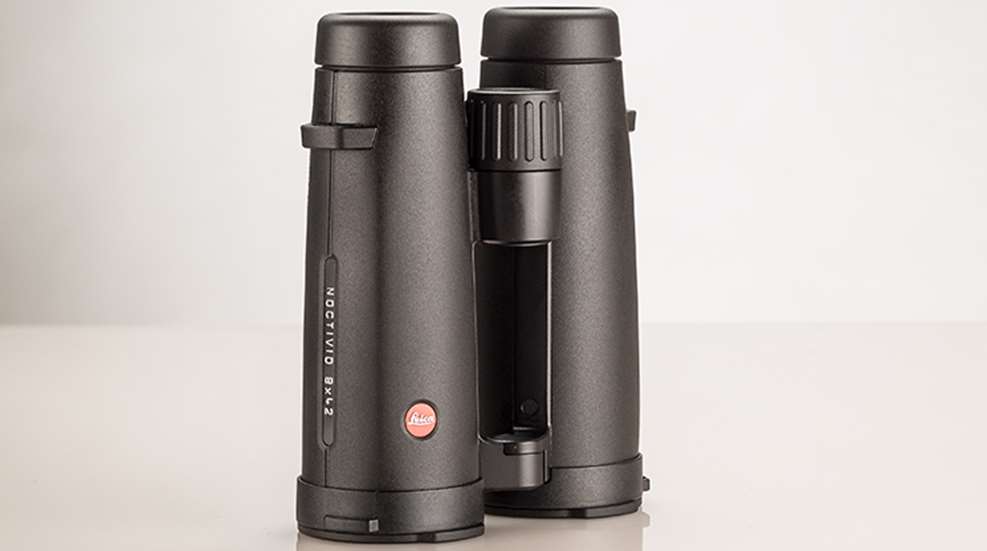 Though keen to receive a test sample of the new Leica Noctivid just in time for the 2016 deer season, I wondered what the practical difference could be from the German firm's previous flagship binocular, the Ultravid Plus, which had debuted just 12 months earlier. It's a given that Leica manufactures brilliant sport-optics, and, true to form, the Noctivid (NV) came with labels like "revolutionary" and "all new design." Right away I noted the binocular's updated frame construction and controls, but from a company famed for engineering, nothing short of an optical-performance breakthrough would match the marketing-speak. And to that end, Leica offered up a slew of internal features instrumental to how optics transmit images to the user.
Lenses being the foremost component, this new bino incorporates 12 Schott HT elements, widely considered the finest glass available in the sport-optics marketplace, particularly in terms of light transmission. Though Schott HT is not a Leica exclusive, the company says it has "improved the geometry of the lens surfaces" and made "modification to the radii of the lenses." Such modifications—amounting to minute sculpting of the lenses' surfaces—seek to counteract inherent flaws like chromatic (color-fringing) and spherical aberrations that degrade what we see.
Also critical to image quality are the lens coatings, and here Leica says it is using "high-temperature plasma deposition," a process that reportedly creates a purer, cleaner fusion of the glass and coatings, makes it possible to apply multiple micro layers with greater precision and results in more durable finishes.
Furthermore, Leica added baffles to interior tube walls in order to trap stray light. Though there's likely very little of that, any light crossing the image transmission (optical axis), can only hamper our ability to see what's coming through.
All that adds up to an ambitious makeover, and though it's somewhere between difficult and impossible to rate each incremental step, the cumulative result is crystal-clear, at least in this user's subjective judgment.
However, chromatic dispersion and field curvature were decidedly not on my mind the first time I used the Noctivid 8x42 in earnest. In gray pre-dawn, I was able to pick out turkeys roosted in nearby oaks, then shortly thereafter spotted circular ripples skating across the green-black surface of the river to my right. Though silent, the circles kept coming; something was headed my way.
There was a rustle when a doe vaulted onto the bank and shook the water from her coat. She stood 45 yards from my stand, and curiously, stayed put right there. Only the deer's head moved as she looked across the river, as if checking her back trail. Being early November, I hoped a buck was in tow, but could see nothing through the brush crowding the opposite bank. Soon the sun was edging the horizon just a few degrees south of where the doe was staring, and if I scanned too close, orange rays flared through my field of view. But just a degree or two the other way, the flare winked out. Right at the flare/no-flare tipping point there was a flick. A leaf?—nothing—then flick—what?—a curving stick among vertical saplings—flick. An ear? Antler? It was the buck, just the top of his head.
For 20 minutes that cagey buck moved nothing but his ears. Eventually I could discern a curve of hindquarter and a white spot where his throat would be, but the low sunshine—effectively backlighting where I needed to look—made for very difficult glassing. Even so, I had seen it all. Turkeys balled up in the gloom; the doe flinging off a thousand water droplets; a buck frozen against nature's tide.
Quite a show, and just the first of many delivered by the NV. In every scenario its optical clarity was inspiring. I found a transparency that reduced my sense of looking through something, a quality enhanced by the glasses' very wide field of view (it rated fourth of 40 8x42mm models we surveyed). Early on, I felt a sensation akin to viewing hi-def television for the first time, and when that passed, I knew I had been spoiled. Eventually, I noticed I could glass longer without needing to reset and was rarely inclined to fiddle with the focus.
Since it takes me two hands to steady a binocular I'm not fussy about body configuration, and the NV is one of the few Leicas made in the trendy open-bridge style. Unlike some others, it is bolstered by hinges fore and aft, which limit how you can hold it one-handed. More important, though, is the rubber-armored magnesium housing, which is durable, lightweight and great for gripping. At 30 ounces, the NV is no bantam, but nonetheless is nicely compact and balanced at 5.9x4.9 inches, a package ideal for deliberate glassing, if a bit heavy in the high country.
Leica's repair service has at times been criticized, and it appears the engineers took that to heart with other durability measures. The new bino is waterproof-rated to a category-leading 16.5 feet, and I observed no bubbles upon dunking the NV under water straight from stints in the freezer and on the radiator. In addition to a limited lifetime warranty for manufacturing defects, those sold by U.S. dealers come with the new 3 Year Passport Protection Plan that covers accidental damage other than fire.
If you've read this far, likely you're wondering how the NV stacks up to blue-blood Euro competitors. Is it as bright? Are the colors as true and as saturated? Do objects appear to be three-dimensional and tack sharp right to the edges of the field?
Honestly … I can't say. What I can report is that nearly everyone I granted a look—30-odd friends and family members ranging from greenhorns to card-carrying optics snobs—gasped or made some kind of noise. Add to that one spec that made some of us gasp a second time—the pricing is kingly, starting at $2,599 for the 8x42 and $2,699 for the 10x42. But if you like and depend on your hunting optics enough to cough up that kind of ransom, I bet there won't be any buyer's remorse.
Technical Specifications:
• Type: roof-prism binocular
• Magnification: 8X (tested), 10X
• Objective Lens Diameter: 42mm
• Focusing Range: 6.2'-infinity
• Eye Relief: 19mm
• Exit Pupil: 4.2mm
• Field of View @ 1,000 Yds: 404'
• Coatings: fully multi-coated lenses w/HDC and AquaDura; phase-corrected prisms w/P40, HighLux-System HLS
• Construction: Class 8 coated magnesium chassis, rubber armor; nitrogen-filled; waterproof to 16.5'
• Dimensions: height 5.9"; width 4.9"; weight 30.3 ozs.
• Accessories: neoprene carrying strap, tethered front lens covers, eyepiece cover, Cordura case
• MSRP: $2,599