by
posted on December 20, 2018
Support NRA American Hunter
DONATE
Variable-power scopes with low magnification ranges and small objective diameters are usually the choice for rifles used in thick cover when shots at game come quickly and with little warning. A close-range snap-shot is easier to make without a bunch of magnification narrowing the field of view and, well, magnifying gun wobble. Plus, aiming and shooting with both eyes open is more natural when one of them isn't looking at a world that's nine times larger than life.
Scopes with 1x-4x, and more recently 1x-6x, magnification ranges have traditionally served atop dangerous-game rifles and lever-actions, where their smaller footprints and lighter weights don't alter gun balance and handling as much as heavier scopes with more magnification, longer tubes and wider objectives. Today hunters will find these scopes just as well suited for ARS and single-shot rifles chambered for straight-wall cartridges.

The KonusPro M-30 1x-6x-24mm from Italian optics company Konus is an affordable option for any of these rifles. Some of its features—such as a 30mm main tube and a well-designed reticle with dual-color illumination—may come as a surprise, considering its relatively low MSRP of less than $360.
The first thing I question about any scope, but especially those with less expensive price tags, is durability. Like an increasing number of budget-priced optics, the M-30 is manufactured in China, but it has the type of construction and materials to make it last. The one-piece tube is nitrogen-purged and O-ring sealed to make it waterproof and prevent internal fogging. The reticle is etched on glass to withstand recoil and shock from other sources, like accidental falls in the field. Konus backs the M-30 with a lifetime warranty against defects in the scope's materials and workmanship.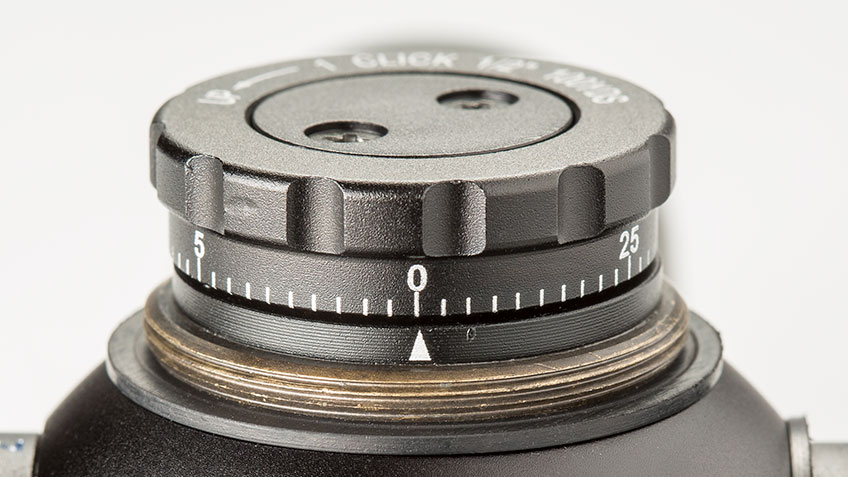 Next, I look at a scope's erector and turret system: the precision and consistency with which it answers adjustments, and its ability to return to and hold zero. I tested the M-30's .5-MOA click values by shooting a box drill that included six, five-shot groups. In total, the drill required 20 MOA of elevation adjustments and another 30 MOA of windage adjustments. Individual groups mandated elevation and windage adjustments of 5-10 MOA in order to hit the intended area of the target.
While I felt some slack to the left and right of each tick mark on the turrets when making adjustments, the M-30 tracked well. The center of each group fell within .5 MOA of the spot predicted by its click values. The last set of adjustments returned the scope to zero, and the final group overlapped the first. During the next month I continued to use the M-30 mounted on a Bushmaster Minimalist-SD in .300 AAC Blackout, and more than 200 rounds later I had no reason to touch the turrets. The scope held zero perfectly.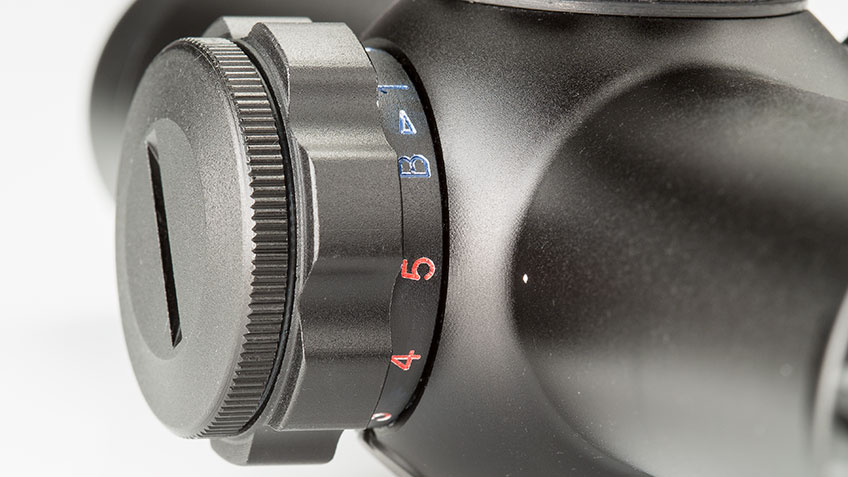 I was also impressed by the scope's light transmission; a couple of my range sessions were on days with heavy overcast conditions and during the last hour of light. Konus applies 10 layers of coatings to all air-to-glass surfaces in the M-30 and says light transmission is greater than 95 percent. While I lack the equipment to empirically test this claim, I'm confident the scope will present a clear view of game during all hours of legal shooting light.
A side-mounted rheostat controls reticle intensity and permits red or blue illumination, each with five levels. Blue is more subtle and presents a crisper outline; it doesn't flare like red on the higher settings. It may be the choice of hunters who are red/green colorblind. The reticle, located in the second focal plane, is a 1-MOA dot centered in an 18-MOA circle (subtensions are at 6X). The circle is bracketed by three posts at the 3, 6 and 9 o'clock positions. The design quickly draws the eye to the center dot for quick aiming.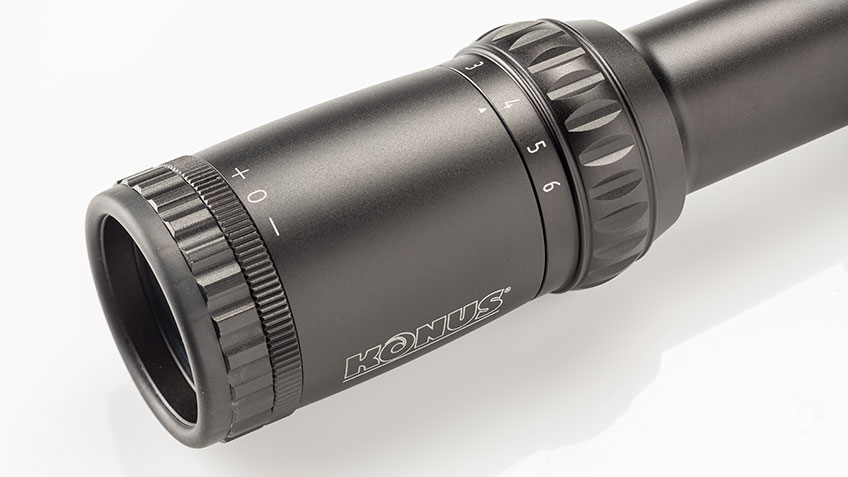 Other features of the M-30 include a fast-focus eyepiece and turrets that can be reset to the "0" mark. Floating the turrets requires loosening a pair of Phillips-head screws, a design that isn't as convenient as the pop-up type but presumably reduces cost.
Konus remains in step with American hunters by responding to trends in the field. Whether mounted on an AR, a lever gun or a single-shot, the KonusPro M-30 1x-6x-24mm is a handy scope for up-close encounters.
Technical Specifications
• Type: variable-power riflescope
• Magnification: 1X–6X
• Objective Lens Diameter: 24mm
• Eye Relief: 3″
• Exit Pupil: 11mm (1X), 4mm (6X)
• Field of View @ 100 Yds: 109′ (1X), 16.7′ (6X)
• Reticle: second focal plane; etched, illuminated (blue and red) Circle-Dot
• Adjustments: .5 MOA
• Coatings: fully multi-coated
• Dimensions: tube diameter 30mm; length 9.72″; weight 17.1 ozs.
• Construction: one-piece 6061-T6 aluminum; nitrogen-filled; waterproof, fog-proof, shockproof; side-mounted, CR2032 battery-powered illumination control
• MSRP: $359.99; konus.com