by
posted on August 24, 2018
Support NRA American Hunter
DONATE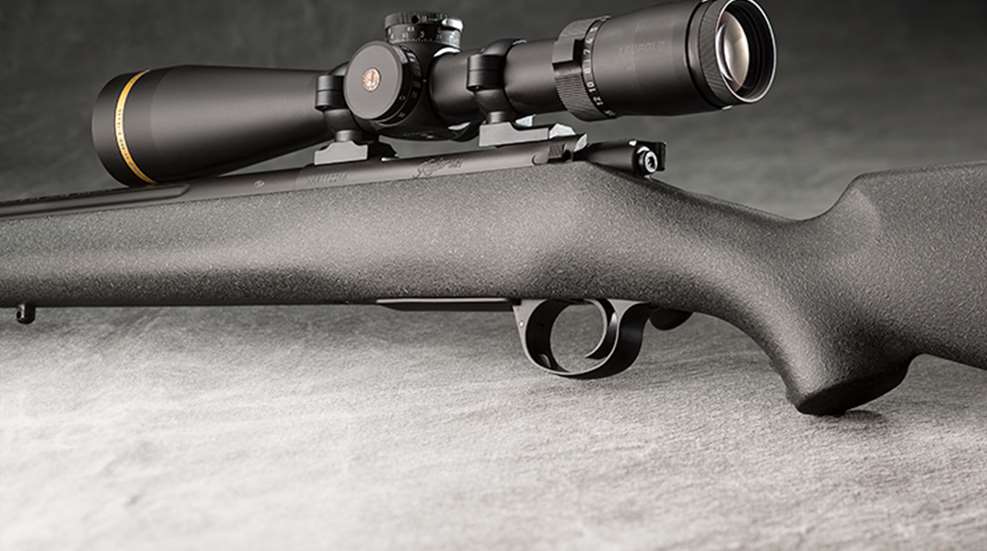 During the past two decades Kimber has focused much of its rifle development on lightweight bolt guns. The 5.5-pound Model 84M Montana introduced in 2002 started a trend that would eventually include the Mountain Ascent, Adirondack, Subalpine and Hunter, all of which weigh less than 6 pounds when chambered in .308 Win. In fact, the Mountain Ascent, Adirondack and Subalpine weigh a few ounces less than 5.
It may come as a surprise, then, to learn the company's latest bolt-action rifle, the Model 84M Open Country, tips the scales at almost 7 pounds. After considering its features, however, the question won't be "Why did Kimber build a rifle so heavy?" but instead "How did Kimber manage to build it so light?"

To be sure, 7 pounds isn't really all that heavy for a hunting rifle; most modern sporters weigh within a half-pound or so of this weight. The Open Country, though, does not have the standard features of a traditional sporter. In some ways it's more like a rifle designed for long-range precision shooting, and in this day of 9-plus-pound long-range rigs the Open Country is indeed on the light side.
Consider the barrel, the area where the Open Country both gains weight and loses it. The 24-inch barrel's heavy contour results in a diameter of .85 inch at the muzzle, substantially greater than what's typically seen on hunting rifles. Barrels with heavier contours are stiffer than equal-length barrels with lighter contours and therefore potentially more accurate, but of course they also weigh more. The extra 2 inches over the standard barrel length of 22 inches also adds weight. To offset these gains, Kimber cuts six deep flutes in the barrel that start just forward of the chamber and run to within 2 inches of the muzzle. They are as distinctive as the three-notched cap that protects the muzzle threads, which have a 5/8x24 pattern for attaching a suppressor. While the Open Country's barrel sacrifices some stiffness to the flutes (removing material decreases rigidity), it also sheds weight and remains more rigid than a 24-inch barrel with a standard sporter contour. Kimber's KimPro II corrosion- and scratch-resistant finish covers the exterior, while internal features include a match-grade chamber and button rifling.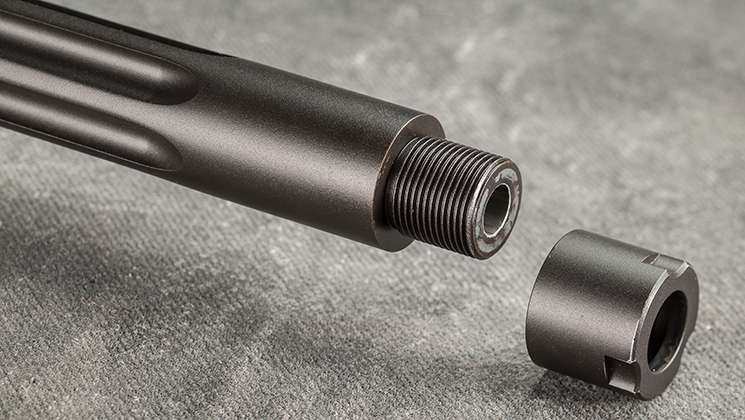 The stock, too, represents a give-and-take in the weight/design relationship. Kimber hunting rifles are known (and in my case, loved) for their straight-comb buttstocks and gently curving, open grips. The Open County stock keeps both of these attributes, but instead of a narrow fore-end that tapers toward the muzzle, a semi-beavertail design offers a wider, flat-bottomed shape at the front for resting on a stable object. In country devoid of trees and large rocks, that object may be a bipod, and so Kimber provides an additional stud on the fore-end for attaching one. The company keeps the weight of the stock minimal by making the component from reinforced carbon fiber. It likely weighs much less than any solid wood or laminate stock on a centerfire bolt-action hunting rifle, no matter how trim.
Finally, the 84M action that has been largely responsible for Kimber's lightweight success continues to serve its purpose in the Open Country. When gun designer Nehemia Sirkis scaled down a pre-'64 Winchester Model 70-style action in 2001 to specifically accommodate cartridges in the .308 Win. class, weight reduction was one of the primary results. The 84M is not only a short action, but also one with a reduced bolt diameter. The dual-lugged bolt has just enough circumference to handle the casehead of a .308 Win. or 6.5 Creedmoor round. Currently the Open Country is available only in these two chamberings. Unlike other actions designed to handle multiple cartridge families including magnum rounds with larger caseheads, there's no extra and unnecessary steel in the 84M action to add weight.
Other hallmarks of the 84M action include a full-length claw extractor for controlled-round feeding, a three-position wing safety and a bolt-release lever located toward the rear of the left receiver wall. The Open Country trades the 84M's characteristic petite bolt handle knob for an enlarged version with a teardrop shape that offers more surface area for grasping. The bolt feeds from a four-round internal box magazine with a hinged floorplate. Like the barrel, the action wears a KimPro II finish.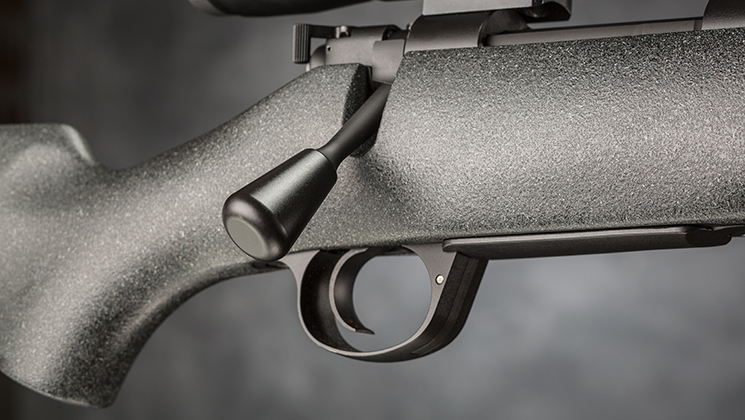 At the range, the Open Country's longer-than-standard barrel helped .308 Win. loads reach their full potential in muzzle velocity; in some cases, the readings from the Oehler Model 36 chronograph were several fps faster than the ammunition manufacturers' specs. Yet the barrel wasn't unwieldy, as I noted while climbing the mountains of New Zealand's South Island in search of Himalayan tahr and chamois. Even on all-day treks, the Open Country with a Leupold VX-5HD aboard didn't become a burden. I liked its muzzle-heavy balance when settling in to make a 280-yard shot on a tahr. When I had to scramble around a rock outcropping for a high-angle crack at a chamois, I was able to quickly reposition the rifle with precious seconds remaining to calm my breathing.
Kimber guarantees the Open Country will shoot sub-MOA, three-shot groups at 100 yards. The rifle's .75-MOA performance with Hornady Precision Hunter 178-grain ELD-X loads gave me confidence heading into my trip to New Zealand. Later I found the Open Country shoots just as well with loads having light and mid-weight bullets.
The Open Country's manufacturer says the rifle is designed for the "open range." Depending on where you hunt, that could be over a bean field, down a sendero or across a canyon. Leave it to Kimber to make a rifle that delivers the kind of accuracy needed for those long shots and still keep it light.

Technical Specifications
• Type: bolt-action centerfire rifle
• Caliber: 6.5 Creedmoor, .308 Win. (tested)
• Barrel: 24″; heavy contour w/fluting; button rifling, 4 grooves, 1:10″ RH twist; 5/8x24 threaded muzzle
• Magazine: internal box w/hinged floorplate; 4-rnd. capacity
• Trigger: single-stage; adjustable; 3.5-lb. pull weight
• Safety: three-position wing
• Sights: none; receiver drilled and tapped for bases
• Stock: reinforced carbon fiber w/straight comb, semi-beavertail fore-end; LOP 13.75″; Granite (tested), Optifade Open Country finish
• Metal Finish: gray KimPro II
• Overall Length: 43.5″
• Weight: 6.9 lbs.
• MSRP: $2,269; kimberamerica.com