by
posted on June 28, 2018
Support NRA American Hunter
DONATE
Many know Bill Wilson as an expert shooter and builder of pistols—his walls are covered by plaques from top finishes at matches, and he was named Pistolsmith of the Year by the American Pistolsmiths Guild in 2002—but he is a hunter at heart. He has the kind of taxidermy and stories that only come from a lifetime of hunting around the world. When he's not overseeing operations at the Wilson Combat shop in Berryville, Ark., he's hunting hogs on his Texas ranch. The guy likes to build nice guns, but he likes putting them to use even more.
This includes, of course, rifles. Wilson Combat may have built its name on custom 1911 pistols, but the company also has a growing line of ARs. When Bill combined his penchant for producing high-end ARs with his passion for hunting, the result was a series of large-receiver models based on the AR-10 and optimized for hunters. The Ultimate Hunter is the line's flagship, and it leaves little to desire whether you're sitting in a treestand or climbing over a ridge.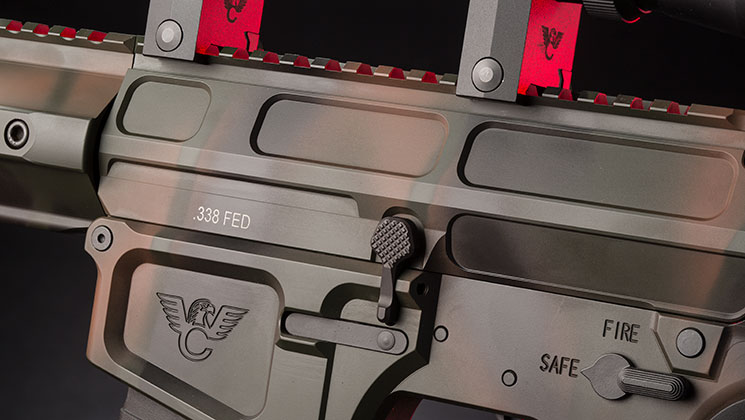 Unlike when taking stock of the smaller cartridges typically fired from the AR-15, few hunters doubt the efficacy of the rounds chambered in the hefty AR-10 for anchoring big game. The .308 Win. is the gold standard, but Wilson Combat doesn't stop there with the Ultimate Hunter. It's also available in 6.5 Creedmoor, .358 Win., and my personal favorite, .338 Fed. I've taken whitetails, hogs, a black bear and two caribou with the .338 Fed., and I know hunters who have used it with great success on elk and even a grizzly (one shot to the chest dropped the griz, a second one made sure he stayed down).
There is a tradeoff with the AR-10, however, and it comes in the form of size and weight. The bolt carrier group and receivers of the AR-10 are necessarily larger and heavier than those of the AR-15, and rifles built on the former platform can become cumbersome things that tip the scales at more than 10 pounds. Wilson Combat addresses this issue in several ways with the Ultimate Hunter, managing to build a hard-hitting, large-receiver AR that weighs less than 7.5 pounds.
The upper and lower receivers are CNC-machined from aluminum billet, and Wilson Combat removes metal at noncritical areas in order to reduce weight. Shallow recesses running along the length of the upper receiver and covering the beveled magazine well, along with a hollow brass deflector, shave ounces. The free-floating handguard designed by the company is slim and lightened by numerous oval-shaped cutouts that accept the Magpul M-Lok accessory attachment system. The chunk of aluminum that forms the full-length rail on the top of the handguard gets a similar treatment.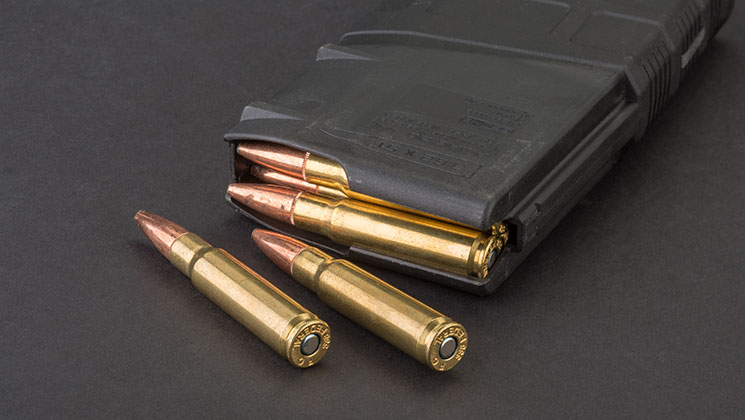 Measuring .7 inch in diameter at the crowned muzzle, the fluted barrel has what Wilson Combat calls a medium-lightweight contour. At 18 inches long, it gives up some velocity for a reduction in weight; the three factory loads from Federal that I tested averaged about 100 fps slower than their advertised velocities. This isn't much of a sacrifice, though, as the bullets typically loaded in the .338 Fed. still retain plenty of velocity for reliable expansion at reasonable hunting ranges.
The final weight-saving measure may be the most eye-catching: the Smoke Composites buttstock utilizes a buffer tube and buttplate made of carbon fiber. Alone it weighs just 5 ounces, though Wilson Combat thoughtfully installs a LimbSaver recoil pad on the buttplate that adds a bit to that number.
Three other features may not stand out as prominently but will certainly be noticeable in the field. The low-profile gas block from SLR Rifleworks is adjustable to tune cycling with different loads. It fits under the handguard, where it won't snag on a pack or a branch, or interfere with an optic's field of view. The BCM charging handle has an extended latch that makes it easy to manipulate around a riflescope's ocular bell, but it's not obtrusive. Finally, Wilson Combat's Tactical Trigger Unit (TTU) M2 is a wonderful aid to accuracy when shooting from field positions. While the TTU M2 is a two-stage trigger, it's set up for hunters. The first stage requires about 2 pounds of pull weight with just enough take-up to notice before reaching a solid wall. Two more pounds of pressure triggers the shot. In essence, it's a 4-pound trigger that feels like it's half that.
The Ultimate Hunter I received for testing had an optional Armor-Tuff camouflage finish (solid green and black Armor-Tuff are standard). The rifle came as a kit with a Leupold VX-2 3X-9X-33mm scope mounted in ultralight rings, which adds $390 to the price. It functioned flawlessly at the range, shooting several sub-MOA groups and many more that measured a fraction over an inch. Despite its medium-bore chambering, the Ultimate Hunter was quick to maneuver into sitting, kneeling and prone positions—exactly as a hunting rifle should be.
While owning the Wilson Combat Ultimate Hunter requires parting with a good deal of cash, it is an AR adequately chambered and made for hunting big game across the entire United States. It's easy to carry, yet it's plenty of gun.

Technical Specifications
• Type: gas-operated semi-automatic rifle
• Caliber: 6.5 Creedmoor, .308 Win., .338 Fed. (tested), .358 Win.
• Barrel: 18″; 416R stainless steel; button-rifled, 6 grooves, 1:12″ RH twist; fluted
• Trigger: two-stage Wilson Combat TTU M2; 4-lb. pull weight
• Magazine: 20-rnd. Magpul PMag 20 LR/SR
• Sights: none; Picatinny rail integral to receiver for mounting optics
• Safety: two-position rotating lever
• Stock: carbon-fiber Smoke Composites Closed Shoulder w/LimbSaver recoil pad; LOP 13.75″
• Handguard: free-floating 14.6″ Wilson Combat M-Lok w/Magpul Type 1 rail covers
• Metal Finish: Armor-Tuff, mil-spec hard anodizing
• Overall Length: 37.25″
• Weight: 7 lbs., 5 ozs.
• MSRP: $3,345; wilsoncombat.com