by
posted on March 31, 2020
Support NRA American Hunter
DONATE
Escort (imported from Turkey and distributed by Hatsan USA) debuted several extensions to its well-known shotgun line earlier this year. One of these, the Escort FieldHunter Turkey, is a pump-action scattergun that has hit the market just in time for longbeard season. Available in 12-gauge, 20-gauge and .410-bore, this pump-action turkey gun boasts a 3-inch chamber, a synthetic stock and a sight upgrade you'd normally expect to find on guns with a much higher price tag.


Typical of a turkey gun, the 12-gauge FieldHunter Turkey features a 24-inch barrel. This shortened length allows for far better handling in dense woods or the cramped confines of a ground blind.   Weighing in at a mere 6.9 pounds, with an overall length of just 44 inches, it's an easy carry in the woods.
While the shotgun's windage- and elevation-adjustable fiber-optic sights are a welcome upgrade to static brass beads, Escort went one step further with the FieldHunter Turkey. Thanks to their increasing reliability, more turkey hunters are taking advantage of the precision and simplicity afforded by red-dot sights.  The addition of a 5-inch Weaver rail on this turkey gun makes installing an optic of any kind a quick and easy operation. The fact that the rail is affixed to the barrel, and cantilevers above the receiver rather than attaching to it, is a simple solution to common problems encountered when trying to drill and tap the often-thin top walls of many shotgun receivers. Mounted to the barrel, rail screws have ample space to bite and hold, and have no chance of interfering with the action. All that said, for those stalwart devotees of more traditional sights, the fiber optics hold their own. A front-sight diameter of just .06 inch couples with contrasting colors between the front post (red) and rear bracket (green) to make the front sight easy to acquire yet still small enough to not obstruct a gobbler's head at typical yardages.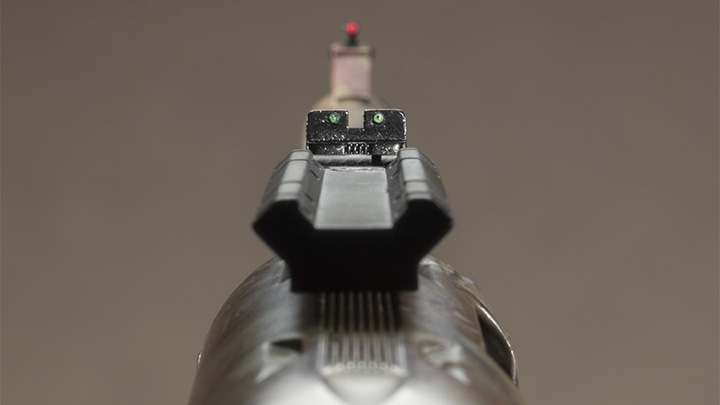 Another nice touch, the barrel is chrome plated to resist corrosion. The barrel and action wear a camo finish to battle the elements and also match the look of its polymer stock, which sports a checkered grip for maximum hold when things get damp. I will say, the camo finish on the receiver did leave a little to be desired, as it showed signs of cracking after relatively light use; disconcerting, yes, but not detrimental.
Mechanical and physical features out of the way, let's get into impressions and performance.
Upon hefting the shotgun, I noticed a few things right off the bat. For starters, 6.9 pounds feels extremely light for a turkey gun. When that turkey gun also happens to be a pump, without the recoil-absorbing system of its semi-automatic cousins, you can change that impression to exceedingly light. Add to that a recoil pad that is not the thickest I've come across, and you've got a combination that left me wondering just how much feeling I'd be losing in my shoulder during testing.
My second observation concerns the choke tubes—the gun ships with three: improved, full and the company's .665 Extended Turkey choke. The turkey choke came installed, and is the first choke I've seen that incorporates a rubber O-ring. Wondering if this was simply a gap in my experience, I took a poll around the office and, sure enough, this was not something anyone had yet come across. I assume it's meant to provide light backpressure against the threads to keep the choke in place when firing (much like a lock-washer), but as the O-ring was torn upon arrival and no spares were included in the box, I had to supply my own to make that determination. Sure enough, the choke didn't come loose, but then again, I've never had much trouble with a properly tightened choke tube.
Finally, upon fully tightening the magazine-tube cap, the front sling-swivel stud built into it had a habit of binding almost to the point of—well—not swiveling. Not really a black mark against the gun, just something to note.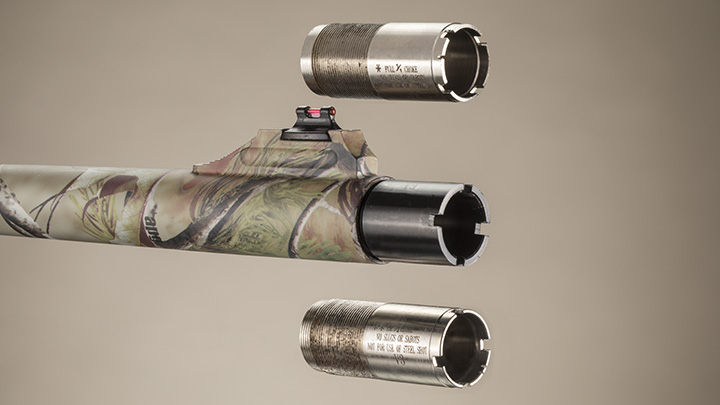 Disassembly of the firearm for cleaning was breathtakingly easy. With the aid of a hammer and a brass punch, the trigger pins slide out smoothly, and from there the gun almost disassembles itself. Pushing the fore-end forward clears the way for the trigger group to drop out as a unit, while the barrel can be removed simply by unscrewing the magazine cap. After the barrel is off, the fore-end slides straight forward to remove, taking the bolt situated on dual-action bars with it.
On the range, my initial assessment proved correct. The gun handled nimbly, with an easy heft and a natural point. Pulling the trigger, on the other hand, unleashed a punch to my shoulder worthy of Mike Tyson himself, particularly when fired from a bench rest. Unless you're into shoulder conditioning, I would recommend affixing a Pachmayr recoil pad in place of the standard offering.
Downrange, the scattergun put on an admirable performance. While it shot a little low (easily corrected with the elevation-adjustable sights), the gun's pattern density was impressive, thanks in no small part to its .665 Extended Turkey choke. In an average between five shells of 15/8-ounces of No. 5 Browning BXD, the gun put 74 percent of its payload within a 21-inch circle at 40 yards. Those are turkey-killing numbers for sure.
All in all, this is a more-than-capable turkey gun. It's available in finishes of either RealTree APG or Mossy Oak Bottomland, and the included turkey choke constricts patterns to lethal proportions. It's got great irons sights, and a built-in rail for optics. To top it all off, a shelf price less than $400 nearly erases the few minor faults it has. This shotgun is a true workhorse for the spring woods. 
Technical Specifications
• Type: pump-action shotgun
• Gauge/Chamber: 12/3" (tested), 20/3", .410/3"
• Barrel: 24", chrome lined
• Sights: red fiber-optic front post, green fiber-optic rear bracket; cantilevered Weaver rail attached to barrel
• Magazine Capacity: 4+1 rnds.
• Trigger: 5 lbs., 2 ozs. pull weight
• Safety: cross-bolt
• Stock: polymer, RealTree APG finish; LOP 14⅕", drop at comb 15/8", drop at heel 2½"
• Metal Finish: RealTree APG
• Overall Length: 44"
• Weight: 6.9 lbs.
• Accessories: two flush-fit choke tubes (IM, F), one Extended Turkey choke tube (.665), choke wrench and shim kit
• MSRP: $399.99; escortshotgunsusa.com